Abstract
In this paper, mean sea level changes in the German Bight, the south-eastern part of the North Sea, are analysed. Records from 13 tide gauges covering the entire German North Sea coastline and the period from 1843 to 2008 have been used to derive high quality relative mean sea level time series. Changes in mean sea level are assessed using non-linear smoothing techniques and linear trend estimations for different time spans. Time series from individual tide gauges are analysed and then 'virtual station' time series are constructed (by combining the individual records) which are representative of the German Bight and the southern and eastern regions of the Bight. An accelerated sea level rise is detected for a period at the end of the nineteenth century and for another one covering the last decades. The results show that there are regional differences in sea level changes along the coastline. Higher rates of relative sea level rise are detected for the eastern part of the German Bight in comparison to the southern part. This is most likely due to different rates of vertical land movement. In addition, different temporal behaviour of sea level change is found in the German Bight compared to wider regional and global changes, highlighting the urgent need to derive reliable regional sea level projections for coastal planning strategies.
This is a preview of subscription content, log in to check access.
Access options
Buy single article
Instant access to the full article PDF.
US$ 39.95
Price includes VAT for USA
Subscribe to journal
Immediate online access to all issues from 2019. Subscription will auto renew annually.
US$ 99
This is the net price. Taxes to be calculated in checkout.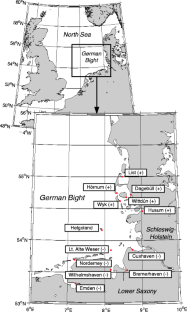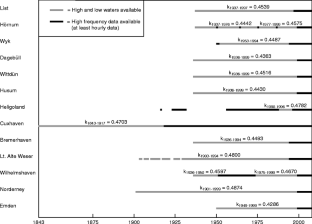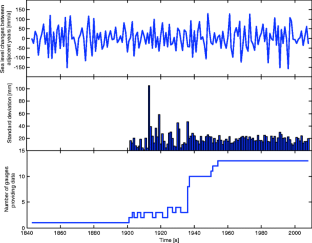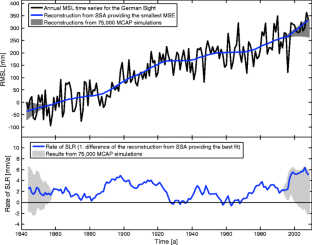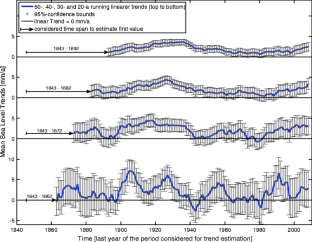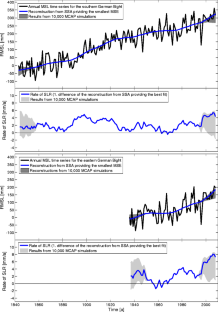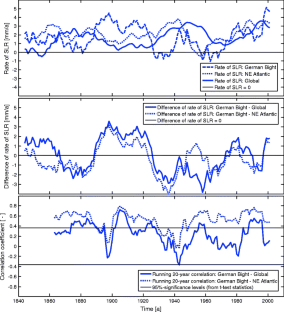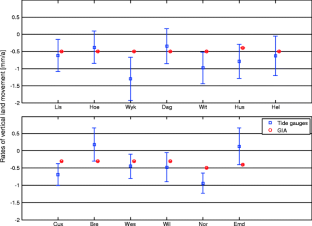 References
Albrecht F, Wahl T, Jensen J, Weisse R (2011) Regional mean sea level changes in the German Bight in the 20th century (in press)

Augath W (1993) Stand und Weiterentwicklung der Höhenüberwachung der niedersächsischen Nordseeküste. Nachr NiedersaÉchs Vermess–Katasterverwalt 43:78–92

Bungenstock F, Schäfer A (2009) The Holocene relative sea-level curve for the tidal basin of the barrier island Langeoog, German Bight, Southern North Sea. Glob Planet Change 66(1–2):34–51

Cazenave A, Dominh K, Guinehut S, Berthier E, Llovel W, Ramillien G, Ablain M, Larnicol G (2008) Sea level budget over 2003–2008: a reevaluation from GRACE space gravimetry, satellite altimetry and Argo. Glob Planet Change 65:83–88

Church JA, White NJ (2006) A 20th century acceleration in global sea-level rise. Geophys Res Lett 33:L01602. doi:10.1029/2005GL024826

Church JA, White NJ, Coleman R, Lambeck K, Mitrovica JX (2004) Estimates of the regional distribution of sea level rise over the 1950–2000 period. J Climate 17:2609–2625

Church JA, White NJ, Aarup T, Wilson SW, Woodworth PL, Domingues CM, Hunter JR, Lambeck K (2008) Understanding global sea levels: past, present and future. Sustain Sci 3(1):9–22. doi:10.1007/s11625-008-0042-4

Domingues CM, Church JA, White NJ, Gleckler PJ, Wijffels SE, Barker PM, Dunn JR (2008) Improved estimates of upper-ocean warming and multi-decadal sea-level rise. Nature 453:1090–1093. doi:10.1038/nature07080

Douglas BC (1991) Global sea level rise. J Geophys Res 96(C4):6981–6992. doi:10.1029/91JC00064

Führböter A, Jensen J (1985) Säkularänderungen der mittleren Tidewasserstände in der Deutschen Bucht, Die Küste. Heft 42:78–100

Grinsted A, Moore JC, Jevrejeva S (2010) Reconstructing sea level from paleo and projected temperatures 200 to 2100 AD. Clim Dyn 34:461–471. doi:10.1007/s00382-008-0507-2

Haigh ID, Nicholls RJ, Wells NC (2009) Mean sea-level trends around the English Channel over the 20th century and their wider context. Cont Shelf Res 29:2083–2098

Hurrell JW (1995) Decadal trends in the North Atlantic oscillation: regional temperatures and precipitation. Science 269:676–679

IKÜS (2008) Aufbau eines integrierten Höhenüberwachungssystems in Küstenregionen durch Kombination höhenrelevanter Sensorik (final report). Accessed from: http://tu-dresden.de/die_tu_dresden/fakultaeten/fakultaet_forst_geo_und_hydrowissenschaften/fachrichtung_geowissenschaften/gi/gg/veroeffentlichungen/BMBF03KIS055-58.pdf. Accessed 31 January 2011

Jensen J, Mudersbach C (2007) Zeitliche Änderungen in den Wasserstandszeitreihen an den Deutschen Küsten, in: Glaser R, Schenk W, Vogt J, Wießner R, Zepp H und Wardenga U. (Hrsg.), Berichte zur Deutschen Landeskunde, Themenheft: Küstenszenarien, Band 81, Heft 2, S. 99–112, Selbstverlag Deutsche Akademie für Landeskunde e.V., Leipzig

Jevrejeva S, Grinsted A, Moore JC, Holgate S (2006) Nonlinear trends and multiyear cycles in sea level records. J Geophys Res 111:C09012. doi:10.1029/2005JC003229

Jevrejeva S, Moore JC, Grinsted A (2010) How will sea level respond to changes in natural and anthropogenic forcings by 2100? Geophys Res Lett 37:L07703. doi:10.1029/2010GL042947

Mann HB (1945) Nonparametric test against trend. J Econometric Soc 13:245–259

McKee Smith J, Cialone MA, Wamsley TV, McAlpin TO (2010) Potential impact of sea level rise on coastal surges in southeast Louisiana. Ocean Eng 37–1:37–47

Meehl GA, Stocker TF, Collins WD, Friedlingstein P, Gaye AT, Gregory JM, Kitoh A, Knutti R, Murphy JM, Noda A, Raper SCB, Watterson IG, Weaver AJ, Zhao Z-C (2007) Global climate projections. In: Solomon S, Qin D, Manning M, Chen Z, Marquis M, Averyt KB, Tignor M, Miller HL (eds) Climate change 2007: the physical science basis. Contribution of working group I to the fourth assessment report of the intergovernmental panel on climate change. Cambridge University Press, Cambridge, UK

Miller L, Douglas BC (2007) Gyre-scale atmospheric pressure variations and their relation to 19th and 20th century sea level rise. Geophys Res Lett 34:L16602. doi:10.1029/2007GL030862

Mitchum GT, Nerem RS, Merrifield MA, Gehrels WR (2010) Modern sea level change estimates. In: Church JA, Woodworth PL, Aarup T, Wilson WS (eds) Understanding sea-level rise and variability. Wiley-Blackwell, Oxford, UK. doi:10.1002/9781444323276.ch5

Mitrovica JX, Tamisiea ME, Davis JL, Milne JL (2001) Recent mass balance of polar ice sheets inferred from patterns of global sea level change. Nature 409:1026–1029

Mitrovica JX, Gomez N, Clark PU (2009) The sea-level fingerprint of West Antarctic collapse. Science 323:753. doi:10.1126/science.1166510

Mudersbach C, Jensen J (2010) Nonstationary extreme value analysis of annual maximum water levels for designing coastal structures on the German North Sea coastline. Journal of Flood Risk Management 3-1:52–62. doi:10.1111/j.1753-318X.2009.01054.x

Peltier WR (2004) Global glacial isostasy and the surface of the ice-age earth: the ICE-5G(VM2) model and GRACE. Ann Rev Earth Planet Sci 32:111–149. doi:10.1146/annurev.earth.32.082503.144359

Pugh D (2004) Changing sea levels: effects of tides. Weather and Climate. Cambridge Univ Press, New York

Rahmstorf S (2007) A semi-empirical approach to projecting future sea-level rise. Science 315(5810):368–370. doi:10.1126/science.1135456

Schöne T, Schön N, Thaller D (2009) IGS Tide Gauge Benchmark Monitoring Pilot Project (TIGA): scientific benefits. J Geodesy 83:249–261. doi:10.1007/s00190-008-0269-y

Shennan I (1987) Holocene sea-level changes in the North Sea region. In: Tooley MJ, Shennan I (eds) Sea-level changes. Blackwell, Oxford, pp 109–151

Shennan I, Horton B (2002) Holocene land- and sea-level changes in Great Britain. J Quatern Sci 17(5-6):511–526

Teferle FN, Bingley RM, Williams SDP, Baker TF, Dodson AH (2006) Using continuous GPS and absolute gravity to separate vertical land movements and changes in sea-level at tide-gauges in the UK. Philos Trans R Soc London Ser A 364(1841):917–930. doi:10.1098/rsta.2006.1746

Vermeer M, Rahmstorf S (2009) Global sea level linked to global temperature. PNAS. doi:10.1073/pnas.0907765106

Wahl T, Jensen J, Frank T (2010) On analysing sea level rise in the German Bight since 1844. Nat Hazards Earth Syst Sci 10:171–179. doi:10.5194/nhess-10-171-2010

Woodworth PL (2006) Some important issues to do with long-term sea level change. Phil Trans R Soc A 2006(364):787–803. doi:10.1098/rsta.2006.1737

Woodworth P, White NJ, Jevrejeva S, Holgate SJ, Chuch JA, Gehrels WR (2008) Evidence for the accelerations of sea level on multi-decade and century time scales. Int J Climatol 29:777–789. doi:10.1002/joc.1771

Woodworth PL, Teferle FN, Bingley RM, Shennan I, Williams SDP (2009a) Trends in UK mean sea level revisited. Geophys J Int 176(22):19–30. doi:10.1111/j.1365-246X.2008.03942.x

Woodworth PL, White NJ, Jevrejeva S, Holgate SJ, Church JA, Gehrels WR (2009b) Evidence for the accelerations of sea level on multi-decade and century timescales. Int J Climatol 29:777–789

Woodworth PL, Pouvreau N, Wöppelmann G (2010) The gyre-scale circulation of the North Atlantic and sea level at Brest. Ocean Sci 6:185–190. doi:10.5194/os-6-185-2010

Wöppelmann G, Miguez BM, Bouin M-N, Altamimi Z (2007) Geocentric sea-level trend estimates from GPS analyses at relevant tide gauges world-wide. Glob Planet Change 57:369–406

Wöppelmann G, Pouvreau N, Coulomb A, Simon B, Woodworth PL (2008) Tide gauge datum continuity at Brest since 1711: France's longest sea-level record. Geophys Res Lett 35:L22605. doi:10.1029/2008GL035783

Wöppelmann G, Letetrel C, Santamaria A, Bouin M-N, Collilieux X, Altamimi Z, Williams SDP, Miguez BM (2009) Rates of sea-level change over the past century in a geocentric reference frame. Geophys Res Lett 36:L12607. doi:10.1029/2009GL038720
Acknowledgements
We thank Svetlana Jevrejeva (Proudman Oceanographic Laboratory) and her colleagues for sharing the sea level reconstructions with the community and the Permanent Service of Mean Sea Level (PSMSL) for providing such products free of charge. We highly acknowledge the German Coastal Engineering Research Council (KFKI) and the German Federal Ministry of Education and Research (BMBF) for funding the research project "AMSeL–Mean Sea Level and Tidal Analysis at the German North Sea Coastline". Two anonymous reviewers provided valuable comments helping us to improve the overall quality of this paper.
Additional information
Responsible Editor: Birgit Andrea Klein
About this article
Cite this article
Wahl, T., Jensen, J., Frank, T. et al. Improved estimates of mean sea level changes in the German Bight over the last 166 years. Ocean Dynamics 61, 701–715 (2011). https://doi.org/10.1007/s10236-011-0383-x
Received:

Accepted:

Published:

Issue Date:
Keywords
North Sea

German Bight

Regional mean sea level changes

Tide gauge data

Vertical land movements