Abstract
Relative sea level rise at Kerguelen Island over the last 55 years has been investigated using a combination of historical and recent tide gauge data. The best estimate of relative sea level trend from data sets spanning 38 years is estimated to be 1.1±0.7 mm year−1. We have tried to quantify the error budget due to some of the possible sources of uncertainty. As expected, the main source of uncertainty comes from oceanic interannual variability, preventing an accurate estimate of sea level trend over short record lengths. However, our values are reasonably consistent with other reported southern hemisphere sea level trends for similar time periods.
This is a preview of subscription content, log in to check access.
Access options
Buy single article
Instant access to the full article PDF.
US$ 39.95
Price includes VAT for USA
Subscribe to journal
Immediate online access to all issues from 2019. Subscription will auto renew annually.
US$ 99
This is the net price. Taxes to be calculated in checkout.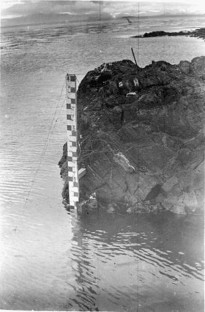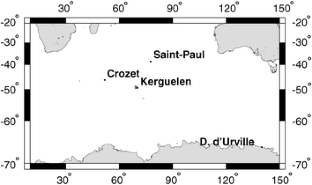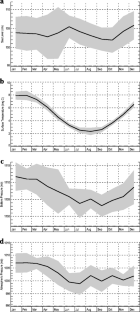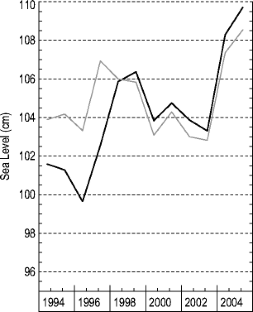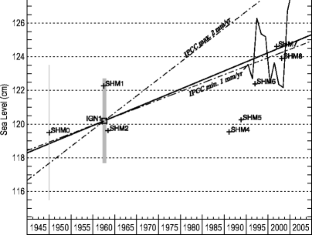 Notes
1.

Because of the sensor drifts found in our analyses, users of the GLOSS Kerguelen station data should contact the authors to obtain corrected sea level data and information.
References
Antonov JI, Levitus S, Boyer TP (2002) Steric sea level variations during 1957–1994: importance of salinity. J Geophys Res 107:8013–8021. DOI 10.1029/2000JC000964

Aoki S, Yoritaka M, Masuyama A (2003) Multidecadal warming of subsurface temperature in the Indian sector of the Southern Ocean. J Geophys Res 108(C4):8081. DOI 10.1029/2000JC000307

Boucher C, Altamimi Z, Sillard P, Feissel M (2004) The ITRF2000. IERS technical note no. 31. http://www.iers.org/iers/publications/tn/tn31/

Brémond E (1951) Mission hydrographique de Madagascar 1949–1950. Ann Hydrogr 104–105

Cabannes C, Cazenave A, Le Provost C (2001a) Sea level changes from Topex–Poseidon Altimetry for 1993–1999 and possible warming of the Southern Oceans. Geophys Res Lett 28(1):9–12

Cabannes C, Cazenave A, Le Provost C (2001b) Sea level rise during the 1990s and past 40 years. Observations and climate related contributions. Sciences 294:840–842

Church JA, Gregory JM, Huybrechts P, Kuhn M, Lambeck K, Nhuan MT, Qin Q, Woodworth PL (2001) Changes in sea level. In: Houghton JT et al (eds) Climate change 2001: the scientific basis. Cambridge University Press, Cambridge, pp 639–693

Church JA, White N, Coleman R, Lambeck K, Mitrovica JX (2004) Estimates of the regional distribution of sea level rise over the 1950–2000 period. J Climate 17:2609–2625

Douglas BC, Peltier WR (2002) The puzzle of global sea level rise. Phys Today 55(3):34–41

Gille ST (2002) Warming of the southern ocean since 1950s. Sciences 295:1275–1277

Guichard H (1964) Les travaux géographiques exécutés par l'IGN aux îles Kerguelen (campagne 1961–1963). Bull Géod 28

Guichard H (1966) Travaux géodésiques aux îles australes. Rev TAAF Janv–Mars (34):9–47

Holgate SJ, Woodworth PL (2004) Evidence for enhanced coastal sea level rise during the 1990s. Geophys Res Lett 31:L07305. DOI 10.1029/2004GL019626

Hughes CW (1995) Rossby waves in the southern ocean: a comparison of TOPEX/POSEIDON altimetry with model predictions. J Geophys Res 100:937–949

Hunter J, Coleman R, Pugh D (2003) The sea level at Port Arthur, Tasmania, from 1841 to the present. Geophys Res Lett 30(7):1401, 54

Lamy A (1988) Sea level measurements in Indian sector of the Antarctica. IOC Workshop Rep 54:36–40

Le Provost C, Wöppelmann G (1994) Rapport de mission: campagne NIVMER94 à bord du Marion Dufresne. Rapport de mission des manipulations effectuées dans les sites de: Crozet–Kerguelen–Amsterdam–Saint Paul, OP 94/4-4, October 1994, p 65

Miller L, Douglas BC (2004) Mass and volume contributions to twentieth-century global sea level rise. Nature 428:406–409

Nougier (1970) Contribution à l'étude géologique et géomorphologique des îles Kerguelen (Terres Australes et Antarctiques Françaises). Bull CNFRA Paris 1 (27):440; 2:246 (carte géologique au 1/200,000)

Park YH (1990) Mise en evidence d'ondes planétaires semi-annuelle baroclines au Sud de l'Océan Indien par altimètre satellitaire. C R Acad Sci Paris 310(II):919–926

Park YH, Charriaud E, Ruiz Pino D, Jeandel C (1998) Seasonal and interannual variability of the mixed layer properties and steric height at station KERFIX, southwest of Kerguelen. J Mar Syst 17:571–586

Spencer R, Vassie JM (1997) The evolution of the deep ocean pressure measurements in the UK. Prog Oceanogr 40:423–435

Spencer R, Foden PR, McGarry C, Harrison AJ, Vassie JM, Baker TF, Smithson MJ, Harangozo SA, Woodworth PL (1993) The ACCLAIM programme in the South Atlantic and Southern oceans. Int Hydrogr Rev 70(1):7–21

Vassie JM (1988) Comments on the installation of coastal tidal recorders on islands in the Southern Indian Ocean. IOC Workshop Rep 54:40–41

Vassie JM, Harrison AJ, Woodworth PL, Harangozo SA, Smithson MJ, Thompson SR (1994) On the temporal variability of the transport between Amsterdam and Kerguelen islands. J Geophys Res 99(C1):937–949

White NJ, Church JA, Gregory JM (2005) Coastal and global averaged sea level rise for 1950 to 2000. Geophys Res Lett 32:L01601. DOI 10.1029/2004GL021391

Woodworth PL (1999) High waters at Liverpool since 1768: the UK's longest sea level record. Geophys Res Lett 26(11):1589–1592

Woodworth PL, Vassie JM, Spencer R, Smith DE (1996) Precise datum control for pressure tide gauges. Mar Geod 19:1–20

Woodworth PL, Le Provost C, Rickards LJ, Mitchum GT, Merrifield M (2002) A review of sea-level research from tide gauges during the World Ocean Circulation Experiment. An annual review. Oceanogr Mar Biol 40:1–35

Woodworth PL, Pugh DT, Meredith MP, Blackman DL (2005) Sea level changes at Port Stanley, Falkland Islands. J Geophys Res 110:C06013. DOI 10.1029/2004JC002648

Wöppelmann G (1997) Rattachement géodésique des marégraphes dans un système de référence mondial par techniques de géodésie spatiale. Dissertation, Observatoire de Paris, p 263

Wöppelmann G, Bouin MN, Altamimi Z, Daniel L, McLellan S (2004) Current GPS data analysis at CLDG for the IGS TIGA Pilot Project. The state of GPS vertical positioning precision: separation of earth processes by space geodesy. Cah Cent Eur Géodyn Séismol 149–154
Acknowledgements
Thanks to the three referees for their useful and necessary comments and to Richard Coleman for English correction and useful discussion. This study is the result of the work of a large number of people who stayed at Port-aux-Français over the last 50 years. Some of them are cited in the references. The ROSAME network is maintained with the active participation of the staff of the Division Technique of INSU, especially M. Calzas and A. Guillot, who also have been helping us develop the ROSAME network since 1997. This work would not have been possible without the tide pole readings operated by the technical volunteers who wintered at Kerguelen between 2003 and 2005: Julie, V. Dutreuil, P. Caillol, C. Lacaze and J. Petit. Thanks to H. Gouge (TAAF) and A. Lamalle (IPEV) for important information on the history of the Kerguelen tidal measurements. Finally, thanks to Mr. and Mrs. Delépine for valuable information on the 1970s period and for exciting discussions.
Additional information
This paper is dedicated to Christian Le Provost, who was instrumental in building the Réseau d'Observation Subantarctique et Antarctique du niveau de la MEr tide gauge network in the framework of the World Ocean Circulation Experiment and Global Sea Level Observing System programs.
Communicated by Responsible Editor: Phil Woodworth
About this article
Cite this article
Testut, L., Wöppelmann, G., Simon, B. et al. The sea level at Port-aux-Français, Kerguelen Island, from 1949 to the present. Ocean Dynamics 56, 464–472 (2006). https://doi.org/10.1007/s10236-005-0056-8
Received:

Accepted:

Published:

Issue Date:
Keywords
Sea level rise

Kerguelen

Southern Ocean

Bottom pressure sensor drift