Abstract
The objective of this study was to evaluate the effects of different reactive mixtures and hydraulic retention times (HRTs) on hydraulic parameters (hydraulic conductivity, ksat, and porosity) and the efficiency of passive biochemical reactors (PBRs) for treatment of ferriferous acid mine drainage (AMD). Five 10.7 L PBRs were filled with three reactive mixtures, containing either a carbon-rich substrate (60% w/w) or an inert/neutralizing agent (50% w/w). The PBRs were tested over a 450 day period using two qualities of iron-rich AMD (4 and 1 g L−1 Fe in AMD1 and AMD2, respectively), and two HRTs, of 5 and 7 days. During the last week of the columns' operation, a tracer test (5 g L−1 of NaCl) was also performed, in addition to monthly measurements using the falling head method. Changes in HRT and ksat were evaluated throughout the experiment. The PBRs increased the pH of AMD influents from 3.5 to 6 and efficiently removed Al, Cd, Cr, Ni, Pb, and Zn (> 90%), whereas Fe was only partially and inconsistently treated. No significant differences were observed among the three tested mixtures, regardless of the HRT or the AMD quality. Results from the tracer test and ksat measurements showed no significant decrease in the initial values of the hydraulic parameters with time except for column 3, where a slight decrease was observed. Although sorption could have been important during the start-up of the PBRs, post-testing characterization of the spent reactive mixtures showed that the Fe was mainly retained as oxy-hydroxides and sulfides. Given the PBRs' marginal effectiveness for Fe-rich AMD, pre-treatment removal of the iron is recommended.
抽象
文章旨在评价不同反应混合物和水力滞留时间(HRTs)对富铁酸性废水被动生物反应器(PBRs)水力参数(导水性、ksat和孔隙性)和处理效率的影响。5个10.7L生物反应器充填三种反应混合物,包括含炭底层(60% w/w)或惰性/中和试剂(50% w/w)。用两种富铁酸性废水(AMD1和AMD2铁含量分别为4g/L和1g/L)、五天与七天两种水力滞留时间(HRTs)进行450天被动生物反应器处理(PBRs)试验。除每月水头降落测量外,最后一星期还进行了柱示踪试验(5g/L氯化钠)。评价了整个试验过程的水力滞留时间和ksat。被动生物反应器(PBRs)将出流液pH值由3.5提高到6,有效去除了铝、隔、铬、镍、铅和锌(大于90%),但铁仅有少量去除。无论水力滞留时间(HRT)和酸性水质怎样变化,三种不同反应混合物试验结果并无明显差异。示踪和ksat测量表明,初始水力参数并未随时间明显降低,仅3号柱水力参数轻微减小。虽然被动生物反应器开始启动工作时,吸附本应能够起重要作用,但是试验后反应物废物分析表明,铁仍主要保留于氢氧化物和硫化物。考虑被动生物反应器(PBR)的对含铁酸性废水的边际效果,建议水处理前去除酸性废水中铁。
Zusammenfassung
Das Ziel dieser Studie war die Untersuchung der Auswirkungen verschiedener reaktiver Stoffgemische und der Verweilzeiten (HRTs) auf die hydraulischen Parameter (hydraulische Leitfähigkeit, gesättigte Leitfähigkeit und Porosität) und die Effektivität von passiven biochemischen Reaktoren (PBRs) zur Behandlung von eisenreichen, sauren Grubenwässern (AMD). Fünf 10,7 L PBRs wurden mit drei reaktiven Stoffgemischen gefüllt, die entweder ein kohlenstoffreiches Substrat (60 Masse-%) oder einen inerten/neutralisierenden Stoff (50 Masse-%) enthielten. Die PBRs wurden über einen Zeitraum von 450 Tagen unter Verwendung von zwei eisenreichen AMD (4 und 1 g/L Eisen in AMD1 bzw. AMD2) sowie zwei HRTs von fünf und sieben Tagen getestet. Während der letzten Woche des Versuchsbetriebes wurde zusätzlich zu den monatlichen Messungen der Potentiale ein Tracertest (5 g/L NaCl) durchgeführt. Während des gesamten Versuchszeitraums wurden die Änderungen der HRTs und der gesättigten Leitfähigkeit bestimmt. Die PBRs erhöhten den pH-Wert der AMD von 3,5 auf 6 und entfernten Al, Cd, Cr, Ni, Pb und Zn (> 90 %). Eisen wurde jedoch nur teilweise und unbeständig entfernt. Die drei getesteten Stoffgemische zeigten keine wesentlichen Unterschiede, unabhängig von der HRT oder der AMD-Beschaffenheit. Die Ergebnisse des Tracertests und der gesättigten Leitfähigkeit zeigten keine signifikante Abnahme der hydraulischen Parameter, mit Ausnahme der Säule 3. In dieser wurde eine leichte Abnahme beobachtet. Obwohl die Sorption in den PRBs zu Versuchsbeginn eine maßgebliche Größe sein könnte, zeigte die Untersuchung der Stoffgemische nach Versuchsende, dass Eisen hauptsächlich als Oxyhydroxide und Sulfide zurückgehalten wurde. Angesichts der geringen Wirksamkeit der PBRs bei eisenreichen AMD wird eine Vorbehandlung zur Entfernung des Eisens empfohlen.
Resumen
El objetivo de este estudio fue evaluar los efectos de distintas mezclas reactivas y diferentes tiempos de retención hidráulica (HRTs) sobre los parámetros hidráulicos (conductividad hidráulica, ksat y porosidad) y sobre la eficiencia de reactores bioquímicos (PBRs) para el tratamiento pasivo de drenaje ácido de minas ferriferrosas (AMD). Cinco PBRs de 10,7 L se rellenaron con tres mezclas reactivos conteniendo un sustrato rico en carbón (60% p/p) o un agente neutralizante/inerte (50% p/p). Los reactores fueron controlados durante un período de 450 días usando dos AMD ricos en hierro (4 y 1 g.L-1 Fe en AMD1 y AMD2, respectivamente) y dos HRTs (cinco y siete días). Durante la última semana de operación de las columnas, se realizó un ensayo con trazadores (5 g.L-1 de NaCl) además de las medidas mensuales utilizando el método de caída de cabeza. Los cambios en HRT y ksat fueron evaluados a lo largo de la experiencia. Los PBRs incrementaron el pH de los AMD desde 3,5 a 6 y removieron eficientemente Al, Cd, Cr, Ni, Pb y Zn (> 90%) mientras que Fe fue sólo parcial e inconsistentemente removido. No hubo diferencias significativas entre las tres mezclas testeadas independientemente del HRT y del AMD tratado. Los resultados del ensayo con trazadores y las medidas del ksat no mostraron un descenso significativo en los valores iniciales de los parámetros hidráulicos en el tiempo excepto para la columna 3 donde se observó un ligero descenso. Aunque la sorción podría haber sido importante durante la puesta en marcha de los PBRs, la caracterización posterior al estudio de las mezclas reactivas mostró que el Fe fue principalmente retenido como oxi-hidróxidos y sulfuros. Considerando la efectividad marginal de los PBRs para los AMD ricos en Fe, se recomienda un pre-tratamiento para remover el Fe.
This is a preview of subscription content, log in to check access.
Access options
Buy single article
Instant access to the full article PDF.
US$ 39.95
Price includes VAT for USA
Subscribe to journal
Immediate online access to all issues from 2019. Subscription will auto renew annually.
US$ 99
This is the net price. Taxes to be calculated in checkout.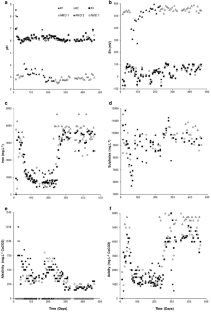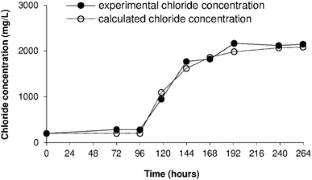 References
AFNOR (Association Française de Normalisation) (1986) Testing water—determination of sulphate ions—nephelometric method. AFNOR—NF T90–040, St Denis, France

Anello G, Lamarche P, Héroux JA (2005) Reduction of hydraulic conductivity changes in an in-ground bioreactor. J Environ Eng Sci 4:195–207

APHA (American Public Health Assoc) (2005) Standard methods for the examination of water and wastewater, 20th edn. In: Clesceri LS, Greenberg AE, Eaton AD (eds) American Public Health Assoc, American Water Works Assoc, Water Environment Federation, APHA-AWWA-WEF, Washington, DC

ASTM (American Society for Testing Materials) (1995) Standard test method for permeability of granular soils. ASTM International, West Conshohocken, pp D 2434–2468

ASTM (American Society for Testing Materials) (2009) Standard methods for sulphate reducing bacteria in water and water-formed deposits. ASTM International, West Conshohocken, pp D 4412–4484

Ayora C, Caraballo MA, Macias F, Rötting TS, Carrera J, Nieto JM (2013) Acid mine drainage in the Iberian pyrite belt: lessons learned from recent passive remediation experiences. Environ Sci Pollut R 20:7837–7853

Baldwin SA, Khoshnoodi M, Rezadehbashi M, Taupp M, Hallam S, Mattes A, Sanei H (2015) The microbial community of a passive biochemical reactor treating arsenic, zinc, and sulfate-rich seepage. Biotechnol Bioeng 3(27):1–13

Bolis JL, Wildeman TR, Dawson HE (1992) Hydraulic conductivity of substrates used for passive acid mine drainage treatment. In: Proc national meeting of american soc for surface mining and reclamation, Duluth, pp 79–89

Butler BA, Smith ME, Reisman DJ, Lazorchak JM (2011) Metal removal efficiency and ecotoxicological assessment of field-scale passive treatment biochemical reactors. Environ Toxicol Chem 30:385–392

Champagne P, Van Geel P, Parker W (2005) A bench-scale assessment of a combined passive system to reduce concentrations of metals and sulphate in acid mine drainage. Mine Water Environ 24:124–133

Chang IS, Shin PK, Kim BH (2000) Biological treatment of acid mine drainage under sulfate-reducing conditions with solid waste materials as substrate. Water Res 34:1269–1277

Fogler HS (2006) Element of chemical reaction engineering, 4th edn. International series in the physical and chemical engineering sciences. Prentice Hall International Inc, Upper Saddle River, NJ, USA, p 1120

Genty T, Bussière B, Neculita CM, Benzaazoua M, Zagury GJ (2011) Passive treatment of acid mine drainage: repeatability for sulphate reducing passive bioreactor column efficiency testing. In: Proc IMWA Congress, Aachen, pp 313–318

Genty T, Bussière B, Potvin R, Benzaazoua M, Zagury GJ (2012a) Dissolution of different limestone in highly contaminated acid mine drainage: application to anoxic limestone drains. Environ Earth Sci 66:2387–2401

Genty T, Bussière B, Benzaazoua M, Zagury JG (2012b) Capacity of wood ashes filters to remove iron from acid mine drainage: assessment of metal retention mechanisms. Mine Water Environ 31:273–286

Genty T, Bussière B, Paradis M, Neculita CM (2016) Passive biochemical treatment of ferriferous mine drainage: Lorraine mine site, Northern Quebec, Canada. In: Proc international mine water assoc (IMWA), Conf, pp 790–795

Genty T, Bussière B, Benzaazoua M, Neculita CM, Zagury GJ (2017) Efficiency of iron removal during the treatment of highly contaminated acid mine drainage in biochemical reactors. Water Sci Technol 76(7):1833–1843

Lewis AE (2010) Review on metal sulphide precipitation. Hydrometallurgy 104:222–234

Mendelhall W, Beaver RJ (1994) Introduction to probability and statistics, 9th edn. Duxbury Press, Belmont

Moncur MC, Ptacek CJ, Blowes DW, Jambor JL (2005) Release, transport and attenuation of metals from an old tailings impoundment. Appl Geochem 20:639–659

Neculita CM, Zagury GJ (2008) Biological treatment of highly contaminated acid mine drainage in batch reactors: long-term treatment and reactive mixture characterization. J Hazard Mater 157:358–366

Neculita CM, Zagury GJ, Bussiere B (2007) Passive treatment of acid mine drainage in bioreactors using sulfate-reducing bacteria: critical review and research needs. J Environ Qual 36:1–16

Neculita CM, Zagury GJ, Bussiere B (2008a) Effectiveness of sulphate-reducing passive bioreactors for treating highly contaminated acid mine drainage: I. Effect of hydraulic retention time. Appl Geochem 23:3442–3451

Neculita CM, Zagury GJ, Bussiere B (2008b) Effectiveness of sulphate-reducing passive bioreactors for treating highly contaminated acid mine drainage: II. Metal removal mechanisms and potential mobility. Appl Geochem 23:3545–3560

Neculita CM, Vigneault B, Zagury GJ (2008c) Toxicity and metal speciation in acid mine drainage treated by passive bioreactors. Environ Toxicol Chem 27:1659–1667

Postgate JR (1984) The sulfate-reducing bacteria, 2nd edn. Cambridge Univ Press, Cambridge

Rakotonimaro TV, Neculita CM, Bussière B, Zagury GJ (2016) Pre-treatment of iron-rich acid mine drainage using various dispersed alkaline substrates. Appl Geochem 73:12–23

Rakotonimaro TV, Neculita CM, Bussière B, Zagury GJ (2017) Comparative column testing of three reactive mixtures for the bio-chemical treatment of iron rich acid mine drainage. Miner Eng 11:79–89

Rötting T, Caraballo M, Serrano J, Ayora C (2008) Field application of calcite dispersed Alkaline Substrate (calcite-DAS) for passive treatment of acid mine drainage with high Al and metal concentrations. Appl Geochem 23:1660–1674

Seki K, Thullner M, Hanada J, Miyazaki T (2006) Moderate bioclogging leading to preferential flow paths in biobarriers. Ground Water Monit R 26:68–76

Seo J, Kwon D, Yoon TH, Jung J (2010) Potential risks of the natural nanoparticles from the acid mine drainage and a novel approach for their toxicity assessment. Toxicol Environ Health Sci 2:215–220

Skousen J, Zipper CE, Rose A, Ziemkiewicz PF, Nairn R, McDonald LM, Kleinmann RL (2017) Review of passive systems for acid mine drainage treatment. Mine Water Environ 36:133–153

Soleimani S, Van Geel P, Isgor B, Mostafa M (2009) Modeling of biological clogging in unsaturated porous media. J Contam Hydrol 106:39–50

Song H, Yim GJ, Ji SW, Neculita CM, Hwang TW (2012a) Pilot-scale passive bioreactors for treatment of natural acid mine drainage: efficiency of mushroom compost vs. mixed substrates for metal removal. J Environ Manage 111:150–158

Song H, Yim GJ, Ji SW, Nam IH, Neculita CM, Lee GY (2012b) Performance of mixed organic substrates during the treatment of acidic and moderate mine drainage in column bioreactors. J Environ Eng ASCE 138:1077–1084

URS (United Registrar of Systems) (2003) Passive and semi-active treatment of acid rock drainage from metal mines-state of the practice. Prepared for US Army Corps of Engineers, Concord

USEPA (United States Environmental Protection Agency) (2014) Reference guide to treatment technologies for mining-influenced water. EPA 542-R-14–001. https://www.epa.gov/remedytech/reference-guide-treatment-technologies-mining-influenced-water. Accessed 29 Oct 2017

Waybrant KR, Blowes DW, Ptacek CJ (1998) Selection of reactive mixtures for use in permeable reactive walls for treatment of acid mine drainage. Environ Sci Technol 32:1972–1979

Younger PL, Banwart SA, Hedin RS (2002) Mine water: Hydrogeology, pollution, remediation. In: Alloway BJ, Trevors JT (eds) Kluwer Academic Publ, Dordrecht, The Netherlands, p 442

Zagury GJ, Colombano SM, Narasiah KS, Ballivy G (1997) Stabilisation de résidus acides miniers par des résidus alcalins d'usines de pâtes et papier. Environ Technol 18:959–973

Zagury GJ, Kulnieks V, Neculita CM (2006) Characterization and reactivity assessment of organic substrates for sulphate-reducing bacteria in acid mine drainage treatment. Chemosphere 64:944–954
Acknowledgements
This research was funded by the Canada Research Chair on Restoration of Abandoned Mine Sites and the Natural Sciences and Engineering Research Council of Canada (NSERC) through the NSERC Polytechnique-UQAT Industrial Chair on the Environment and Mine Waste Management. The authors gratefully acknowledge the industrial and governmental partners of the industrial Chair for funding this study.
Electronic Supplementary material
Below is the link to the electronic supplementary material.
About this article
Cite this article
Genty, T., Bussière, B., Benzaazoua, M. et al. Changes in Efficiency and Hydraulic Parameters During the Passive Treatment of Ferriferous Acid Mine Drainage in Biochemical Reactors. Mine Water Environ 37, 686–695 (2018). https://doi.org/10.1007/s10230-018-0514-4
Received:

Accepted:

Published:

Issue Date:
Keywords
Reactive mixture

Retention time

Hydraulic conductivity

Metal removal mechanisms

Tracer test