Abstract
Mine water inrush is very common in China and can cause hysteresis and severe damage. The entire process of crack formation, concealed fault propagation, and evolution of a water inrush channel with high pressure water directly beneath the mine floor was physically simulated based on fluid–solid coupling mechanics and solid materials research. Activated materials were used to simulate fault damaged rock, including soybeans, sand, Vaseline, and calcium carbonate. The results indicate that water channels are mainly caused by the connection between tectonic rock zones and coal floor cracks, which are the direct cause for water inrush. Furthermore, the lagging water inrush mechanism from the coal floor in a confined water body under both a stress field and a seepage field were revealed. The formation of the water inrush path with temporal and spatial variations was analyzed by interpreting the monitoring data and phenomena. The data showed that the floor stress in front of the working face increased and was affected by the abutment pressure, and that floor stress under the mined-out area began to decrease simultaneously. The stress of the upper wall showed a drastic drop while the stress of the footwall continued to decline and then stabilized after the water inrush. This work provides new approaches and knowledge for research on deep mining water inrush structures.
Zusammenfassung
Bergwassereinbrüche sind in China sehr häufig und können bleibende und schwere Schäden verursachen. Der gesamte Prozess der Bruchentstehung, die verdeckte Störstellenentwicklung und die Entstehung der Wassereinbruchswegigkeit durch gespanntes Wasser direkt unter der Abbausohle wurde basierend auf kombinierten Festkörper-/Fluidmechanik- und Gesteinsuntersuchungen bearbeitet. Aktivierte Werkstoffe (Sojabohnen, Sand, Vaseline und Kalkstein) wurden verwendet, um gestörtes Gebirge zu simulieren. Die Ergebnisse zeigen, dass die Wasserwegigkeiten hauptsächlich durch die Kombination von Störungszonen und Rissen im Kohleliegend—die der unmittelbare Auslöser für den Wassereinbruch sind—verursacht werden. Darüber hinaus wurde der verzögerte Mechanismus des Sohlwasserausbruchs innerhalb eines gespannten Wasserkörpers sowohl unter Druck- als auch unter Sickerwasserbedingungen entdeckt. Die Entstehung der Wasserwegigkeit wurde in zeitlichen und räumlichen Variationen durch Interpretation der beobachteten Daten und Phänomene untersucht. Die Daten zeigten, dass die Sohlspannung vor der Abbaufront anstieg und vom Überlagerungsdruck beeinflusst wird und, dass die Sohlspannung unter der abgebauten Fläche gleichzeitig abzunehmen begann. Die Spannung in der Firste zeigte einen drastischen Abfall während sie in der Sohle weiter abnahm und sich dann nach dem Wassereinbruch stabilisierte. Diese Arbeit stellt neue Ansätze und Erkenntnisse für die Erforschung von Wassereinbruchsstrukturen im tiefen Bergbau zur Verfügung.
Resumen
La irrupción de agua de mina es muy común en China y puede causar histéresis y daños severos. Se simuló físicamente el proceso entero de formación de grieta, propagación de la falla y evolución del canal de irrupción de agua con alta presión de agua debajo del piso de la mina, basado en las investigaciones sobre materiales sólidos y la mecánica de acoplamiento sólido-fluido. Para simular la roca de la falla se utilizaron materiales activados como porotos de soja, arena, vaselina y carbonato de calcio. Los resultados indican que los canales de agua son principalmente causados por la conexión entre las zonas de roca tectónica y las grietas de carbón del piso y son la causa directa de la irrupción de agua. Además, se reveló el mecanismo de retraso de la irrupción de agua desde el piso de carbón en un cuerpo de agua confinada bajo tensión y filtración de campo. La formación de un paso de irrupción de agua con variaciones espacio-temporales fue analizado por la interpretación de los datos monitoreados y de los fenómenos. Los datos mostraron que la tensión del piso sobre la cara de trabajo se incrementó y fue afectado por la presión y que la tensión del piso bajo el área no explotada empieza a decrecer simultáneamente. Luego de la irrupción de agua, la tensión de la pared superior descendió drásticamente mientras que la tensión de la pared inferior descendió y luego se estabilizó. Este trabajo proporciona nuevas aproximaciones y conocimiento para la investigación sobre la irrupción de agua en minería de profundidad.
抽象

Access options
Buy single article
Instant access to the full article PDF.
US$ 39.95
Tax calculation will be finalised during checkout.
Subscribe to journal
Immediate online access to all issues from 2019. Subscription will auto renew annually.
US$ 79
Tax calculation will be finalised during checkout.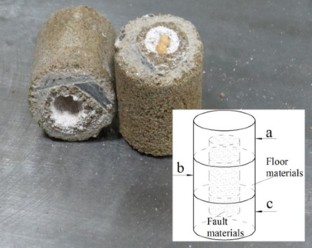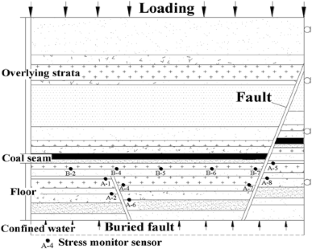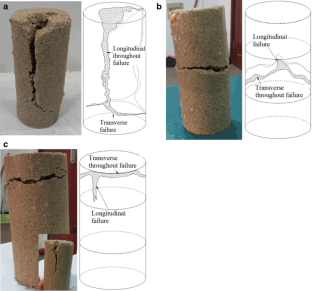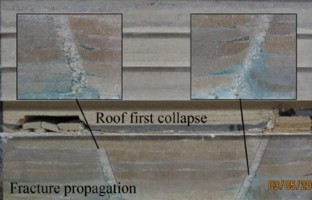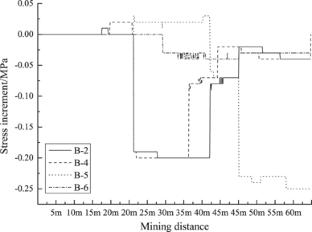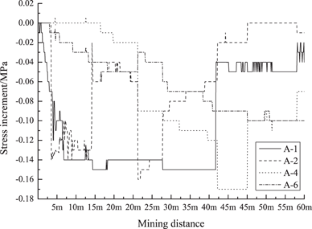 References
Aihua L, Peng S, Li X (2009) Development and application of similar physical model experiment system for water inrush mechanism in deep mining. J Rock Mech Eng 28(7):1335–1341 (Chinese)

Bukowski P (2011) Water hazard assessment in active shafts in Upper Silesian coal basin mines. Mine Water Environ 30:302–311

Chao X, Gong P (2011) Water disaster types and water control measures of Hanxing coal mine area. P Earth Planet Sci 3:343–348

HE M, Xie H, Peng S, Jiang Y (2005) Study on rock mechanics in deep mining engineering. J Rock Mech Eng 24(16):2803–2812 (Chinese)

Hu Y, Zhao Y, Yang D (2007) The study of 3D solid-liquid coupling simulation stope deformation. J Liaoning Tech U 26(4):520–523 (Chinese)

James W, LaMoreaux, Wu Q, Zhou W (2014) New development in theory and practice in mine water control in China. Carbonate Evaporite 29:141–145

Li C, Li J, Li Z, Hou D (2013) Establishment of spatiotemporal dynamic model for water inrush spreading processes in underground mining operations. Safety Sci 55:45–52

Li S, Wang K, Li L (2014) Development and application of an extendable model test system for water inrush simulation in subsea tunnel. J Rock Mech Eng 12:2409–2241 (Chinese)

Liu Q (2009) A discussion on water inrush coefficient. Coal Geol Explor 37(4):34–42

Lu Y, Wang L (2015) Numerical simulation of mining-induced fracture evolution and water flow in coal seam floor above a confined aquifer. Comput Geotech 67:157–171

Ministry of Coal Industry (2009) Regulations for mine water prevention and control. Beijing Publishing House of Coal Industry, Beijing (in Chinese)

Sun W, Zhang S (2015a) Development application of fluid-solid coupling similar material for floor strata and simulation test of water- inrush in deep mining. J Rock Mech Eng S1:2665–2670 (Chinese)

Sun W, Zhang S (2015b) Development of floor water invasion of mining influence simulation testing system and its application. J Rock Mech Eng S1:3274–3280 (Chinese)

Wang J, Li J, Xu G (2010) Development and application of simulation test system for water inrush from the water-conducting collapse column. J Min Safety Eng 03:305–309 (Chinese)

Wang Q, Ye Y, Jiang Y (2011) Simulation on mine water-inrush characteristics of cross roadway based on CFX. Proc Eng 26:759–764

Wang Y, Yang W, Li M, Liu X (2012) Risk assessment of floor water inrush in coal mines based on secondary fuzzy comprehensive evaluation. Int J Rock Mech Min 52:50–55

Wildemeersch S, Brouyère S, Ph. Orban, Couturier J, Dingelstadt C, Veschkens M, Dassargues A (2010) Application of the hybrid finite element mixing cell method to an abandoned coalfield in Belgium. J Hydrol 392:188–200

Wu Q, Zhou W, Pan G, Ye S (2009) Application of a discrete-continuum model to karst aquifers in North China. Ground Water 47(3):453–461

Wu Q, Cui F, Zhao S, Liu S, Zeng Y, Gu Y (2013a) Type classification and main characteristics of mine water disasters. J Chin Coal Soc 38:561–565 (Chinese)

Wu Q, Fan S, Zhou W, Liu S (2013b) Application of the analytic hierarchy process to assessment of water inrush: a case study for the No. 17 coal seam in the Sanhejian coal mine, China. Mine Water Environ 32:229–238

Wu Q, Lin Y, Zhou W, Li B, Zhao B, Lin S, Sun W, Zeng Y (2015) Evaluation of water inrush vulnerability from aquifers overlying coal seams in the Menkeqing coal mine, China. Mine Water Environ 34:258–269

Zhang J, Shen B (2004) Coal mining under aquifers in China: a case study. Int J Rock Mech Min 41:629–639

Zhou H, Tang Y, Hu D (2006) Study on coupled penetrating-dissolving model and experiment for salt rock cracks. J Rock Mech Eng 25(5):946–950 (Chinese)
Acknowledgements
This research was financially supported by the National Natural Science Foundation of China (Grants 51604167), China Postdoctoral Science Foundation (Grant 2015M572067), Natural Foundation of Shandong Province (ZR2016EEB07), Graduate Innovation Foundation of Shandong University of Science and Technology (SDKDYC170302), and the Taishan Scholar Talent Team Support Plan for Advantaged and Unique Discipline Areas.
Additional information
S. Zhang and W. Guo contributed equally to this work.
Electronic supplementary material
Below is the link to the electronic supplementary material.
About this article
Cite this article
Zhang, S., Guo, W., Li, Y. et al. Experimental Simulation of Fault Water Inrush Channel Evolution in a Coal Mine Floor. Mine Water Environ 36, 443–451 (2017). https://doi.org/10.1007/s10230-017-0433-9
Received:

Accepted:

Published:

Issue Date:
Keywords
Rock mechanics

Similar materials

Stress monitoring

Total process