Abstract
Solutions containing copper ions are produced at copper mines due to its dissolution from ores and dumps. It is important to recover these ions to prevent this toxic element from entering the environment and because it could be economical. We investigated the use of ion flotation for extracting Cu ions from diluted mine water from the Veshnaveh Mine in Qom, Iran. Experiments were conducted using floatation cells at pH 6, 9, and 12 with diluted solutions containing 10 mg L−1 of Cu. Sodium dodecyl sulfate and hexadecyl trimethyl ammonium bromide (HTAB) were used as collectors and methyl isobutyl carbinol (MIBC) and ethanol were used as frothers. The best result was achieved by maximizing Cu ion recovery and minimizing water recovery at pH 12, using 100 mg L−1 of HTAB and 0.1 % (v/v) of MIBC. Copper and water recovery were 79 and 24 %, respectively.
Zusammenfassung
Lösungen, die Kupfer enthalten, entstehen in Kupferbergwerken durch Herauslösung aus Erzen und Halden. Um die Verbreitung dieser Ionen in der Umwelt zu verhindern und weil es ökonomisch sein kann, ist es wichtig, die Kupferionen aus dem Wasser zu gewinnen. Wir untersuchten die Nutzung der Inonenflotation, um Kupferionen aus verdünntem Grubenwasser des Veshnaveh Bergwerks in Qom, Iran zu extrahieren. Für die Experimente mit verdünnter Kupferlösung (10 mg L−1) bei den pH-Werten 6, 9 und 12 wurden Denver-Flotationszellen verwendet. Natrium-Dodecylsulfat und Hexadecy-Trimethyl-Ammoniumbromid (HTAB) wurden als Kollektoren und Methylisobuthylcarbinol (MIBC) und Ethanol als Schäumer eingesetzt. Die besten Ergebnisse wurden durch Maximierung der Kupferrückgewinnung (79 %) und Minimierung der Wasserrückgewinnung (24 %) bei pH 12 unter Verwendung von 100 mg L−1 HTAB und 0.1 % (v/v) MIBC erreicht.
Resumen
En las minas de cobre se producen soluciones con contenido en cobre debido a la disolución a partir de minerales. La recuperación de estos iones es importante para prevenir que este elemento tóxico entre en el ambiente y porque además puede ser económicamente conveniente recuperarlo. Hemos estudiado el uso de flotación de iones para extraer los iones cobre del agua de mina proveniente de la mina Veshnaveh en Qom, Irán. Los experimentos fueron realizados en celdas de flotación a pHs 6, 9 y 12 con soluciones diluidas conteniendo 10 mg L−1 de cobre. Como colectores se usaron sulfato de dodecil sodio y bromuro de hexadecil, trimetil amonio (HTAB); mtil isobutil carbinol (MIBC) y etanol se utilizaron como espumantes. Los mejores resultados que maximizaron la recuperación de cobre y minimizaron la recuperación de agua fueron alcanzados a pH 12, con 100 mg L−1 de HTAB y 0.1 % (v/v) de MIBC. Las recuperaciones de cobre y agua fueron 79 y 24 %, respectivamente.
摘要
矿石及废物的溶解使铜矿废水中含有大量铜离子。 铜离子回收既能提高经济效益又能防止有毒铜离子进入环境。 试验研究了离子浮选法提取伊朗库姆 (Qom) 地区Veshnaveh铜矿稀释矿井废水中的铜。 在pH值分别为6、9和12的试验条件, 用丹佛浮选箱 (Denver flotation cells) 提取了铜离子浓度为 10 mg L−1 的稀释矿井废水的铜。 十二烷基硫酸钠和十六烷基三甲基溴化胺(HTAB)为聚集剂, 甲基异丁基甲醇(MIBC)和乙醇为起沫剂。 在pH值为12、HTAB含量 100 mg L−1 和MIBC含量0.1 % (v/v)的条件下, 通过铜离子回收率最大化和缩小水回收率的方法使回收效果最佳, 铜离子与水的回收率分别为 79 及 24 %。
Access options
Buy single article
Instant access to the full article PDF.
USD 39.95
Price excludes VAT (USA)
Tax calculation will be finalised during checkout.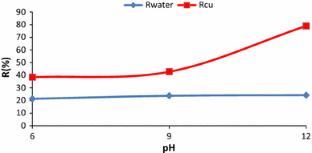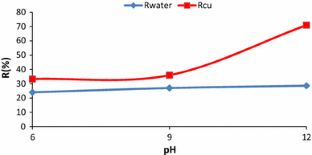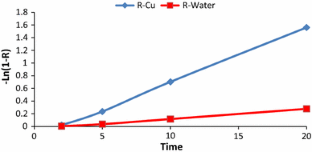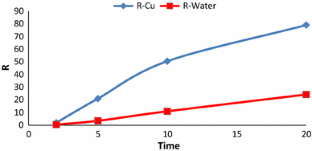 References
Bilal M, Shah JA, Ashfaq T, Gardazi SMH, Tahir AA, Pervez A, Haroon H, Mahmood Q (2013) Waste biomass adsorbents for copper removal from industrial wastewater—a review. J Hazard Mater 263:322–333

Doyle FM (2003) Ion flotation—its potential for hydrometallurgical operations. Int J Miner Process 72(1):387–399

Doyle MF, Liu Z (2003) The effect of triethylenetetraamine (Trien) on the ion flotation of Cu2+ and Ni2+. J Colloid Interface Sci 258(2):396–403

Galvin KP, Engel MD, Nicol SK (1993) The selective ion flotation of gold cyanide from a heap leach mine feed liquor. Proc, XVIII Int Miner Process Congr, Sydney, Australia, pp 719–726

Lamb DT, Naidu R, Ming H, Megharaj M (2012) Copper phytotoxicity in native and agronomical plant species. Ecotoxcol Environ Saf 85:23–29

Lazaridis NK, Peleka EN, Karapantsios ThD, Matis KA (2004) Copper removal from effluents by various separation techniques. Hydrometallurgy 74(1):149–156

Nikol SK, Galvin KP, Engel MD (1992) Ion flotation-potential applications to mineral processing. Miner Eng 5(10):1259–1275

Polat H, Erdogan D (2007) Removal of heavy metals from wastewaters by ion flotation. J Hazard Mater 148(1):267–273

Salmani M, Davoodi M, Ehrampush M, Ghaneian M, Fallahzade M (2013) Removal of cadmium(II) from simulated wastewater by ion flotation technique. Iranian J Environ Health Sci Eng 10:16

Sebba F (1959) Concentration by ion flotation. Nat Publ Gr 184:1062–1064

Zouboulis AI, Matis KA (1987) Ion flotation in environmental technology. Chemosphere 16(2):623–631
About this article
Cite this article
Jafari, M., Abdollahzadeh, A.A. & Aghababaei, F. Copper Ion Recovery from Mine Water by Ion Flotation. Mine Water Environ 36, 323–327 (2017). https://doi.org/10.1007/s10230-016-0408-2
Received:

Accepted:

Published:

Issue Date:

DOI: https://doi.org/10.1007/s10230-016-0408-2
Keywords
Metal leaching

Veshnaveh Mine

Qom