Abstract
Multivariate data analysis techniques were used to identify the interrelationships between the physical–chemical analyses of 22 parameters sampled monthly from 1991 to 2007 at 16 monitoring stations along the Elqui river and its tributaries to characterize the scale of the geogenic and anthropogenic impacts on the river's water quality. Principal component analysis was used to identify the differences and similarities between variables in the watershed. Factorial indices, computed to highlight the sections of the river and tributaries more influenced by hydrothermal, mining or agricultural activities, made it possible to synthesize groups of parameters with similar characteristics into a single value.
Zusammenfassung
Von 1991 bis 2007 wurden an 16 Beobachtungstationen entlang des Elqui-Flusses und seinen Zuflüssen monatlich 22 physiko-chemische Parameter gemessen. Der Grad geogener und anthropogener Einflüsse auf die Wasserqualität wurde mit multivariaten Analysen untersucht. Hauptkomponentenanalyse wurde angewendet, um Unterschiede und Ähnlichkeiten zwischen Variablen in dem Wassereinzugsgebiet zu identifizieren. Um Abschnitte des Flusses und seiner Zuflüsse mit stärkerem Einfluß hydrothermaler, bergaulicher oder landwirtschaftlicher Aktivitäten hervorzuheben, wurden faktorielle Kennzahlen berechnet. Damit war es möglich, Gruppen von Parametern ähnlicher Besonderheiten in einen Einzelwert zusammenzuführen.
Resumen
Se utilizaron técnicas de análisis multivariante para identificar las relaciones entre los análisis de 22 parámetros fisicoquímicos obtenidos mensualmente desde 1991 hasta 2007 en 16 estaciones de monitorio a lo largo del Río Elqui y sus tributarios, en función de caracterizar de la escala de los impactos geogénicos y antropogénicos sobre la calidad del agua del río. El análisis de componentes principales (PCA) fue usado para identificar las diferencias y similitudes entre variables de la cuenca. Los índices factoriales, estimados para destacar las zonas del río y sus tributarios más influida por las actividades minerales, hidrotérmicas o agrícolas, permitieron reunir grupos de parámetros con similares características dentro de un solo valor.
抽象
化学水质监测指标之间的关系,以研究地质成因和人类活动作用对流域水质的影响程度。利用主成分分析法(PCA)识别了流域内各变量之间的差异与相似性。利用因子分析突出了埃尔基河及其支流受热液、采矿和农业活动的影响程度,使具有相似特征的多元变量转化为单一变量成为可能。
Access options
Buy single article
Instant access to the full article PDF.
US$ 39.95
Tax calculation will be finalised during checkout.
Subscribe to journal
Immediate online access to all issues from 2019. Subscription will auto renew annually.
US$ 79
Tax calculation will be finalised during checkout.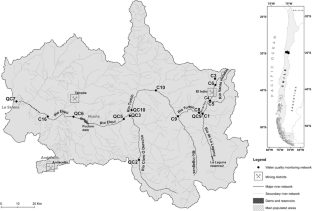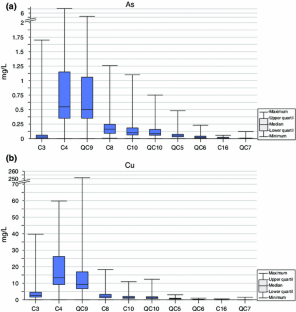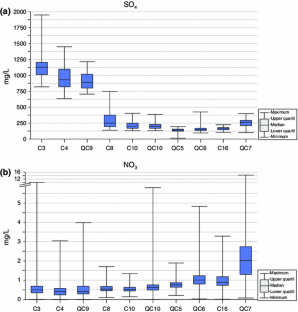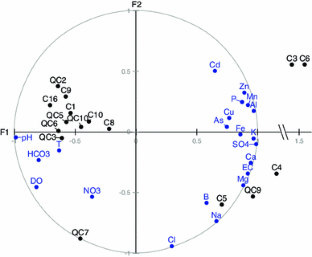 References
Coulthard TJ, Macklin MG (2003) Modeling long-term contamination in river systems from historical metal mining. Geology 31:451–454

Demirel Z, Güller C (2006) Hydrogeochemical evolution of groundwater in a Mediterranean coastal aquifer, Mersin-Erdemli basin (Turkey). Environ Geol 49:477–487

Dittmar T (2004) Hydrochemical processes controlling arsenic and heavy metal contamination in the Elqui river system (Chile). Sci Total Environ 325:193–207

Dos Santos JS, de Oliveira E, Bruns RE, Gennari RF (2004) Evaluation of the salt accumulation process during inundation in water resource of Contas River basin (Bahia-Brazil) applying principal component analysis. Water Res 38(6):1579–1585

Drever JI (1997) The geochemistry of natural waters: surface and groundwater environments, 3rd edn. Prentice Hall, NJ

Eaton AD, Clesceri LS, Greenberg AE (eds) (1995) Standard methods for the examination of water and wastewater, 19th edn. Office of the American Public Health Assoc, Washington

Edraki M, Golding SD, Baublys KA, Lawrence MG (2005) Hydrochemistry, mineralogy, and sulphur isotope geochemistry of acid mine drainage at the Mt. Morgan mine environment, Queensland, Australia. Appl Geochem 20:789–805

Galleguillos G (2004) Mining activities and hydraulic works effects over the water quality of Elqui river and its tributaries. Graduation Project, Univ of La Serena (in Spanish)

Galleguillos G, Oyarzún J, Maturana H, Oyarzun R (2008) Retención de arsénico en embalses: el caso del río Elqui, Chile. Ing Hidrául Mex 23(3):29–36

Gomshei MM, Allen DM (2000) Potential application of oxygen-18 and deuterium in mining effluent and acid rock drainage studies. Environ Geol 39:767–773

Güller C, Thyne G, McGray JE, Turner AK (2002) Evaluation of graphical and multivariate statistical methods for classification of water chemistry data. Hydrogeol J 10:455–474

Helena B, Pardo R, Vega M, Barrado E, Fernandez JM, Fernandez L (2000) Temporal evolution of groundwater composition in an alluvial aquifer (Pisuerga river, Spain) by principal component analysis. Water Res 34:807–816

Helsel D, Hirsch R (1993) Statistical methods in water resources. Elsevier, NYC

Higueras P, Oyarzun R, Oyarzún J, Maturana H, Lillo J, Morata D (2004) Environmental assessment of copper–gold-mercury mining in the Andacollo and Punitaqui districts, northern Chile. Appl Geochem 19:1855–1864

Huang F, Wang X, Lou L, Zhou Z, Wu J (2009) Spatial variation and source apportionment of water pollution in Qiantang River (China) using statistical techniques. Water Res 44(5):1562–1572

Jannas RR, Bowers TS, Petersen U, Beane RE (1999) High-sulfidation deposit types in the El Indio district, Chile. Soc Econ Geol 7:27–59

Kalthoff N, Fiebig-Wittmaack M, Meiβner C, Kohler M, Uriarte M, Bischoff-Gauβ I, Gonzales E (2006) The energy balance, evapo-transpiration and nocturnal dew deposition of an arid valley in the Andes. J Arid Environ 65:420–443

Khayat S, Hötzl H, Geyer S, Ali W (2006) Hydrochemical investigations of water from the Pleistocene wells and springs, Jericho area, Palestine. Hydrogeol J 14:192–202

Llanca JC, Miranda EE (2003) Groundwater studies in the Elqui river watershed. Civil Eng Graduation Project, Univ of La Serena (in Spanish)

Oyarzun R, Ortega L, Sierra J, Lunar R, Oyarzún J (1998) Cu, Mn, and Ag mineralization in the Quebrada Marquesa Quadrangle, Chile: the Talcuna and Arqueros districts. Miner Deposita 33:547–559

Oyarzun R, Lillo J, Higueras P, Oyarzún J, Maturana H (2004) Strong arsenic enrichment in sediments from the Elqui watershed, Northern Chile: industrial (gold mining at El Indio-Tambo district) vs. geologic processes. J Geochem Explor 84:53–64

Oyarzun R, Guevara S, Oyarzún J, Lillo J, Maturana H, Higueras P (2006) The As-contaminated Elqui river basin: a long lasting perspective (1975–1995) covering the initiation and development of Au–Cu–As mining in the high Andes of northern Chile. Environ Geochem Health 28(5):431–443

Oyarzún J, Maturana H, Paulo A, Pasieczna A (2003) Heavy metals in stream sediments from the Coquimbo Region (Chile): effects of sustained mining and natural processes in a semi-arid Andean basin. Mine Water Environ 22:155–161

Oyarzún J, Carvajal MJ, Maturana H, Núñez J, Kretschmer N, Amézaga J, Rötting T, Strauch G, Thyne G, Oyarzún R (2013) Hydrochemical and isotopic patterns in a calc-alkaline Cu- and Au-rich arid Andean basin: the Elqui river watershed, North Central Chile. Appl Geochem 33:50–63

Paskoff R (1993) Geomorfología de Chile Semiárido. Departamento de Publicaciones, Universidad de La Serena. La Serena, Chile

Perez C (2005) Climatic change: vunerability, adaptation and role of the institutions. Study of cases in the Elqui Valley. Graduation Project, Univ of La Serena (in Spanish)

Ribeiro L, Chambel A, Duque J, Fialho A, Condeça V, Aires P, Guerreiro S, Andrade P, Mira F (1999) Development and application of hydrochemical factorial indexes using principal component analysis in hard aquifers of Ossa Morena zone in Alentejo (Portugal). In: Fendeková M, Fendek M (eds) Hydrogeology and land use management. IAH Proc, Slovak Assoc of Hydrogeologists Publ, pp 485–490

Shi JA, Wang Q, Chen GJ, Wang GY, Zhang ZN (2001) Isotopic geochemistry of the groundwater systems in arid and semiarid areas and its significance: a case study in Shiyang River basin, Gansu Province, northwest China. Environ Geol 40:557–565

Singh KP, Malik A, Mohan D, Sinha S (2004) Multivariate statistical techniques for the evaluation of spatial and temporal variations in water quality of Gomti River (India)—a case study. Water Res 38(18):3980–3992

Thyne G, Cüneyt G, Poeter E (2004) Sequential analysis of hydrochemical data for watershed characterization. Ground Water 42(5):711–723

Zhou F, Huang GH, Guo HC, Zhang W, Hao ZJ (2007) Spatio-temporal patterns and source apportionment of coastal water pollution in eastern Hong Kong. Water Res 41(15):3429–3439

Zhu C, Anderson G (2002) Environmental applications of geochemical modelling. Cambridge University Press, Cambridge
Acknowledgments
The authors are greatly indebted to the Dirección General de Aguas de Chile (Ministerio de Obras Públicas) for allowing the use of their data files This study was prepared in the context of the project CAMINAR–"Catchment Management and Mining Impacts in Arid and Semi-arid South America", and co-funded by the European Commission under its 6th Framework Programme of International Cooperation, contract INCO-CT2006-032539. The information in this document is provided without any guarantee or warranty that it is useful for any particular purpose. Users of the information do so solely at their own risk and liability. This document does not represent the official policy or views of the European Commission, Parliament, or Council.
Electronic supplementary material
Below is the link to the electronic supplementary material.
About this article
Cite this article
Ribeiro, L., Kretschmer, N., Nascimento, J. et al. Water Quality Assessment of the Mining-Impacted Elqui River Basin, Chile. Mine Water Environ 33, 165–176 (2014). https://doi.org/10.1007/s10230-014-0276-6
Received:

Accepted:

Published:

Issue Date:
Keywords
Acid drainage

Arid zones

Elqui river

Mining pollution

PCA