Abstract
Burst swimming velocity (Uburst) was compared between wild and hatchery-reared chum salmon fry. In the hatchery-reared fry, Uburst was significantly correlated with the condition factor, but not with the body mass and fork length. In the wild-reared fry, on the other hand, Uburst ranged widely and did not correlate with condition factor. These suggest that well-balanced growth under satisfactory nutrient condition at the early developmental stage improves Uburst, and in the wild-reared fry, their cautiousness and various experiences may override the condition factor dependency of Uburst.
This is a preview of subscription content,
to check access.
Access this article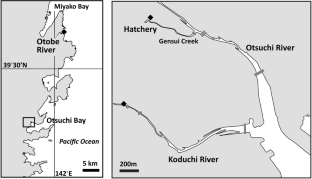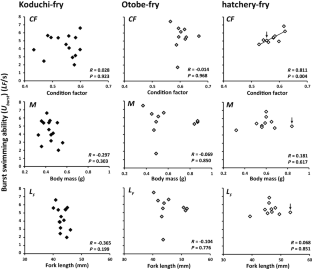 References
Azuma T, Noda S, Yada T, Ototake M, Nagoya H, Moriyama S, Yamada H, Nakanishi T, Iwata M (2002) Profiles in growth, smoltification, immune function and swimming performance of 1-year-old masu salmon Oncorhynchus masou masou reared in water flow. Fish Sci 68:1282–1294

Bax NJ (1983) Early marine mortality of marked juvenile chum salmon (Oncorhynchus keta) released into Hood Canal, Puget Sound, Washington, in 1980. Can J Fish Aquat Sci 40:426–435

Dunmall KM, Schreer JF (2003) A comparison of the swimming and cardiac performance of farmed and wild Atlantic salmon, Salmo salar, before and after gamete stripping. Aquaculture 220:869–882

Hammenstig D, Sandblom E, Axelsson M, Johnsson JI (2014) Effects of rearing density and dietary fat content on burst-swim performance and oxygen transport capacity in juvenile Atlantic salmon Salmo salar. J Fish Biol 85:1177–1191

Healey MC (1982) Timing and relative intensity of size-selective mortality of juvenile chum salmon (Oncorhychus keta) during early sea life. Can J Fish Aquat Sci 39:952–957

Hiyama Y, Nose Y, Shimizu M, Ishihara T, Abe H, Sato R, Maiwa T, Kajihara T (1972) Predation of chum salmon fry during the course of its seaward migration-II. Otsuchi river investigation 1964–1965. Bull Jpn Soc Sci Fish 38:223–229

Hudson RCL (1973) On the function of the white muscles in teleosts at intermediate swimming speeds. J Exp Biol 58:509–522

Jayne BC, Lauder GV (1993) Red and white muscle activity and kinematics of the escape response of the bluegill sunfish during swimming. J Comp Physiol A 175:495–508

Johnsson JI, Petersson E, Jönsson E, Björnsson BT, Järvi T (1996) Domestication and growth hormone alter antipredator behavior and growth patterns in juvenile brown trout, Salmo trutta. Can J Fish Aquat Sci 53:1546–1554

Kaeriyama M (1986) Ecological study on early life of the chum salmon, Oncorhynchus keta (Walbaum). Sci Rep Hokkaido Salmon Hatchery 40:31–92 (in Japanese with English abstract)

Kaeriyama M, Seo H, Qin Y (2014) Effect of global warming on the life history and population dynamics of Japanese chum salmon. Fish Sci 80:251–260

McGinnity P, Prodöhl P, Maoiléidigh NÓ, Hynes R, Cotter D, Baker N, O'Hea B, Ferguson A (2004) Differential lifetime success and performance of native and non-native Atlantic salmon examined under communal natural conditions. J Fish Biol 65:173–187

Minowa Y, Ban M, Fukuzawa H, Nakashima A, Yaegashi H (2019) Examination of the feeding rate for chum salmon fry (Sake no kyuujiritsu ni kansuru kentou). FRA Salmonid Research Report 13:23–26 (in Japanese)

Mizuno S, Misaka N, Teranishi T, Ando D, Koyama T, Araya K, Miyamoto M, Nagata M (2008) Physiological effects of an iron citrate dietary supplement on chum salmon (Oncorhychus keta) fry. Aquaculture Sci 56:531–542

Mizuno S, Nakajima M, Naito K, Koyama T, Saneyoshi H, Kobayashi M, Koide N, Ueda H (2010) Physiological impacts of high rearing density on chum salmon Oncorhychus keta fry. Aquaculture Sci 58:387–399

Morita K (2014) Japanese wild salmon research: Toward a reconciliation between hatchery and wild salmon management. NPAFC Newsletter 35:4–14

Morita K, Takahashi S, Ohkuma K, Nagasawa T (2013) Estimation of the population of wild chum salmon Oncorhynchus keta in Japanese hatchery rivers. Nippon Suisan Gakkaishi 79:206–213 (in Japanese with English abstract)

Nagasawa K (1998) Fish and seabird predation on juvenile chum salmon (Oncorhynchus keta) in Japanese coastal waters, and an evaluation of the impact. NPAFC Bull 1:480–495

Nahhas R, Jones NV, Goldspink G (1982) Some aspects of sustained training of rainbow trout, Salmo gairdneri Richardson. J Fish Biol 20:351–358

Nakano H, Shirahata S (1988) An evaluation of the physiological quality of hatchery reared chum salmon fry Oncorhynchus keta. Nippon Suisan Gakkaishi 54:1263–1269

Nakano H, Ando Y, Shirahata S (1985) Changes of acid phosphatase activity, total protein, DNA and RNA during the early development of chum salmon (Oncorhynchus keta). Bull Hokkaido Reg Fish Res Lab 50:71–77 (in Japanese with English abstract)

Nakano H (1991) Biochemical analyses of body constituents. In: Tanaka K (ed) Early Development in Fishes. Kouseisya Kouseikaku, Tokyo, pp 60–70 (in Japanese)

Nielsen C, Holdensgaard G, Petersen HC, Bjornsson BT, Madsen SS (2001) Genetic differences in physiology and growth hormone levels and migratory behaviour of Atlantic salmon smolts. J Fish Biol 59:28–44

O'Neil JS (2007) Fyke nets (in lentic habitats and estuaries). In: Johnson DH, Shrier BM, O'Neil JS, Knutzen JA, Augerot X, O'Neil TA, Pearsons TN (eds) Salmonid field protocols handbook. Techniques for assessing status and trends in salmon and trout populations. American Fisheries Society, Bethesda, pp 411–424

Ohkuma K, Sasaki S, Wada A, Tojima T (1998) Burst swimming speed of chum salmon fry measured with a simple water tunnel apparatus. Bull Natl Salmon Resources Center 1:45–48 (in Japanese with English abstract)

Olla BL, Davis MW (1989) The role of learning and stress in predator avoidance of hatchery-reared coho salmon (Oncorhynchus kisutch) juveniles. Aquaculture 76:209–214

Olsen JB, Flannery BG, Beacham TD, Bromaghin JF, Crane PA, Lean CF, Dunmall KM, Wenburg JK (2008) The influence of hydrographic structure and seasonal run timing on genetic diversity and isolation-by-distance in chum salmon (Oncorhynchus keta). Can J Fish Aquat Sci 65:2026–2042

Pedersen L-F, Koed A, Matle H (2008) Swimming performance of wild and F1-hatchery-reared Atlantic salmon (Salmo salar) and brown trout (Salmo trutta) smolts. Ecol Freshw Fish 17:425–431

Petersson E, Järvi T (2006) Anti-predator response in wild and sea-ranched brown trout and their crosses. Aquaculture 253:218–228

Salo EO (1991) Life history of chum salmon (Oncorhychus keta). In: Groot C, Margolis L (eds) Pacific salmon life history. UBC press, Vancouver, pp 232–309

Seo H, Kudo H, Kaeriyama M (2011) Long-term climate-related changes in somatic growth and population dynamics of Hokkaido chum salmon. Environ Biol Fishes 90:131–142

Shimizu T, Ban M, Miyauchi Y, Umeda K, Nakano K, Fujii M, Mayama H (2016) Nutritional condition of hatchery and wild chum salmon Oncorhychus keta fry migrating down the Chitose River. J Fish Tech 8:89–94 (in Japanese with English abstract)

Sopinka NM, Hinch SG, Lotto AG, Whitney CK, Patterson DA (2013) Does among-population variation in burst swimming performance of sockeye salmon Oncorhychus nerka fry reflect early life migrations? J Fish Biol 83:1416–1424

Tamate T, Oomoto K, Sasaki K, Yatsuya M (2019) Density and body size of wild chum salmon Oncorhynchus keta in the lower reaches of a small stream on the Sanriku coast, northern Honshu Island, Japan. Japan J Ichthyol 66:211–216 (in Japanese with English abstract)

Taylor EB, McPhail JD (1985a) Burst swimming and size-related predation of newly emerged coho salmon Oncorhynchus kisutch. Trans Am Fish Soc 114:546–551

Taylor EB, McPhail JD (1985b) Variation in burst and prolonged swimming performance among British Colombia populations of coho salmon, Oncorhynchus kisutch. Can J Fish Aquat Sci 42:2029–2033

Terazaki M, Iwata M (1983) Feeding habits of chum salmon fry Oncorhynchus keta collected from Otsuchi bay. Bull Jpn Soc Sci Fish 49:1187–1193

Totland GK, Kryvi H, Jødestøl KA, Christiansen EN, Tangerås A, Slinde E (1987) Growth and composition of the swimming muscle of adult Atlantic salmon (Salmo salar L.) during long-term sustained swimming. Aquaculture 66:299–313

Tsukagoshi H (2016) Genetic characteristics of salmon in the Sanriku-region, Japan. Fish Genet Breed Sci 45:3–8

Woodward CC, Strange RJ (1987) Physiological stress responses in wild and hatchery-reared rainbow trout. Trans Am Fish Soc 116:574–579
Acknowledgements
We thank Shin-Otsuchi fishery guide for providing chum salmon fry. We thank Dr. Takaaki Abe for technical supports and Dr. Marty KS Wong for valuable comments. We thank Prof. Christopher A. Loretz of State University of New York at Buffalo for critical reading of the manuscript. This study was financially supported by Tohoku Ecosystem-Associated Marine Science (TEAMS) research program of the Ministry of Education, Culture, Sports, Science and Technology (MEXT), Grant-in-Aid for Challenging Exploratory Research from Japan Society for the Promotion of Science (JSPS) to S. N. (25660153). We declare that all experiments in this study, including fish collection, handling and processing, were approved by the Animal Experiment Committee of the University of Tokyo and performed in accordance with the Manual for Animal Experiments prepared by the committee and the current Japanese laws.
Additional information
Publisher's Note
Springer Nature remains neutral with regard to jurisdictional claims in published maps and institutional affiliations.
About this article
Cite this article
Nobata, S., Houki, S., Kitagawa, T. et al. Condition factor dependency of burst swimming ability between wild and hatchery-reared chum salmon fry (Oncorhynchus keta). Ichthyol Res 69, 280–286 (2022). https://doi.org/10.1007/s10228-021-00838-x
Received:

Revised:

Accepted:

Published:

Issue Date:

DOI: https://doi.org/10.1007/s10228-021-00838-x
Keywords