Abstract
The biology and fisheries of cobbler Cnidoglanis macrocephalus have been examined on the Australian west coast, but not the east coast. This study identified that east coast estuary cobbler was more prevalent over vegetated habitat than bare substrata and that spawning occurred during spring and early summer. Observed longevity was 9+ and 20+ years for males and females, but there were no discernible differences between sexes or estuaries in mean total length (TL) at age. The von Bertalanffy growth function of combined sexes was Linf = 61.2 cm TL, k = 0.677, t0 = 0.007. The data demonstrate similarities and differences in life history characteristics of cobbler between coasts.
Access options
Buy single article
Instant access to the full article PDF.
US$ 39.95
Tax calculation will be finalised during checkout.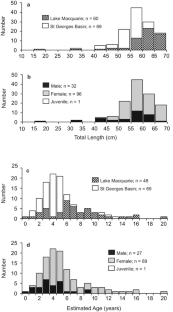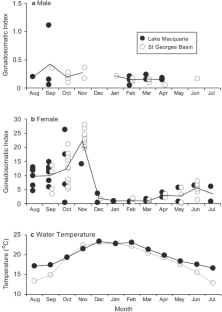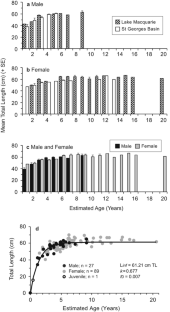 References
Ayvazian SG, Johnson MS, McGlashan DJ (1994) High levels of genetic subdivision of marine and estuarine populations of the estuarine catfish Cnidoglanis macrocephalus (Plotosidae) in southwestern Australia. Mar Biol 118:25–31

Chuwen BM, Potter IC, Hall NG, Hoeksema SD, Laurenson LJ (2011) Changes in catch rates and length and age at maturity, but not growth, of an estuarine plotosid (Cnidoglanis macrocephalus) after heavy fishing. Fish Bull 109:247–260

De Vlaming VL (1972) Environmental control of teleost reproductive cycles: a brief review. J Fish Biol 4:131–140

Froese R, Pauly D (2020) FishBase. World Wide Web electronic publication. http://www.fishbase.org. Accessed December 2020

Gomon MF, Bray DJ (2018) Cnidoglanis macrocephalus in Fishes of Australia. https://fishesofaustralia.net.au/home/species/2758. Accessed June 2021

Gray CA (2002) Management implications of discarding in an estuarine multi-species gill net fishery. Fish Res 56:177–192

Gray CA, Rotherham D, Johnson DD (2011) Consistency of temporal and habitat-related differences among assemblages of fish in coastal lagoons. Estuar Coast Shelf Sci 95:401–414

Gray CA, Haddy JA, Fearman J, Barnes LM, Macbeth WG, Kendall BW (2012) Reproduction, growth and connectivity among populations of Girella tricuspidata (Pisces: Girellidae). Aquat Biol 16:53–68

Hyndes GA, Kendrick AJ, MacArthur LD, Stewart E (2003) Differences in the species- and size-composition of fish assemblages in three distinct seagrass habitats with differing plant and meadow structure. Mar Biol 142:1195–1206

Kailola PJ, Williams MJ, Stewart PC, Reichelt RE, McNee A, Grieve C (1993) Australian fisheries resources. Bureau of Resource Sciences and the Fisheries Research and Development Corporation, Canberra

Kendall BW, Gray CA (2009) Reproduction, age and growth of Sillago maculata in south-eastern Australia. J Appl Ichthyol 25:529–536

Laurenson LJB, Neira FJ, Potter IC (1993a) Reproductive biology and larval morphology of the marine plotosid Cnidoglanis macrocephalus (Teleostei) in a seasonally closed Australian estuary. Hydrobiologia 268:179–192

Laurenson L, Potter I, Lenanton R, Hall N (1993b) The significance of length at sexual maturity, mesh size and closed fishing waters to the commercial fishery for the catfish Cnidoglanis macrocephalus in Australian estuaries. J Appl Ichthyol 9:210–221

Laurenson LJ, Potter IC, Hall NG (1994) Comparisons between generalized growth curves for two estuarine populations of the eel tailed catfish Cnidoglanis macrocephalus. Fish Bull 92:880–889

Lenanton RCJ, Caputi N (1989) The roles of food supply and shelter in the relationship between fishes, in particular Cnidoglanis macrocephalus (Valenciennes), and detached macrophytes in the surf zone of sandy beaches. J Exp Mar Biol Ecol 128:165–176

Lenanton and Potter (1987) Contribution of estuaries to commercial fisheries in temperate Western Australia and the concept of estuarine dependence. Estuaries 10:28–35

Neira FJ, Miskiewicz AG, Trnski T (eds) (1998) Larvae of temperate Australian fishes: laboratory guide for larval fish identification. University of Western Australia Press, Nedlands

Nel SA, Potter IC, Loneragan NR (1985) The biology of the catfish Cnidoglanis macrocephalus (Plotosidae) in an Australian estuary. Estuar Coast Shelf Sci 21:895–909

Nelson JS (1994) Fishes of the world. 3rd edition. John Wiley and Sons, New York

Piddock T, Ashby C, Hartmann K, Hesp A, Hone P, Klemke J, Mayfield S, Roelofs A, Saunders T, Stewart J, Wise B, Woodhams J (eds) (2021) Status of Australian fish stocks reports 2020. Fisheries Research and Development Corporation, Canberra

Platell ME, Orr PA, Potter IC (2006) Inter‐ and intraspecific partitioning of food resources by six large and abundant fish species in a seasonally open estuary. J Fish Biol 69:243–262

Scott SG, Pankhurst NW (1992) Interannual variation in the reproductive cycle of the New Zealand snapper Pagrus auratus (Bloch & Schneider) (Sparidae). J Fish Biol 41:685–695

Smith KA, Lenanton RCJ (2021) Almost forgotten: historical abundance of eel-tail catfish populations in south-western Australian estuaries and their decline due to habitat loss and historical overfishing. Reg Stud Mar Sci 41:101605

Stocks J, Gray CA, Taylor MD (2015) Intra-population trends in the maturation and reproduction of a temperate marine herbivore Girella elevata across latitudinal clines. J Fish Biol 86:463–483

Then AY, Hoenig JM, Hall NG, Hewitt DA (2015) Evaluating the predictive performance of empirical estimators of natural mortality rate using information on over 200 fish species. ICES J Mar Sci 72:82–92

van der Meulen DE, Walsh CT, Taylor MD, Gray CA (2014) Habitat requirements and spawning strategy of an estuarine-dependent fish, Percalates colonorum. Mar Freshw Res 65:218–227
Acknowledgments
Samples of cobbler were obtained from field studies associated with Fisheries Research and Development Corporation Project 2002/059 that was supported by funding from the New South Wales and Australian Governments. Expert field and laboratory assistance was provided by NSW DPI Fisheries technicians Lachlan Barnes, Daniel Johnson, Ben Kendall, Paul Lokys, James McLeod and Damian Young. Sampling was done in accordance with the NSW DPI Animal Care and Ethics Approval 2002/15.
Additional information
Publisher's Note
Springer Nature remains neutral with regard to jurisdictional claims in published maps and institutional affiliations.
About this article
Cite this article
Gray, C.A. Life history characteristics of the estuary eeltail catfish Cnidoglanis macrocephalus (Plotosidae) in eastern Australia. Ichthyol Res (2021). https://doi.org/10.1007/s10228-021-00836-z
Received:

Revised:

Accepted:

Published:
Keywords
Cobbler

Reproduction

Growth

Longevity