Access options
Buy single article
Instant access to the full article PDF.
US$ 39.95
Tax calculation will be finalised during checkout.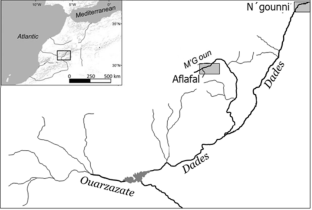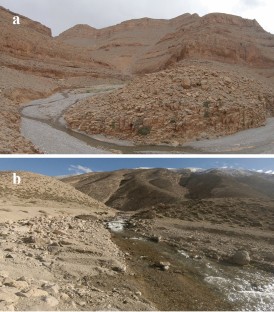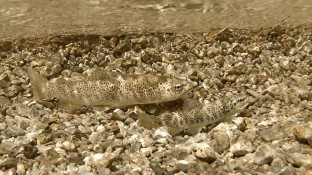 References
Clavero M, Calzada J, Esquivias J, Veríssimo A, Hermoso V, Quinba A, Delibes M (2018) Nowhere to swim to: climate change and conservation of the relict Dades trout Salmo multipunctata in the High Atlas Mountains, Morocco. Oryx 52:627–635

de Jong C, Cappy S, Finckh M, Funk D (2008) A transdisciplinary analysis of water problems in the mountainous karst areas of Morocco. Eng Geol 99:228–238

Doadrio I, Perea S, Yahyaoui A (2015) Two new species of Atlantic trout (Actinopterygii, Salmonidae) from Morocco. Graellsia 71:e031

Esteve M (2005) Observations of spawning behaviour in Salmoninae: Salmo, Oncorhynchus and Salvelinus. Rev Fish Biol Fish 15:1–21

Esteve M, Gilroy D, McLennan D (2009) Spawning behaviour of taimen (Hucho taimen) from the Uur River, Northern Mongolia. Environ Biol Fishes 84:185–189

Esteve M, McLennan D, Zablocki JA, Pustovrh G, Doadrio I (2014) Spawning behaviour and the Softmouth Trout dilemma. Arch Pol Fish 22:159–165

Fleming IA (1998) Pattern and variability in the breeding system of Atlantic salmon (Salmo salar), with comparisons to other salmonids. Can J Fish Aquat Sci 55(Suppl):59–76

Groot C (1996) Salmonid life histories. In: Pennell W, Bruce A (eds) Principles of salmonid culture. Elsevier, New York, pp 97–230

Holcík J, Hensel K, Nieslanik J, Skácel L (1988) The Eurasian Huchen, Hucho hucho: largest salmon of the world. Dr. W.Junk Publishers, Dordrecht/Boston

Jones JW, Ball JN (1954) The spawning behaviour of brown trout and salmon. Br J Anim Behav 2:103–114

Lobón-Cerviá J, Esteve M, Berrebi P, Duchi A, Lorenzoni M, Young KA (2019) Trout and char of central and southern Europe and northern Africa. In: Kershner J, Williams J, Lobón-Cerviá J, Gresswell B (eds) Trout and char of the world. American Fisheries Society, Bethesda, Maryland, pp 379–410

Snoj A, Marić S, Bajec SS, Berrebi P, Janjani S, Schöffmann J (2011) Phylogeographic structure and demographic patterns of Brown Trout in north-west Africa. Mol Phylogenet Evol 61:203–211

Witkowski A (1988) The spawning run of the huchen Hucho hucho (L.) and its analysis. Acta Ichtyol Piscat 13:23–31
Acknowledgments
Field work during the three expeditions was carried out by a team formed by Brahim Bezzi, Bzza Ghira, Najma Said and M.E. Special thanks to the Ali family for their assistance during the Aflafal trips and to the Said family for their assistance during the N'gounni expeditions. Thanks to Jusseff Jini at the Amezray Kasbah hostel in Zaouiat Ahansal. Special thanks to Azzedinne Said for his help during the mule accident we suffered on 18 November. Special thanks to Miguel Clavero for the advice and information that resulted in our first expedition.
Additional information
Publisher's Note
Springer Nature remains neutral with regard to jurisdictional claims in published maps and institutional affiliations.
Supplementary Information
Below is the link to the electronic supplementary material.
Supplementary file2 (MP4 236165 kb)
Supplementary file3 (MP4 197379 kb)
About this article
Cite this article
Esteve, M. Preliminary observations of Dades trout (Salmo multipunctatus) spawning in a High Atlas mountain spring. Ichthyol Res (2021). https://doi.org/10.1007/s10228-021-00834-1
Received:

Revised:

Accepted:

Published: