Abstract
A new species of stonefish, Synanceia quinque (Synanceiidae) is described on the basis of two specimens (61.5–84.4 mm standard length) collected off Sabah (Borneo), Malaysia and Flores, Indonesia. The new species is characterized by 12 pectoral-fin rays, and is most similar to Synanceia alula Eschmeyer and Rama-Rao 1973 (11 pectoral-fin rays in the latter vs. 14 or more in other congeners). Other characters distinguishing S. quinque from S. alula include numbers of pelvic-fin rays [I, 5 in the former vs. I, 3 or 4 (usually I, 4) in the latter], gill rakers (0 + 4 or 5 vs. 0 or 1 + 7), and five preopercular spines/skin flaps (upper three spines relatively well developed, lower two rudimentary) (vs. four preopercle spines, fifth spine or skin flap absent). An updated key to species of Synanceia is provided.
Access options
Buy single article
Instant access to the full article PDF.
US$ 39.95
Tax calculation will be finalised during checkout.
Subscribe to journal
Immediate online access to all issues from 2019. Subscription will auto renew annually.
US$ 79
Tax calculation will be finalised during checkout.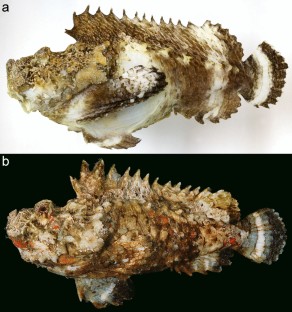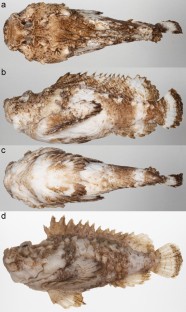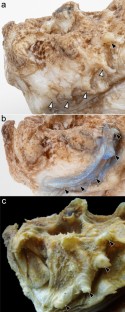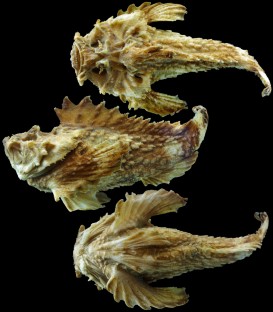 References
Allen GR, Erdmann MV (2012) Reef fishes of the East Indies. Vols. I–III. Tropical Reef Research, Perth

Bleeker P (1874) Révision des espèces insulindiennes de la famille des Synancéoïdes. Natuurk Verh Holland Maatsch Wet Haarlem (Ser 3) 2(3):1–22, pls 1–4

Bloch ME, Schneider JG (1801) M. E. Blochii, systema ichthyologiae iconibus cx ilustratum. Post obitum auctoris opus inchoatum absolvit, correxit, interpolavit Jo. Gottlob Schneider, Saxo. Sumtibus Auctoris Impressum et Bibliopolio Sanderiano Commissum, Berolini

Eschmeyer WN, Rama-Rao KV (1973) Two new stonefishes (Pisces, Scorpaenidae) from the Indo-West Pacific, with a synopsis of the subfamily Synanceiinae. Proc Calif Acad Sci (Ser 4) 39:337–382

Fricke R, Eschmeyer WN (2021) Eschmeyer's catalog of fishes: guide to fish collections. Electronic version. http://researcharchive.calacademy.org/research/ichthyology/catalog/collections.asp. Accessed 5 April 2021

Fricke R, Allen GR, Amon D, Andréfouët S, Chen W-J, Kinch J, Mana R, Russell BC, Tully D, White WT (2019) Checklist of the marine and estuarine fishes of New Ireland Province, Papua New Guinea, western Pacific Ocean, with 810 new records. Zootaxa 4588:1–360

Linnaeus C (1766) Systema naturae per regna tria naturae, secundum classes, ordines, genera, species, cum characteribus, diferentiis, synonymis, locis. Tomus I. Editio duodecima, reformata. Laurentii Salvii, Holmiae

Motomura H (2004) Revision of the scorpionfish genus Neosebastes (Scorpaeniformes: Neosebastidae) with descriptions of five new species. Indo-Pac Fish 37:1–75

Orrell T, Informatics Office (2021) NMNH Extant Specimen Records. Version 1.42. National Museum of Natural History, Smithsonian Institution. Occurrence dataset: https://doi.org/10.15468/hnhrg3. Accessed via GBIF.org (https://www.gbif.org/occurrence/1675827516) on 4 April 2021

Richardson J (1842) Contributions to the ichthyology of Australia. [Continued from p 218]. Ann Mag Nat Hist (New Ser) 9:384–393

Seale A (1901) Report of a mission to Guam. Part II. - Fishes. Occas Pap Bernice P Bishop Mus 1(3):61–128

Yoshino T, Kon T, Sakurai Y (1997) First record of the synanceiine fish, Synanceia horrida, from Japan. Japan J Ichthyol 44:97–100
Acknowledgements
We are very grateful to A. Suzumoto and L. O'Hara (BPBM) for a specimen loan and photograph of the new species; G. Ogihara (formerly KAUM) for providing data from his preliminary taxonomic study on Synanceia; and J. Sparks (AMNH), M. Sabaj Pérez (ANSP), J. Maclaine (BMNH), D. Catania (CAS), M. van Oijen (formerly RMNH), J. Williams (formerly USNM), and P. Bartsch (ZMB) for providing opportunities to examine specimens. We are also indebted to Y. Yashima (KUN) for taking X-ray photographs, and G. Hardy (Ngunguru, New Zealand) for reading the manuscript and providing help with English. This study was supported in part by JSPS KAKENHI Grant Numbers 20H03311 and 21H03651, the JSPS Core-to-core CREPSUM JPJSCCB2020009, and the "Establishment of Glocal Research and Education Network in the Amami Islands" project of Kagoshima University adopted by the Ministry of Education, Culture, Sports, Science and Technology, Japan. This collaborative research was conducted under MoUs between Universiti Malaysia Sabah and Kindai and Kagoshima universities.
Additional information
Publisher's Note
Springer Nature remains neutral with regard to jurisdictional claims in published maps and institutional affiliations.
This article was registered in the Official Registry of Zoological Nomenclature (ZooBank) as CB64B2E6-A57A-4460-9269-B94710D2C5BF.
This article was published as an Online First article on the online publication date shown on this page. The article should be cited by using the doi number.
About this article
Cite this article
Matsunuma, M., Manjaji-Matsumoto, B.M. & Motomura, H. Synanceia quinque, a new species of stonefish (Synanceiidae) from Borneo and Flores. Ichthyol Res (2021). https://doi.org/10.1007/s10228-021-00829-y
Received:

Revised:

Accepted:

Published:
Keywords
Synanceia alula

Actinopterygii

Taxonomy

Morphology