Abstract
Despite its potential use for population control, the winter ecology of nonnative fishes is still poorly understood due to the difficulty of conducting field surveys. In this study, we investigated the winter habitat use of invasive rainbow trout Oncorhynchus mykiss at the cannel unit scale (i.e., pool, riffle). Twenty-four reaches were surveyed in late December 2013 along the Obicha River, a tributary of the Otofuke River, Tokachi River basin, Hokkaido, Japan. A total of 532 fish were captured, of which 96% were rainbow trout, whereas native salmonid was only a single southern Asian Dolly Varden Salvelinus curilus. Smaller rainbow trout (< 250 mm) used reaches with low velocity, whereas larger trout (250–520 mm) aggregated in specific reaches with deep pools with abundant cover and coarse substrate. A previous tributary-scale study in the same river system showed the importance of velocity and temperature, but not depth and substrate. Therefore, habitat selection would be scale-, as well as size-, dependent. This study provides useful information on capturing large mature adults in winter for effective control of nonnative salmonids.
Access options
Buy single article
Instant access to the full article PDF.
US$ 39.95
Tax calculation will be finalised during checkout.
Subscribe to journal
Immediate online access to all issues from 2019. Subscription will auto renew annually.
US$ 79
Tax calculation will be finalised during checkout.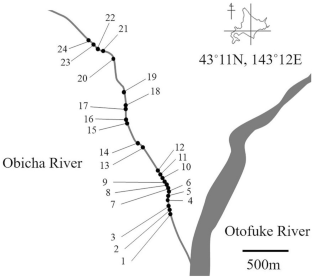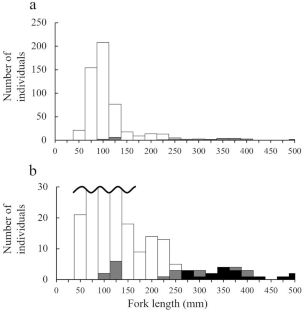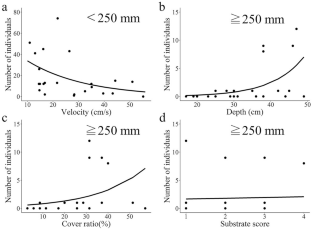 References
Bain MB, Finn JT, Booke HE (1985) Quantifying stream substrate for habitat analysis studies. N Am J Fish Manag 5:499–500

Bajer PG, Chizinski CJ, Sorensen PW (2011) Using the Judas technique to locate and remove wintertime aggregations of invasive common carp. Fish Manag Ecol 18:497–505

Baltz DM, Vondracek B, Brown LR, Moyle PB (1991) Seasonal changes in microhabitat selection by rainbow trout in a small stream. Trans Am Fish Soc 120:166–176

Barton K (2020) MuMIn: multi-model inference. R package version 1.43.17. https://CRAN.R-project.org/package=MuMIn. Accessed 13 November 2020

Baxter CV, Fausch KD, Murakami M, Chapman PL (2007) Invading rainbow trout usurp a terrestrial prey subsidy from native charr and reduce their growth and abundance. Oecologia 153:461–470

Burnham KP, Anderson DR (2002) Model selection and multimodel inference: a practical information-theoretic approach. Second edition. Springer-Verlag, New York

Crawford SS, Muir AM (2007) Global introductions of salmon and trout in the genus Oncorhynchus: 1870–2007. Rev Fish Biol Fish 18:313–344

Cunjak RA (1988) Behavior and microhabitat of young Atlantic salmon (Salmo salar) during winter. Can J Fish Aquat Sci 45:2156–2160

Cunjak RA (1996) Winter habitat of selected stream fishes and potential impacts from land-use activity. Can J Fish Aquat Sci 53:267–282

Fausch KD, Nakano S, Ishigaki K (1994) Distribution of two congeneric charrs in stream of Hokkaido Island, Japan: considering multiple factors across scales. Oecologia 100:1–12

Fausch KD, Nakano S, Kitano S, Kanno Y, Kim S (2020) Interspecific social dominance networks reveal mechanisms promoting coexistence in sympatric charr in Hokkaido, Japan. J Anim Ecol. https://doi.org/10.1111/1365-2656.13384

Garcia de Leaniz C, Gajardo G, Consuegra S (2010) From best to pest: changing perspectives on the impact of exotic salmonids in the Southern Hemisphere. Syst Biodivers 8:447–459

Gozlan RE (2008) Introduction of non-native freshwater fish: is it all bad? Fish Fish 9:106–115

Harwood AJ, Metcalfe NB, Griffiths SW, Armstrong JC (2002) Intra- and inter-specific competition for winter concealment habitat in juvenile salmonids. Can J Fish Aquat Sci 59:1515–1523

Hasegawa K, Maekawa K (2006) Effect of introduced salmonids on two native stream-dwelling salmonids through interspecific competition. J Fish Biol 68:1123–1132

Hasegawa K, Yamamoto T, Murakami M, Maekawa K (2004) Comparison of competitive ability between native and introduced salmonids: Evidence from pairwise contests. Ichthyol Res 51:191–194

Heggenes J (1988) Physical habitat selection by brown trout (Salmo trutta) in riverine systems. Nord J Freshw Res 64:74–90

Höjesjö J, Kaspersson R, Armstrong JD (2015) Size-related habitat use in juvenile Atlantic salmon: the importance of intercohort competition. Can J Fish Aquat Sci 8:1–8

Huusko A, Greenberg L, Stickler M, Linnansaari T, Nykänen M, Vehanen T, Koljonen S, Louhi P, Alfredsen K (2007) Life in the ice lane: the winter ecology of stream salmonids. River Res Appl 23:469–491

Kato K, Yanagawa T (2000) A reproductive population of rainbow trout introduced into the Sanjo River, eestern Japan. Suisanzoshoku 48:603–608 (in Japanese)

Kitano S (2004) Ecological impacts of rainbow, brown and brook trout in Japanese inland waters. Glob Environ Res 8:41–50

Koizumi I, Kanazawa Y, Yamazaki C, Tanaka Y, Takaya K (2017a) Extreme winter aggregation of invasive rainbow trout in small tributaries: implications for effective control. Ichthyol Res 64:197–203

Koizumi I, Tanaka Y, Kanazawa Y (2017b) Mass immigration of juvenile fishes into a small, once-dried tributary demonstrates the importance of remnant tributaries as wintering habitats. Ichthyol Res 64:353–356

Korsu K, Huusko A, Muotka T (2010) Impacts of invasive stream salmonids on native fish: using meta-analysis to summarize four decades of research. Boreal Environ Res 15:491–500

Nakano S (1995) Individual differences in resource use, growth and emigration under the influence of a dominance hierarchy in fluvial red-spotted masu salmon in a natural habitat. J Anim Ecol 64:75–84

Nomoto K, Omiya H, Sugimoto T, Akiba K, Edo K, Higashi S (2010) Potential negative impacts of introduced rainbow trout on endangered Sakhalin taimen through redd disturbance in an agricultural stream, eastern Hokkaido. Ecol Freshw Fish 19:116–126

Penaluna BE, Jason BD, David LGN (2016) Instream cover and shade mediate avian predation on trout in semi-natural streams. Ecol Freshw Fish 25:405–411

Peterson NP (1982) Immigration of juvenile coho salmon (Oncorhynchus kisutch) into riverrine ponds. Can J Fish Aquat Sci 39:1308–1310

R Core Team (2020) R: a language and environment for statistical computing. R Foundation for Statistical Computing, Vienna, Austria. https://www.R-project.org/. Accessed 21 December 2020

Richards SA (2005) Testing ecological theory using the information-theoretic approach: examples and cautionary results. Ecology 86:2805–2814

Riehle MD, Griffith JS (1993) Changes in habitat utilization and feeding chronology of juvenile rainbow trout (Oncorhynchus mykiss) in fall and onset of winter in Silver Creek, Idaho. Can J Fish Aquat Sci 50:2119–2128

Rieman BE, Dunham JB (2000) Metapopulations and salmonids: a synthesis of life history patterns and empirical observations. Ecol Freshw Fish 9:51–64

Roberts JJ, Fausch KD, Hooten MB, Peterson DP (2017) Nonnative trout invasions combined with climate change threaten persistence of isolated cutthroat trout populations in the southern Rocky Mountains. N Am J Fish Manag 37:314–325

Sahashi G, Morita K (2016) Potential threat of introduced rainbow trout Oncorhynchus mykiss to native salmonids in the western part of Hokkaido, Japan. Ichthyol Res 63:540–544

Sax DF, Stachowicz JJ, Brown JH, Bruno JF, Dawson MN, Gaines SD, Grosberg RK, Hastings A, Holt RD, Mayfield MM, O'Connor MI, Rice WR (2007) Ecological and evolutionary insights from species invasions. Trends Ecol Evol 22:465-71

Shepard B, Nelson LM, Taper ML, Zale AV (2014) Factors influencing successful eradication of nonnative brook trout from four small Rocky Mountain streams using electrofishing. N Am J Fish Manag 34:988–997

Shimoda K (2012) Alien fish problems in Hokkaido (introduced salmonidae fishes). Nippon Suisan Gakkaishi 78:754–757 (in Japanese)

Simpkins DG, Hubert WA, Wesche TA (2000) Effects of fall-to-winter changes in habitat and frazil ice on the movements and habitat use of juvenile rainbow trout in a Wyoming tailwater. Trans Am Fish Soc 129:101–118

Takami T, Aoyama T (1999) Distribution of rainbow and brown trouts in Hokkaido, northern Japan. Wildlife Conservation Japan 4:41–48 (in Japanese)

Takami T, Yoshihara T, Miyakoshi Y, Kuwabara R (2002) Replacement of whit-spotted charr Salvelinus leucomaenis by brown trout Salmo trutta in a branch of the Chitose River, Hokkaido. Nippon Suisan Gakaishi 68:24–28 (in Japanese with English summary)

Taniguchi Y (2002) Oncorhynchus mykiss. In: The Ecological Society of Japan (ed) Handbook of Alien Species in Japan. Chijin Shokan, Tokyo, p 112 (in Japanese)

Taniguchi Y, Miyake Y, Saito T, Urabe H, Nakano S (2000) Redd super-imposition by introduced rainbow trout on native charrs in a Japanese stream. Ichthyol Res 47:149–156

Thresher RE (2007) Genetic options for the control of invasive vertebrate pests: prospects and constraints. In: Witmer GW, Pitt WC, Fagerstone KA (eds) Managing vertebrate invasive species 52: proceedings of an international symposium. USDA/APHIS Wildlife Services, National Wildlife Research Center, Fort Collins, Colorado, pp 318–331

Tsurui-Sato K, Fujimoto S, Deki O, Suzuki T, Tatsuta H, Tsuji K (2019) Reproductive interference in live‐bearing fish: the male guppy is a potential biological agent for eradicating invasive mosquitofish. Sci Rep 9:5439

Venables WN, Ripley BD (2002) Modern applied statistics with S. Fourth Edition. Springer, New York
Acknowledgements
We appreciated valuable comments of two anonymous reviewers on the earlier version of the draft. This study was partly supported by the research fund provided by Ministry of Land, Infrastructure, Transport and Tourism, Japan. All applicable international, national, and/or institutional guidelines for the care and use of animals were followed.
Additional information
Publisher's Note
Springer Nature remains neutral with regard to jurisdictional claims in published maps and institutional affiliations.
About this article
Cite this article
Furusawa, C., Suehiro-Kanazawa, Y., Tanaka, Y. et al. Local factors affecting winter habitat use of non-native rainbow trout in a boreal stream in northern Japan. Ichthyol Res (2021). https://doi.org/10.1007/s10228-021-00820-7
Received:

Revised:

Accepted:

Published:
Keywords
Alien species

Exotic species

Migration

River management

Salvelinus malma krascheninnikova