Abstract
A taxonomic review of the Scorpaenodes kelloggi complex, including S. kelloggi, S. keelingensis and S. hirsutus, characterized by having usually 8 dorsal-fin soft rays, 27–35 longitudinal series scale rows, and nasal spines, and lacking scales on the underside of the head, dark blotches on the opercle and subopercle, a black vertical band basally on the pectoral fin, and white spots on the body, resulted in the recognition of two valid species: S. kelloggi and S. hirsutus, S. keelingensis being a junior synonym of the former. The two species are redescribed, including 19 newly recognized diagnostic features, including head spination, meristics, morphometrics, and coloration. Both are widely distributed in the Indo-Pacific Ocean, with S. kelloggi and S. hirsutus being recorded for the first time from Japan and French Polynesia, respectively.
Access options
Buy single article
Instant access to the full article PDF.
US$ 39.95
Tax calculation will be finalised during checkout.
Subscribe to journal
Immediate online access to all issues from 2019. Subscription will auto renew annually.
US$ 79
Tax calculation will be finalised during checkout.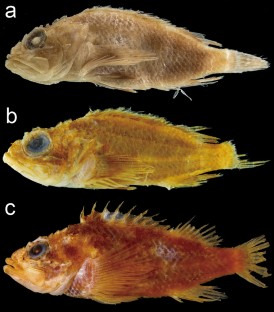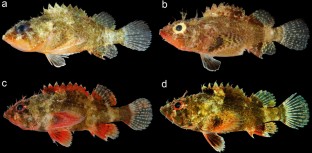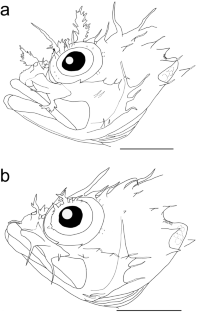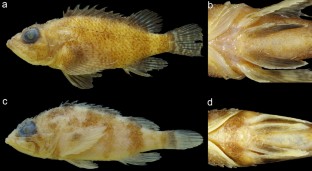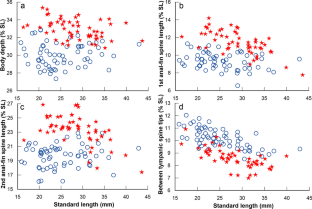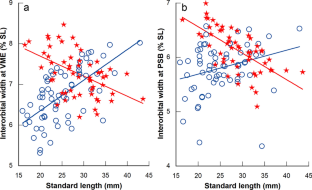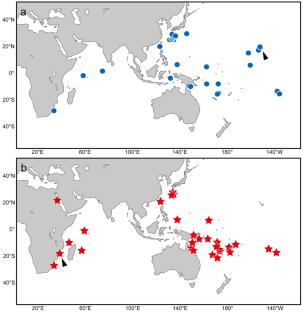 References
Allen GR (1977) A new species of scorpaenid fish (Scorpaenidae) from Western Australia. Proc Linn Soc N S W 101:145–148

Allen GR, Erdmann MV (2012) Scorpaenodes bathycolus n. sp. In: Allen GR, Erdmann MV (eds) Reef fishes of the East Indies. Tropical Reef Research, Perth, pp 1104–1105

Allen GR, Smith-Vaniz WF (1994) Fishes of the Cocos (Keeling) Islands. Chapter 14. Atoll Res Bull 412:1–21

Bleeker P (1857) Bijdrage tot de kennis der ichthyologische fauna van de Sangi-eilanden. Nat Tijdschr Ned Ind 13:369–380

Chen L-C (1981) Scorpaenid fishes of Taiwan. Quart J Taiwan Mus 34:1–60

Eschmeyer WN (1965) Western Atlantic scorpionfishes of the genus Scorpaena, including four new species. Bull Mar Sci 15:84–164

Eschmeyer WN (1969) A new scorpionfish of the genus Scorpaenodes and S. muciparus (Alcock) from the Indian Ocean, with comments on the limits of the genus. Occ Pap Calif Acad Sci 76:1–11

Eschmeyer WN (1986) Family No. 149: Scorpaenidae. In: Smith MM, Heemstra PC (eds) Smith's sea fishes. JLB Smith Institute of Ichthyology, Grahamstown, pp 463–478

Eschmeyer WN, Allen GR (1971) Three new species of scorpionfishes (family Scorpaenidae) from Easter Island. Proc Calif Acad Sci (Ser 4) 37(19):515–527

Eschmeyer WN, Rama Rao KV (1972) Two new scorpionfishes (genus Scorpaenodes) from the Indo-west Pacific with comments on Scorpaenodes muciparus (Alcock). Proc Calif Acad Sci (Ser 4) 39(5):55–64

Eschmeyer WN, Randall JE (1975) The scorpaenid fishes of the Hawaiian Islands, including new species and new records (Pisces: Scorpaenidae). Proc Calif Acad Sci (Ser 4) 40(11):265–333

Evermann BW, Seale A (1907) Fishes of the Philippine Islands. Bull Bur Fish 26:49–110

Greenfield DW, Matsuura K (2002) Scorpaenodes quadrispinosus: a new Indo-Pacific scorpionfish (Teleostei: Scorpaenidae). Copeia 2002:973–978

Jenkins OP (1903) Report on collections of fishes made in the Hawaiian Islands, with descriptions of new species. Bull U S Fish Comm 22:417–511

Jordan DS, Thompson WF (1914) Record of the fishes obtained in Japan in 1911. Mem Carnegie Mus 6:205–313

Marshall NB (1950) Fishes from the Cocos-Keeling Islands. Bull Raffles Mus 22:166–205

Motomura H (2004a) New species of scorpionfish, Scorpaena cocosensis (Scorpaeniformes: Scorpaenidae) from the Cocos Islands, Costa Rica, eastern Pacific Ocean. Copeia 2004:818–824

Motomura H (2004b) Revision of the scorpionfish genus Neosebastes (Scorpaeniformes: Neosebastidae) with descriptions of five new species. Indo-Pac Fish 37:1–75

Motomura H, Causse R, Struthers CD (2016) Redescription of the Indo-Pacific scorpionfish (Scorpaenidae), Scorpaenodes guamensis (Quoy & Gaimard 1824), a senior synonym of seven nominal species. Zootaxa 4067:345–360

Motomura H, Fricke R, Eschmeyer WN (2005a) Redescription of a poorly known scorpionfish, Scorpaena canariensis (Sauvage), and a first record of Pontinus leda Eschmeyer from the Northern Hemisphere (Scorpaeniformes: Scorpaenidae). Stuttg Beitr Naturk Ser A (Biol) 674:1–15

Motomura H, Johnson JW (2006) Validity of the poorly known scorpionfish, Rhinopias eschmeyeri, with redescriptions of R. frondosa and R. aphanes (Scorpaeniformes: Scorpaenidae). Copeia 2006:500–515

Motomura H, Last PR, Gomon MF (2006a) A new species of the scorpionfish genus Maxillicosta from the southeast coast of Australia, with a redescription of M. whitleyi (Scorpaeniformes: Neosebastidae). Copeia 2006:445–459

Motomura H, Last PR, Yearsley GK (2005b) Scorpaena bulacephala, a new species of scorpionfish (Scorpaeniformes: Scorpaenidae) from the northern Tasman Sea. Zootaxa 1043:17–32

Motomura H, Last PR, Yearsley GK (2006b) New species of shallow water scorpionfish (Scorpaenidae: Scorpaena) from the central coast of Western Australia. Copeia 2006:360–369

Motomura H, Ogihara G, Hagiwara K (2010) Distributional range extension of a scorpionfish, Scorpaenodes quadrispinosus, in the Indo-Pacific, and comments on synonymy of S. parvipinnis (Scorpaeniformes: Scorpaenidae). In: Motomura H, Matsuura K (eds) Fishes of Yaku-shima Island—A World Heritage island in the Osumi Group, Kagoshima Prefecture, southern Japan. National Museum of Nature and Science, Tokyo, pp 17–26

Motomura H, Paulin CD, Stewart AL (2005c) First records of Scorpaena onaria (Scorpaeniformes: Scorpaenidae) from the southwestern Pacific Ocean, and comparisons with the Northern Hemisphere population. NZ J Mar Freshw Res 39:865–880

Motomura H, Sakurai Y, Shinohara G (2009) First records of a scorpionfish, Scorpaenodes albaiensis, from East Asia, with a synopsis of S. minor (Actinopterygii: Scorpaeniformes: Scorpaenidae). Spec Divers 14:75–87

Motomura H, Senou H (2008) A new species of the scorpionfish genus Scorpaena (Scorpaenidae) from Izu Peninsula, Pacific coast of Japan. J Fish Biol 72:1761–1772

Motomura H, Yoshino T, Takamura N (2004) Review of the scorpionfish genus Scorpaenopsis (Scorpaeniformes: Scorpaenidae) in Japanese waters with three new records and an assessment of standard Japanese names. Jpn J Ichthyol 51:89–115

Poss SG (1999) Scorpaenidae. In: Carpenter KE, Niem VH (eds) FAO species identification guide for fishery purposes. The living marine resources of the western central Pacific. Vol. 4. Bony fishes part 2 (Mugilidae to Carangidae). FAO, Rome, pp 2291–2352

Quoy JRC, Gaimard JP (1824) Description des Poissons. In: de Freycinet L (ed) Voyage autour du Monde entrepris par ordre du roi, exécuté sur les corvettes de S. M. L'Uranie et La Physicienne, pendant les années 1817, 1818, 1819 et 1820 par M. L. de Freycinet. Zoologie tome 3. Pillet Aîné, Paris, pp 1–328

Randall JE (2005) Reef and shore fishes of the South Pacific: New Caledonia to Tahiti and the Pitcairn Islands. University of Hawaiʻi Press, Honolulu

Randall JE, Eschmeyer WN (2002) Revision of the Indo-Pacific scorpionfish genus Scorpaenopsis, with descriptions of eight new species. Indo-Pac Fish 34:1–79

Sabaj MH (2019) Standard symbolic codes for institutional resource collections in herpetology and ichthyology: an online reference, ver 7.1 (21 March 2019). American Society of Ichthyologists and Herpetologists, Washington, DC. http://www.asih.org/. Accessed 28 August 2020

Smith JLB (1957) The fishes of the family Scorpaenidae in the western Indian Ocean. Part I. The sub-family Scorpaeninae. Ichthyol Bull J L B Smith Inst Ichthyol Rhodes Univ 4:49–72

Smith JLB (1958) Fishes of the families Tetrarogidae, Caracanthidae and Synanciidae, from the western Indian Ocean with further notes on scorpaenid fishes. Ichthyol Bull J L B Smith Inst Ichthyol Rhodes Univ 12:167–181
Acknowledgments
We are especially grateful to A. Hay, S. Reader and M. McGrouther (AMS), J. Maclaine and O. Crimmen (BMNH), D. Catania and M. Hoang (CAS), H. Kawase (CMNH), H. Yoshigou (HMNH), H. Senou (KPM), P. Pruvost, R. Causse, Z. Gabsi, J. Pfliger and P. Béarez (MNHN), I.-S. Chen (NTOU), G. Shinohara and M. Nakae (NSMT), R. Bills, E. Heemstra, O. Gon and M. Dwani (SAIAB), K. Miyamoto (URM/OCF), J. Williams, S. Raredon, K. Murphy, L. Palmer, D. Pitassy, S. Smith and E. Wilbur (USNM), and K. Hagiwara (YCM) for specimen loans and/or kind hospitality during the second author's visits to their institutions, Y. Ohzawa (Nagoya Kaisansijyo Co. Ltd., Japan) for collecting data for some specimens, H.-C. Ho (NMMB) for the donation of a Taiwanese specimen to KAUM, Y. Haraguchi and other volunteers, and students of KAUM for their kind assistance, and G. Hardy (Ngunguru, New Zealand) for reading the manuscript and providing help with English. This study was supported in part by JSPS KAKENHI Grant Numbers 20H03311 and 21H03651; the JSPS Core-to-Core CREPSUM JPJSCCB2020009; the "Biological Properties of Biodiversity Hotspots in Japan" project of the National Museum of Nature and Science, Tsukuba, Japan; and "Establishment of Glocal Research and Education Network in the Amami Islands" project of Kagoshima University adopted by the Ministry of Education, Culture, Sports, Science and Technology, Japan.
Additional information
Publisher's Note
Springer Nature remains neutral with regard to jurisdictional claims in published maps and institutional affiliations.
This article was registered in the Official Register of Zoological Nomenclature (ZooBank) as 37851B0D-A68F-490C-8B3D-BBC707067E2A.
This article was published as an Online First article on the online publication date shown on this page. The article should be cited by using the doi number.
About this article
Cite this article
Hoshino, K., Motomura, H. Redescriptions of the Indo-Pacific scorpionfishes Scorpaenodes kelloggi (Jenkins 1903) and Scorpaenodes hirsutus (Smith 1957) (Scorpaenidae). Ichthyol Res (2021). https://doi.org/10.1007/s10228-021-00818-1
Received:

Revised:

Accepted:

Published:
Keywords
Taxonomy

Morphology

Diagnosis

Distribution

Scorpaenodes keelingensis