Abstract
A new species of the genus Acropoma, A. musorstom sp. nov. is described based on four specimens (126.3–143.0 mm in standard length: SL) collected from Vanuatu and the Molucca Islands, Indonesia. The present species is distinguished from other congeners by a combination of the following characters: luminous gland short, U-shaped around anus; luminous-gland length 10.3–13.7% SL; symphysis of lower jaw not protruded; proximal radial of first anal-fin pterygiophore with concavity on anterior surface; anus situated closer to pelvic-fin insertion than to origin of anal fin; weakly ctenoid scales on lateral side of body; vertical line on cheek absent; scales between first dorsal-fin base and lateral line 4; pectoral-fin rays 16–17; and gill rakers 20–21. Acropoma splendens (Lloyd 1909) collected from off Phuket, it represents the first record of this species from the Andaman Sea off southwestern Thailand. A key to the species of Acropoma currently known from the Indo-Pacific is provided.
Access options
Buy single article
Instant access to the full article PDF.
USD 39.95
Price excludes VAT (USA)
Tax calculation will be finalised during checkout.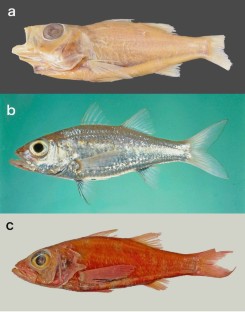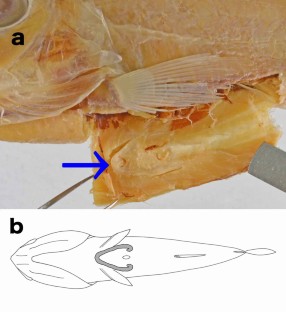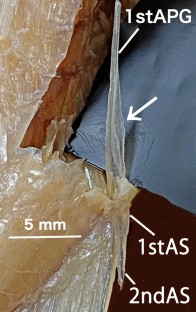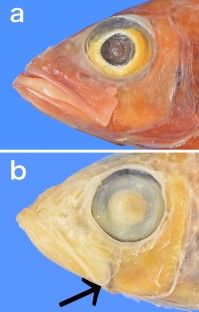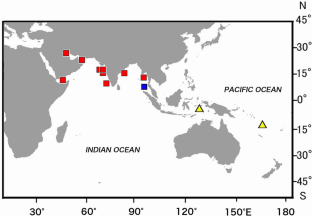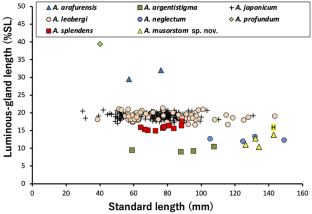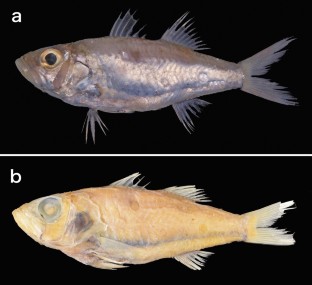 References
Ahlstrom EH, Butler JL, Sumida BY (1976) Pelagic stromateoid fishes (Pisces, Perciformes) of the eastern Pacific: kinds, distributions, and early life histories and observations on five of these from the North-west Atlantic. Bull Mar Sci 26:285–402

Balachandran K, Nizar MA (1990) A check list of fishes of the Exclusive Economic Zone of India collected during the research cruises of FORV Sagar Sampada. In: KJ Mathew (ed) Proceeding of the first workshop on scientific results of FORV Sagar Sampada. Central Marine Fisheries Research Institute, Cochin, pp 305–324

Brüss R, Ben-Tuvia A (1983) Tiefenwasser- und Tiefseefische aus dem Roten Meer. VIII. Über das Vorkommen von Acropoma japonicum Günther 1859. Senckenb Marit 15:27–37

Carpenter KE, Krupp F, Jones DA, Zajonz U (1997) FAO species identification guide for fishery purposes. The living marine resources of Kuwait, eastern Saudi Arabia, Bahrain, Qatar, and the United Arab Emirates. FAO, Rome

Eagderi S, Fricke R, Esmaeili HR, Jalili P (2019) Annotated checklist of the fishes of the Persian Gulf: diversity and conservation status. Iran J Ichthyol 6 (Suppl 1):1–171

Fourmanoir P (1988) Acropoma lecorneti, une nouvelle espèce de Nouvelle-Calédonie (Pisces, Perciformes, Acropomatidae). Cybium 12:259–263

Fowler HW (1927) Notes of some shore fishes from Bombay. J Bombay Nat Hist Soc 32:253–263

Fricke R, Eschmeyer WN (2020) A guide to fish collections in the Catalog of fishes. Online version, updated 6 April 2020. Internet publication, California Academy of Sciences, San Francisco. http://researcharchive.calacademy.org/research/ichthyology/catalog/collections.asp. Accessed 16 April 2020

Ghedotti MJ, Gruber JN, Barton RW, Davis MP, Smith WL (2018) Morphology and evolution of bioluminescent organ in the glowbellies (Percomorpha: Acropomatidae) with comments on the taxonomy and phylogeny of Acropomatiformes. J Morph 2018:1–14

Günther A (1859) Catalogue of the acanthopterygian fishes in the collection of the British Museum, vol. 1. Gasterosteidae, Berycidae, Percidae, Aphredoderidae, Pristipomatidae, Mullidae, Sparidae. British Museum, London

Haneda Y (1950) Luminous organs of the fish which emit light indirectly. Pac Sci 4:214–227

Haneda Y, Johnson FH (1962) The photogenic organs of Parapriacanthus beryciformes Franz and other fish with the indirect type of luminescent system. J Morphol 110:187–198

Heemstra PC (1984) Acropomatidae. In Fischer W, Bianchi G (eds) FAO species identification sheets for fishery purposes. Western Indian Ocean fishing area 51. Vol. 1. FAO, Rome

Hubbs CL, Lagler KF (1958) Fishes of the Great Lakes region. Cranbrook Inst Sci Bull 26:1–213, 44 pls

Javadzadeh N, Vosoughi G, Valinassab T, Fatemi MR, Abdoli A (2012) Morphological features of two mesopelagic fish (Acropoma japonicum and Synagrops adeni) from the Oman Sea, Iran. World Appl Sci J 17:494–496

Kotthaus A (1974) Fische des Indischen Ozeans. Ergebnisse der ichthyologischen Untersuchungen während der Expedition des Forschungsschiffes "Meteor" in den Indischen Ozean, Oktober 1964 bis Mai 1965. A. Systematischer Teil, XI. Percomorphi (4). Meteor Forschung Reihe D Biolog 17:33–54

Lloyd RE (1909) A description of the deep-sea fish caught by the R. I. M. S. ship "Investigator" since the year 1900, with supposed evidence of mutation in Malthopsis. Mem Ind Mus 2:130–180

Manilo LG, Bogorodsky SV (2003) Taxonomic composition, diversity and distribution of coastal fishes of the Arabian Sea. J Ichthyol 43:S75–S149

Matsubara K (1953) Revision of the Japanese serranid fish, referable to the genus Acropoma. Mem Coll Agric Kyoto Univ 66:21–29

Menon AG, Rama-Rao KV (1975) A catalogue of type-specimens of fishes described in the biological collections of R.I.M.S. "Investigator" during 1884–1926. Matsya 1:31–48

Menon AG, Yazdani GM (1968) Catalogue of type-specimens in the Zoological Survey of India. Part 2. Fishes. Rec Zool Survey India 61:91–190

Mohsin AKM, Ambak MA (1996) Marine fishes and fisheries of Malaysia and neighboring countries. University of Pertanian Malaysia Press, Serdang

Norman JR (1939) Fishes. The John Murray expedition 1933–34. Scientific Reports. VII. British Mus Nat Hist 7:1–116

Okamoto M (2014) Acropoma profundum, a new species of lanternbelly (Teleostei: Perciformes: Acropomatidae) from the Solomon Islands. Spec Divers 19:9–14

Okamoto M, Golani D (2017) Three new species of the genus Acropoma (Perciformes: Acropomatidae) from the Indian Ocean. https://doi.org/10.1007/s10228-017-0595-2 (also appeared in Ichthyol Res 65:101–114)

Okamoto M, Ida H (2002) Acropoma argentistigma, a new species from the Andaman Sea, off southern Thailand (Perciformes: Acropomatidae). Ichthyol Res 49:281–285

Okamoto M, Motomura H (2017) An additional specimen of a rare lanternbelly Acropoma lecorneti (Perciformes: Acropomatidae) from Vanuatu, South Pacific Ocean. Cybium 41:373–375

Okamoto M, Williams JT, Carpenter KE, Santos MD, Kimura S (2019) Description of a new species of the genus Acropoma (Acropomatidae) from the Arafura Sea with a redescription of Acropoma leobergi Prokofiev 2018 and the first record of Acropoma boholensis Yamanoue and Matsuura 2002 from the South China Sea. https://doi.org/10.1007/s10228-019-00696-8 (also appeared in Ichthyol Res 67:39–49)

Psomadakis PN, Osmany HB, Moazzam M (2015) Field identification guide to the living marine resources of Pakistan. FAO species identification guide for fishery purposes. FAO of the United Nations and Government of Pakistan, Rome

Psomadakis PN, Htun T, Russell BC, Mya TT (2019) Field identification guide to the living marine resources of Myanmar. FAO species identification guide for fisheries purposes. FAO and MOALI, Rome

Shinohara G, Sato T, Aonuma Y, Horikawa H, Matsuura K, Nakabo T, Sato K (2005) Annotated checklist of deep-sea fishes from the waters around the Ryukyu Islands, Japan. Natl Mus Nat Sci Monogr 29:385–452

Temminck CJ, Schlegel H (1843) Pisces. Parts 2–4. In: von Siebold PF (ed) Fauna Japonica. Muller, Amsterdam, pp 21–72

Yamada U, Tokimura M, Horikawa H, Nakabo T (2007) Fishes and fisheries of the East China and Yellow Seas. Tokai University Press, Tokyo

Yamakawa T (1985) Acropoma. In: Okamura O (ed) Fishes of the Okinawa Trough and the adjacent waters. Japan Fisheries Research Laboratory, Tokyo, pp 454–455, 661

Yamanoue Y, Matsuura K (2002) A new species of the genus Acropoma (Perciformes: Acropomatidae) from the Philippines. Ichthyol Res 49:21–24

Yamanoue Y, Toda M (2008) Redescription of Acropoma lecorneti Fourmanoir 1988 (Perciformes: Acropomatidae) with the first record from the North Pacific. Ichthyol Res 55:198–201

Yennawar P, Ray D, Mohapatra A (2012) First record of Acropoma argentistigma from Indian waters. Mar Bio Rec 5:1–3

Yoshida T (2013) Acropoma japonicum Günther, 1859. In: Yoshida T, Motomura H, Musikasinthorn P, Matsuura K (eds) Fishes of northern Gulf of Thailand. National Museum of Nature and Science, Tsukuba, Research Institute for Humanity and Nature, Kyoto, and Kagoshima University Museum, Kagoshima, p 96
Acknowledgments
We are grateful to the following persons and institutions for specimen loans: M. McGrouther, A. Hay and S. Reader (AMS); M. Arce and M. Sabaj (ANSP); A. Suzumoto and L. O'Hara (BPBM); D. Catania and M. Hoang (CAS); A. Graham (CSIRO); S. Kimura (FRLM); T. Asahida (FSKU); D. Golani (HUJ); R. Causse and Z. Gabsi (MNHN); G. Shinohara and M. Nakae (NSMT); and J. Williams, D. Pitassy and E. Wilbur (USNM). We also thank J. Williams (USNM) for critical reading of the manuscript. Acropoma splendens was collected by U. Satapoomin (PMBC) from the Andaman Sea, then some of them being donated to KAUM. Vietnamese KAUM specimens were collected with the support of the Institute of Marine Environment and Resources (Haiphone) and the Ha Long Bay Management Department (Ha Long), with permission for the use of specimens granted by the Biodiversity Conservation Agency, Ministry of Natural Resources and Environment (Hanoi). This study was supported in part by JSPS KAKENHI Grant Numbers JP23580259, JP26450265, and 20H03311; the JSPS Core-to-Core Program: B Asia-Africa Science Platforms; the "Biological Properties of Biodiversity Hotspots in Japan" project of the National Museum of Nature and Science, Tsukuba, Japan; and the "Establishment of Glocal Research and Education Network in the Amami Islands" project of Kagoshima University adopted by the Ministry of Education, Culture, Sports, Science and Technology, Japan.
Additional information
Publisher's Note
Springer Nature remains neutral with regard to jurisdictional claims in published maps and institutional affiliations.
This article was registered in the Official Register of Zoological Nomenclature (ZooBank) as 3519F165-0505-49CA-BB17-8A1D65C9222C.
This article was published as an Online First article on the online publication date shown on this page. The article should be cited by using the doi number.
About this article
Cite this article
Okamoto, M., Randall, J.E. & Motomura, H. Acropoma musorstom, a new lanternbelly (Acropomatidae) from the South Pacific and the first record of Acropoma splendens from the Andaman Sea off southwestern Thailand. Ichthyol Res 68, 517–528 (2021). https://doi.org/10.1007/s10228-021-00802-9
Received:

Revised:

Accepted:

Published:

Issue Date:

DOI: https://doi.org/10.1007/s10228-021-00802-9
Keywords