Access options
Buy single article
Instant access to the full article PDF.
US$ 39.95
Tax calculation will be finalised during checkout.
Subscribe to journal
Immediate online access to all issues from 2019. Subscription will auto renew annually.
US$ 79
Tax calculation will be finalised during checkout.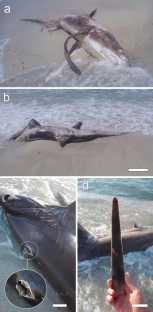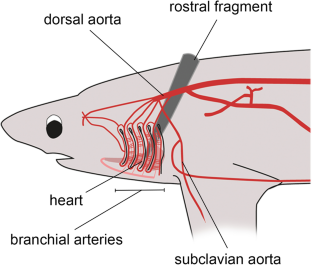 References
Caravajal JG, Madueño JM, Gómez BB, Paniagua JR (2002) Swordfish attack: an unusual cause of penetrating thoracic wound. Eur J Cardiothorac Surg21:926

Cliff G, Dudley SFJ, Davis B (1990) Sharks caught in the protective gill nets off Natal, South Africa. 3. The shortfin mako shark Isurus oxyrinchus (Rafinesque). S Afr J Mar Sci9:115–126

Ebert DA, Fowler SL, Compagno LJV (2013) Sharks of the world: a fully illustrated guide. Wild Nature Press, Plymouth

Eurich JG, McCormick MI, Jones GP (2018) Direct and indirect effects of interspecific competition in a highly partitioned guild of reef fishes. Ecosphere9:e02389

Fierstine HL, Cailliet GM, Neer JA (1997) Shortfin Mako, Isurus oxyrinchus, impaled by blue marlin, Makaira nigricans (Teleostei: Istiophoridae). Bull South Calif Acad Sci 96:117–121

Fierstine HL, Voigt NL (1996) Use of rostral characters for identifying adult billfishes (Teleostei: Perciformes: Istiophoridae and Xiphiidae). Copeia 148–161

Frazier JG, Fierstine HL, Beavers SC, Achaval F, Suganuma H, Pitman RL, Yamaguchi Y, Prigion CM(1994) Impalement of marine turtles (Reptitia, Chelonia: Cheloniidae and Dermochelyidae) by billfishes (Osteichthyes, Perciformes: Istiophoridae and Xiphiidae). Environ Biol Fish 39:85–96

Fritsches KA, Brill RW, Warrant EJ (2005) Warm eyes provide superior vision in swordfishes. Curr Biol15:55–58

Galarza M, Alfaro R, Rosa PDL, Piqueras C (2016) Delayed spinal cord herniation after a swordfish attack. Oper Neurosurg12:E307–E308

Georgiadou D, Zografos GN, Vaidakis D, Avlonitis S, Katopodi A (2010) Swordfish bill injury involving abdomen and vertebral column: case report and review. BMC Surg10:30

Gooi BH, Khamizar W, Suhani MN (2007) Swordfish attack—death by penetrating head injury. Asian J Surg 30:158–159

Habegger ML, Dean MN, Dunlop JW, Mullins G, Stokes M et al (2015) Feeding in billfishes: inferring the role of the rostrum from a biomechanical standpoint. J Exp Biol218:824–836

Hoey JJ, Conser RJ, Bertolino AR (1989) The western North Atlantic swordfish. AudubonWildlife Report 1989-1990:457

Li Y, Zhang Y, Dai X (2016) Trophic interactions among pelagic sharks and large predatory teleosts in the northeast central Pacific. J Exp Mar Biol Ecol 483:97–103

Machida S (1970) A swordfish sword found from a North Pacific sei whale. Sci Rep Whales Res Inst 22:163–164

Macías D, Hattour A, De la Serna JM, Gómez-Vives MJ, Godoy D (2005) Reproductive characteristics of swordfish (Xiphias gladius) caught in the southwestern Mediterranean during 2003. Col Vol Sci Pap ICCAT58:454–469

Maia A, Queiroz N, Correia JP, Cabral H (2006) Food habits of the shortfin mako, Isurus oxyrinchus, off the southwest coast of Portugal. Environ Biol Fish77:157–167

Mendonça-Caridad JJ, Lopez PJ, Francos L, Rodriguez M (2008) Swordfish bill injury involving the pterygomaxillary fossae: surgical management and case report. J Oral Maxillofac Surg66:1739–1743

Myrberg Jr AA, Thresher RE (1974) Interspecific aggression and its relevance to the concept of territoriality in reef fishes. Am Zool14:81–96

Oliver SP, Turner JR, Gann K, Silvosa M, Jackson TDU (2013) Thresher sharks use tail-slaps as a hunting strategy. PLoS One 8:e67380

Penadés-Suay J, Garcia-Salinas P, Tomas J, Aznar FJ (2019) Aggressive interactions between juvenile swordfishes and blue sharks in the Western Mediterranean: a widespread phenomenon? Mediterr Mar Sci20:314–319

Penadés-Suay J, Tomás J, Aznar FJ (2017) Deadly impalement of a blue shark Prionace glauca by a swordfish Xiphias gladius. Mediterr Mar Sci18:340–343

Romeo T, Ammendolia G, Canese S, Andaloro F, Battaglia P (2017) Recent records of swordfish attacks on harpoon vessels in the Sicilian waters (Mediterranean Sea). Acta Adriat58:147–156

Romeo T, Battaglia P, Macaluso D, Tagliavia G, Vicchio TM, Falautano M, Serena F, Andaloro F (2020) When prey becomes killer: does a double lethal attack on a blue shark reveal a precise defensive strategy in young swordfish?. J Mar Biolog Assoc UK.doi.org/10.1017/S0025315420000661

Romeo T, Consoli P, Castriota L, Andaloro F (2009) An evaluation of resource partitioning between two billfish, Tetrapturus belone and Xiphias gladius, in the central Mediterranean Sea. J Mar Biolog Assoc UK 89:849–857

Starck WA (1960) Spear of swordfish, Xiphias gladius Linnaeus, embedded in a silk shark, Eulamia floridana (Schroeder and Springer). Quart J Florida Acad Sci23:165–166

Stillwell CE, Kohler NE (1982) Food, feeding habits, and estimates of daily ration of the shortfin mako (Isurus oxyrinchus) in the Northwest Atlantic. Can J Fish Aquat Sci39:407–414

Vacchi M, Serena F, Notarbartolo Di Sciara G (1999) On a large specimen of bigeye thresher shark Alopias superciliosus (Lowe, 1839) (Chondrichthyes: Alopiidae) stranded in Tavolara Island (eastern Sardinia, Mediterranean). In Proceedings of the 3rd European Elasmobranch Association Meeting, Boulogne-sur-47 Mer (France) (p. 84)

Vaske Júnior T, Lessa RP, Gadig OBF (2009) Feeding habits of the blue shark (Prionace glauca) off the coast of Brazil. Biota Neotrop9:55–60

Weng KC, Block BA (2004) Diel vertical migration of the bigeye thresher shark (Alopias superciliosus), a species possessing orbital retia mirabilia. Fish Bull102:221–229

Zarudski EFK, Haedrich RL (1974) Swordfish (Xiphius gladius) attacks submarine (ALVIN). Oceanology3:111–116
Acknowledgments
We are deeply indebted to Abdalhakim Ahmed Al sebaihe, Faraj Habrisha and Marwan Saleh Elmzoghi for reporting the stranding, documenting the injury, and for providing photos and videos. This study was carried out as part of the citizen science initiative "The MECO (Mediterranean Elasmobranch Citizen Observations) Project". We also want to thank the three anonymous reviewers for their constructive feedback on an earlier version of this manuscript and Tamaki Shimose for editorial comments. This study was supported by a grant of the Austrian Science Fund (FWF): P 33820 to Jürgen Kriwet.
Additional information
Publisher's Note
Springer Nature remains neutral with regard to jurisdictional claims in published maps and institutional affiliations.
Electronic supplementary material
Below is the link to the electronic supplementary material.
About this article
Cite this article
Jambura, P.L., Türtscher, J., Kriwet, J. et al. Deadly interaction between a swordfish Xiphias gladius and a bigeye thresher shark Alopias superciliosus. Ichthyol Res 68, 317–321 (2021). https://doi.org/10.1007/s10228-020-00787-x
Received:

Revised:

Accepted:

Published:

Issue Date: