Abstract
A new butterflyfish, Roa haraguchiae, is described on the basis of eight specimens (63.2–92.8 mm standard length: SL) collected from Japan and the Philippines. The new species is most similar to Roa rumsfeldi Rocha, Pinheiro, Wandell, Rocha and Shepherd 2017, known only from the holotype from the Philippines. Both species are distinguished from all other congeners by the following combination of characters: long snout (12.6–14.1% of SL), lesser head depth (46.2–54.9%), short postorbital area (12.1–14.1%) and pectoral fin (27.9–32.4%), and second and third bands on the body without blackish edges. The new species is however easily distinguished from R. rumsfeldi (based on the original description and an additional Philippine specimen) in having 5–8 non-pored lateral-line scales (vs. 13 scales in the latter), 11 or 12 scale rows above the lateral line (vs. 8), 22–28 scale rows below the lateral line (vs. 19), 10–12 scale rows under the longer axis of a black blotch on the dorsal-fin soft-rayed portion (vs. 8), the anterior margin of the second body band not reaching anteroventrally to the pelvic-fin spine base, and the pelvic-fin spine and first soft ray white (vs. black).
Access options
Buy single article
Instant access to the full article PDF.
USD 39.95
Price excludes VAT (USA)
Tax calculation will be finalised during checkout.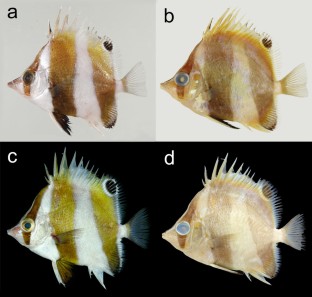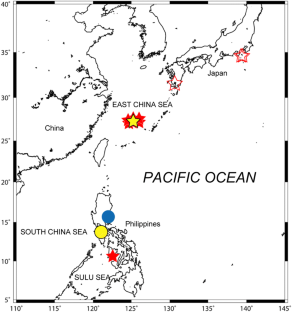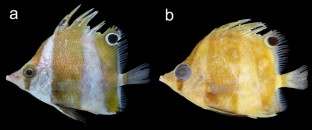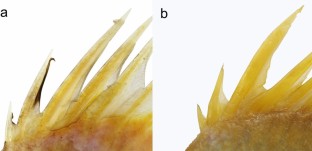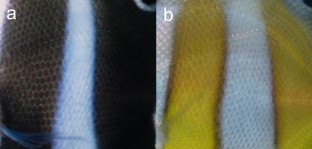 References
Hubbs CL, Lagler KF (1958) Fishes of the Great Lakes region. University of Michigan Press, Ann Arbor

Ida H (2009) Chaetodontidae. In: Okamura O, Amaoka K (eds) Sea fishes of Japan, third edition. Yamakei Publisher, Tokyo, pp 383–401

Jordan DS (1921) Description of deep-sea fishes from the coast of Hawaii, killed by a lava flow from Mauna Loa. Proc US Natl Mus 59(2392):643–656

Kuiter RH (2004) Description of a new species of butterflyfish Roa australis from northwestern Australia (Pisces: Perciformes: Chaetodontidae). Rec Aust Mus 56:167–171

Matsuura K (1985) Chaetodontidae. In: Okamura O (ed) Fishes of the Okinawa Trough and the adjacent waters. Japan Fisheries Resource Conservation Association, Tokyo, pp 518–519

Motomura H, Ishikawa S (eds) (2013) Fish collection building and procedures manual, English edition. The Kagoshima University Museum, Kagoshima and the Research Institute for Humanity and Nature, Kyoto (Available at http://www.museum.kagoshima-u.ac.jp/staff/motomura/dl_en.html)

Norman JR (1939) Fishes. The John Murray Expedition 1933–34. Scientific Reports. British Mus (Nat Hist), Zool 7:1–116

Pyle RL, Kosaki RK (2016) Prognathodes basabei, a new species of butterflyfish (Perciformes, Chaetodontidae) from the Hawaiian Archipelago. ZooKeys 614:137–152

Rocha LR, Pinheiro HT, Wandell M, Rocha CR, Shepherd B (2017) Roa rumsfeldi, a new butterflyfish (Teleostei, Chaetodontidae) from mesophotic coral ecosystems of the Philippines. ZooKeys 709:127–134

Sabaj MH (2019) Standard symbolic codes for institutional resource collections in herpetology and ichthyology: an online reference, version 7.1 (21 March 2019). American Society of Ichthyologists and Herpetologists, Washington, DC. https://asih.org/sites/default/files/2019-04/sabaj_2019_asih_symbolic_codes_v7.1.pdf. Accessed 14 December 2019

Temminck CJ, Schlegel H (1844) Pisces, parts 5–6. In: de Siebold PF (ed) Fauna Japonica, sive descriptio animalium quae in itinere per Japoniam suscepto annis 1823–30 collegit, notis observationibus et adumbrationibus illustravit, Ludguni Batavorum, Leiden, pp 73–112

Uejo T, Motomura H (2017) Roa sp. In: Motomura H, Alama UB, Muto N, Babaran RP, Ishikawa S (eds) Commercial and bycatch market fishes of Panay Island, Republic of the Philippines. The Kagoshima University Museum, Kagoshima, University of the Philippines Visayas, Iloilo, and Research Institute for Humanity and Nature, Kyoto, p 169
Acknowledgements
We are especially grateful to K. Hoshino, Y. Aonuma, T. Sakai, and M. Yoda (SNFR), crews of RV Kumamoto-maru, students of Amakusa Takushin High School, and M. Okamoto (JAMARC) for providing opportunities to examine the East China Sea specimens; A. Mishiku (Nago, Okinawa, Japan), S. Dewa (Diving Services Umiannai, Japan), and Y.-C. Liah (National Academy of Marine Research, Taiwan) for providing photographs of Roa; M. McGrouther, A. Hay, and S. Reader (AMS), P.-L. Lin, M.-Y. Lin, and S.-P. Huang (ASIZP), O. Crimmen and J. Maclaine (BMNH), A. Suzumoto and L. O'Hara (BPBM), H. Endo, T. Naito, and M. Sato (BSKU), Y. Kai (FAKU), S. Kimura (FRLM), Y. Hibino (KMNH), and J. Williams and S. Raredon (USNM) for providing opportunities to examine specimens of Roa; M. Matsunuma (KUN), T. Yoshida (SNFR), H. Hata (NSMT), B. Jeong (Chonbuk National University, Korea), and S. Chungthanawong, H. Wada, K. Wibowo, K. Fujiwara, S. Morishita, and J. Nakamura (KAUM) for advice on the examination and survey of type specimens; M. Itou, Y. Haraguchi, and other volunteers of KAUM for curatorial assistance and collection of specimens; K. Koeda (Kuroshio Biological Research Foundation, japan) for donating specimens; and G. Hardy (Ngunguru, New Zealand) for reading the manuscript and providing help with English. The type series of the new species included specimens collected during "Promoting Stock Surveys and Assessments of Fisheries Resources of Waters around Japan" and "Promoting Stock Surveys and Assessments of International Fisheries Resources" projects promoted by Fisheries Agency of Japan. This study was conducted under a Memorandum of Agreement for joint research made by and among the Department of Agriculture of the Republic of the Philippines (DA), the University of the Philippines Visayas (UPV), the Kagoshima University Museum, the Research Institute for Humanity and Nature, and Tokai University, facilitated by S. L. Sanchez [Bureau of Fisheries and Aquatic Resources (BFAR), DA]. P. J. Alcala (DA) provided a Prior Informed Consent Certificate, and I. P. Cabacaba and S. M. S. Nolasco (BFAR, DA) provided a fish specimen Export Certificate (No. 2016-39812). We thank the staff of the Office of the Vice-Chancellor for Research and Extension, UPV, and UPV Museum of Natural Sciences, College of Fisheries, UPV, including R. P. Babaran, S. S. Garibay, U. B. Alama, V. G. Urbina, L. H. Mooc, C. J. N. Rubido, E. P. Abunal, A. M. T. Guzman, R. S. Cruz, A. C. Gaje, and R. F. M. Traifalgar, and graduate students of the College of Fisheries, UPV, for their support of this research collaboration. This study was supported in part by JSPS KAKENHI Grant Numbers JP19770067, JP26241027, JP24370041, JP23580259, and JP26450265; the JSPS Core-to-Core Program: B Asia-Africa Science Platforms; the "Biological Properties of Biodiversity Hotspots in Japan" project of the National Museum of Nature and Science, Tsukuba, Japan; "Establishment of Research and Education Network on Biodiversity and Its Conservation in the Satsunan Islands" project of Kagoshima University adopted by the Ministry of Education, Culture, Sports, Science and Technology, Japan; and the "Island Research" project by Kagoshima University.
Additional information
Publisher's Note
Springer Nature remains neutral with regard to jurisdictional claims in published maps and institutional affiliations.
This article was registered in the Official Registry of Zoological Nomenclature (ZooBank) as 5FA1AC7C-3F01-458F-80E3-1E3D1A800B67.
This article was published as an Online First article on the online publication date shown on this page. The article should be cited by using the doi number.
About this article
Cite this article
Uejo, T., Senou, H. & Motomura, H. Roa haraguchiae, a new species of butterflyfish (Teleostei: Perciformes: Chaetodontidae) from Japan and the Philippines. Ichthyol Res 67, 408–415 (2020). https://doi.org/10.1007/s10228-020-00735-9
Received:

Revised:

Accepted:

Published:

Issue Date:

DOI: https://doi.org/10.1007/s10228-020-00735-9
Keywords
Taxonomy

Roa rumsfeldi

East China Sea

Morphology

Description