Abstract
The platycephalid genus Leviprora Whitley 1931 is taxonomically revised. Although the genus has been regarded as monotypic, including only Leviprora inops (Jenyns 1840) known from southern Australia, this study shows that Platycephalus semermis De Vis 1883, which was originally described from South Australia and has been considered to be possibly a junior synonym of L. inops, is the second nominal species of the genus. The two species are distinguished from each other by the number of pectoral-fin rays (18–19 in L. inops vs. 20–21 in L. semermis), the preocular spine (absent vs. present), fleshy sensory tubes on the cheek region (absent vs. developed), number of ducts of pored scales in the lateral line (one vs. two) and ratio of orbital diameter/interorbital width (2.3–4.7 vs. 1.5–2.8, both tending to decrease with growth). The present study presents a key to the species of the genus, detailed redescriptions and a comparison of the two species, and designates a neotype for L. semermis. This study also provides a revised diagnosis of the genus, owing to the new member of the genus and intraspecific variation in diagnostic characters.
This is a preview of subscription content, log in to check access.
Access options
Buy single article
Instant access to the full article PDF.
US$ 39.95
Tax calculation will be finalised during checkout.
Subscribe to journal
Immediate online access to all issues from 2019. Subscription will auto renew annually.
US$ 79
Tax calculation will be finalised during checkout.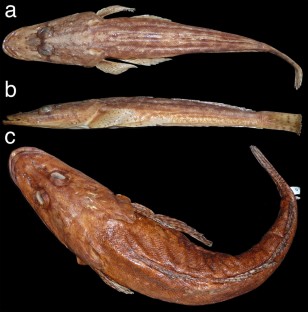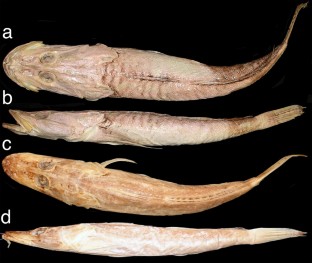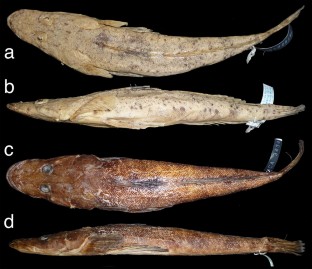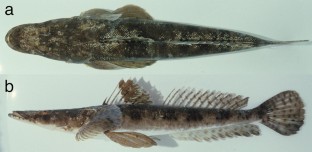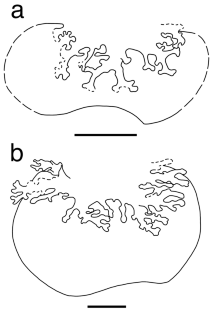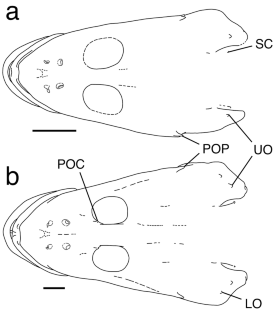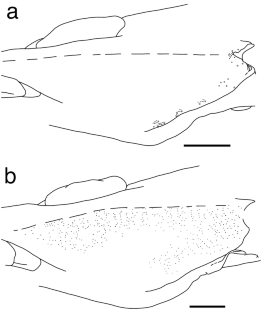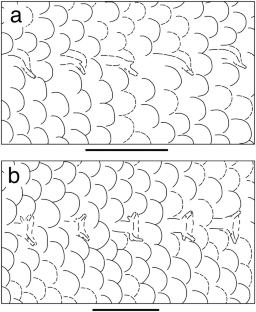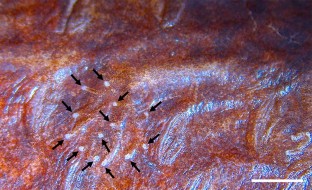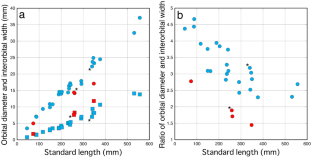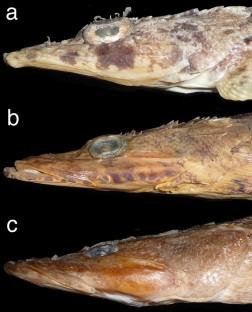 References
Bleeker P (1860) Tiende Bijdrage tot de kennis der vischfauna van Banka. Nat Tijdschr Ned Ind 21:135–142

Castelnau FL (1875) Researches on the fishes of Australia. In: Philadelphia Centennial Exhibition of 1876. Official record, containing introduction, catalogues, official awards of the commissioners, report and recommendations of the experts, and essays and statistics on the social and economic resources of the colony of Victoria. Published by authority of the commissioners, Melbourne, pp 1–52

De Vis CW (1883) Description of new genera and species of Australian fishes. Proc Linn Soc NSW 8:283–289

Eschmeyer WN, van der Laan R, Fricke R (2019) Eschmeyer's catalog of fishes: genera, species, references, electronic version. Updated 1 July 2019. http://researcharchive.calacademy.org/research/ichthyology/catalog/fishcatmain.asp. Accessed 22 July 2019

Fowler HW (1938) Descriptions of new fishes obtained by the United States Bureau of Fisheries steamer "Albatross", chiefly in Philippine seas and adjacent waters. Proc US Nat Mus 85:31–135

Fricke R, Eschmeyer WN (2019) A guide to fish collections in the catalog of fish, electronic version. Updated 3 June 2019. http://researcharchive.calacademy.org/research/ichthyology/catalog/collections.asp. Accessed 3 June 2019

Gomon MF (2008) Platycephalidae. In: Gomon MF, Bray D and Kuiter RH (eds) Fishes of Australia's southern coast. Reed New Holland, Chatswood, pp 515–521

Günther A (1860) Catalogue of the acanthopterygian fishes in the collection of the British Museum. Volume second. Squamipinnes, Cirrhitidae, Triglidae, Trachinidae, Sciaenidae, Polynemidae, Sphyraenidae, Trichiuridae, Scombridae, Carangidae, Xiphiidae. British Mus, London

Hutchins B (2001) Checklist of the fishes of Western Australia. Rec West Aust Mus Suppl (63):9–50

Hutchins B, Swainston R (1986) Sea fishes of southern Australia. Complete guide for anglers and divers. Swainston Publishing, Perth

ICZN (International Commission on Zoological Nomenclature) (1999) International code of zoological nomenclature, 4th edn. The International Trust for Zoological Nomenclature, London

Imamura H (1996) Phylogeny of the family Platycephalidae and related taxa (Pisces: Scorpaeniformes). Species Divers 1:123–233

Imamura H (2008) Synonymy of two species of the genus Platycephalus and validity of Platycephalus westraliae (Teleostei: Platycephalidae). Ichthyol Res 55:399–406

Imamura H (2015) Taxonomic revision of the flathead fish genus Platycephalus Bloch, 1785 (Teleostei: Platycephalidae) from Australia, with description of a new species. Zootaxa 3904:151–207

Jenyns L (1840–1942) Part V. Fishes. In: Darwin C (ed) The zoology of the voyage of H.M.S. Beagle, under the command of Captain Fitzroy, R.N., during the years 1832 to 1836. Smith, Elder, and Co, London, pp i–ixv + 1–172, pls 1–29 (p 33 was published in June 1840 according to Sherborn 1897)

Knapp LW (1999) Platycephalidae. In: Carpenter KE, Niem VH (eds) FAO species identification guide for fishery purposes. The living marine resources of the western Central Pacific. Vol 4. Bony fish part 2 (Mugilidae to Carangidae). FAO, Rome, pp 2385–2421

Knapp LW, Imamura H, Sakashita M (2000). Onigocia bimaculatua, a new species of flathead fish (Scorpaeniformes: Platycephalidae) from the Indo-Pacific. Special Publ JLB Smith Inst Ichthyol (64):1–10

Kuiter RH (1994) Platycephalidae. In: Gomon MF, Glover JCM, Kuiter RH (eds) The fishes of Australia's south coast. State Print, Adelaide, pp 514–524

Larson HK, Williams RS (1997) Darwin Harbour fishes: a survey and annotated checklist. In: Hanley JR, Caswell G, Megirianand D, Larson HK (eds) Proceedings of the sixth international marine biological workshop. The marine flora and fauna of Darwin Harbour, Northern Territory, Australia. Museum and Art Galleries, Northern Territory and Australian Scientific Association1997, pp 339–380

Larson HK, Williams RS, Hammer MP (2013) An annotated checklist of the fishes of the Northern Territory, Australia. Zootaxa 3696:1–293

Macleay W (1878) The fishes of Port Darwin. Proc Linn Soc NSW 2:344–367, pls 7–10

McCulloch AR (1929) A check-list of the fishes recorded from Australia. Part 3. Mem Aust Mus 5:329–436

Paxton JR, Hanley JE (1989) Platycephalidae. In: Paxton JR, Hoese DF, Allen GR, Hanley JE (eds) Zoological catalogue of Australia. Vol 7. Pisces. Petromyzontidae to Carangidae. Australian Government Publishing Service, Canberra, pp 465–472

Paxton JR, Hoese DF, Gate JE, Bray DJ (2006) Platycephalidae. In: Beesley PL, Wells A (eds) Zoological catalogue of Australia. Vol. 35, part 2. ABRS & CSIRO Publishing, Collingwood, pp 933–948  

Sherborn CD (1897) Note on the dates of "The Zoology of the Beagle". Ann Mag Nat Hist (Ser 6) 20:483

Steindachner F (1883) Ichthyologische Beiträge (XIII). Anz Kaiserlichen Akad Wiss Wein. Math-Naturwiss Kl 20:194–197

Steindachner F (1884) Ichthyologische Beiträge (XIII). I. Beiträge zur Kenntniss der Fische australiens. II. Caranx africanus n. sp. III. Macrones chinensis n. sp. Sitzungsber Kaiserlichen Akad Wiss. Math-Naturwiss Cl 88:1065–1114, pls 1–8

Whitley GP (1931) New names for Australian fishes. Aust Zool 6: 310–334, pls 25–27

Whitley GP (1952) Some noteworthy fishes from eastern Australia. Proc Roy Zool Soc NSW 1951–1952:27–32

Yearsley GK, Last PR, Hoese DF (2006) Standard names of Australian fishes. CSIRO Mar Atmos Res Pap 9:i–iv + 1–65
Acknowledgments
We are grateful to M. Gomon (NMV), A. Graham (CSIRO), M. Hammer and G. Dally (NTM), J. Macline (BMNH), M. McGrouther and A. Hay (AMS), and H. Wellendorf (NMW), for making specimens available. H. Larson (formerly NTM) kindly gave copies of her papers to the first author and M. Allen (WAM) supported HI when he visited WAM in 2017 and 2019. This study was partly supported by JSPS KAKENHI Grant Number 16K07472 funded to HI.
Additional information
Publisher's Note
Springer Nature remains neutral with regard to jurisdictional claims in published maps and institutional affiliations.
This article was registered in the Official Registry of Zoological Nomenclature (ZooBank) as BD6E5CF7-BB4B-431B-A385-12D6AB68FA6A.
This article was published as an Online First article on the online publication date shown on this page.
About this article
Cite this article
Imamura, H., Moore, G.I. Taxonomic revision of the flathead genus Leviprora Whitley 1931, with recognition of Leviprora semermis (De Vis 1883) as a valid species (family Platycephalidae). Ichthyol Res 67, 275–286 (2020). https://doi.org/10.1007/s10228-019-00723-8
Received:

Revised:

Accepted:

Published:

Issue Date:
Keywords
Teleostei

Scorpaeniformes

Synonymy

Neotype

Morphology