Abstract
A new sea catfish (Ariidae), Netuma patriciae, is described based on the holotype and nine paratypes, 127.3–303.4 mm in standard length, collected from Panay and Luzon islands, Philippines. The new species most resembles N. thalassina (Rüppell 1837), in sharing counts of anal-fin rays (17–19 in N. patriciae, 15–17 in N. thalassina) and a distinct dorsomedian head groove (longitudinal length of the groove, 33.7–40.1% of head length, 22.3–31.0%). However, the new species can be easily distinguished from the latter in having fused vomerine tooth patches, and more numerous free vertebrae (43–44 vs. 41–42 in N. thalassina). Although N. bilineata (Valenciennes in Cuvier and Valenciennes 1840a) has also fused vomerine tooth patches, the new species is distinguished by having fewer free vertebrae (43–44 vs. 47–51 in N. bilineata) and longer dorsomedian head groove (33.7–40.1% of head length vs. 0–9.7%). The new species can also be easily distinguished from both N. thalassina and N. bilineata by having a filamentous dorsal-fin ray (longest dorsal-fin ray 26.9–35.9% of standard length vs 20.3–23.3% in N. thalassina, 20.9–25.3% in N. bilineata, standard length > 127 mm) and a U-shaped junction of dorsomedian head ridge (vs. V-shaped in both species).
This is a preview of subscription content, log in to check access.
Access options
Buy single article
Instant access to the full article PDF.
US$ 39.95
Tax calculation will be finalised during checkout.
Subscribe to journal
Immediate online access to all issues from 2019. Subscription will auto renew annually.
US$ 99
Tax calculation will be finalised during checkout.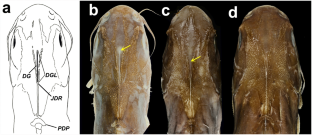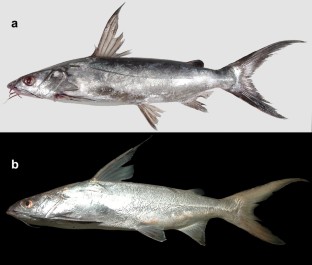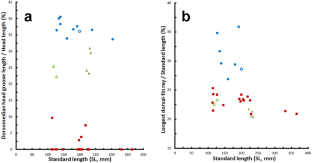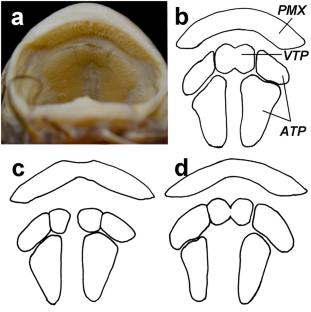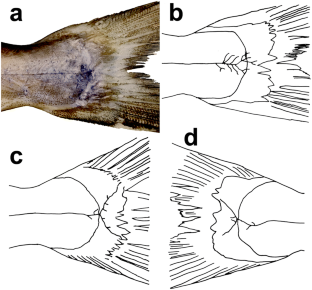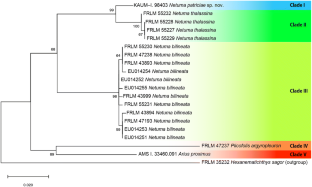 References
Betancur-R R (2009) Molecular phylogenetics and evolutionary history of ariid catfishes revisited: a comprehensive sampling. BMC Evol Biol https://doi.org/10.1186/1471-2148-9-175

Bleeker P (1846a) Siluroideorum bataviensium conspectus diagnosticus. Verh Batav Genootsch Kunst 21:1–60

Bleeker P (1846b) Siluroideorum bataviensium species nuperrime detectae. Nat Geneesk Arch Ned Ind 3:284–293

Bleeker P (1858) De visschen van den Indischen Archipel beschreven en toegelicht. Deel I. Siluri. Acta Soc Sci Indo-Neêrl 4:i–xii + 1–370

Broad G (2003) Fishes of the Philippines: A guide to identification of families. Anvil Publishing, Inc. Mandaluyong City

Cuvier G, Valenciennes A (1840a) Histoire naturelle des poissons, vol. 14. Chez Pitois-Levrault, Paris

Cuvier G, Valenciennes A (1840b) Histoire naturelle des poissons, vol. 15. Chez Cn. Pitois, Paris

Day F (1870) On the fishes of the Andaman Islands. Proc Zool Soc Lond 1870:677–705

Day F (1877) The fishes of India; being a natural history of the fishes known to inhabit the seas and fresh waters of India, Burma, and Ceylon. Bernard Quaritch, London

Dmitrenko EM (1974) Arius dayi sp n (Cypriniformes, Ariidae) from the Arabian Sea. Vestn Zool 1974(3):37–41

Ferraris CJ (2007) Checklist of catfishes, recent and fossil (Osteichthyes: Siluriformes), and catalogue of siluriform primary types. Zootaxa 1418:3–628

Ferraris CJ, McGrouther MA, Parkinson KL (2000) A critical review of the types and putative types of southern Asian marine and freshwater fish species in the Australian Museum named by Francis Day. Rec Aust Mus 52:289–306

Fowler HW (1941) Contributions to the biology of the Philippine Archipelago and adjacent regions. The fishes of the groups Elasmobranchii, Holocephali, Isospondyli, and Ostarophysi obtained by the United States Bureau of Fisheries steamer "Albatross" in 1907 to 1910, chiefly in the Philippine Islands and adjacent seas. US Natl Mus Bull 100 13:1–879

Fricke R, Eschmeyer WN (2019) A guide to fish collections in the Catalog of fishes. Electronic version, updated 2 January 2019. http://researcharchive.calacademy.org/research/ichthyology/catalog/collections.asp. Accessed 24 January 2019

Hamilton F (1822) An account of the fishes found in the river Ganges and its branches. Archibald Constable and Company, Edinburgh

Herre AW (1953) Check list of Philippine fishes. US Fish Wildlife Serv Res Rep 20:1–977

Hubbs CL, Lagler KF (1947) Fishes of the Great Lakes region. Bull Cranbrook Inst Sci 26:1–186

Jordan DS, Hubbs CR (1925) Record of fishes obtained by David Starr Jordan in Japan, 1922. Mem Carnegie Mus 10:93–346

Kailola PJ (1986) Ariidae systematics: comparison of the giant sea catfishes Arius thalassinus and A. bilineatus of the Indo-Pacific. In: Uyeno T, Arai R, Taniuchi T, Matsuura K (eds) Indo-Pacific fish biology. Ichthyol Soc Japan, Tokyo, pp 540–549

Kailola PJ (1999) Order Siluriformes Ariidae (=Tachysuridae) Sea catfishes (fork-tailed catfishes). In: Carpenter KE, Niem VH (eds) FAO species identification guide for fishery purposes. The living marine resources of the western Central Pacific, vol. 3. Batoid fishes, chimaeras and bony fishes. Part 1 (Elopidae to Linophrynidae). FAO, Rome, pp 1827–1879

Kailola PJ (2004) A phylogenetic exploration of the catfish family Ariidae (Otophysi: Siluriformes). Beagle (Rec Mus Art Galleries NT) 20:87–166

Kimura S (2015) Netuma thalassinus (Rüppell, 1837). In: Kimura S, Arshad A, Imamura H, Ghaffar MA (eds) Fishes of the northwestern Johor Strait, peninsular Malaysia. Univ Putra Malaysia Press, Serdang, Malaysia and Mie Univ, Tsu, p 24

Kumar S, Stecher G, Li M, Knyaz C, and Tamura K (2018) MEGA X: Molecular Evolutionary Genetics Analysis across computing platforms. Mol Biol Evol 35:1547–1549

Lakra WS, Verma MS, Goswam M, Lal KK, Mohindra V, Punia P, Gopalakrishnan A, Singh KV, Ward RD, Hebert P (2011) DNA barcoding Indian marine fishes. Mol Ecol Resour 11:60–71

Marceniuk AP, Menezes NA (2007) Systematics of the family Ariidae (Ostariophysi, Siluriformes), with a redefinition of the genera. Zootaxa 1416:3–126

Ogilby J D (1898) New genera and species of fishes. Proc Linn Soc NSW 23:280–299

Rüppell WPES (1837) Neue Wirbelthiere zu der Fauna von Abyssinien gehörig. Fische des Rothen Meeres. Siegmund Schmerber, Frankfurt am Main

Sauvage H-E (1883) Description de quelques poissons de la collection du Muséum d'histoire naturelle. Bull Soc Philom Paris 7:156–161

Schroeder RE (1980) Philippine shore fishes of the western Sulu Sea. Bureau of Fisheries and Aquatic Resources, Quezon City

Tamura K and Nei M (1993) Estimation of the number of nucleotide substitutions in the control region of mitochondrial DNA in humans and chimpanzees. Mol Biol Evol 10:512–526

Tilak R (1965) The comparative morphology of the osteocranium and the Weberian apparatus of the Tachysuridae (Pisces: Siluroidei). J Zool 146:150–174

Ward RD, Zemlak TS, Innes BH, Last PR, Hebert PDN (2005) DNA barcoding Australia's fish species. Phil Trans R Soc B Bio Sci 360:1847–1857

Whitehead PJP, Talwar PK (1976) Francis Day (1829–1889) and his collections of Indian fishes. Bull British Mus (Nat Hist) Hist Ser 5 (1): 1–189, pls 1–4

Whitley GP (1941) Ichthyological notes and illustrations. Austral Zool 10:1–50
Acknowledgments
We are deeply indebted to P. J. Kailola (University of the South Pacific and Pacific Dialogue Ltd) for permission to use her observation data and photos in the present article, critical comments and suggestions on the manuscript, and great help with the English. We express sincere gratitude to the following persons and institutions for loan and/or donation of specimens: M. McGrouther, A. Hay and S. Reader (AMS); D. Catania (CAS); Y. Kai (FAKU); G. Duhamel, P. Pruvost, R. Causse and Z. H. Gabsi (MNHN); S. Awata (Osaka City University, formerly of SMB); T. Shimotani (SMB); F. Krupp, J. Stecher and H. Zetsche (SMF); A. Arshad (Universiti Putra Malaysia); M. A. Ghaffar (Universiti Malaysia Terengannu); and K. Laishram (ZSI). We thank Y. Kai (FAKU) and H. Suzuki (ex-student of FRLM) for their valuable advice on molecular procedure and analysis; I. Kobayashi and staff of the Life Science Research Center, Center for Molecular Biology and Genetics, Mie University, for nucleotide sequences; and students of FRLM for their cooperation in field collections. The holotype (KAUM–I. 98403 from the Philippines) was collected under a Memorandum of Agreement for joint research made by and among the Department of Agriculture of the Republic of the Philippines (DA), the University of the Philippines Visayas (UPV), the Kagoshima University Museum, the Research Institute for Humanity and Nature, and Tokai University, facilitated by S. L. Sanchez [Bureau of Fisheries and Aquatic Resources (BFAR), DA]. P. J. Alcala (DA) provided a Prior Informed Consent Certificate, and I. P. Cabacaba and S. M. S. Nolasco (BFAR, DA) provided a fish specimen Export Certificate (No. 2016-39812). This study was supported in part by JSPS (Japan Society for the Promotion of Science) KAKENHI awarded to S. K. (23570114 and 16K07840); and by the Multilateral Cooperative Research Program (Coastal Oceanography), Asian Core Program, and Core-to-Core Program of the JSPS.
Additional information
Publisher's Note
Springer Nature remains neutral with regard to jurisdictional claims in published maps and institutional affiliations.
This article was registered in the Official Registry of Zoological Nomenclature (ZooBank) as 345A9E31-048F-42E1-A7DE-55209C88998B.
This article was published as an Online First article on the online publication date shown on this page.
Electronic supplementary material
Below is the link to the electronic supplementary material.
About this article
Cite this article
Takahashi, Y., Kimura, S. & Motomrua, H. A new sea catfish, Netuma patriciae (Siluriformes: Ariidae), from the Philippines. Ichthyol Res 67, 264–273 (2020). https://doi.org/10.1007/s10228-019-00719-4
Received:

Revised:

Accepted:

Published:

Issue Date:
Keywords
Teleostei

Fork-tailed catfish

Netuma thalassina
Netuma bilineata

Taxonomy