Abstract
The new serranid fish Chelidoperca cerasina is described on the basis of 13 specimens from the Coral Sea (off New Caledonia and eastern Australia), southwest Pacific Ocean, at depths of 245–338 m. The new species can be readily distinguished from all congeners by having the following combination of characters: an orange spot on pectoral-fin and caudal-fin bases; 4 scale rows between lateral line and base of spinous dorsal fin; cheek scales in 8 or 9 (modally 8) rows; tip of upper caudal-fin lobe elongated, slightly longer than lower lobe in specimens > ca. 100 mm; no longitudinal dark stripe or row of dark blotches laterally on body; interorbital scales extending beyond mid-orbit level, but not reaching anterior margin of orbit; scales on ventral surface of lower jaw restricted to angular, absent on dentary; pelvic fin short, tip not reaching anus when adpressed.
This is a preview of subscription content, log in to check access.
Access options
Buy single article
Instant access to the full article PDF.
US$ 39.95
Tax calculation will be finalised during checkout.
Subscribe to journal
Immediate online access to all issues from 2019. Subscription will auto renew annually.
US$ 99
Tax calculation will be finalised during checkout.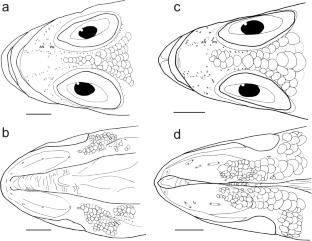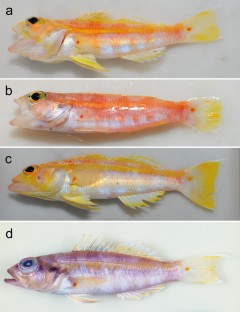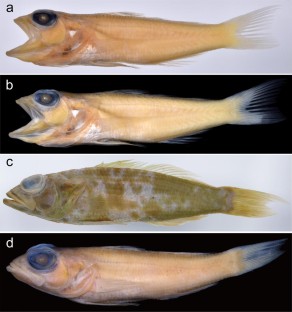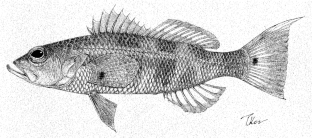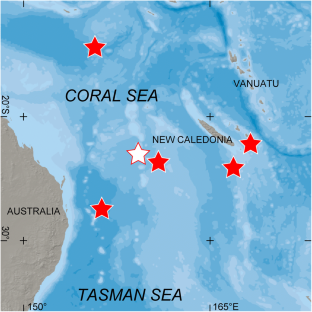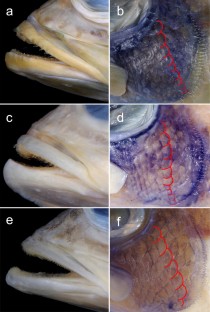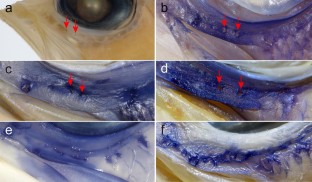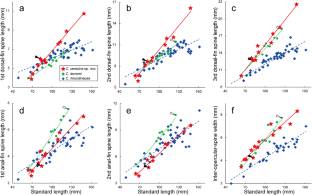 References
Ahlstrom EH, Butler JL, Sumida BY (1976) Pelagic stromateoid fishes (Pisces, Perciformes) of the eastern Pacific: kinds, distributions, and early life histories and observations on five of these from the northwest Atlantic. Bull Mar Sci 26:285–402

Alcock AW (1890) Natural history notes from H. M. Indian marine survey steamer 'Investigator', Commander R. F. Hoskyn, R. N., commanding. No. 16. On the bathybial fishes collected in the Bay of Bengal during the season 1889–1890. Ann Mag Nat Hist 33:197–222, pls 8–9

Alcock AW (1894) Illustrations of the zoology of the royal Indian marine surveying steamer Investigator, under the command of commander A. Carpenter, R. N., D. S. O., of the late commander R. F. Hoskyn, R. N., and of commander C. F. Oldham, R. N. Fishes. Part II., plates VIII–XIII. Director of the Royal Indian Marine, Calcutta

Bineesh KK, Akhilesh KV, Abdussamad, EM, Pillai NGK (2013) Chelidoperca maculicauda, a new species of perchlet (Teleostei: Serranidae) from the Arabian Sea. Aqua 19:71–78

Bineesh KK, Akhilesh KV, Abdussamad EM, Pillai NGK, Thiel R, Jena JK, Gopalakrishnan A (2014) Redescriptions of Chelidoperca investigatoris (Alcock, 1890) and Chelidoperca occipitalis Kotthaus, 1973 (Perciformes: Serranidae) from the south-west coast of India. Indian J Fish 61:117–122

Boulenger GA (1895) Catalogue of the perciform fishes in the British Museum. 2nd edn. Vol 1. Containing the Centrarchidae, Percidae, and Serranidae (part). British Museum, London

Cadenat J (1953) Notes d'Ichyologe oust africaine. Poissons des campagnes de (Gérard Tréea). Bull l'Inst Français d'Afrique Noire Sér A 15:1051–1102

Cuvier G (1816) Le règne animal distribué d'après son organisation pour servir de base à l'histoire naturelle des animaux et d'introduction à l'anatomie comparée. Les reptiles, les poissons, les mollusques et les annélides. 1st edn. Vol 2. Deterville, Paris

Cuvier G, Valenciennes A (1831) Histoire naturelle des poissons. Vol 7. F. G. Levrault, Paris

Fourmanoir P (1982) Trois nouvelles espèces de Serranidae des Philippines et de la Mer du Corail Plectranthias maculatus, Plectranthias barroi, Chelidoperca lecromi. Cybium 6:57–64

Günther A (1880) Report on the Shore Fishes procured during the Voyage of H.M.S. Challenger in the Years 1873–1876. Zoology 1:1–82, pls 1–32

Heemstra PC, Anderson WD (2016) Serranidae. Groupers (seabass, hinds, creolefish, combers, anthiines, soapfish). In Carpenter KR, De Angelis N, eds. The living marine resources of the Eastern Central Atlantic. Vol 4. Bony fishes pt 2 (Perciformes to Tetradontiformes) and sea turtles. FAO species identification guide for fishery purposes. FAO, Rome, pp 2365–2413

Iwamoto T and Wirtz P (2018) A synopsis of the Eastern and Central Atlantic combers of the genus Serranus (Teleostei: Scorpaeniformes: Serranidae). Proc Calif Acad Sci 65:1–39

Kotthaus A (1973) Fische des Indischen Ozeans. Ergebnisse der ichthyologischen untersuchungen während der expedition des forschungsschiffes 'Meteor' in der Indischen Ozean, Oktober 1964 bis Mai 1965. A. Systematischer teil, X. Percomorphi (3). Meteor Forschungsergeb Reihe D Biol 16:17–32

Lee S-H, Lee M-Y, Matsunuma M, Chen W-J (2019) Exploring the phylogeny and species diversity of Chelidoperca (Teleostei: Serranidae) from the western Pacific Ocean by an integrated approach in systematics, with descriptions of three new species and a redescription of C. lecromi Fourmanoir, 1982. Front Mar Sci 6 (465):1–27

Matsunuma M (2016) Records of Chelidoperca maculicauda and C. occipitalis (Serranidae) from the Arabian Sea, with comments on diagnostic characters. Spec Divers 21:161–170

Matsunuma M (2017) Chelidoperca santosi. In Motomura H, Alama UB, Muto N, Babaran RP, Ishikawa S, eds. Commercial and bycatch market fishes of Panay Island, Republic of the Philippines. The Kagoshima University Museum, Kagoshima, University of the Philippines Visayas, Iloilo, and Research Institute for Humanity and Nature, Kyoto, p 83

Matsunuma M, Motomura H (2016) Chelidoperca stella, a new species of perchlet (Perciformes: Serranidae) from the Andaman Sea, eastern Indian Ocean. Zootaxa 4092:388–400

Matsunuma M, Yamakawa T, Williams JT (2017) Chelidoperca tosaensis, a new species of perchlet (Serranidae) from Japan and the Philippines, with geographic range extension of C. stella to the northwestern Pacific Ocean. Ichthyol Res. https://doi.org/10.1007/s10228-017-0604-5 (also appeared in Ichthyol Res 65:210–230)

Poll M (1954) Poissons IV. Téléostéens Acanthoptérygiens (première partie). Résultats scientifiques. Expédition océanographique belge dans les eaux ôtières africaines de l'Atlantique Sud (1948–1949). Mém Mus R His Nat Belg, Bruxelles 4:1–390, pls 74–79

Senou H (2013) Serranidae. Groupers, basslets and soapfishes. In Nakabo T, ed. Fishes of Japan with pictorial keys to the species. 3rd edn. Tokai University Press, Hadano, pp 757–802, 1960–1971

Weber MCW (1913) Die fische der Siboga-Expedition. E. J. Brill, Leiden

Williams JT, Carpenter KE (2015) A new fish species of the subfamily Serraninae (Perciformes, Serranidae) from the Philippines. Zootaxa 3911:287–293
Acknowledgments
We are grateful to S.-P. Huang (ASIZP), Y. Kai (FAKU), H. Motomura (KAUM), H.-C. Ho (NMMB-P), P. Pruvost, C. Ferrara and P. Béarez (MNHN), K. Matsuura, G. Shinohara, M. Nakae and K. Kuriiwa (NSMT), U. Alama (UPVMI), R. Thiel (ZMH), J. Maclaine (BMNH) and F. Tashiro (HUMZ) for providing opportunities to examine specimens. We especially thank H. Motomura and all students of KAUM for their kind hospitality during the first and fourth authors' visits, and curatorial assistance and sampling of specimens; K. Fujiwara (KAUM) for examining the holotype of C. occipitalis; M.-Y. Lee and H.-C. Lin (NTUM) for generous assistance during the study; M. Nakae (NSMT) and M.-Y. Lee (NTUM) who provided a photograph of fresh C. cerasina; and K. Taguchi (formerly KUN) for drawing illustration of the new species. We appreciate T. Naito (BSKU) for providing specimens; all students of KUN for curatorial assistance; G. Hardy (Ngunguru, New Zealand) for reading the manuscript and providing help with English; and J. T. Williams and anonymous reviewers for providing variable comments on the manuscript. This study was supported in part by a Grant-in-Aid from JSPS Research Fellow (PD: 16J00047). WJC acknowledges the grant supports from the Ministry of Science and Technology, Taiwan (MOST 102-2923-B-002-001-MY3 and MOST 107-2611-M- 002-007), and the French National Research Agency (ANR 12-ISV7-0005-01).
Additional information
Publisher's Note
Springer Nature remains neutral with regard to jurisdictional claims in published maps and institutional affiliations.
This article was registered in the Official Registry of Zoological Nomenclature (ZooBank) as 1C9E01A2-1B2F-473D-A54B-C234F83F95D1.
This article was published as an Online First article on the online publication date shown on this page.
About this article
Cite this article
Ogino, A., Lee, SH., Chen, WJ. et al. Chelidoperca cerasina sp. nov., a new perchlet (Perciformes: Serranidae) from the southwest Pacific Ocean. Ichthyol Res 67, 117–132 (2020). https://doi.org/10.1007/s10228-019-00714-9
Received:

Revised:

Accepted:

Published:

Issue Date:
Keywords
Chelidoperca cerasina

Teleostei

Taxonomy

Morphology

New Caledonia

Australia