Abstract
Thrissina cultella sp. nov., and Thrissina serena sp. nov., are described from the Bay of Bengal and northwestern Indian Ocean, respectively. Although both species resemble T. vitrirostris (Gilchrist and Thompson 1908), which is redescribed from both type and non-type specimens, in having a long upper jaw (posterior tip reaching to pectoral-fin insertion) and similar numbers of gill rakers and ventral scutes, the two new species differ in having fewer transverse scales (9–10 in both vs. 11–12 in T. vitrirostris). Thrissina cultella differs from T. serena in having a slender body [24.4–26.9% of standard length (SL) vs. 26.6–29.4% SL in T. serena], shorter head (25.2–27.1% SL vs. 26.2–27.3%) and pectoral fin (17.5–19.1% SL vs. 19.5–21.3%), and longer pelvic fin (9.3–10.5% SL vs. 7.8–8.7%).
Access options
Buy single article
Instant access to the full article PDF.
USD 39.95
Price excludes VAT (USA)
Tax calculation will be finalised during checkout.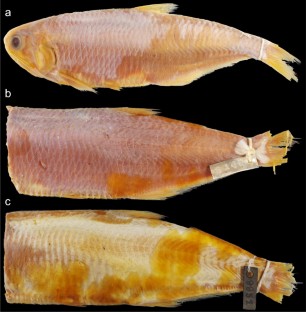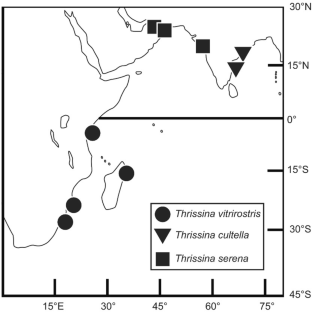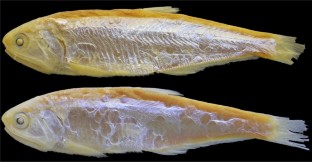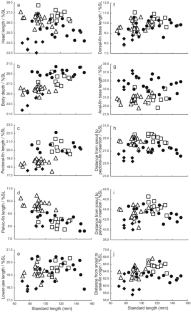 References
Cuvier G (1829) Le Règne Animal, distribué d'après son organisation, pour servir de base à l'histoire naturelle des animaux et d'introduction à l'anatomie comparée. Edition 2, vol 2. Chez Déterville, Paris

De Bruin GHP, Russell BC, Bogusch A (1994) FAO species identification field guide for fishery purposes. The marine fishery resources of Sri Lanka. FAO, Rome

Dutt S (1961) A new record of the anchovy Thrissocles vitrirostris Gilchrist and Thompson from Indian waters. Current Sci 30:104.

Gilchrist JDF, Thompson WW (1908) Descriptions of fishes from the coast of Natal. Ann S Afr Mus 6:145–206

Hata H, Motomura H (2017) A new species of anchovy, Encrasicholina auster (Clupeiformes: Engraulidae), from Fiji, southwestern Pacific Ocean. N Z J Zool. https://doi.org/10.1080/03014223.2016.1268177 (also appeared in N Z J Zool 44:122‒128)

Jordan DS, Seale A (1925) Analysis of the genera of anchovies or Engraulidae. Copeia 141:27–32

Kottelat M (2013) The fishes of the inland waters of Southeast Asia. Raffles Bull Zool Suppl 27:1–663

Losse GF (1966) Check list of elopoid and clupeoid fishes in east African coastal waters. J E Afr Natl Hist Soc Nat Mus 25:166–178

Losse GF (1968) The elopoid and clupeoid fishes of east African coastal waters. J E Afr Natl Hist Soc Nat Mus, 27:77–115

Psomadakis PN, Osmany HB, Maazzam M (2015) Field identification guide to the living marine resources of Pakistan. FAO species identification guide for fishery purposes. FAO, Rome

Rutter CL (1897) A collection of fishes obtained in Swatow, China, by Miss Adele M. Fielde. Proc Acad Nat Sci Phil, 49:56–90

Sabaj MH (2016) Standard symbolic codes for institutional resource collections in herpetology and ichthyology: an online reference. Version 6.5 (16 August 2016). American Society of Ichthyologists and Herpetologists, Washington, DC. http://www.asih.org/resources/standard-symbolic-codes-institutionalresource-collections-herpetology-ichthyology. Accessed 1 Apr. 2019

Whitehead PJP (1965) A review of the elopoid and clupeoid fishes of the Red Sea and adjacent regions. Bull Br Mus Nat Hist (Zool) 12:227–281

Whitehead PJP (1972) A synopsis of the clupeoid fishes of India. J Mar Biol Assoc India 14:160–256

Whitehead PJP, Nelson GJ, Wongratana T (1988) FAO species catalogue vol 7. Clupeoid fishes of the world (suborder Clupeoidei). An annotated and illustrated catalogue of the herrings, sardines, pilchards, sprats, shads, anchovies and wolf-herrings. Part 2 – Engraulidae. FAO Fisheries Synopsis, no 125 7:i–viii + 305–579

Whitehead PJP, Wongratana T (1984) Engraulidae. In: Fischer W, Bianchi G (eds) FAO species identification sheets for fishery purposes. Western Indian Ocean (Fishing Area 51), vol 2. Bony fishes (Congiopodidae to Lophotidae). FAO, Rome, pp ENGR–ENGR Thrys 7

Wongratana T (1983) Diagnoses of 24 new species and proposal of a new name for a species of Indo-Pacific clupeoid fishes. Jpn J Ichthyol 29:385–407

Wongratana T, Munroe TA, Nizinski MS (1999) Order Clupeiformes. Engraulidae. Anchovies. In: Carpenter KE, Niem VH (eds) FAO species identification guide for fishery purposes. The living marine resources of the western central Pacific, vol 3. Batoid fishes, chimaeras and bony fishes pt 1 (Elopidae to Linophrynidae), FAO, Rome, pp 1698–1753
Acknowledgements
We thank D. Catania and M. Hoang (CAS), A. Bosman and D. Clarke (SAM), and J. Williams, K. Murphy, S. Raredon, and D. Pitassy (USNM) for opportunities to examine specimens of the genus Thrissina. We also thank Y. Haraguchi and other volunteers, and students of KAUM for their curatorial assistance, and G. Hardy (Ngunguru, New Zealand) for reading the manuscript and providing help with English. This study was supported in part by a Grant-in-Aid from the Japan Society for the Promotion of Science for JSPS Fellows (DC2: 29-6652); the Sasakawa Scientific Research Grant from the Japan Science Society (28-745); JSPS KAKENHI Grant Numbers JP19770067, JP26241027, JP24370041, JP23580259, and JP26450265; the JSPS Core-to-Core Program: B Asia-Africa Science Platforms; the "Biological Properties of Biodiversity Hotspots in Japan" project of the National Museum of Nature and Science, Tsukuba, Japan; "Establishment of Research and Education Network on Biodiversity and Its Conservation in the Satsunan Islands" project of Kagoshima University adopted by the Ministry of Education, Culture, Sports, Science and Technology, Japan; and the "Island Research" project of Kagoshima University.
Additional information
Publisher's Note
Springer Nature remains neutral with regard to jurisdictional claims in published maps and institutional affiliations.
This article was registered in the Official Register of Zoological Nomenclature (ZooBank) as 6062541F-C701-47E8-89BE-875872D9A850.
This article was published as an Online First article on the online publication date shown on this page.
About this article
Cite this article
Hata, H., Motomura, H. Two new species of Thrissina (Clupeiformes: Engraulidae) from the northern Indian Ocean and redescription of Thrissina vitrirostris (Gilchrist and Thompson 1908). Ichthyol Res 67, 155–166 (2020). https://doi.org/10.1007/s10228-019-00713-w
Received:

Revised:

Accepted:

Published:

Issue Date:

DOI: https://doi.org/10.1007/s10228-019-00713-w
Keywords