Abstract
A new snailfish, Careproctus longidigitus, is described on the basis of four specimens collected off the Shiretoko Peninsula, Hokkaido, Japan. The new species is most similar to C. notosaikaiensis Kai, Ikeguchi, and Nakabo 2011 (Sea of Japan) and C. rausuensis Machi, Nobetsu, and Yabe 2012 (southern Sea of Okhotsk), having similar numbers of dorsal- (50–53 in C. longidigitus vs. 52 and 50–55, respectively) and anal-fin rays (45–47 vs. 46–47 and 45–48, respectively), similar number of vertebrae (58–59 vs. 57–58 and 56–59, respectively), the pectoral fin with a distinct notch, trilobed teeth, chin pores in a single pit, and a moderately sized pelvic disk (disk length: 5.7–6.5% SL vs. 5.6–7.0% SL, 5.7–6.7% SL, respectively). However, the former differs from both in having fewer pectoral-fin rays (28–32 vs. 35–37 and 34–37, respectively), lower 4 or 5 pectoral-fin rays filamentous and nearly completely free of membrane (vs. strongly exserted), and a pale stomach (vs. black stomach). The large sequence divergences in COI between C. longidigitus and C. notosaikaiensis/C. rausuensis (0.093 and 0.080 in uncorrected p-distance, respectively) also support the validity of the new species.
This is a preview of subscription content, log in to check access.
Access options
Buy single article
Instant access to the full article PDF.
US$ 39.95
Price includes VAT for USA
Subscribe to journal
Immediate online access to all issues from 2019. Subscription will auto renew annually.
US$ 99
This is the net price. Taxes to be calculated in checkout.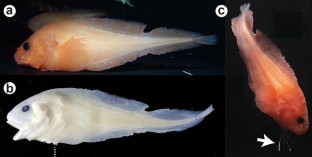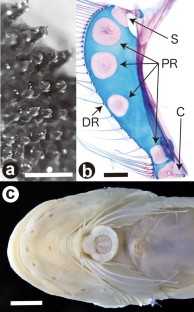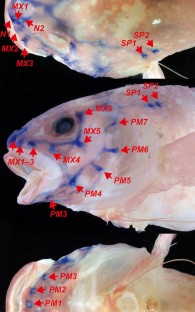 References
Andriashev AP (1998) A review of recent studies of Southern Ocean Liparidae (Teleostei: Scorpaeniformes). Cybium 22:255–266

Andriashev AP (2003) Liparid fishes (Liparidae, Scorpaeniformes) of the Southern Ocean and adjacent waters. Biological results of the Russian Antarctic expeditions vol 9. Explorations of the Fauna of the Seas, 53(61). Russian Academy of Sciences, Sankt Petersburg

Andriashev AP, Prirodina VP (1990) Notes of the first records of liparid fishes of the genus Careproctus (Liparididae) from the coasts of the Antarctic continent with descriptions of three new species. Uo (39):1–14

Chernova NV, Stein DL, Andriashev AP (2004) Family Liparidae Scopoli 1777—Snailfishes. Cal Acad Sci Annot Checklist Fish 31:1–72

Duhamel G (1992) Description d'espèces nouvelles de Careproctus et Paraliparis et données nouvelles sur ces genres et le genre Edentoliparis de l'océan Austral (Cyclopteridae, Liparinae). Cybium 16: 183–207

Folmer O, Black M, Hoeh W, Lutz R, Vrijenhoek R (1994) DNA primers for amplification of mitochondrial cytochrome c oxidase subunit I from diverse metazoan invertebrates. Mol Mar Biol Biotechnol 3:294–299

Gardner JR, Orr JW, Stevenson DE, Spies I, Somerton DA (2016) Reproductive parasitism between distant phyla: molecular identification of snailfish (Liparidae) egg masses in the gill cavities of king crabs (Lithodidae). Copeia 104:645–657

Gilbert CH, Burke CV (1912a) New cyclogasterid fishes from Japan. Proc US Natl Mus 42: 351–380

Gilbert CH, Burke CV (1912b) Fishes from Bering Sea and Kamchatka. Bull Bureau Fish 30:31–96

Ji HS, Park JH, Ban TW, Kim JK (2012) First record of a snailfish, Careproctus notosaikaiensis (Scorpaeniformes: Liparidae) from Korea. J Anim Syst Evol Divers 28:308–311

Jordan DS, Evermann BW (1898) The fishes of North and Middle America: a descriptive catalogue of the species of fish-like vertebrates found in the waters of North America north of the Isthmus of Panama. Part III. Bull US Natl Mus (47):i–xxiv + 2183a–3136

Kai Y, Ikeguchi S, Nakabo T (2011) A new species of the genus Careproctus (Liparidae) from the Sea of Japan. Ichthyol Res 58:350–354

Kai Y, Matsuzaki K, Mori T (2019) First records of the snailfish Careproctus lycopersicus (Cottoidei: Liparidae) from the western North Pacific. Species Divers 24:115–118

Kawamura K, Hosoya K (1991) A modified double staining technique for making a transparent fish-skeletal specimen. Bull Natl Res Inst Aquac (20):11–18

Kido K (1985) New and rare species of the genus Careproctus (Liparididae) from the Bering Sea. Jpn J Ichthyol 32:6–17

Kido K (1988) Phylogeny of the family Liparididae, with the taxonomy of the species found around Japan. Mem Fac Fisher Hokkaido Univ 35:125–256

Komai T, Hibino M (2019) Three new species of the pandalid shrimp genus Pandalopsis Spence Bate, 1888 (Crustacea: Decapoda: Caridea) from the southwestern Sea of Okhotsk, with supplemental note on P. glabra Kobjakova, 1936. Zootaxa 4545:1–31

Komai T, Matsuzaki K (2016) Two deep-sea decapod crustaceans collected off eastern Hokkaido, Japan: Sclerocrangon rex n. sp. (Caridea: Crangonidae) and Munidopsis verrilli Benedict, 1902 (Anomura: Munidopsidae). Zootaxa 4162:92–106

Krøyer HN (1862) Nogle Bidrag til Nordisk ichthyologi. Naturhist Tidsskr (Kjøbenhavn) (Ser 3) 1:233–310

Kumar S, Stecher G, Tamura K (2016) MEGA7: Molecular Evolutionary Genetics Analysis version 7.0 for bigger datasets. Mol Biol Evol 33:1870–1874

Lönnberg E (1905) The fishes of the Swedish South Polar Expedition. Wissenschaftliche Ergebnisse der Schwedischen Südpolar-Expedition, 1901-1903 5 (6):1–72

Machi K, Nobetsu T, Yabe M (2012) Careproctus rausuensis, a new liparid fish (Percomorphacea: Cottiformes), collected from Hokkaido, Japan. Bull Natl Mus Natr Sci (Ser A) Suppl (6):33–40

Orr JW (2016) Two new species of snailfishes of the genus Careproctus (Liparidae) from the Aleutian Islands, Alaska. Copeia 104: 890–896

Orr JW, Maslenikov KP (2007) Two new variegated snailfishes of the genus Careproctus (Teleostei: Scorpaeniformes: Liparidae) from the Aleutian Islands, Alaska. Copeia 2007:699–710

Orr, JW, Spies I, Stevenson DE, Longo GC, Kai Y, Ghodes S, Hollowed M (2019) Molecular phylogenetics of snailfishes (Liparidae: Cottoidei) based on mtDNA and RADseq genomic analyses, with comments on selected morphological characters. Zootaxa 4642:1–79

Sakurai Y, Kido K (1992) Feeding behavior of Careproctus rastrinus (Liparidae) in captivity. Jpn J Ichthyol 39:110–113

Stein DL (2012) Snailfishes (family Liparidae) of the Ross Sea, Antarctica, and closely adjacent waters. Zootaxa 3285:1–120

Thompson JD, Gibson TJ, Plewniak F, Jeanmougin F, Higgins DG (1997) The CLUSTAL_X windows interface: flexible strategies for multiple sequence alignment aided by quality analysis tools. Nucleic Acids Res 25:4876–4882

Zhang Z, Schwartz S, Wagner L, Miller W (2000) A greedy algorithm for aligning DNA sequences. J Comput Biol 7:203–214
Acknowledgements
We are grateful to Shigeki Fujimoto and Shigetada Fujimoto for their help in collecting specimens. Our appreciation is also extended to Y. Abe (Executive Director, AMF) and A. Komoda (General Curator, AMF) for their valuable advice and encouragement, T. Mori, H. Taira, S. Yamauchi, and M. Kamiunten (staff of AMF) for their assistance during the study, and H. Imamura, T. Kawai, and F. Tashiro (HUMZ), and J. T. Williams, D.G. Smith, S. Raredon, and K. Murphy (USNM) for access to collections. G. S. Hardy (Ngunguru, New Zealand) critically reviewed the manuscript.
Additional information
Publisher's Note
Springer Nature remains neutral with regard to jurisdictional claims in published maps and institutional affiliations.
This article was registered in the Official Registry of Zoological Nomenclature (ZooBank) as 8AEFD71F-B23E-4AE6-8F78-E69D871A4AA5.
This article was published as an Online First article on the online publication date shown on this page.
About this article
Cite this article
Kai, Y., Matsuzaki, K. Careproctus longidigitus, a new snailfish (Liparidae) from the southern Sea of Okhotsk. Ichthyol Res 67, 133–138 (2020). https://doi.org/10.1007/s10228-019-00711-y
Received:

Revised:

Accepted:

Published:

Issue Date:
Keywords
Cottoidei

New species

COI

Shiretoko Peninsula

Hokkaido

Western North Pacific