Abstract
Examination of gonads, fresh coloration and external morphology of Parupeneus spilurus (Perciformes: Mullidae), based on 55 males [115.4–315.9 mm SL (mean 254.1 mm)] and 22 females [116.2–299.5 mm SL (225.3 mm)], provided evidence of both sexual dichromatism and dimorphism. Males consistently had six to nine oblique yellow stripes and two yellow stripes on the second dorsal fin and anal fin, respectively. Females less than 212.3 mm SL had a reddish second dorsal fin, becoming yellowish (but no stripes or blotches) with maturity (> 215.4 mm SL). The anal fin of females was usually reddish without yellow stripes, even at full maturity, although a single yellow stripe on the anal fin is likely during breeding periods (at least before ovulation). Whereas the caudal fin of females always lacked yellow markings, these occurred in mature males (> 193.0 mm SL), tending to change from stripes to blotches via broken stripes with subsequent growth. Males differed slightly from females in some relative proportions (orbit diameter, and upper-jaw and anal-fin base lengths). Parupeneus spilurus was found to be a gonochoristic, multiple-spawning species (more than one spawning per year) with asynchronous ovarian development.
Access options
Buy single article
Instant access to the full article PDF.
USD 39.95
Price includes VAT (USA)
Tax calculation will be finalised during checkout.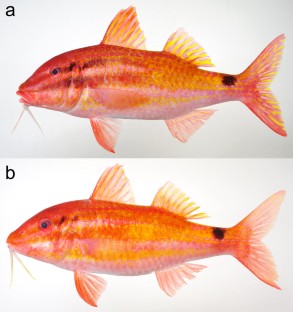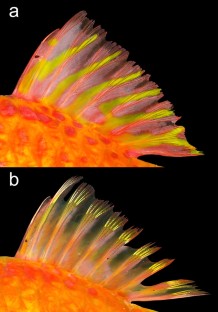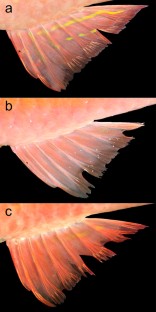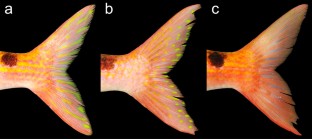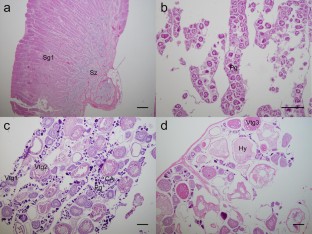 References
Gomon MF (2008) Family Mullidae, red mullets, goatfishes. In: Gomon MF, Bray DJ, Kuiter RH (eds) Fishes of Australia's southern coast. New Holland Press, Chatswood, pp 591–592

Hatooka K, Doiuchi R (2013) Family Mullidae. In: Nakabo T (ed) Fishes of Japan with pictorial keys to the species, third edition. Tokai University Press, Hadano, pp 976–982, 2018–2020

Ijiri S (2017) 14 Reproduction. In: Yabe M, Kuwamura T, Takagi Y (eds) Ichthyology. Kouseisha-Kouseikaku, Tokyo, pp 155–178

Ikeda H, Nakabo T (2015) Fishes of the Pacific coasts of southern Japan. Tokai University Press, Hadano

Koeda K (2018) Family Mullidae. In: Nakabo T (ed) The natural history of the fishes of Japan. Shogakukan, Tokyo, pp 296–297

Motomura H, Ishikawa S (eds) (2013) Fish collection building and procedures manual, English edition. The Kagoshima University Museum, Kagoshima and the Research Institute for Humanity and Nature, Kyoto

Pavlov DA, Emil'yanova NG (2018) Variation of Freckled Goatfish Upeneus tragula (Mullidae): color morphs off Hon Thom (Gulf of Thailand, South China Sea). J Ichthyol 5:371–381

Randall JE (2004) Revision of the goatfish genus Parupeneus (Perciformes: Mullidae), with descriptions of two new species. Indo-Pac Fish 36:1–64

Randall JE, Kulbicki M (2006) A review of the goatfishes of the genus Upeneus (Perciformes: Mullidae) from New Caledonia and the Chesterfield Bank, with a new species and four new records. Zool Stud 45:298–307

Thresher RE (1984) Reproduction in reef fishes. TFH Publications, Inc., Neptune City

Yamashita M, Golani D, Motomura H (2011) A new species of Upeneus (Perciformes: Mullidae) from southern Japan. Zootaxa 3107:47–58
Acknowledgements
We are grateful to H. Nagino (MUFS), students of Nishiura Station, South Ehime Fisheries Research Center), Y. Haraguchi, H. Hata, H. Wada, K. Wibowo, K. Fujiwara and T. Uejo (KAUM) for their curatorial assistance, and G. Hardy (Ngunguru, New Zealand) for checking an early version of the manuscript. The first author thanks O. Bandai and M. Bandai (Matsuyama, Japan) for their kind support throughout this study. This study was supported in part by JSPS KAKENHI Grant Numbers JP19770067, JP26241027, JP24370041, JP23580259, and JP26450265; the JSPS Core-to-Core Program: B Asia–Africa Science Platforms; the "Biological Properties of Biodiversity Hotspots in Japan" project of the National Museum of Nature and Science, Tsukuba, Japan; "Establishment of Research and Education Network on Biodiversity and Its Conservation in the Satsunan Islands" project of Kagoshima University adopted by the Ministry of Education, Culture, Sports, Science and Technology, Japan; and the "Island Research" project of Kagoshima University.
Additional information
Publisher's Note
Springer Nature remains neutral with regard to jurisdictional claims in published maps and institutional affiliations.
About this article
Cite this article
Bandai, A., Matsubara, T., Goto, R. et al. Sexual dichromatism and dimorphism in the goatfish Parupeneus spilurus (Perciformes: Mullidae) in southern Japan. Ichthyol Res 67, 203–211 (2020). https://doi.org/10.1007/s10228-019-00707-8
Received:

Revised:

Accepted:

Published:

Issue Date:
Keywords
Histology

Morphology

Teleostei

Biology