Abstract
The new cardinalfish Gymnapogon sagittarius sp. nov. is described on the basis of eight specimens from Vietnam, Malaysia and the Andaman Sea. The new species is most similar to the Red Sea species G. melanogaster Gon and Golani 2002 (known only from two specimens) in having 9 soft dorsal-fin rays, 8 soft anal-fin rays, and 13 total gill rakers, but differs in having 16 pectoral-fin rays (vs. 14 or 15 rays in G. melanogaster), body depth 12.0–15.1% of SL (mean 14.2%) (vs. 21.7–24.0%), eye diameter 5.2–6.1% (5.6%) (vs. 10.0–11.6%), interorbital width 3.7–4.4% (4.0%) (vs. 5.7–8.2%), and longest pelvic-fin soft ray length 12.0–15.6% (14.1%) (vs. 25.4–34.3%).
This is a preview of subscription content, log in to check access.
Access options
Buy single article
Instant access to the full article PDF.
US$ 39.95
Price includes VAT for USA
Subscribe to journal
Immediate online access to all issues from 2019. Subscription will auto renew annually.
US$ 99
This is the net price. Taxes to be calculated in checkout.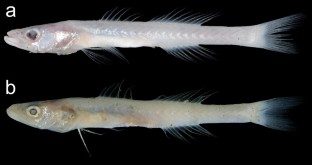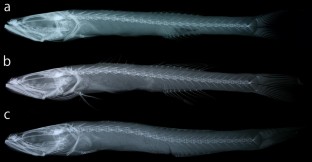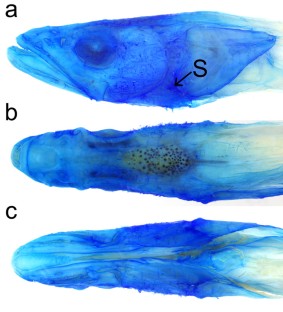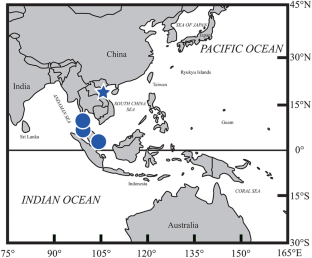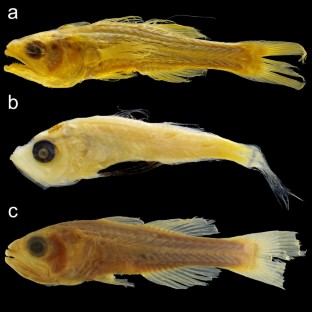 References
Ahlstrom EH, Butler JL, Sumida BY (1976) Pelagic stromateoid fishes (Pisces, Perciformes) of the eastern Pacific: kinds, distributions, and early life histories and observations on five of these from the northwest Atlantic. Bull Mar Sci 26:285–402

Fowler HW (1938) The fishes of Oceania. Mem Bernice P Bishop Mus10:i–iii + 1–540

Fraser TH (1972) Comparative osteology of the shallow water cardinal fishes [Perciformes: Apogonidae] with reference to the systematics and evolution of the family. Ichthyol Bull JLB Smith Inst Ichthyol 34:i–v + 1–105

Fraser TH (2016) A new species of cardinalfish (Gymnapogon, Gymnapogonini, Apogonidae, Percomorpha) from the Philippines. Zootaxa 4107:431–438

Fraser TH (2019) A new species of cardinalfish from Australia (Percomorpha: Apogonidae: Gymnapogon). J Oc Sci Found 32:89–97

Gon O, Golani D (2002) A new species of the cardinalfish genus Gymnapogon (Perciformes, Apogonidae), from the Red Sea. Ichthyol Res 49:346–349

Herre AWCT (1939) A new Henicichthys from the Philippines. Copeia 1939:199–200

Lachner EA (1953) Family Apogonidae: cardinal fishes. In: Schultz LP, Herald ES, Lachner EA, Welander AD, Woods LP (eds) Fishes of the Marshall and Marianas Island. Bull US Natl Mus 202:412–498

Motomura H, Ishikawa S (eds) (2013) Fish collection building and procedures manual. English edition. The Kagoshima University Museum, Kagoshima and the Research Institute for Humanity and Nature, Kyoto (Available at http://www.museum.kagoshima-u.ac.jp/staff/motomura/dl_en.html)

Regan CT (1905) On a collection of fishes from the inland Sea of Japan made by Mr. R. Gordon Smith. Ann Mag Hist Nat (Ser 7) 15:17–26

Sabaj MH (2016) Standard symbolic codes for institutional resource collections in herpetology and ichthyology: an online reference. Version 6.5. American Society of Ichthyologists and Herpetologists, Washington, DC. http://www.asih.org/. Accessed 14 February 2019

Smith JLB (1954) Apogonid fishes of the subfamily Pseudamiinae from south-east Africa. Ann Mag Nat Hist (Ser 12) 12:775–795

Tanaka S (1915) Ten new species of Japanese fishes (in Japanese). Zool Mag Tokyo 27:565–568

Whitley GP (1936) More ichthyological miscellanea. Mem Queensl Mus 11:23–51

Yoshida T, Motomura H (2016) A new cardinalfish, Verulux solmaculata (Perciformes: Apogonidae), from Papua New Guinea and Australia. Ichthyol Res. https://doi.org/10.1007/s10228-016-0539-2 (also appeared in Ichthyol Res 64:64‒70)
Acknowledgements
We are deeply grateful to M. McGrouther, A. Hay and S. Reader (AMS), M. Sabaj (ANSP), O. Crimmen and J. Maclaine (BMNH), T. Iwamoto, D. Catania and M. Hoang (CAS), V. Vilasri (THNHM), R. Bills and O. Gon (SAIAB), and J. Williams (USNM) for opportunities to examine specimens of Gymnapogon and U. Satapoomin (formerly PMBC), V. Vilasri (THNHM), Q. Nguyen (Institute of Marine Environment and Resources, Haiphong), A. Mazlan, Y. Seah and S. Tafzilmeriam (Universiti Malaysia Terengganu, Kuala Terengganu), and A. Arshad (Universiti Putra Malaysia, Serdang) for collecting specimens. We also thank Y. Haraguchi, and other volunteers and students of KAUM for curatorial assistance, and G. Hardy (Ngunguru, New Zealand) for reading the manuscript and providing help with English. HUMZ and KAUM specimens of G. sagittarius from Thailand were donated from PMBC and THNHM. This study was supported in part by the Sasakawa Scientific Research Grant from the Japan Science Society (29-747), Grants-in-Aid for Scientific, JSPS KAKENHI Grant Numbers JP19770067, JP26241027, JP24370041, JP23580259, and JP26450265; the "Biological Properties of Biodiversity Hotspots in Japan" project of the National Museum of Nature and Science, Tsukuba, Japan; "Establishment of Research and Education Network on Biodiversity and Its Conservation in the Satsunan Islands" project of Kagoshima University adopted by the Ministry of Education, Culture, Sports, Science and Technology, Japan; the "Island Research" project of Kagoshima University; and the MoU between Hokkaido University Museum and National Science Museum, Thailand. The Vietnamese specimen was collected with the support of the Institute of Marine Environment and Resources (Haiphong) and the Ha Long Bay Management Department (Ha Long), with permission for use of specimens granted by the Biodiversity Conservation Agency, Ministry of Natural Resources and Environment (Hanoi). Malaysian specimens were collected during the JSPS Asian Core Program, "Establishment of Research and Education Network on Coastal Marine Science in Southeast Asia", and the JSPS Core-to-Core Program: B Asia-Africa Science Platforms, supported by the Ministry of Higher Education (Government of Malaysia), University Putra Malaysia, and University Malaysia Terengganu.
Additional information
Publisher's Note
Springer Nature remains neutral with regard to jurisdictional claims in published maps and institutional affiliations.
This article was registered in the Official Registry of Zoological Nomenclature (ZooBank) as D9541646-A995-432F-A34C-FE4DE653FD8B.
This article was published as an Online First article on the online publication date shown on this page. The article should be cited using the doi number.
About this article
Cite this article
Yoshida, T., Kawai, T. & Motomura, H. Gymnapogon sagittarius, a new species of cardinalfish (Perciformes: Apogonidae) from the South China Sea and Andaman Sea. Ichthyol Res 67, 92–97 (2020). https://doi.org/10.1007/s10228-019-00706-9
Received:

Revised:

Accepted:

Published:

Issue Date:
Keywords
Gymnapogon melanogaster

Taxonomy

Morphology

Teleostei