Abstract
The new snailfish Paraliparis variabilidens is described from a single specimen collected between 1,462 and 1,562 m depth in the northern part of the Suruga Trough, Japan. It differs from all currently recognized congeners by the following combination of characters: 67 total vertebrae, 62 dorsal-fin rays, 57 anal-fin rays, 26 or 27 pectoral-fin rays, 9 caudal-fin rays (including 2 procurrent rays), ca. 12 pyloric caeca, mixed simple and trilobate teeth on both jaws, eye diameter 18.1% HL, gill slit extending ventrally in front of 2nd pectoral-fin ray base, deeply notched pectoral fin, body dusky, peritoneum black, and stomach pale.
This is a preview of subscription content, log in to check access.
Access options
Buy single article
Instant access to the full article PDF.
US$ 39.95
Tax calculation will be finalised during checkout.
Subscribe to journal
Immediate online access to all issues from 2019. Subscription will auto renew annually.
US$ 99
Tax calculation will be finalised during checkout.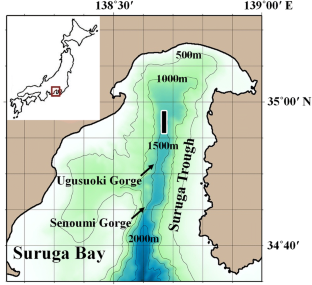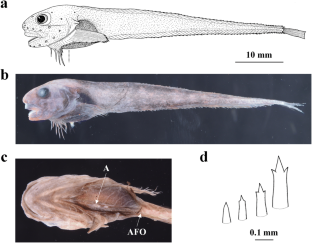 References
Andriashev AP (1992) New and rare deep-sea snailfishes of the genera Paraliparis and Genioliparis from the western South Atlantic (Pisces, Scorpaeniformes: Liparidae). Zoosyst Ross 1:148–155

Andriashev AP (1993) The restoration of the validity of the forgotten species Amitra liparina Goode, 1881, with a description of a new species, similar to it, Paraliparis challengeri sp. n. (Scorpaeniformes, Liparidae), from Porcupine Seabight (Northeast Atlantic). Vopr Ikhtiol 33:597–601

Andriashev AP (2003) Liparid fishes (Liparidae, Scorpaeniformes) of the Southern Ocean and adjacent waters. Issled Fauny Morei 53

Andriashev AP, Neyelov AV (1979) New species of the genus Paraliparis (Liparidae) from western Antarctic. Vopr Ikhtiol 19:10–19

Andriashev AP, Stein DL (1998) Review of the snailfish genus Careproctus (Liparidae, Scorpaeniformes) in Antarctic and adjacent waters. Contr Sci Natl Hist Mus Los Angel Cty 470:1–63

Burke CV (1930) Revision of the fishes of the family Liparidae. Bull US Natl Mus 150:1–204

Chernova NV (2003) New findings of deep-sea snailfish Paraliparis challengeri in the northeastern Atlantic. Vopr Ikhtiol 43:279–280

Chernova NV (2006) New and rare snailfishes (Liparidae, Scorpaeniformes) with the description of four new species form the Southern Hemisphere and tropical east Pacific. J Ichthyol 46 (sup 1): S1–S14

Chernova NV, Duhamel G (2003) A new species and additional records of Paraliparis (Scorpaeniformes: Liparidae) from the Southern Ocean with a provisional field key to juveniles. Cybium 27:137–151

Chernova NV, Eastman JT (2001) Two new species of snailfish genus Paraliparis (Pisces, Liparidae) from the Ross Sea, Antarctica. J Fish Biol 59:92–104

Chernova NV, Stein DL (2002) Ten new species of Psednos (Pisces, Scorpaeniformes: Liparidae) from the Pacific and North Atlantic Oceans. Copeia 2002:755–778

Chernova NV, Stein DL, Andriashev AP (2004) Family Liparidae Scopoli 1777-Snailfishes. Cal Acad Sci Annot Checklists Fish 31:1–72

Collett R (1879) Fiske fra Nordhavs-expeditionens sidste togt, sommeren 1878. Forhandl Vidensk-selsk Christiania 1878 14:1–106

Garman S (1899) Reports on an exploration off the west coasts of Mexico, Central and South America, and off the Galapagos Islands in charge of Alexander Agassiz, by the U. S. Fish Commission Steamer "Albatross" during 1891, Lieut. Commander Z. L. Tanner U. S. A., commanding. XXVI. The Fishes. Mem Mus Comp Zool 24:1–431

Gilbert CH (1890) A preliminary report on the fishes collected by the steamer Albatross on the Pacific coast of North America during the year 1889, with descriptions of twelve new genera and ninety-two new species. Proc US Natl Mus 13:49–126

Gilbert CH (1896) The ichthyological collections of the steamer Albatross during the years 1890 and 1891. Rep US Fish Comm 19:393–476

Goode GB (1881) Fishes from the deep water on the south coast of New England obtained by the United States Fish Commission in the summer of 1880. Proc US Natl Mus 177:467–486

Kido K (1984) Occurrence of the liparidid fish, Paraliparis pectoralis, in the Bering Sea. Jpn J Ichthyol 31:203–204

Kido K (1985) New and rare species of the genus Paraliparis (family Liparididae) from southern Japan. Jpn J Ichthyol 31:362–368

Kido K (1988) Phylogeny of the family Liparididae, with the taxonomy of the species found around Japan. Mem Fac Fish Hokkaido Univ 35:1–125

Kido K, Shiobara Y (1993) A new record of Paraliparis meridionalis from Suruga Bay, Japan. J Fac Mar Sci Technol, Tokai Univ 36:87–90

Matallanas J (1999) New and rare snailfish genus Paraliparis from the Weddell Sea with the description of two new species. J Fish Biol 54:1017–1028

Mecklenburg CW, Mecklenburg TA, Thorsteinson LK (2002) Fishes of Alaska. American Fisher Soc, Bethesda, Maryland

Murasaki K, Takami M, Fukui A (2018) Paraliparis ruficometes sp. nov. (Liparidae), a new snailfish from Suruga Trough, Japan. Ichthyol Res. https://doi.org/10.1007/s10228-018-0656-1 (also appeared in Ichthyol Res 66:88–96)

Peden AE, Ostermann W (1980) Three fish species previously unknown from marine waters off British Columbia. Syesis 13:215–217

Saruwatari T, Lopez JA, Pietsch TW (1997) Cyanine Blue: a versatile and harmless stain for specimen observation. Copeia 1997:840–841

Stein DL (1978) A review of the deepwater Liparidae (Pisces) from the coast of Oregon and adjacent waters. Occas Pap Cal Acad Sci 127:1–55

Stein DL (2012a) Snailfishes (Family Liparidae) of the Ross Sea, Antarctica, and closely adjacent waters. Zootaxa 3285:1–120

Stein DL (2012b) A review of the snailfishes (Liparidae, Scorpaeniformes) of New Zealand, including descriptions of a new genus and sixteen new species. Zootaxa 3588:1–54

Stein DL, Drazen JC (2014) Paraliparis hawaiiensis, a new species of snailfish (Scorpaeniformes: Liparidae) and the first described from the Hawaiian Archipelago. J Fish Biol 84:1519–1526

Stein DL, Tompkins LS (1989) New species and new records of rare Antarctic Paraliparis Fishes (Scorpaeniformes: Liparididae). Ichthyol Bull JB Smith Inst Ichthyol 53:1–8

Stein DL, Chernova NV, Andriashev AP (2001) Snailfishes (Pisces: Liparidae) of Australia, including descriptions of thirty new species. Rec Australian Mus 53:341–406

Takami M, Fukui A (2012) Ontogenetic development of a rare liparid, Paraliparis dipterus, collected from Suruga Bay, Japan, with notes on its reproduction. Ichthyol Res 59:134–142
Acknowledgements
We are most grateful to Captain I. Hashigaya and Chief Engineer H. Sakata of T/V Hokuto for their assistance in the sampling program. Grateful thanks are also given to G. S. Hardy (Ngunguru, New Zealand) for his critical reading of the manuscript, I. Sakamoto (Tokai University) for information on the submarine topography of the Suruga Trough and S. Tomiyama (MSM) for depositing the type specimen in the Marine Science Museum, Tokai University. This study was supported in part by a Grant-in-Aid for Promotion of Scientific Research (C) (nos. 25450280 and 18K05792) from the Ministry of Education, Culture, Sports, Science and Technology, Japan, to the third author.
Additional information
Publisher's Note
Springer Nature remains neutral with regard to jurisdictional claims in published maps and institutional affiliations.
This article was registered in the Official Registry of Zoological Nomenclature (ZooBank) as 060BE0D1-B80E-42E8-8AB7-C8A9078172AD.
This article was published as an Online First article on the online publication date shown on this page. The article should be cited by using the doi number.
About this article
Cite this article
Murasaki, K., Takami, M. & Fukui, A. Paraliparis variabilidens, a new snailfish (Liparidae) from the Suruga Trough, Japan. Ichthyol Res 66, 509–514 (2019). https://doi.org/10.1007/s10228-019-00692-y
Received:

Revised:

Accepted:

Published:

Issue Date:
Keywords
New species

Paraliparis

Liparidae

Taxonomy

Suruga Trough