Abstract
Cynoglossus yokomaru sp. nov., previously known as Cynoglossus sp., called "Otafuku-genko" (the standard Japanese name), is described based on 15 specimens [64–226 mm in standard length (SL)] collected at depths of 73–157 m in the East China Sea and Yellow Sea. The new species belongs to the Cynoglossus kopsii complex as redefined in this paper and clearly differs from its congeners by the following combination of characters: two ocular-side lateral lines (dorsolateral and midlateral lines present, ventrolateral line absent); no blind-side lateral line; ctenoid scales present on both sides; two ocular-side nostrils; ocular-side posterior nostril immediately anterior to a point between eyes; head length (HL) shorter than its depth; posterior margin of upper jaw on ocular side not reaching below posterior margin of lower eye; body depth 25.8–30.2% SL; upper supraorbital length 35.5–47.3% HL; lower supraorbital length 48.8–64.3% HL; horizontal diameter of lower eye 10.1–17.4% HL; a long and continuous dorsolateral line with 61–70 scales; midlateral-line scales 4–5 + 65–68 = 69–73; scales above dorsolateral line 3–4; scales between dorsolateral line and midlateral line 10–12; cephalodorsal-line scales 8; dorsal-fin rays 115–119; anal-fin rays 90–94; caudal-fin rays 10 (rarely 8 or 9); and vertebrae 9 + 47–48 = 56–57.
This is a preview of subscription content, log in to check access.
Access options
Buy single article
Instant access to the full article PDF.
US$ 39.95
Price includes VAT for USA
Subscribe to journal
Immediate online access to all issues from 2019. Subscription will auto renew annually.
US$ 99
This is the net price. Taxes to be calculated in checkout.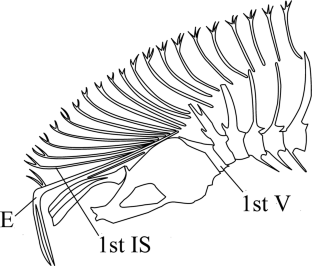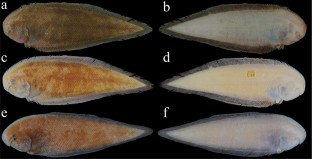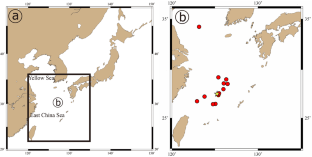 References
Alcock AW (1890) Natural history notes from H. M. Indian marine survey steamer 'Investigator', Commander R. F. Hoskyn, R. N., commanding. —No 20. On some undescribed shore-fishes from the Bay of Bengal. Ann Mag Nat Hist (Ser 6) 6:425–443

Bleeker P (1851a) Bijdrage tot de kennis der ichthyologische fauna van Riouw. Nat Tijds Ned Ind 2:469–497

Bleeker P (1851b) Over eenige nieuwe soorten van Pleuronectoiden van den Indischen Archipel. Nat Tijds Ned Ind 1:401–416

Bleeker P (1870) Atlas ichthyologique des Indes Orientales Néêrlandaises, publiés sous les auspices du gouvernement colonial néêrlandais. Tome VI Pleuronectes, Scombrésoces, Clupées, Clupésoces, Chauliodontes, Saurides. Frédéric Muller, Amsterdam

Bloch ME, Schneider JG (1801) Systema ichthyologiae iconibus cx ilustratum. Post obitum auctoris opus inchoatum absolvit, correxit, interpolavit J. G. Schneider, Saxo. Sumtibus Auctoris Impressum et Bibliopolio Sanderiano Commissum, Berlin

Chabanaud P (1931) Sur divers poissons soléiformes de la région Indo-Pacifique. Bull Soc Zool Fr 56:291–305

Chabanaud P (1947) Notules ichthyologiques (suite). XXXII.—Description d'un nouveau Cynoglossus de la côte du Sénégal. Bull Mus Nat Hist Natl (Ser 2) 19:441–443

Chabanaud P (1949) Révision des Cynoglossidae (s. str.) de l'Atlantique oriental (suite). Bull Mus Nat Hist Natl (Ser 2) 21:202–209

Chabanaud P (1951) Sur divers Cynoglossus de la région Indo-Pacifique. Ann Mag Nat Hist (Ser 12) 4:268–273

Day F (1877) The fishes of India; being a natural history of the fishes known to inhabit the seas and fresh waters of India, Burma, and Ceylon. Part 3. London, pp 369–552 (pls 79–138)

Eschmeyer WN, Fricke R, van der Laan R (2018) Catalog of fishes: genera, species, references. Online version, updated 29 March 2018. http://researcharchive.calacademy.org/research/ichthyology/catalog/fishcatmafi.asp. Accessed 17 April 2018

Fricke R, Eschmeyer WN (2018) A guide to fish collections in the catalog of fishes. Online version, updated 29 March 2018. http://researcharchive.calacademy.org/research/ichthyology/catalog/collections.asp. Accessed 17 April 2018

Fricke R, Golani D, Appelbaum-Golani B (2017) Cynoglossus crepida, a new species of tonguesole from the Gulf of Aqaba, Red Sea (Teleostei: Cynoglossidae). J Ocean Sci Found 25:77–87

Gilchrist JDF (1906) Descriptions of fifteen new South African fishes, with notes on other species. Mar Invest S Afr 4:143–171 (pls 37–51)

Günther A (1873) Report on a collection of fishes from China. Ann Mag Nat Hist (Ser 4) 12:239–250

Günther A (1878) Notes on a collection of Japanese sea-fishes. Ann Mag Nat Hist (Ser 5) 1:485–487

Günther A (1880) Report on the shore fishes procured during the voyage of H.M.S. Challenger in the years 1873–1876. Report on the scientific results of the voyage of H.M.S. Challenger during the years 1873–76. Zool 1(pt 6):1–82 (pls 1–32)

Hamilton F (1822) An account of the fishes found in the River Ganges and its branches. Archibald Constable and Company, Edinburgh and London

Jenkins JT (1910) Notes on fish from India and Persia, with descriptions of new species. Rec Ind Mus 5:123–140 (pls 1–6)

Kim IS, Choi Y (1994) A taxonomic revision of the family Cynoglossidae (Pisces, Pleuronectiformes) from Korea. Bull Korean Fish Soc 27:803–813

Li SZ, Wang HM (1995) Cynoglossidae. In: Li SZ, Wang HM (eds) Fauna Sinica, Osteichthyes: Pleuronectiformes. Science Press, Beijing, pp 324–384

Lindberg GU, Fedorov VV (1993) Fishes of the Sea of Japan and the adjacent parts of the Sea of Okhotsk and the Yellow Sea. Part 6. Teleostomi. Osteichthyes. Actinopterygii. XXI. Pleuronectiformes (Fam. CXCV. Psettodidae–Fam. CCI. Cynoglossidae). Nauka, St. Petersburg

Menon AGK (1977) A systematic monograph of the tongue soles of the genus Cynoglossus Hamilton-Buchanan (Pisces: Cynoglossidae). Smithson Contrib Zool (238):i–iv + 1–129 (pls 1–21)

Munroe TA (2001) Cynoglossidae. In: Carpenter KE, Niem VH (eds) FAO species identification guide for fishery purposes. The living marine resources of the western central Pacific. Vol 6. Bony fishes part 4 (Labridae to Latimeriidae). FAO, Rome, pp 3890–3901

Munroe TA (2017) Rediscovery of the holotype of the tongue sole, Cynoglossus dollfusi (Chabanaud, 1931): its impact on Red Sea records for C. sealarki Regan, 1908, C. lingua Hamilton, 1822, and C. zanzibarensis Norman, 1939, and on the taxonomic status of C. cleopatridis Chabanaud, 1949 (Pisces: Pleuronectiformes: Cynoglossidae). Proc Biol Soc Wash 130:5–33

Norman JR (1925) Two new fishes from China. Ann Mag Nat His (Ser 9) 16:270

Norman JR (1926) A report on the flatfishes (Heterosomata) collected by the F.I.S. "Endeavour," with a synopsis of the flatfishes of Australia and a revision of the subfamily Rhombosoleinae. Biol Res Endeavour 5:219–308

Norman JR (1928) The flatfishes (Heterosomata) of India, with a list of the specimens in the Indian Museum. Part II. Rec Ind Mus 30:173–215 (pls 4–7)

Norman JR (1939) Fishes. The John Murray Expedition 1933–34. Sci Rep John Murray Exped 7:1–116

Ochiai A (1963) Fauna Japonica. Soleina (Pisces). Biogeographical Society of Japan, Tokyo

Ochiai A (1966) Studies on the comparative morphology and ecology of the Japanese soles. Misaki Mar Biol Inst Kyoto Univ Spec Rep 3:1–97 (pls 1–2)

Oshima M (1927) List of flounders and soles found in the waters of Formosa, with descriptions of hitherto unrecorded species. Jpn J Zool 1:177–204

Rendahl H (1921) Results of Dr. E. Mjöbergs Swedish scientific expeditions to Australia, 1910–13. XXVIII. Fische. K Sven Vetenskapsakad handl 61:1–24

Saruwatari T, López JA, Pietsch TW (1997) Cyanine blue: a versatile and harmless stain for specimen observation. Copeia 1997:840–841

Shen SC (1969) Additions to the study on the flatfishes in the adjacent waters of Hong Kong. Rep Inst Fish Biol Minist Econ Aff Natl Taiwan Univ 2:19–27

Shen SC (1983) Cynoglossid fishes (Pleuronectiformes: Cynoglossidae) of Taiwan. Bull Inst Zool Acad Sin 22:105–118

Shinohara G, Sato T, Aonuma Y, Horikawa H, Mastuura K, Nakabo T, Sato K (2005) Annotated checklist of deep-sea fishes from the waters around the Ryukyu Islands, Japan. Nat Sci Mus Monogr (29):385–452

Snyder JO (1909) Descriptions of new genera and species of fishes from Japan and the Riu Kiu Islands. Proc US Natl Mus 36:597–610

Voronina EP, Prokofiev AM, Prirodina VP (2016) Review of the flatfishes of Vietnam in the collection of zoological institute, Saint Petersburg. Proc Zool Inst RAS 320:381–430

Waite ER (1905) Notes on fishes from Western Australia.—No 3. Rec Aust Mus 6:55–82 (pls 8–17)

Wang ZH, Munroe TA, Kong XY (2016) A new species of tongue sole (Pisces: Pleuronectiformes: Cynoglossidae: Cynoglossus) from coastal waters of the South China Sea. Proc Biol Soc Wash 129:129–143

Weber M (1913) Die Fische der Siboga-Expedition. E J Brill, Leiden

Yamada U (1993) Cynoglossidae. In: Nakabo T (ed) Fishes of Japan with pictorial keys to the species. Tokai University Press, Tokyo, pp 1191–1195, 1374

Yamada U (2000) Cynoglossidae. In: Nakabo T (ed) Fishes of Japan with pictorial keys to the species, second edn. Tokai University Press, Tokyo, pp 1388–1392, 1639

Yamada U (2002) Cynoglossidae. In: Nakabo T (ed) Fishes of Japan with pictorial keys to the species, English edn. Tokai University Press, Tokyo, pp 1388–1392, 1630

Yamada U, Irie T (1989) About fish of the East China Sea and Yellow Sea. Seikaiku Suisan Kenkyusho News 62:21–27

Yamada U, Shirai S, Irie T, Tokimura M, Deng S, Zheng Y, Li C, Kim YU, Kim YS (1995) Names and illustrations of fishes from the East China Sea and the Yellow Sea. Oversea Fishery Cooperation Foundation, Tokyo

Yamada U, Tokimura M, Horikawa H, Nakabo T (2007) Fishes and fisheries of the East China and Yellow Seas. Tokai University Press, Hadano

Yamada U, Yagishita N (2013) Cynoglossidae. In: Nakabo T (ed) Fishes of Japan with pictorial keys to the species, third edition. Tokai University Press, Hadano, pp 1693–1698, 2233

Yokogawa K, Endo H, Sakaji H (2008) Cynoglossus ochiaii, a new tongue sole from Japan (Pleuronectiformes: Cynoglossidae). Bull Natl Mus Nat Sci (Ser A) Suppl 2:115–127
Acknowledgments
We are deeply indebted to the following researchers and museum specialists for specimen loans and shipments, assistance during the first author's visits to their institutions, and assistance with radiography: J. Maclain and O. Crimmen (BMNH); D. Catania (CAS); N. Nakayama (Tokai University, formerly FAKU) and F. Tashiro (HUMZ, formerly FAKU); Y. Kai and R. Misawa (FAKU); C. McMahan, S. Mochel and K. Swagel (FMNH); H. Motomura (KAUM), K. Koeda (NMMB, formerly KAUM), H. Hata, and other KAUM students; H. Senou (KPM); P. Pruvost, R. Causse, Z. Gabsi, J. Pfliger, and A. Allard (MNHN); G. Shinohara and N. Nakae (NSMT); K. Hatooka (formerly OMNH), K. Hoshino and T. Nagasawa (SNFR); J. Williams, K. Murphy, and S. Raredon (USMN); P. Bartsch and E. Aßel (ZMB); and L. Kosygin Singh, S. S. Mishra and other ZSI staff. Our sincere thanks go to K. Mizumachi and other BSKU students, T. Yamakawa (Kochi, Japan), Y. Mizumachi (Imari, Japan), S. Mizumachi (Imari, Japan), and the staff of the Mimase and Saga fish markets, for assistance in collecting specimens; M.-Y. Lee (NTUM) for providing the photographs of type specimens of C. brachycephalus and C. kopsii; two anonymous reviewers for their helpful and constructive comments to improve the manuscript; and G. Yearsley (Hobart, Tasmania) for editing the English text. This study was supported in part by grants awarded to the first author by the Fujiwara Natural History Foundation. Part of the type specimens were captured through the cruises funded by "Project of survey and assessment of fish stock in the waters around Japan" promoted by Fisheries Agency.
Additional information
Publisher's Note
Springer Nature remains neutral with regard to jurisdictional claims in published maps and institutional affiliations.
This article was registered in the Official Register of Zoological Nomenclature (ZooBank) as 64037DD7-6229-481D-8C1C-F5DA5F978214.
This article was published as an Online First article on the online publication date shown on this page. The article should be cited by using the doi number.
Electronic supplementary material
Below is the link to the electronic supplementary material.
About this article
Cite this article
Naito, T., Endo, H. A new tongue sole of the genus Cynoglossus from the East China Sea and Yellow Sea (Pleuronectiformes: Cynoglossidae). Ichthyol Res 66, 400–410 (2019). https://doi.org/10.1007/s10228-019-00685-x
Received:

Revised:

Accepted:

Published:

Issue Date:
Keywords
Cynoglossus yokomaru

New species

East China Sea

Yellow Sea

Two lateral lines