Abstract
A new species of perchlet, Plectranthias maekawa, is described on the basis of three specimens (58.2–65.1 mm standard length: SL) from the Tokara Islands, Kagoshima, Japan. The new species can be distinguished from all congeners by the following combination of characters: X, 15 or 16 dorsal-fin rays; 14 pectoral-fin rays; lateral line complete with 30 pored scales; 3 scale rows above lateral line; 6 diagonal rows of large scales on cheek between eye and corner of preopercle; two antrorse spines on ventral margin of preopercle; margins of subopercle and interopercle smooth; body depth 33.5–34.7% of SL; body width 17.2–17.4% of SL; third dorsal-fin spine longest, its length 46.2–47.2% of HL; caudal-peduncle depth 58.0–63.2% of caudal-peduncle length; body pinkish-white with five orange-red bands on lateral surface when fresh, first band broadest, first, fourth and fifth bands vertical to body longitudinal axis, second and third bands slightly backwardly oblique; small poorly defined yellow blotches scattered below lateral line when fresh, especially along red bands; scales above lateral line white, with distinct red margins when fresh; most cheek scales white or yellowish-white, without distinct red or yellow margins; body uniformly pale, with reduced nape pigmentation in preserved specimens. Japanese records of Plectranthias wheeleri Randall 1980, closely related to P. maekawa, is reviewed, with additional specimens of P. wheeleri from the Ryukyu Islands and Sagami Bay, Pacific coast of central Japan, the latter representing the northernmost record for the species. An unidentified specimen of Plectranthias from Okinawa, Japan, is briefly described.
This is a preview of subscription content, log in to check access.
Access options
Buy single article
Instant access to the full article PDF.
US$ 39.95
Price includes VAT for USA
Subscribe to journal
Immediate online access to all issues from 2019. Subscription will auto renew annually.
US$ 99
This is the net price. Taxes to be calculated in checkout.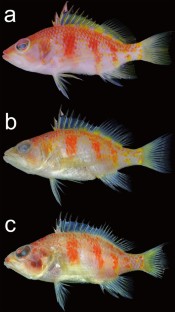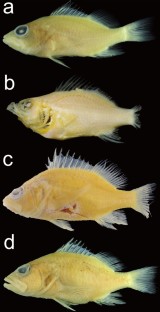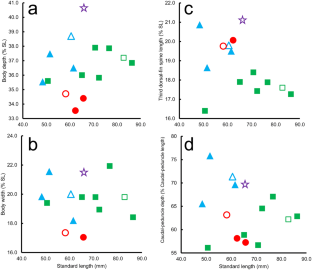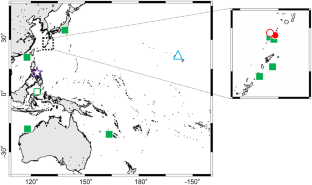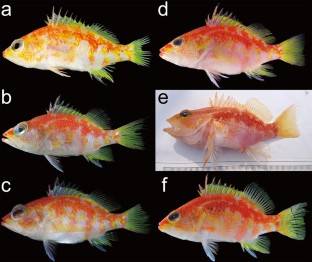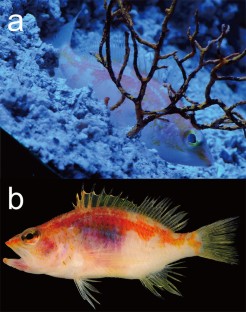 References
Ahlstrom EH, Butler JL, Sumida BY (1976) Pelagic stromateoid fishes (Pisces, Perciformes) of the eastern Pacific: kinds, distributions, and early life histories and observations on five of these from the northwest Atlantic. Bull Mar Sci 26:285–402

Allen GR, Walsh F (2015) Plectranthias bennetti, a new species of anthiine fish (Pisces: Serranidae) from the Coral Sea, Australia. J Ocean Sci Found 16:82–89

Anderson WD Jr (2008) A new species of the perciform fish genus Plectranthias (Serranidae: Anthiinae) from the Nazca Ridge in the eastern South Pacific. Proc Biol Soc Wash 121:429–437

Bineesh KK, Akhilesh KV, Gopalakrishnan A, Jena JK (2014) Plectranthias alcocki, a new anthiine fish species (Perciformes: Serranidae) from the Arabian Sea, off southwest India. Zootaxa 3785:490–496

Bleeker P (1873) Sur les espèces indo-archipélagiques d'Odontanthias et de Pseudopriacanthus. Ned Tijdschr Dierk 4:235–240

Fricke R, Kulbicki M, Wantiez L (2011) Checklist of the fishes of New Caledonia, and their distribution in the southwest Pacific Ocean (Pisces). Stuttg Beitr Naturk A, Neue Ser 4:341–463

Fricke R, Eschmeyer WN, van der Laan R (eds) (2018) Catalog of fishes: genera, species, references. http://researcharchive.calacademy.org/research/ichthyology/catalog/fishcatmain.asp. Accessed 5 November 2017

Fujiwara K, Tashiro S, Takayama M, Senou H, Motomura H (2017) Records of the anthiine fish Plectranthias sheni from Japan and proposal of new standard Japanese name. Jpn J Ichthyol 64:121–129

Gill AC, Tea Y-K, Senou H (2016) Plectranthias takasei, new species of anthiadine fish from southern Japan (Teleostei: Serranidae). Zootaxa 4205:349–356

Heemstra PC, Randall JE (2008) A review of the anthiine fish genus Plectranthias (Perciforms: Serranidae) of the western Indian Ocean, with description of a new species, and a key to the species. Smithiana Bull 10:3–17

Hutchins JB (2001) Checklist of the fishes of Western Australia. Rec West Aust Mus Suppl 63:9–50

Johnson GD, Patterson C (2001) The intermuscular system of acanthomorph fishes: a commentary. Am Mus Novit 3312:1–24

Lee S-C (1990) A revision of the serranid fish (family Serranidae) of Taiwan. J Taiwan Mus 43:1–72

Patterson C, Johnson GD (1995) The intermuscular bones and ligaments of teleostean fishes. Smithson Contrib Zool 559:1–83

Randall JE (1980) Revision of the fish genus Plectranthias (Serranidae: Anthiinae) with descriptions of 13 new species. Micronesica 16:101–187

Randall JE (1996) Two new anthiine fishes of the genus Plectranthias (Perciformes: Serranidae), with a key to the species. Micronesica 29:113–131

Randall JE, Hoese DF (1995) Three new species of Australian fishes of the genus Plectranthias (Serranidae: Anthiinae). Rec Aust Mus 47:327–335

Regan CT (1914) Diagnoses of new marine fishes collected by the British Antarctic ('Terra Nova') Expedition. Ann Mag Nat Hist (Ser 8) 13:11–17

Senou H (2014) Plectranthias wheeleri. In: Motomura H, Matsuura K (eds) Field guide to fishes of Yoron Island in the middle of the Ryukyu Islands, Japan. The Kagoshima University Museum, Kagoshima and the National Museum of Nature and Science, Tsukuba, pp 160–161

Shepherd B, Phelps T, Pinheiro HT, Pérez-Matus A, Rocha LA (2018) Plectranthias ahiahiata, a new species of perchlet from a mesophotic ecosystem at Rapa Nui (Easter Island) (Teleostei, Serranidae, Anthiadinae). ZooKeys 762:105–116

Tashiro S, Motomura H (2017) First Japanese record of the Barred Perchlet Plectranthias fourmanoiri (Actinopterygii: Perciformes: Serranidae) from the Ryukyu Islands. Spec Divers 22:81–85

Tashiro S, Takayama M, Motomura H (2017) Second Japanese record of Plectranthias wheeleri (Perciformes: Serranidae) from Suwanose-jima island, Tokara Islands, Kagoshima Prefecture, southern Japan. Jpn J Ichthyol 64:195–199

Williams JT, Delrieu-Trottin E, Planes S (2013) Two new fish species of the subfamily Anthiinae (Perciformes, Serranidae) from the Marquesas. Zootaxa 3647:167–180

Wu K-Y, Randall JE, Chen J-P (2011) Two new species of anthiine fishes of the genus Plectranthias (Perciformes: Serranidae) from Taiwan. Zool Stud 50:247–253
Acknowledgements
We are especially grateful to the crew of the FV Daikoku-maru, M. Takayama (KAUM), and T. Maekawa and F. Maekawa (Maekawa Fisheries Co., Ltd., Amami) for their assistance in collecting specimens from the Ryukyu Islands, H. Hata, S. Tashiro, K. Fujiwara and T. Uejo (KAUM) and A. Gill (University of Sydney, Sydney) for their valuable comments on the manuscript, A. Suzumoto (BPBM), D. Catania (California Academy of Sciences, San Francisco), J. Williams, S. Raredon, K. Murphy and D. Pitassy (the U.S. National Museum of Natural History, Washington, D. C.), and A. Kaneko and K. Miyamoto (OCF) for opportunities to examine specimens of Plectranthias, G. Hardy (Ngunguru, New Zealand) for reading the manuscript and providing help with English, and Y. Haraguchi and other volunteers and members of the Laboratory of Fish Systematics (KAUM) for curatorial assistance. This study was supported in part by JSPS KAKENHI Grant Numbers JP26241027, JP24370041, JP23580259, and JP26450265; the JSPS Core-to-Core Program: B Asia-Africa Science Platforms; the "Biological Properties of Biodiversity Hotspots in Japan" project of the National Museum of Nature and Science, Tsukuba, Japan; "Establishment of Research and Education Network on Biodiversity and Its Conservation in the Satsunan Islands" project of Kagoshima University adopted by the Ministry of Education, Culture, Sports, Science and Technology, Japan; and the "Island Research" project of Kagoshima University.
Additional information
This article was registered in the Official Register of Zoological Nomenclature (ZooBank) as A4941759-F658-43C8-BDA2-03C17C6C9FC.
This article was published as an Online First article on the online publication date shown on this page. The article should be cited by using the doi number.
About this article
Cite this article
Wada, H., Senou, H. & Motomura, H. Plectranthias maekawa, a new species of perchlet from the Tokara Islands, Kagoshima, Japan, with a review of Japanese records of P. wheeleri (Serranidae: Anthiadinae). Ichthyol Res 66, 269–279 (2019). https://doi.org/10.1007/s10228-018-0674-z
Received:

Revised:

Accepted:

Published:

Issue Date:
Keywords
Plectranthias helenae

Range extension

Taxonomy

Morphology

Description