Abstract
The razorfish Iniistius jacksonensis (Ramsay 1881) is redescribed based on 10 specimens, including adult individuals, from eastern Australia. A second Australian species, Iniistius opalus sp. nov. is described based on 16 specimens from northern waters. Both species can be distinguished from other congeners in having a broad band of small scale rows on the cheek, a single small scale below the eye, first two dorsal-fin spines short, their length similar to those of other spines of dorsal fin, central gill-raker of lower limb of first gill arch with a single branch, greater body depth [33.6–41.5% standard length (SL) in Iniistius jacksonensis, versus 33.5–39.2% SL in I. opalus sp. nov.], and several small blotches on the anal-fin base. The new species can be distinguished from I. jacksonensis by its 10 scale rows below lateral line, four branches on central gill-raker of first upper limb of gill arch (vs. 2 branches in latter), greater head length [32.9–36.0% (mean 34.3%) vs. 29.6–32.1% (31.2%) SL], pre-pectoral-fin length [29.8–32.5% (31.2%) vs. 26.5–29.9% (28.5%) SL], orbit diameter [6.1–7.3% (6.8%) vs. 5.0–6.8% (5.8%) SL] and postorbital length [14.9–18.4% (16.8%) vs. 13.6–16.2% (14.9%) SL], and small blotches on head (vs. no blotches).
This is a preview of subscription content, log in to check access.
Access options
Buy single article
Instant access to the full article PDF.
US$ 39.95
Price includes VAT for USA
Subscribe to journal
Immediate online access to all issues from 2019. Subscription will auto renew annually.
US$ 99
This is the net price. Taxes to be calculated in checkout.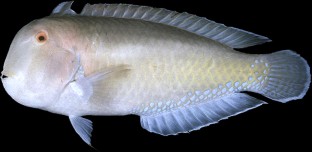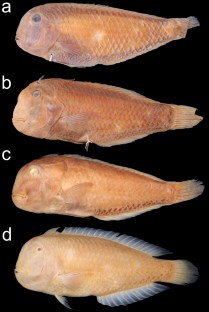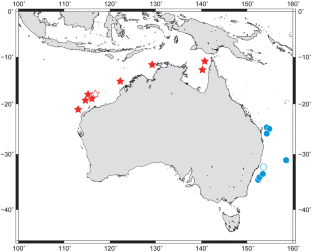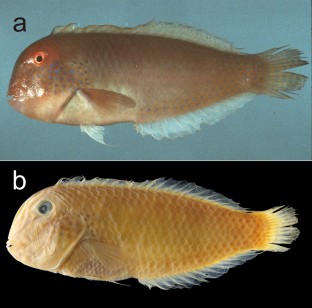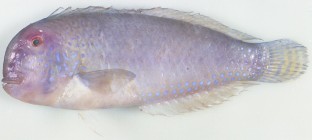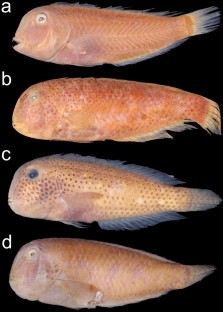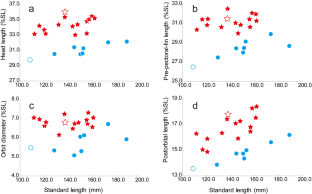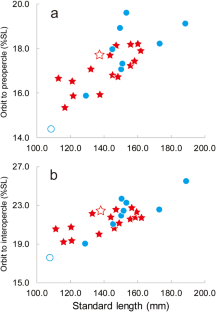 References
Francis MP (1993) Checklist of the coastal fishes of Lord Howe, Norfolk, and Kermadec Islands, Southwest Pacific Ocean. Pac Sci 47:136–170

Fukui Y (2017) Family Labridae. In: Motomura H, Alama UB, Muto N, Babaran RP, Ishikawa S (eds) Commercial and bycatch market fishes of Panay Island Republic of the Philippines. The Kagoshima University Museum, Kagoshima, University of the Philippines Visayas, Iloilo, and Research Institute for Humanity and Nature, Kyoto, pp 181–185

Gill TN (1862) Catalogue of the fishes of Lower California in the Smithsonian Institution, collected by Mr. J. Xantus. Proc Acad Nat Sci Phila 14:140-151

Gloerfelt-Tarp T, Kailola PJ (1984) Trawled fishes of southern Indonesia and northwestern Australia. Australian Development Assistance Bureau, Australia, Directorate General of Fisheries of Indonesia, Indonesia, and German Agency for Technical Cooperation, Eschborn

Hutchins JB (2001) Check list of the fishes of Western Australia. Rec West Aust Mus Suppl 63:9–50

Johnson JW (1999) Annotated checklist of the fishes of Moreton Bay, Queensland, Australia. Mem Qld Mus 43:709–762

Kuiter RH (2012) Labrid fishes: wrasses. Aquatic photographics, Melbourne

Motomura H, Last PR, Johnson JW (2008) Review of the waspfish genus Liocranium (Scorpaeniformes: Tetrarogidae), with restoration of L. pleurostigma (Weber). Zootaxa 1820:27–40

Ramsay EP (1881) Description of a new labroid fish of the genus Novacula, from Port Jackson. Proc Linn Soc NSW 6:198–199

Randall JE, Cornish AS (2000) Xyrichtys trivittatus, a new species of razorfish (Perciformes: Labridae) from Hong Kong and Taiwan. Zool Stud 39:18–22

Sabaj MH (2016) Standard symbolic codes for institutional resource collections in herpetology and ichthyology: an online reference. Ver 6.5 (16 August 2016). American Society of Ichthyologist and Herpetologists, Washington, DC. http://www.asih.org/. Accessed 30 May 2018

Sainsbury KJ, Kailola PJ, Leyland GG (1985) Continental fishes of northern and north-western Australia. Clouston and Hall and Peter Pownall Fisheries Information Service, Canberra

Valenciennes A (1840) Labroïdes. In: Cuvier GL, Valenciennes A (eds) Histoire naturelle des poissons. Vol 14. Lavrault, Paris, pp 1–307

Waite ER (1899) Scientific results of the trawling expedition of H. M. C. S. "Thetis". Aust Mus Mem 4:3–128
Acknowledgements
I am especially grateful to M. McGrouther (AMS) for opportunities to examine specimens and providing information on the Australian record of I. jacksonensis, A. Graham (CSIRO) for opportunities to examine specimens and providing color photographs of the holotype of I. opalus sp. nov., A. Hay and S. Reader (AMS), A. Suzumoto, L. O'Hara, J. Randall and R. Pyle (BPBM), M. Nakae (NSMT), J. Johnson (QM), G. Moore and M. Allen (WAM) for providing opportunities to examine specimens, G. Hardy (Ngunguru, New Zealand) for reading the manuscript and providing help with English, and M. Gomon (NMV) and the anonymous reviewer for reviewing the manuscript and providing valuable comments. I also thank H. Motomura (KAUM), M. Gomon (NMV), M. Matsunuma (KUN), Y. Sakurai (Okinawa, Japan), M. Itou, Y. Haraguchi and M. Takayama, and students and other volunteers of KAUM, and H. Fukui and M. Fukui (Kagoshima, Japan) for their kind support throughout this study. This study is supported in part by a Grant-in-Aid from the Japan Society for the Promotion of Science for JSPS Fellows (DC2: 17J05261).
Additional information
This article was registered in the Official Register of Zoological Nomenclature (ZooBank) as 88BAE7BB-F9C0-4456-AF08-2E0822CE9F5D.
This article was published as an Online First article on the online publication date shown on this page. The article should be cited by using the doi number.
About this article
Cite this article
Fukui, Y. Redescription of Iniistius jacksonensis (Ramsay 1881) and description of Iniistius opalus sp. nov. from northern Australia (Perciformes: Labridae). Ichthyol Res 66, 258–268 (2019). https://doi.org/10.1007/s10228-018-0673-0
Received:

Revised:

Accepted:

Published:

Issue Date:
Keywords
Wrasse

Morphology

New species

Distribution