Abstract
A new species of grouper, Epinephelus craigi. sp. nov., from the South China Sea is described from 17 specimens (104–250 mm SL). The new species is distinguished from Epinephelus stictus (Randall and Allen 1987) with which it has historically been conflated, based on coloration, meristics, morphology, and genetics. Epinephelus craigi sp. nov. has a unique color pattern of irregular squarish, dark brown blotches interrupting lighter brown bars along the lateral midline of the body, and small dots on the dorsal surface of the body. Additionally, E. craigi sp. nov. has a longer upper jaw, shorter snout length, narrower interorbital width, and shorter caudal peduncle than E. stictus. Both E. stictus and the new species are relatively deep-water species, with the new species occurring to at least 93 m. Epinephelus craigi sp. nov. is known from the South China Sea and E. stictus is known from Western Australia and southern Indonesia, suggesting allopatric and anti-equatorial distributions. DNA sequence divergence data of the mitochondrial COI gene further supports the distinction of E. craigi sp. nov. from E. stictus.
This is a preview of subscription content, log in to check access.
Access options
Buy single article
Instant access to the full article PDF.
US$ 39.95
Price includes VAT for USA
Subscribe to journal
Immediate online access to all issues from 2019. Subscription will auto renew annually.
US$ 99
This is the net price. Taxes to be calculated in checkout.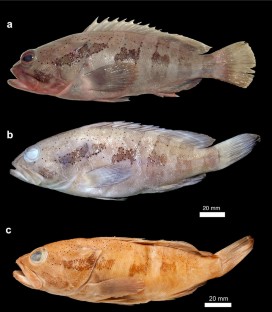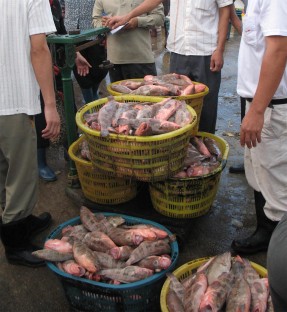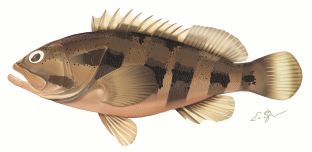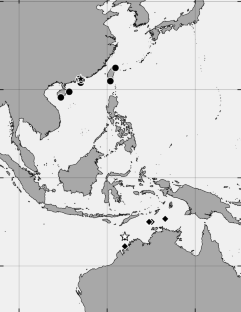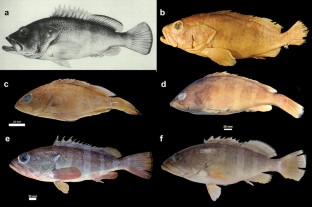 References
Bleeker P (1857) Achtste bijdrage tot de kennis der vischfauna van Amboina. Acta Soc Regiae Sci Indo-Neêr 2:1–102

Chan WL (1968) Marine fishes of Hong Kong pt 1. Hong Kong Government Press, Hong Kong

Craig MT, Sadovy YJ, Heemstra PC (2011) Groupers of the world: a field and market guide. NISC, Grahamstown

Cuvier MB, Valenciennes MA (1828) Histoire naturelle des poissons. Tome 2. Chez F.G. Levrault, Paris

Fourmanoir P (1965) Liste complementaire des poissons marine de Nha-Trang. Cahiers ORSTOM No spec:1–114

Fowler HW (1938) A synopsis of the fishes of China. Pt VII continued. The perch like fishes. Hong Kong Naturalist 8:249–289

Heemstra PC, Randall JE (1993) FAO species catalogue. Vol 16. Groupers of the world (Family Serranidae, subfamily Epinephelinae). An annotated and illustrated catalogue of the groupers, rockcod, hind, coral grouper and lyretail species known to date. FAO, Rome

Heemstra PC, Randall JE (1999) Family Serranidae. In: Carpenter KE, Niem VH (eds) FAO species identification guide for fisheries purposes. The living marine resources of the western central Pacific. Vol 4. Bony fishes pt 2 (Mugilidae to Carangidae). FAO, Rome, pp 2442–2548, pls I–VII

Ivanova NV, Zemlak TS, Hanner RH, Hebert PDN (2007) Universal primer cocktails for fish DNA barcoding. Mol Ecol Notes 7:544–548

Kahng SE, Garcia-Sais JR, Spalding HL, Brokovich E, Wagner D, Weil E, Hinderstein L, Toonen RJ (2010) Community ecology of mesophotic coral reef ecosystems. Coral Reefs 29:255–275

Kamohara T (1955) Eleven additions to the fish fauna of Prov. Tosa, including one new species of the family Serranidae. Res Rep Kochi Univ 3:1–6, pl 1

Kumar S, Stecher G, Tamura K (2016) MEGA7: Molecular Evolutionary Genetics Analysis Version 7.0 for bigger datasets. Mol Biol Evol 33:1870–1874

Lautredou AC, Motomura H, Gallut C, Ozouf-Costaz C, Cruaud C, Lecointre G, Dettai A (2013) New nuclear markers and exploration of the relationships among Serraniformes (Acanthomorpha, Teleostei): The importance of working at multiple scales. Mol Phylogenet Evol 67:140–155

Ma KY, Craig MT (2018) An inconvenient monophyly: an update on the taxonomy of the groupers (Epinephelidae). Copeia 106:443–456

Masuda H, Araga C, Yoshino T (1975) Coastal fishes of southern Japan. Tokai University Press, Tokyo

Newman SJ, Williams AJ, Wakefield CB, Nicol SJ, Taylor BM, O'Malley JM (2016) Review of the life history characteristics, ecology and fisheries for deep-water tropical demersal fish in the Indo-Pacific region. Rev Fish Biol Fish 26:537–562

Randall JE, Allen GR (1987) Four new serranid fishes of the genus Epinephelus (Perciformes: Epinephelinae) from Western Australia. Rec West Aust Mus 13:387–411

Randall JE, Heemstra PA (1991) Revision of Indo-Pacific Groupers (Perciformes: Serranidae: Epinephelinae), with descriptions of five new species. Indo-Pac Fishes 20:1–296

Sabaj MH (ed) (2016) Standard symbolic codes for institutional resource collections in herpetology and ichthyology: an online reference. Version 6.5 (16 August 2016). American Society of Ichthyologists and Herpetologists, Washington, DC. http://www.asih.org/resources/standard-symbolic-codes-institutional-resource-collections-herpetology-ichthyology. Accessed 14 November 2017

Sadovy YJ, Craig MT, Bertoncini AA, Carpenter KE, Cheung WWL, Choat JH, Cornish AS, Fennessy ST, Ferreira BP, Heemstra PC, Liu M, Myers RF, Pollard DA, Rhodes KL, Rocha LA, Russell BC, Samoilys MA, Sanciangco J (2012) Fishing groupers towards extinction: a global assessment of threats and extinction risks in a billion dollar fishery. Fish Fish 14:119–136

Senou H (2002) Serranidae In: Nakabo T (ed) Fishes of Japan with pictorial keys to the species, English edition. Tokai University Press, Tokyo, pp 690–731, 1532–1540

Smith WL, Craig MT (2007) Casting the percomorph net widely: the importance of broad taxonomic sampling in the search for the placement of serranid and percid fishes. Copeia 2007:35–55

To AW-L (2009) The biology, fishery of groupers (Family: Serranidae) in Hong Kong and adjacent waters, and implications for management, University of Hong Kong, Hong Kong

Tucker SJ, Kurniasih EM, Craig MT (2016) A new species of grouper (Epinephelus; Epinephelidae) from the Indo-Pacific. Copeia 104:658–662

Walsh PS, Metzger DA, Higuchi R (1991) Chelex 100 as a medium for simple extraction of DNA for PCR-based typing from forensic material. Biotechniques 10:506–513

Ward RD (2009) DNA barcode divergence among species and genera of birds and fishes. Mol Ecol Resour 9:1077–1085
Acknowledgments
We extend our gratitude to M Craig (NOAA NMFS) for mentoring S Tucker, leading to the discovery of this species. Our thanks go to A W-L To for permission for including his images in Fig. 1b and 2 and for providing the holotype; to M Aizawa and K Sakamoto for hosting and coordinating a visit to ZUMT; to G Moore (WAM) for data on the holotype of Epinephelus stictus; and to S Ding and his laboratory for providing data from the types at ZMUA. We are thankful for the artistry and time that E Stump contributed to the illustration of E. craigi (Fig. 3). We thank the following individuals and institutions for providing materials and photographs: B Brown and R Arrindell (AMNH), M Sabaj and M Arce-H (ANSP), J Maclaine (BMNH), A Suzumoto and L O'Hara (BPBM), D Catania and L Rocha (CAS), A Graham (CSIRO), A Bentley and WL Smith (KU), D Pitassy, S Raredon, L Weigt and J Williams (USNM), K Sakamoto (ZUMT). The collection of comparative material from fishing communities in Indonesia was kindly assisted by the help of conservation workers: P Mous, R Pramana, GW Budiartha, E Wibosono (The Nature Conservancy Indonesia Fisheries Conservation Program), and J Pet (People and Nature Consulting). We also thank GN Mahardika, NKD Cahyani, A Wahyu Anggoro, and EM Kurniasih at the Indonesian Biodiversity Research Center for provision of laboratory facilities and for useful guidance and discussion. For the collection of comparative material and genetic work, SJT received funding through the United States Fulbright Student Scholarship and American Institute for Indonesian Studies CAORC Fellowship. Research permits (6/TKPIPA/FRP/SM/VI/2013 and 42/EXT/SIP/FRP/SM/IX/2014) were granted to SJT by RISTEK in Jakarta, Indonesia. We are grateful to D Smith (USNM) for clarification of type designation.
Additional information
This article was registered in the Official Register of Zoological Nomenclature (ZooBank) as 800CC227-148F-432A-8696-8BBD8E346D37.
This article was published as an Online First article on the online publication date shown on this page. The article should be cited by using the doi number.
About this article
Cite this article
Frable, B.W., Tucker, S.J. & Walker, H.J. A new species of grouper, Epinephelus craigi (Perciformes: Epinephelidae), from the South China Sea. Ichthyol Res 66, 215–224 (2019). https://doi.org/10.1007/s10228-018-0669-9
Received:

Revised:

Accepted:

Published:

Issue Date:
Keywords
Epinephelus stictus

Five-bar grouper

Species description

Cytochrome oxidase I