Abstract
Radiicephalus kessinger sp. nov. (Lampridiformes: Radiicephalidae), described from a single specimen collected off southwestern Taiwan, represents a formerly monotypic and rarely collected family, known almost entirely from the eastern Atlantic Ocean, although some unsupported larval records exist from the north and eastern Pacific oceans. Radiicephalus kessinger can be distinguished from the only other congener R. elongatus Osório 1917 on the basis of fin ray and vertebral counts, fin ray positions and lengths, lateral line position, jaw shape, dorsal body outline and teeth patterns. The specimen represents the first record of the family in the western Pacific Ocean, there being no reliable records or voucher specimens of the family from the Indo-West Pacific region. New information is given on scales and coloration of R. elongatus, based on examination of the neotype and additional specimens.
This is a preview of subscription content, log in to check access.
Access options
Buy single article
Instant access to the full article PDF.
US$ 39.95
Price includes VAT for USA
Subscribe to journal
Immediate online access to all issues from 2019. Subscription will auto renew annually.
US$ 99
This is the net price. Taxes to be calculated in checkout.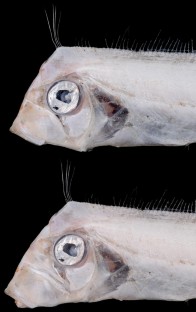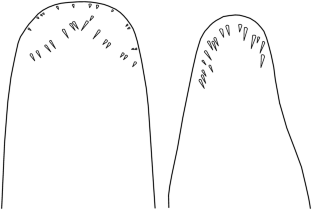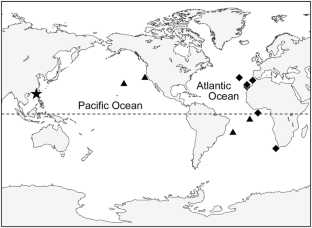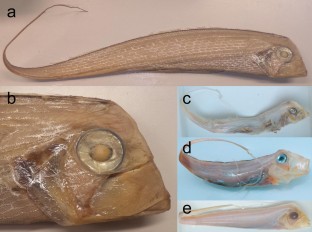 References
Angulo A, López-Sánchez MI (2017) New records of lampriform fishes (Teleostei: Lampriformes) from the Pacific coast of lower Central America, with comments on the diversity, taxonomy and distribution of the Lampriformes in the eastern Pacific Ocean. Zootaxa 4236:573–591

Bolshakova YY, Evseenko SA (2016) On species composition of ichthyoplankton of the Mid-Atlantic Ridge (South Atlantic). J Ichthyol 56:522–533

Bray DJ (2008) Various family accounts. In: Gomon MF, Bray DJ, Kuiter RH (eds) Fishes of Australia's Southern Coast. New Holland Publishers, Sydney, p 295

Butler JL, Moser HG, Watson W, Ambrose DA, Charter SR, Sandknop EM (1997) Fishes collected by midwater trawls during two cruises of the David Starr Jordan in the Northeastern Pacific Ocean, April–June and September–November, 1972. NOAA Technical Memorandum NMFS, NOAA-TM-NMFS-SWFSC-244:1–84

Charter SR, Moser HG (1996) Radiicephalidae: Tapertails. In: Moser HG (ed) The early stages of fishes in the California Current region. California Cooperative Oceanic Fisheries Investigations Atlas 33. Allen Press, Lawrence, pp 665–667

Harrison CMH, Palmer G (1968) On the neotype of Radiicephalus elongatus Osório with remarks on its biology. Bull Br Mus (Nat Hist) Zool 16:187–211

Heemstra PC, Kannemeyer SX (1984) The families Trachipteridae and Radiicephalidae (Pisces, Lampriformes) and a new species of Zu from South Africa. Ann S Afr Mus 94:13–39

Jordan DS, Snyder JO (1901) Descriptions of nine new species of fishes contained in museums of Japan. J Coll Sci Imp Univ Tokyo 15:301–311, pls 15–17

Karrer C (1976) Über drei mesopelagische fischarten aus dem Golf von Guinea. Mitt Zool Mus Berl 52:177–182

Loeb VJ (1979) Larval fishes in the zooplankton community of North Pacific Central Gyre. Mar Biol 53:173–191

Nishimura S (1964) Additional information on the biology of the Dealfish Trachipterus ishikawai Jordan & Snyder. Bull Jpn Sea Reg Fish Res Lab 13:127–129

Mundy BC (2005) Checklist of the fishes of the Hawaiian Archipelago. Bishop Mus Bull Zool 6:1–703

Olney JE (1984) Lampriformes: development and relationships. In: Moser HG, Richards WJ, Cohen DM, Fahay MP, Kendall AW, Richardson SL (eds) Ontogeny and systematics of fishes. American Society of Ichthyologists and Herpetologists, Special Publication No 1. Allen Press, Lawrence, pp 368–379

Olney JE (1999) Radiicephalidae. In: Carpenter KE, Niem VH (eds) Species identification guide for fisheries purposes. The living marine resources of the western central Pacific. Batoid fishes, chimeras and bony fishes part 1 (Elopidae to Linophrynidae). FAO, Rome, p 1972

Osório B (1917) Nota sôbre algumas espécies de peixes que vivem no Atlântico ocidental. Arq Univ Lisboa 4:103–131, pls 29–36

Randall JE, Lim KKP (2000) A checklist of the fishes of the South China Sea. Raffles Bull Zool Suppl 8:569–667

Stocco LB, Juyeux J-C (2015) Distribution of fish larvae of the Vitória-Trindade Chain, southwestern Atlantic. Check List 11:1590. https://doi.org/10.15560/11.2.1590. Accessed 3 October 2018
Acknowledgments
We are especially grateful to Fang (Dong-gang Fish Market) and J.-F. Huang, (National Museum of Marine Biology and Aquarium) for supporting our fish collection, and O. Crimmen, J. Maclaine and N. Martin (BMNH), and H. Hata (Kagoshima University) for their help in examining specimens of R. elongatus. We appreciate N. Fujimoto (Hiroshima University) and T. Uejo (Kagoshima University) for assistance in accessing references. We also thank R.-R. Chen, J.-T. Lin and A. Koeda (National Museum of Marine Biology & Aquarium) for curatorial assistance. B. Russell (Museum and Art Gallery of the Northern Territory) and G. S. Hardy (Ngunguru, New Zealand) kindly improved the English manuscript. The present study was supported in part by a JSPS Overseas Research Fellowship (29-304) to the first author.
Additional information
This article was registered in the Official Register of Zoological Nomenclature (ZooBank) as 3254E21B-CC17-444E-9067-AA4756C3B7B4.
This article was published as an Online First article on the online publication date shown on this page. The article should be cited by using the doi number.
About this article
Cite this article
Koeda, K., Ho, H. A new tapertail species (family Radiicephalidae; Lampridiformes) from Taiwan, the first confirmed western Pacific Ocean record of the family. Ichthyol Res 66, 207–214 (2019). https://doi.org/10.1007/s10228-018-0667-y
Received:

Revised:

Accepted:

Published:

Issue Date:
Keywords
Radiicephalus kessinger sp. nov.
Radiicephalus elongatus

Taxonomy

Deep sea

South China Sea