Abstract
The new triplefin Helcogramma melanolancea sp. nov. (Perciformes: Tripterygiidae), described from five specimens collected from Bali, Indonesia, most closely resembles Helcogramma rhinoceros Hansen 1986 in having a dermal prolongation on the tip of the upper lip in males (absent in females, although represented by a distinct bump), but is distinguished from the latter by the following features: second dorsal-fin spines 13 or 14 [vs. 14–16 (mode 15) in the latter]; anal-fin soft rays 18–20 [vs. 19–22 (rarely 19 and 22)]; pored lateral-line scales 18 or 19 [vs. 18–24 (usually 19–22), rarely 18]; scale rows in longitudinal series 37 or 38 (vs. 39–42); anterior medial supratemporal canal with a single pore (vs. branched canal with more than two pores); interorbital space narrow, its width 1.8–2.1% SL (vs. 1.7–2.6%); upper-jaw length 11.5–13.3% SL (vs. 10.9–14.4%); postorbital length 11.9–13.3% SL (vs. 10.8–12.8%); head and body blackish in mature males, except for upper half of head, and anterodorsal region of body pale (vs. body entirely reddish, except for blackish regions from lower half of head to pectoral-fin base and around pelvic-fin base); second and third dorsal fins each with three blackish bands in mature males (vs. spotted melanophores forming a single band along distal margin of each fin); pectoral fin entirely blackish in mature males (vs. lower half of fin blackish, remainder translucent); anal and caudal fins entirely blackish in mature males (vs. reddish); anal-fin base and lower caudal peduncle with seven or eight and a single brown blotch, respectively, in females and young males (vs. blotches absent).
This is a preview of subscription content, log in to check access.
Access options
Buy single article
Instant access to the full article PDF.
US$ 39.95
Price includes VAT for USA
Subscribe to journal
Immediate online access to all issues from 2019. Subscription will auto renew annually.
US$ 99
This is the net price. Taxes to be calculated in checkout.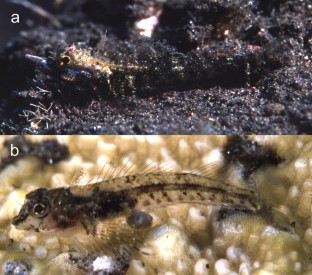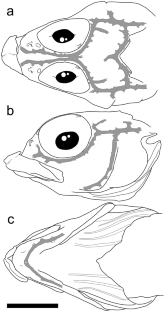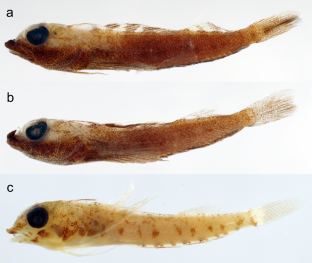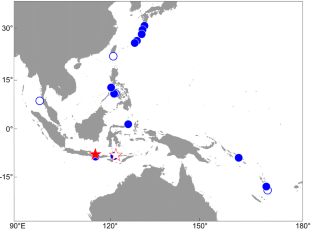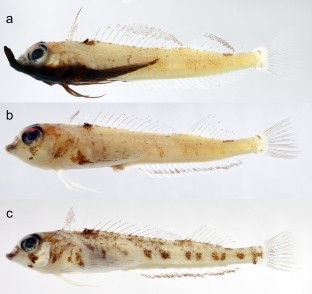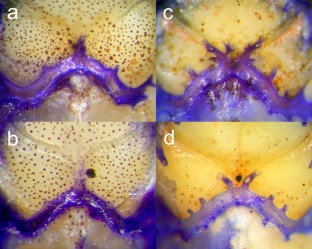 References
Allen GR, Erdmann MV (2012) Reef fishes of the East Indies. Vols 1–3. Tropical Reef Research, Perth

Chiang M-C, Chen I-S (2012) A new species of the genus Helcogramma (Blenniformes, Tripterygiidae) from Taiwan. Zookeys 216:57–72

Fricke R (1997) Tripterygiid fishes of the western and central Pacific (Teleostei). Koeltz Scientific Books, Koenigstein

Fricke R (2017) Helcogramma atauroensis, a new species of triplefin from Ataúro Island, Timor-Leste, eastern Indian Ocean. J Ocean Sci Found 26:34–45

Hansen PEH (1986) Revision of the tripterygiid fish genus Helcogramma, including descriptions of four new species. Bull Mar Sci 38:313–354

Holleman W (2007) Fishes of the genus Helcogramma (Blennioidei: Tripterygiidae) in the Western Indian Ocean, including Sri Lanka, with descriptions of four new species. Smithiana Bull 7:51–81

Holleman W, Bogorodsky SV (2012) A review of the blennioid fish family Tripterygiidae (Perciformes) in the Red Sea, with description of Enneapterygius qirmiz, and reinstatement of Enneapterygius altipinnis Clark, 1980. Zootaxa 3152:36–60

McCulloch AR, Waite ER (1918) Some new and little-known fishes from South Australia. Rec South Aust Mus 1:39–78

Motomura H, Kuriiwa K, Katayama E, Senou H, Ogihara G, Meguro M, Matsunuma M, Takata Y, Yoshida T, Yamashita M, Kimura S, Endo H, Murase A, Iwatsuki Y, Sakurai Y, Harazaki S, Hidaka K, Izumi H, Matsuura K (2010) Annotated checklist of marine and estuarine fishes of Yaku-shima Island, Kagoshima, southern Japan. In: Motomura H, Matsuura K (eds). Fishes of Yaku-shima Island – A World Heritage island in the Osumi Group, Kagoshima Prefecture, southern Japan. National Museum of Nature and Science, Tokyo, pp 65–247

Sabaj MH (2016) Standard symbolic codes for institutional resource collections in herpetology and ichthyology: an online reference. Version 6.5 (16 August 2016). American Society of Ichthyologists and Herpetologists, Washington, DC

Tashiro S (2013) Helcogramma rhinoceros. In: Motomura H, Dewa S, Furuta F, Matsuura K (eds) Fishes of Iou-jima and Take-shima islands, Mishima, Kagoshima, Japan. Kagoshima University Museum, Kagoshima and National Museum of Nature and Science, Tsukuba, pp 298–299

Tashiro S (2018) Tripterygiidae. In: Motomura H, Hagiwara K, Senou H, Nakae M (eds) Identification guide to fishes of the Amami Islands, Japan. Kagoshima University Museum, Kagoshima, Yokosuka City Museum, Yokosuka, Kanagawa Prefectural Museum of Natural History, Odawara, and National Museum of Nature and Science, Tsukuba, pp 295–307

Tashiro S, Motomura H (2014) The validity of Helcogramma ishigakiensis (Aoyagi, 1954) and a synopsis of species of Helcogramma from the Ryukyu Islands, southern Japan (Perciformes: Tripterygiidae). Species Divers 20:97–110

Williams JT, Howe JC (2003) Seven new species of the triplefin fish genus Helcogramma (Tripterygiidae) from the Indo-Pacific. Aqua 7:151–176
Acknowledgments
We are most grateful to A. Suzumoto and L. O'Hara (BPBM) for their kind hospitality during our stay at BPBM. We are also grateful to H. Senou (KPM), G. Shinohara and M. Nakae (NSMT), and J. Williams and D. Pitassy (USNM) for opportunities to examine specimens and curatorial assistance, G. Hardy (Ngunguru, New Zealand) for English corrections and helpful comments on the manuscript, and members of KAUM for curatorial assistance. This study was supported in part by a Grant-in-Aid for JSPS Fellows (DC2: 16J09608) to the first author; JSPS KAKENHI Grant Numbers JP26241027, JP24370041, JP23580259, and JP26450265; the JSPS Core-to-Core Program: B Asia-Africa Science Platforms; the "Biological Properties of Biodiversity Hotspots in Japan" project of the National Museum of Nature and Science, Tsukuba, Japan; "Establishment of Research and Education Network on Biodiversity and Its Conservation in the Satsunan Islands" project of Kagoshima University adopted by the Ministry of Education, Culture, Sports, Science and Technology, Japan; and the "Island Research" project by Kagoshima University.
Additional information
This article was registered in the Official Register of Zoological Nomenclature (ZooBank) as FA904008-AAE0-4C7C-8A10-39267FCE2121.
This article was published as an Online First article on the online publication date shown on this page. The article should be cited by using the doi number.
About this article
Cite this article
Tashiro, S., Motomura, H. Helcogramma melanolancea, a new triplefin (Perciformes: Tripterygiidae) from Bali, Indonesia. Ichthyol Res 66, 104–113 (2019). https://doi.org/10.1007/s10228-018-0660-5
Received:

Revised:

Accepted:

Published:

Issue Date:
Keywords
Description

Helcogramma rhinoceros

Sexual dimorphism

Nuptial coloration