Abstract
A new species of the eyeless goby genus Caecogobius is described from a cave system on Mindanao Island, the Philippines. Caecogobius personatus sp. nov. is the second cave-obligate fish ever discovered from the Philippine archipelago. The first species, Caecogobius cryptophthalmus Berti and Ercolini 1991 was recorded from Samar Island, an adjacent island north of Mindanao. The new species differs from its only congener, C. cryptophthalmus, in having a finely ridged fleshy area over the orbit and fleshy flap-like sensory papillae on fleshy raised ridges (the sensory papillae in C. cryptophthalmus are all small and evenly sized, not fleshy or flap-like) and having all elements of the second dorsal fin segmented (first element unsegmented in C. cryptophthalmus). The relationship of these two Caecogobius to each other and to other gobionellines is not known.
This is a preview of subscription content, log in to check access.
Access options
Buy single article
Instant access to the full article PDF.
US$ 39.95
Price includes VAT for USA
Subscribe to journal
Immediate online access to all issues from 2019. Subscription will auto renew annually.
US$ 99
This is the net price. Taxes to be calculated in checkout.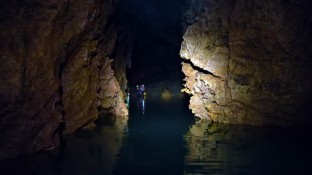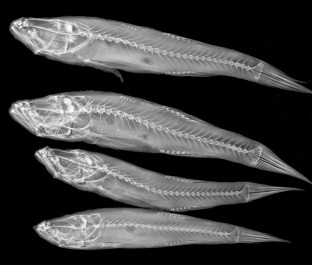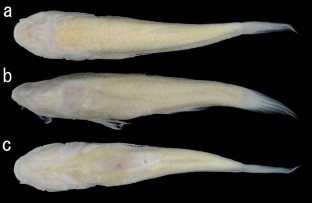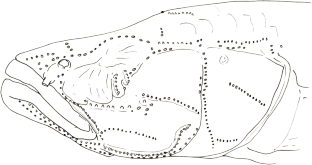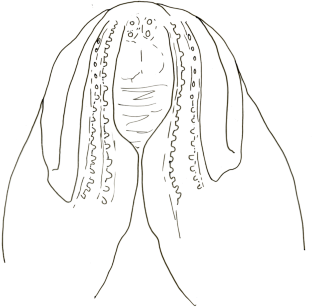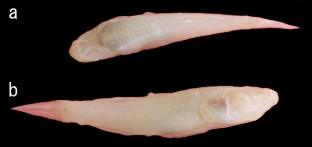 References
Aurich HJ (1938) Mitteilung XXVIII der Wallacea-Expedition Woltereck. Die Gobiiden. (Ordnung: Gobioidea). Int Revue ges Hydrobiol Hydrogr 38:125–183

Banister K (1994) Glossogobius ankaranensis, a new species of blind cave goby from Madagascar (Pisces: Gobioidei: Gobiidae). Aqua 1:25–28

Berti R, Ercolini A (1991) Caecogobius cryptophthalmus n. gen. n. sp. (Gobiidae, Gobiinae), the first stygobitic fish from Philippines. Trop Zool 4:129–138

Birdsong RS, Murdy EO, Pezold FL (1988) A study of the vertebral column and median fin osteology in gobioid fishes with comments on gobioid relationships. Bull Mar Sci 42:174–214

Bleeker P (1874) Esquisse d'un système naturel des Gobioïdes. Arch Néerl Sci Exactes Nat 9:289–331

Chakrabarty P (2010) Status and phylogeny of Milyeringidae (Teleostei: Gobiiformes), with the description of a new blind cave-fish from Australia, Milyeringa brooksi, n. sp. Zootaxa 2557:19–28

Chakrabarty P, Davis MP, Sparks JS (2012) The first record of a trans-oceanic sister-group relationship between obligate vertebrate troglobites. PLoS One 7 (8):e44083

Hoese DF, Kottelat M (2005) Bostrychus microphthalmus, a new microphthalmic cavefish from Sulawesi (Teleostei: Gobiidae). Ichthyol Explor Freshw 16:183–191

Hoese DF, Hadiaty RK, Herder F (2015) Review of the dwarf Glossogobius lacking head pores from the Malili lakes, Sulawesi, with a discussion of the definition of the genus. Raffles Bull Zool 63:14–26

Hubbs CL, Lagler KF (1970) Fishes of the Great Lakes Region. Third edn. University of Michigan Press, Ann Arbor

Larson HK (2001) A revision of the gobiid fish genus Mugilogobius (Teleostei: Gobioidei), and its systematic placement. Rec West Aust Mus Suppl (62):i–iv + 1–233

Larson HK, Foster R, Humphreys WF, Stevens MI (2013) A new species of the blind cave gudgeon Milyeringa (Pisces: Gobioidei, Eleotridae) from Barrow Island, Western Australia, with a redescription M. veritas Whitley. Zootaxa 3616:135–150

Petit G (1933) Un poisson cavernicole aveugle des eaux douces de Madagascar: Typhleotris madagascariensis gen. et sp. nov. C R Seances Acad Sci 197:347–348

Regan CT (1940) The fishes of the gobiid genus Luciogobius Gill. Ann Mag Nat Hist Ser 11 5:462–465

Romero A, Paulson KM (2001) It's a wonderful hypogean life: a guide to the troglomorphic fishes of the world. Environ Biol Fishes 62:13–41

Sabaj MH (2016) Standard symbolic codes for institutional resource collections in herpetology and ichthyology: an Online Reference. Electronic version version 6.5 (16 Aug 2016). American Society of Ichthyologists and Herpetologists, Washington, DC. http://www.asih.org/. Accessed 30 August 2017

Walsh SJ, Chakrabarty P (2016) A new genus and species of blind sleeper (Teleostei: Eleotridae) from Oaxaca, Mexico: first obligate cave gobiiform in the Western Hemisphere. Copeia 104:506–517

Whitley GP (1945) New sharks and fishes from Western Australia. Pt 2. Aust Zool 11:1–42
Acknowledgments
We offer our many thanks to Heok Hui Tan of ZRC, who facilitated the loan of the specimens and provided beautiful X-rays of them. Thanks also are due to Gavin Dally of MAGNT, who made sure the fish arrived safely. We also appreciate the assistance of Marivene Manuel-Santos of the Philippine National Museum for facilitating the storage of the specimens. D. E. M. Husana would like to express his great appreciation to his friends in Mindanao. There are no exact words to describe how thankful he is for their hospitality, generosity and field assistance during his many research trips to the region: the Honorable Mayor Albin Magdamit and his staff, especially Noradel Martinez and Marigyn Kamita who showed their eagerness to protect the natural environment in their town; the PMC outdoor group, especially Arnel Pasilan, Almar Lambaco, Joelito Dumdum, Winsome Berdida and Joseph Mortiz and all the other members for their assistance in D. E. M. Husana's many biological expeditions in the region; and the barangay chairman, Benecio Manliguez, for providing security and a local guide. This research is permitted by the Department of Environment and Natural Resources (Wildlife Gratuitous Permit No. R13-2014-004).
Additional information
This article was registered in the Official Register of Zoological Nomenclature (ZooBank) as 8EA76D50-374B-4838-808C-7947343C9735.
This article was published as an Online First article on the online publication date shown on this page. The article should be cited by using the doi number.
About this article
Cite this article
Larson, H.K., Husana, D.E.M. A new species of the blind goby Caecogobius (Gobioidei, Gobiidae, Gobionellinae) from a cave system on Mindanao Island, the Philippines. Ichthyol Res 66, 97–103 (2019). https://doi.org/10.1007/s10228-018-0659-y
Received:

Revised:

Accepted:

Published:

Issue Date:
Keywords
Gobiidae

Caecogobius

New species

Cave systems

Philippines