Abstract
A new pufferfish, Chelonodontops alvheimi, is described on the basis of three specimens (86–117 mm SL) collected from off Myanmar (Eastern Indian Ocean) in 2015. It is distinguished from congeneric species by its uniquely tapered body and slender caudal peduncle, its depth 7.4–7.8% SL. The new species is further distinguished from its congeners by the following combination of characters: dorsal spinulation extending from internarial region to dorsal-fin origin, caudal-fin length 17.4–18.5% SL and fin coloration. The rare pufferfish, Tetrodon leopardus Day 1878, is redescribed in detail on the basis of two museum specimens, including a syntype housed at the Australian Museum in Sydney. Our examination has revealed that this pufferfish is referable to the genus Chelonodontops on the basis of the following characters: two lateral lines on the side of body, nasal organ with two divided flat skin flaps, and a weakly developed skin fold extending longitudinally on the ventro-lateral part of the head and body from the chin to the caudal-fin base. The taxonomic status of C. leopardus is clarified and morphological and color differences between it and the newly described species are outlined. A key to the species of Chelonodontops is provided.
We're sorry, something doesn't seem to be working properly.
Please try refreshing the page. If that doesn't work, please contact support so we can address the problem.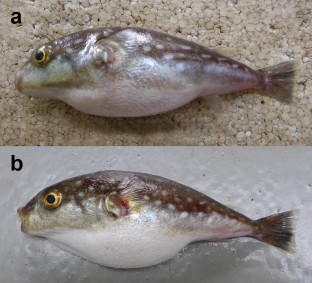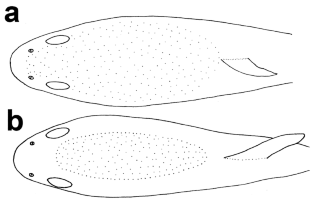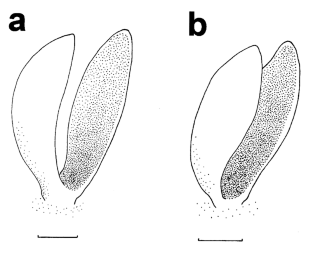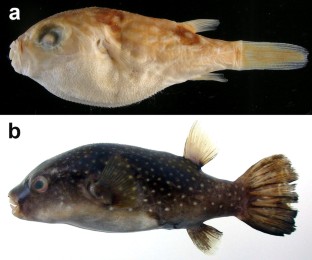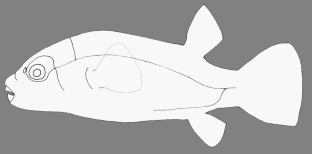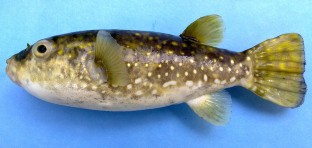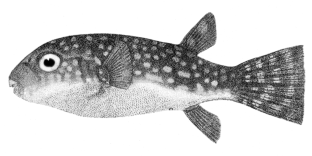 References
Anonymous (1798) Allgemeine Literatur-Zeitung 3(287): columns 673–680

Bijukumar A, Deepthi GR (2009) Mean trophic index of fish fauna associated with trawl bycatch of Kerala, southwest coast of India. J Mar Biol Assoc India 51:145–154

Day F (1878) The fishes of India; being a natural history of the fishes known to inhabit the seas and fresh waters of India, Burma, and Ceylon. Pt 4. Quaritch, London

Dekkers WJ (1975) Review of the Asiatic freshwater puffers of the genus Tetraodon Linnaeus, 1758 (Pisces, Tetraodontiformes, Tetraodontidae). Bijdr Dierk 45:87–142

Eschmeyer WN, Fricke R, van der Laan R (2018) Catalog of fishes: genera, species, references. Electronic version, updated 31 January 2018. http://researcharchive.calacademy.org/research/ichthyology/catalog/fishcatmain.asp. Accessed 22 February 2018

Ferraris CJ Jr, McGrouther MA, Parkinson AK (2000) A critical review of the types and putative types of southern Asian marine and freshwater fish species in the Australian Museum named by Francis Day. Rec Aust Mus 52:289–306

Fraser-Brunner A (1943) Notes on the plectognath fishes.—VIII. The classification of the suborder Tetraodontoidea, with a synopsis of the genera. Ann Mag Nat Hist (Ser 11) 10:1–18

Hamilton F (1822) An account of the fishes found in the river Ganges and its branches. Constable, Edinburgh

Jisha S, Aravindan CM, Ritakumari SD (2004) Checklist of the fish fauna of Ayiramthengu mangroves, Kollam district, Kerala, India. Seshaiyana 12:4–5

Linnaeus C (1758) Systema naturae per regna tria naturae, secundum classes, ordines, genera, species, cum characteribus, differntiis, synonymis, locis. 10th edn, vol 1. Lorentii, Holmiae.

Matsuura K (2002) A review of two morphologically similar puffers, Chelonodon laticeps and C. patoca. Natl Sci Mus Monogr (22):175–180

Matsuura K (2017) Pufferfishes and their allies in Japan. Tokai University Press, Hadano

Müller J (1841) Vergleichende Anatomie der Myxinoiden. Dritte Fortsetzung. Über das Gefässystem. Abhandlungen der Königlichen Akademie der Wissenschaften zu Berlin 1839: 175–304, pls 1–5

Raj PJS, Tilak JL, Kalaimani G (2002) Experiments in restoration of benthic biodiversity in Pulicat lake, south India. J Mar Biol Assoc India. 44:37–45

Ramesh R, Nammalwar P, Gowri VS (2008) Database on coastal information of Tamilnadu. Report Submitted to Environmental Information System (ENVIS) Centre, Department of Environment, Government of Tamilnadu, Chennai. Institute for Ocean Management, Anna University, Chennai

Regan CT (1919) Fishes from Durban, Natal, collected by Messrs H W Bell Marley and Romer Robinson. Ann Durban Mus 2:197–204

Shamsuzzaman MM, Rashid AHA, Mamun MAA, Mazumder SK and Haque MA (2015) Present status of marine puffer fishes in Bangladesh. J Aquac Res Dev 6:1–5

Smith JLB (1948) Brief revisions and new records of South African marine fishes. Ann Mag Nat Hist (Ser 11) 14:335–346

Smith JLB (1958) Tetraodont fishes from South and East Africa. Ann Mag Nat His Ser (13, 1):156–160, pl 2

Smith MM, Heemstra PC (1986) Family No. 268: Tetraodontidae. In: Smith MM, Heemstra PC (eds) Smiths' sea fishes. Springer, Berlin, pp 894–903, pls 140, 142–144

Zeena KV, Jameela Beevi KV (2012) Record of a banded leopard blowfish Arothron leopardus (Day, 1878) (Tetraodontiformes: Tetraodontidae) from Muvattupuzha River, Kerala, India. J Bombay Nat Hist Soc 109:212–213
Acknowledgments
The EAF-Nansen Programme implemented by the Food and Agriculture Organization of the United Nations (FAO) in close collaboration with the Norwegian Institute of Marine Research (IMR) and funded by the Norwegian Agency for Development Cooperation (Norad) provided us with the specimens of Chelonodontops collected on the R/V Dr. Fridtjof Nansen Myanmar survey. We offer our many thanks to Jens-Otto Krakstad and Oddgeir Alvheim (IMR) and to all the crew and people involved in the Myanmar Nansen survey. Sarah Dister and all staff from the FAO's library are acknowledged for their help with bibliographic searches. We are grateful to A. Hay and M. McGrouther (AMS) for the loan of the syntype of C. leopardus and providing photographs of the syntype. K. Kuriiwa of NSMT made a photograph of the dorsal side of the holotype of C. alvheimi. We thank G. Duhamel and P. Pruvost (MNHN), H. K. Larson (NTM), Jeff Johnson (QM) and P. C. Heemstra (SAIAB) for loaning specimens. The first author (PNP) thanks the EAF-Nansen Programme for providing funding support. The second author (KM) thanks J. Maclaine and P. C. Campbell (BMNH), T. Kawai (HUMZ) and P. A. Hulley (SAM) for their hospitality during his visits to these museums. K. V. Zeena kindly provided a photograph of C. leopardus collected from Kerala, India. J. C. Tyler kindly provided comments on the manuscript. We also thank the anonymous reviewers for their helpful comments on the manuscript. This study was partially supported by JSPS Asian Core Program ''Establishment of Research and Education Network on Coastal Marine Science in Southeast Asia.''
Additional information
This article was registered in the Official Register of Zoological Nomenclature (ZooBank) as D1473DF8-9D8C-4CC8-9079-3CB58B8EC7B5.
This article was published as an Online First article on the online publication date shown on this page. The article should be cited by using the doi number.
About this article
Cite this article
Psomadakis, P.N., Matsuura, K. & Thein, H. Chelonodontops alvheimi, a new species of pufferfish (Actinopterygii: Tetraodontiformes: Tetraodontidae) from the Indian Ocean, with redescription of the rare pufferfish Chelonodontops leopardus (Day 1878). Ichthyol Res 66, 49–56 (2019). https://doi.org/10.1007/s10228-018-0646-3
Received:

Revised:

Accepted:

Published:

Issue Date:
Keywords
Tetraodontidae

New species

Chelonodontops

Taxonomy

Redescription

Myanmar

Indian Ocean