Abstract
A new spikefish, Mephisto albomaculosus, is described based on a single specimen (94.4 mm SL) collected off Myanmar, eastern Indian Ocean in 2015. It is distinguished from the only other species of the genus, M. fraserbrunneri Tyler 1966, by many white spots on the ventral half of the head and body, fewer gill rakers (15 vs. 19), fewer pseudobranch lamellae (16 vs. 18‒19), more upper and lower jaw teeth (25 in both jaws vs. 17 and 19–20, respectively) and a narrower pelvis (width 7.8% SL vs. 11.3–11.7% SL; pelvic width in pelvic length 4.0 vs. 2.7–2.8).
This is a preview of subscription content, log in to check access.
Access options
Buy single article
Instant access to the full article PDF.
US$ 39.95
Price includes VAT for USA
Subscribe to journal
Immediate online access to all issues from 2019. Subscription will auto renew annually.
US$ 99
This is the net price. Taxes to be calculated in checkout.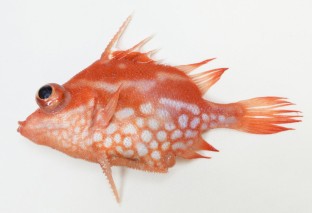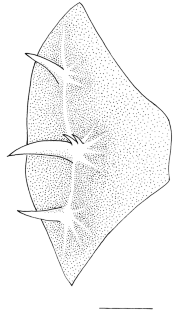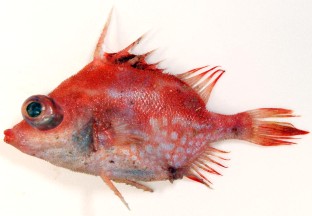 References
Alcock L (1899) Halimochirurgus centriscoides, a new deep-sea fish from the Gulf of Manar. Proc Asiatic Soc Bengal 1899:78

Manilo LG, Bogorodsky SV (2003) Taxonomic composition, diversity and distribution of coastal fishes of the Arabian Sea. J Ichthyol 43:S75–S149

Tyler JC (1966) A new genus and species of triacanthodid fish (Plectognathi) from the Indian Ocean. Not Nat Acad Nat Sci Philadelphia (385):1–5

Tyler JC (1968) A monograph on plectognath fishes of the superfamily Triacanthoidea. Monogr Acad Nat Sci Philadelphia (16):1–364
Acknowledgments
The EAF-Nansen Project provided us with the specimen of Mephisto albomaculosus collected on the R/V Dr. Fridjof Nansen Myanmar survey. We offer many thanks to Jens-Otto Krakstad, Oddgeir Alvheim (Institute of Marine Research, Norway) and Htun Thein (Department of Fisheries, Myanmar) and to all the crew and people involved in the Myanmar Nansen survey. K. Kuriiwa of NSMT made the X-ray photograph of the holotype. J. C. Tyler kindly provided comments on the manuscript. This study was partially supported by JSPS Asian Core Program ''Establishment of Research and Education Network on Coastal Marine Science in Southeast Asia.''
Additional information
This article was registered in the Official Register of Zoological Nomenclature (ZooBank) as 20254338-0F54-4963-9416-60A67D62AA78.
This article was published as an Online First article on the online publication date shown on this page. The article should be cited by using the doi number.
About this article
Cite this article
Matsuura, K., Psomadakis, P.N. & Thun, M.T. Mephisto albomaculosus, a new spikefish (Actinopterygii: Tetraodontiformes: Triacanthodidae) collected off Myanmar, Indian Ocean. Ichthyol Res 66, 30–33 (2019). https://doi.org/10.1007/s10228-018-0642-7
Received:

Revised:

Accepted:

Published:

Issue Date:
Keywords
Triacanthodidae

New species

Mephisto

Taxonomy

Indian Ocean