Abstract
Two new species of Bembras Cuvier 1829, Bembras leslieknappi sp. nov. and Bembras andamanensis sp. nov., are described from single specimens collected from the Andaman Sea off Myanmar, eastern Indian Ocean, in 2015. The two new species are distinguished from each other and five known congeners by the numbers of anal-fin rays and pectoral-fin rays (15 and 20 in B. leslieknappi vs. 14 and 20–21 in B. andamanensis), forward-slanting body scale rows above the lateral line (80 vs. 74) and upper limb gill rakers (3 vs. 4), as well as by head (41.5 vs. 42.1% SL), snout (14.3 vs. 13.8% SL) and orbit (10.4 vs. 10.9% SL) proportions, and color of the second dorsal (dusky, with blackish spots only on first spine and bases of many soft rays vs. pale, with many scattered blackish spots), pectoral (with a blotch vs. without it) and caudal (both with a broad band) fins.
This is a preview of subscription content, log in to check access.
Access options
Buy single article
Instant access to the full article PDF.
US$ 39.95
Price includes VAT for USA
Subscribe to journal
Immediate online access to all issues from 2019. Subscription will auto renew annually.
US$ 99
This is the net price. Taxes to be calculated in checkout.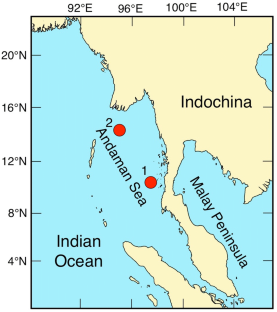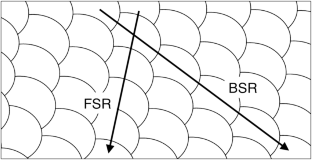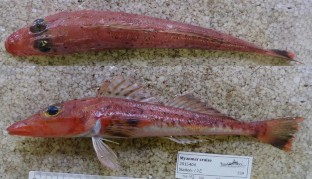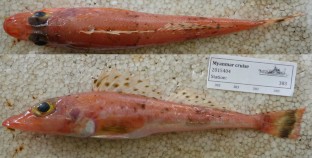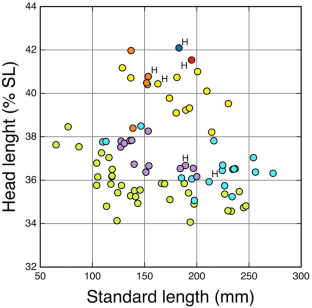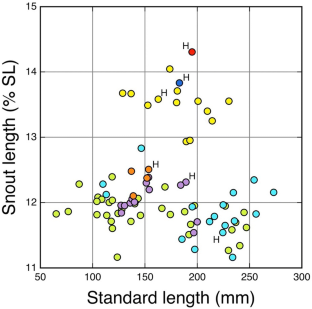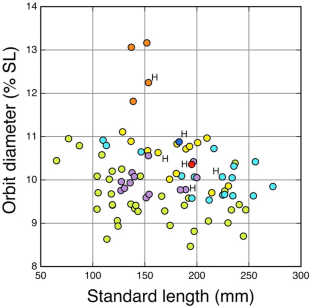 References
Cuvier G, Valenciennes A (1829) Histoire naturelle des poissons. Tome quatrième. Livre quatrième. Des acanthoptérygiens à joue cuirassée. FG Levrault, Paris

Fricke R, Eschmeyer WN (2018) A guide to fish collections in the catalog of fish. Electronic version, updated 31 January 2018. http://researcharchive.calacademy.org/research/ichthyology/catalog/collections.asp. Accessed 14 February 2018

Imamura H, Knapp LW (1997) New species of a deepwater flathead, Bembras adenensis from the western Indian Ocean (Scorpaeniformes: Bembridae). Ichthyol Res 44:9–13

Imamura H, Knapp LW (1998) Review of the genus Bembras Cuvier, 1829 (Scorpaeniformes: Bembridae) with description of three new species collected from Australia and Indonesia. Ichthyol Res 45:165–178

Knapp LW (1979) Fische des Indischen Ozeans. Ergebnisse der ichthyologischen Untersuchungen wahrend der Expedition des Forschungsschiffes 'Meteor' in den Indischen Ozean, Oktober1964 bis 1965. A. Systematischer Teil, 22. Scorpaeniformes (4). Meteor Forsch-Ergebnisse (Biol) 29:48–54

Knapp LW (1986) Family No 155: Platycephalidae. In: Smith MM, Heemstra PC (eds) Smiths' sea fishes. Macmillan, Johannesburg, pp 482–486
Acknowledgements
The EAF-Nansen Project is acknowledged for providing us with the opportunity to work with material of Bembras collected during the R/V Dr. Fridtjof Nansen Myanmar survey. We are grateful also to Jens-Otto Krakstad and Oddgeir Alvheim (Institute of Marine Research, Norway), and the crew and personnel involved in the Myanmar Nansen survey. We are deeply indebted to J Paxton and M McGrouther (AMS), A-M Woolger (formerly BMNH), D Catania and T Iwamoto (CAS), PR Last and A Graham (CSIRO), S Kimura (FRLM), HK Larson and R Williams (formerly NTM), RJ McKay (formerly QM), J Williams (USNM), D Nelson (UMMZ) and H Wilkens (ZMH) for making specimens available, and to GS Hardy (Ngunguru, New Zealand) for English corrections. This study was partly supported by JSPS KAKENHI Grant Number 2544019603 and "Japan Society for the Promotion of Science (JSPS) Asian Core Program—Establishment of research and education network on coastal marine science in Southeast Asia" funded to the first author (HI).
Additional information
This article was registered in the Official Register of Zoological Nomenclature (ZooBank) as 513182C5-0EB0-438C-85AA-27338C25E156.
This article was published as an Online First article on the online publication date shown on this page. The article should be cited by using the doi number.
About this article
Cite this article
Imamura, H., Psomadakis, P.N. & Thein, H. Two new species of deepwater flathead Bembras Cuvier, 1829 from the Andaman Sea, eastern Indian Ocean. Ichthyol Res 65, 488–495 (2018). https://doi.org/10.1007/s10228-018-0639-2
Received:

Revised:

Accepted:

Published:

Issue Date:
Keywords
Bembras leslieknappi sp. nov.
Bembras andamanensis sp. nov.

Description

Bembridae

Myanmar