Abstract
A taxonomic review of the clingfish genus Kopua (Gobiesocidae: Trachelochisminae) in Japan recognizes three species: K. japonica Moore, Hutchins and Okamoto 2012, K. vermiculata Shinohara and Katayama 2015 and K. yoko sp. nov. Kopua japonica and K. vermiculata are redescribed with revised diagnoses on the basis of 20 specimens (10.4–30.4 mm standard length; SL) and the holotype, respectively. Kopua japonica is similar to K. vermiculata in head sensory pore characters (normally single nasal and postocular canal pores). However, the former differs distinctly from the latter as follows: 6–8 (modally 7) gill rakers (vs. 4 or 6); 31–33 (33) vertebrae (vs. 35); anus slightly closer to posterior margin of disc than to anal-fin origin (vs. much closer to posterior margin of disc); snout length 5.3–8.7 (mean 7.0) % SL (vs. 9.2 % SL); disc length 21.2–24.0 (22.8) % SL (vs. 18.8 % SL); pre-dorsal- and anal-fin lengths 72.9–78.4 (75.2) and 78.1–82.8 (80.1) % SL, respectively (vs. 67.5 and 73.6 % SL); and two stripes on cheek (vs. a triangular blotch). Kopua yoko sp. nov., based on 14 specimens (17.7–28.8 mm SL) from the Pacific coast of southern Japan, Sea of Japan and the East China Sea, is characterized by the following combination of characters: 6 or 7 (modally 6) dorsal-fin rays; 4–6 (5) anal-fin rays; 21 or 22 (21) pectoral-fin rays; 4–6 (5 or 6) gill rakers; 31–33 (31) vertebrae; a single (rarely two) nasal canal pores; two lacrimal and preopercular canal pores; snout length 6.5–7.9 (mean 7.1) % SL; gill opening depth 5.8–7.1 (6.5) % SL; least interorbital width 2.0–3.7 (2.6) % SL; disc length 20.3–25.0 (23.1) % SL, disc region D without flattened papillae; caudal-peduncle depth 8.1–10.2 (9.2) % SL; anus slightly closer to posterior margin of disc than to anal-fin origin; pre-dorsal- and anal-fin lengths 71.6–77.1 (73.9) and 77.0–83.7 (80.4) % SL, respectively; post-dorsal-caudal length 12.6–15.0 (13.8) % SL; arch-shaped blotches on lateral aspect of body; and two reddish-orange stripes on cheek. Morphological changes with growth in K. japonica and K. yoko sp. nov. are also described.
This is a preview of subscription content, log in to check access.
Access options
Buy single article
Instant access to the full article PDF.
US$ 39.95
Price includes VAT for USA
Subscribe to journal
Immediate online access to all issues from 2019. Subscription will auto renew annually.
US$ 99
This is the net price. Taxes to be calculated in checkout.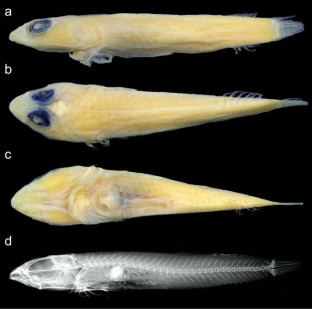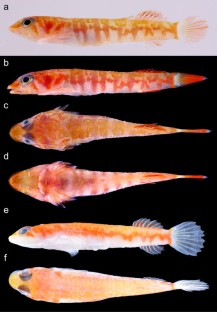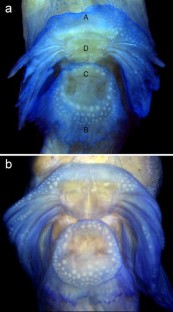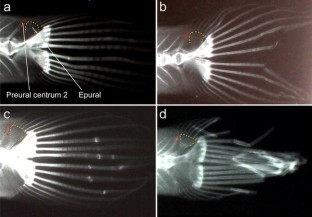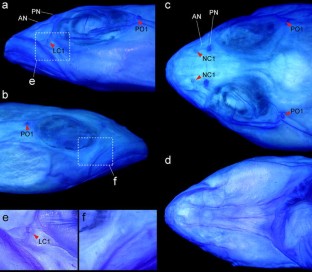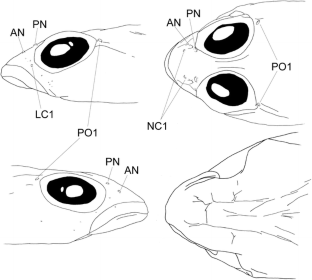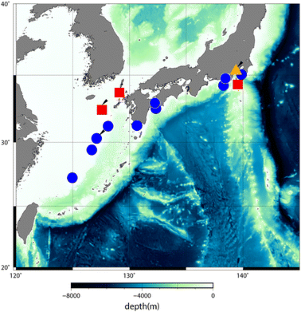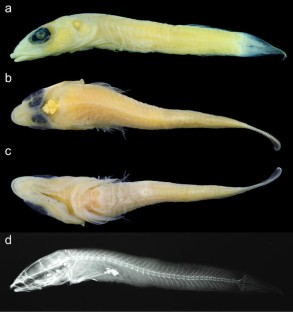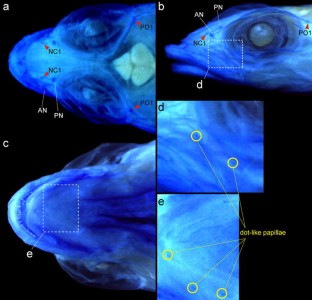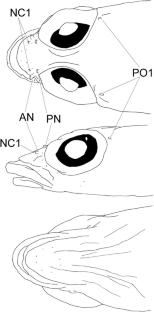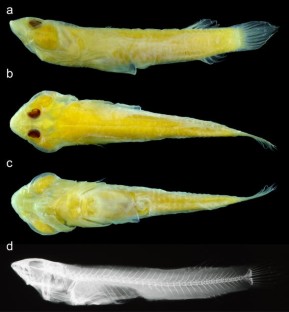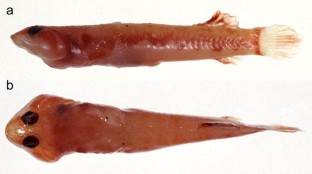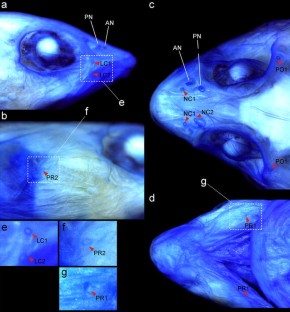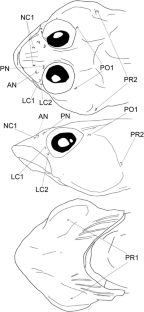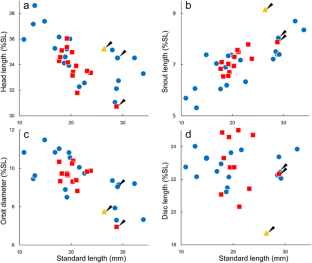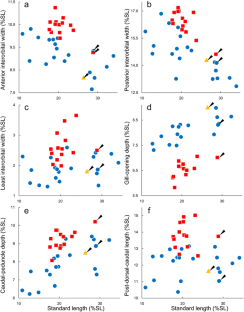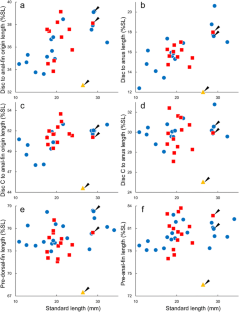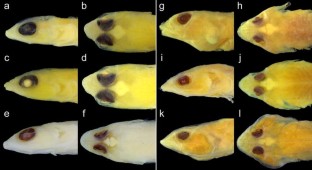 References
Amante C, Eakins BW (2009) ETOPO1 1 arc-minute global relief model: procedures, data sources and analysis. NOAA Technical Memorandum NESDIS NGDC-24, March 2009. http://www.ngdc.noaa.gov/mgg/global/. Accessed 18 June 2016

Briggs JC (1955) A monograph of the clingfishes (order Xenopterygii). Stanford Ichthyol Bull 6:1–244

Conway KW, Stewart AL, King C (2017) A new species of the clingfish genus Trachelochismus from bay and estuarine areas of New Zealand (Teleostei: Gobiesocidae). Zootaxa 4319:531–549

Fujiwara K, Motomura H (2018) Revised Diagnosis and First Northern Hemisphere Records of the Rare Clingfish Lepadichthys akiko (Gobiesocidae: Diademichthyinae). Species Divers 23: in press

Hardy GS (1984) A new genus and species of deepwater clingfish (family Gobiesocidae) from New Zealand. Bull Mar Sci 34:244–247

Hayashi M, Hayashi H (1985) Two new records of gobiesocid fishes from Japan, and the morphological study of their key characters. Sci Rep Yokosuka City Mus 33:49–67

Hubbs CL, Lagler KF (1958) Fishes of the Great Lakes Region. University of Michigan Press, Ann Arbor

Hutchins JB (1991) Description of a new deepwater clingfish (Gobiesocidae) from New South Wales. Rec West Aust Mus 15:463–468

Hutchins JB (2008) Family Gobiesocidae. In: Gomon MF, Bray DJ, Kuiter R (eds) Fishes of Australia's southern coast. New Holland Publishers, Melbourne, pp 722–742

Ikeda H, Nakabo T (2015) Fishes of the Pacific coasts of southern Japan. Tokai University Press, Hadano

Jordan DS, Fowler HW (1902) A review of the cling-fishes (Gobiesocidae) of the waters of Japan. Proc U S Natl Mus 25:413–416

McGrouther M (2012) Deepwater Clingfish, Kopua kuiteri Hutchins, 1991. http://australianmuseum.net.au/Deepwater-Clingfish-Kopua-kuiteri#sthash.yHYsoZwK.dpuf. Accessed 21 December 2017

Moore GI, Hutchins JB, Okamoto M (2012) A new species of the deepwater clingfish genus Kopua (Gobiesociformes: Gobiesocidae) from the East China Sea—an example of antitropicality? Zootaxa 3380:34–38

Okamoto M, Todate M (2014) Record of a deepwater clingfish, Kopua japonica (Gobiesociformes: Gobiesocidae) from off Omaezaki, Shizuoka Prefecture, Japan, with notes on rearing in an aquarium. Bull biogeogr Soc Jpn 69:179–184

Saruwatari T, Lopez JA, Pietsch TW (1997) Cyanine Blue: a versatile and harmless stain for specimen observation. Copeia 1997:840–841

Shiogaki M, Dotsu Y (1983) Two new genera and two new species of clingfishes from Japan, with comments on head sensory canals of the Gobiesocidae. Jpn J Ichthyol 30:111–121

Shinohara G, Katayama E (2015) A new species of the clingfish genus Kopua (Gobiesociformes: Gobiesocidae) from Japan. Ichthyol Res. https://doi.org/10.1007/s10228-015-0456-9

Smith-Vaniz WF (1971) Another new species of the clingfish genus Derilissus from the Western Atlantic (Pisces: Gobiesocidae). Copeia 1971:291–294

Waite ER (1904) Additions to the fish fauna of Lord Howe Island, no 4. Rec Aust Mus 5:135–186, pls. 17–24

Wessel P, Smith WHF (1996) A global self-consistent, hierarchical, high-resolution shoreline database. J Geophys Res Solid Earth 101 (B4): 8741–8743
Acknowledgements
We are deeply grateful to H. Endo (BSKU), G. Shinohara (NSMT), M. Nakae (NSMT), K. Hoshino (SNFR), G. I. Moore (WAM) and K. Hagiwara (YCM) for providing opportunities to examine specimens; H. Senou (Kanagawa Prefectural Museum of Natural History, Japan) for his assistance in taking x-rays; Y. Kaji (WMNH) for providing information on specimens in WMNH; and H. Takahashi (National Fisheries University) for his assistance in taking photomicrographs. Y. Haraguchi (KAUM) and other volunteers and students of KAUM provided curatorial assistance, and G. S. Hardy (Ngunguru, New Zealand) read the manuscript and provided help with English. We thank K. W. Conway (Texas A&M University) for reviewing the manuscript. This study was supported in part by JSPS KAKENHI Grant Numbers JP19770067, JP26241027, JP24370041, JP23580259, and JP26450265; the JSPS Core-to-Core Program: B Asia-Africa Science Platforms; the "Biological Properties of Biodiversity Hotspots in Japan" project of the National Museum of Nature and Science, Tsukuba, Japan; "Establishment of Research and Education Network on Biodiversity and Its Conservation in the Satsunan Islands" project of Kagoshima University adopted by the Ministry of Education, Culture, Sports, Science and Technology, Japan; and the "Island Research" project of Kagoshima University.
Additional information
This article was registered in the Official Register of Zoological Nomenclature (ZooBank) as 252162C2-67F8-4139-A1E5-93BA8C00DE78.
This article was published as an Online First article on the online publication date shown on this page. The article should be cited by using the doi number.
About this article
Cite this article
Fujiwara, K., Okamoto, M. & Motomura, H. Review of the clingfish genus Kopua (Gobiesocidae: Trachelochisminae) in Japan, with description of a new species. Ichthyol Res 65, 433–453 (2018). https://doi.org/10.1007/s10228-018-0633-8
Received:

Revised:

Accepted:

Published:

Issue Date:
Keywords
Kopua japonica
Kopua vermiculata
Kopua yoko

Diagnosis

Ontogenetic changes