Abstract
A new species of rockfish, Sebastiscus vibrantus, is described on the basis of 24 specimens collected from Bali, Indonesia and Taiwan. Although closely resembling Sebastiscus tertius (Barsukov and Chen 1978) in overall body appearance, and having usually 19 pectoral-fin rays and black margined white blotches scattered on the lateral body surface, the new species has thicker unbranched pectoral-fin rays, a greater pectoral-fin base length, the third dorsal-fin soft ray usually longest, the anterior margin of the scaled suborbital area not reaching level the anterior margin of the orbit, and weakly developed nuchal spines.
This is a preview of subscription content, log in to check access.
Access options
Buy single article
Instant access to the full article PDF.
US$ 39.95
Price includes VAT for USA
Subscribe to journal
Immediate online access to all issues from 2019. Subscription will auto renew annually.
US$ 99
This is the net price. Taxes to be calculated in checkout.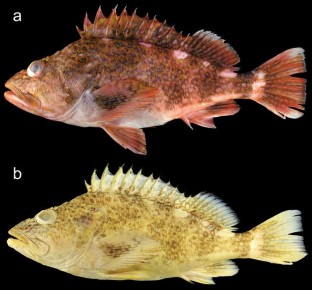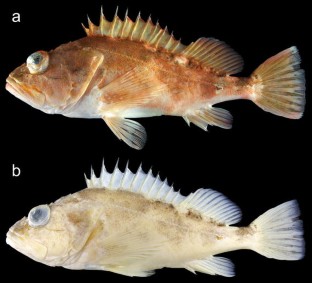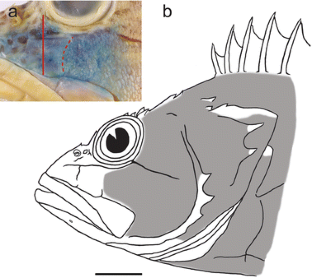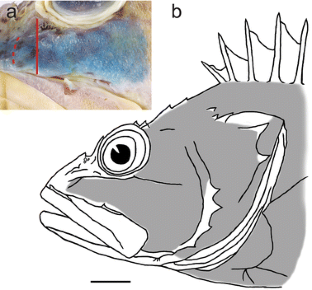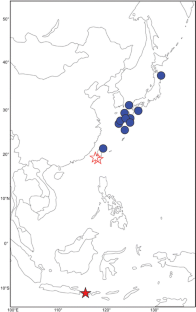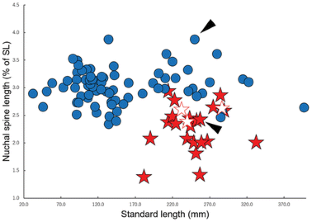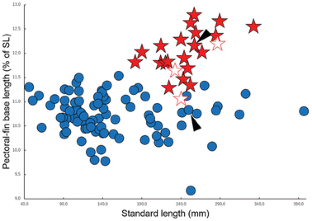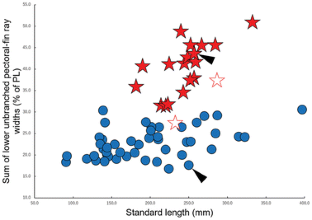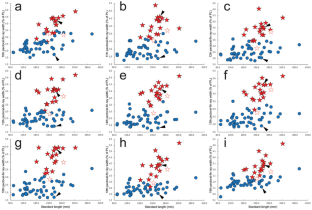 References
Barsukov VV, Chen L-C (1978) Review of the subgenus Sebastiscus (Sebastes, Scorpaenidae) with a description of a new species. Vopr Ichtiol 18:195–210

Cuvier G, Valenciennes A (1829) Histoire naturelle des poissons. Livre quatrième. Des acanthoptérygiens à joue cuirassée. Vol 4. Levrault, Paris

Jordan DS, Starks EC (1904) A review of the scorpaenoid fishes of Japan. Proc US Natl Mus 27:91–175

Lacepède, BGE (1802) Histoire naturelle des poissons. Vol 4. Plassan, Paris

Matsubara K (1943a) Studies on the scorpaenoid fishes of Japan. Anatomy, phylogenya and taxonomy (I). Trans Shigenkagaku Kenkyusyo 1:1–170

Matsubara K (1943b) Studies on the scorpaenoid fishes of Japan. Anatomy, phylogenya and taxonomy (I). Trans Shigenkagaku Kenkyusyo 2:171–485

Motomura H (2004a) New species of scorpionfish, Scorpaena cocosensis (Scorpaeniformes: Scorpaenidae) from the Cocos Islands, Costa Rica, eastern Pacific Ocean. Copeia 2004:818–824

Motomura H (2004b) Revision of the scorpionfish genus Neosebastes (Scorpaeniformes: Neosebastidae), with descriptions of five new species. Indo–Pac Fish 37:1–76

Motomura H, Ishikawa S (2013) Fish collection building and procedures manual. English edition. Kagoshima University Museum, Kagoshima and Research Institute for Humanity and Nature, Kyoto. Available at http://www.museum.kagoshima-u.ac.jp/staff/motomura/dl_en.html

Motomura H, Johnson JW (2006) Validity of the poorly known scorpionfish, Rhinopias eschmeyeri, with redescriptions of R. frondosa and R. aphanes (Scorpaeniformes: Scorpaenidae). Copeia 2006:500–515

Motomura H, Fricke R, Eschmeyer WN (2005a) Redescription of a poorly known scorpionfish, Scorpaena canariensis (Sauvage), and a first record of Pontinus leda Eschmeyer from the Northern Hemisphere (Scorpaeniformes: Scorpaenidae). Stuttg Beitr Naturkunde Ser A (Biol) 674:1–15

Motomura H, Last PR, Yearsley GK (2005b) Scorpaena bulacephala, a new species of scorpionfish (Scorpaeniformes: Scorpaenidae) from the northern Tasman Sea. Zootaxa 1043:17–32

Motomura H, Paulin CD, Stewart AL (2005c) First records of Scorpaena onaria (Scorpaeniformes: Scorpaenidae) from the southwestern Pacific Ocean, and comparisons with the Northern Hemisphere population. N Z J Mar Freshwater Res 39:865–880

Motomura H, Last PR, Gomon MF (2006a) A new species of the scorpionfish genus Maxillicosta from the southeast coast of Australia, with a redescription of M. whitleyi (Scorpaeniformes: Neosebastidae). Copeia 2006:445–459

Motomura H, Last PR, Yearsley GK (2006b) New species of shallow water scorpionfish (Scorpaenidae: Scorpaena) from the central coast of Western Australia. Copeia 2006:360–369

Motomura H, Causse R, Struthers CD (2012) Phenacoscorpius longilineatus, a new species of deepwater scorpionfish from the southwestern Pacific Ocean and the first records of Phenacoscorpius adenensis from the Pacific Ocean (Teleostei: Scorpaenidae). Species Divers 17:151–160

Nakabo T, Kai Y (2013) Sebastidae. In: Nakabo T (ed) Fishes of Japan with pictorial keys to the species, third edition. Tokai University Press, Hadano, pp 1933–1938

Poss SG (1999) Scorpaenidae. Scorpionfishes. In: Carpenter KE, Niem KE (eds) FAO species identification guide for fisheries purposes. The living marine resources of the western central pacific, vol. 4. Bony fishes part 2 (Mugilidae to Carangidae). FAO, Rome, pp 2291–2352

Randall JE, Eschmeyer WN (2002) Revision of the Indo-Pacific scorpionfish genus Scorpaenopsis, with descriptions of eight new species. Indo-Pacif Fish 34:1–79

White WT, Last PR, Dharmadi, Fraizah R, Chodrijah U, Prisantoso BI, Pogonoski JJ, Purckridge M, Blaber SJM (2013) Market fishes of Indonesia. ACIAR Monograph no 155. Australian Centre for International Agricultural Research, Canberra
Acknowledgements
We are especially grateful to A. Graham (CSIRO), H.-C. Ho and K. Koeda (NMMB), G. Shinohara and M. Nakae (NSMT), K. Wibowo (Research Center for Oceanography, LIPI, Indonesia), and R. K Hadiaty (MZB) for specimen loans and their assistance in collecting specimens. We also appreciate M. Matsunuma (Kindai University, Japan) for examining type specimens of S. tertius, H. Hata, Y. Haraguchi and other volunteers and students of KAUM for their kind assistance, and G. Hardy (Ngunguru, New Zealand) for reading the manuscript and providing help with English. This study was supported in part by JSPS KAKENHI Grant Numbers JP19770067, JP26241027, JP24370041, JP23580259, and JP26450265; the JSPS Core-to-Core Program: B Asia-Africa Science Platforms; the "Biological Properties of Biodiversity Hotspots in Japan" project of the National Museum of Nature and Science, Tsukuba, Japan; "Establishment of Research and Education Network on Biodiversity and Its Conservation in the Satsunan Islands" project of Kagoshima University adopted by the Ministry of Education, Culture, Sports, Science and Technology, Japan; and the "Island Research" project of Kagoshima University.
Additional information
This article was registered in the Official Register of Zoological Nomenclature (ZooBank) as 252162C2-67F8-4139-A1E5-93BA8C00DE78.
This article was published as an Online First article on the online publication date shown on this page. The article should be cited by using the doi number.
About this article
Cite this article
Morishita, S., Kawai, T. & Motomura, H. Sebastiscus vibrantus, a new species of rockfish (Sebastidae) from Indonesia and Taiwan. Ichthyol Res 65, 423–432 (2018). https://doi.org/10.1007/s10228-018-0632-9
Received:

Revised:

Accepted:

Published:

Issue Date:
Keywords
Morphology

Description

Teleostei

Sebastiscus tertius

Bali