Abstract
A new species of snailfishes, Careproctus iacchus, is described on the basis of three specimens collected from the Seas of Japan and Okhotsk. Among the species of Careproctus, the new species is most similar to Careproctus comus and Careproctus faunus, both known from the Aleutian Islands, in having a variegated body coloration. However, it can be distinguished in having 44–46 dorsal- and 39–40 anal-fin rays (vs. 50–56 and 44–50 in C. comus and 47–51 and 41–45 in C. faunus, respectively), a pectoral fin without a notch (vs. both with a shallow notch), no interradial fenestra between proximal radials two and three in the pectoral girdle (vs. both having a fenestra between proximal radials two and three), a gill slit entirely above the pectoral fin (extending to just above the pectoral fin or to 1–5th ray), a body with many white spots (vs. mottled with red and white), and a large white blotch on cheek (vs. no distinct markings on cheek) when fresh.
This is a preview of subscription content, log in to check access.
Access options
Buy single article
Instant access to the full article PDF.
US$ 39.95
Price includes VAT for USA
Subscribe to journal
Immediate online access to all issues from 2019. Subscription will auto renew annually.
US$ 99
This is the net price. Taxes to be calculated in checkout.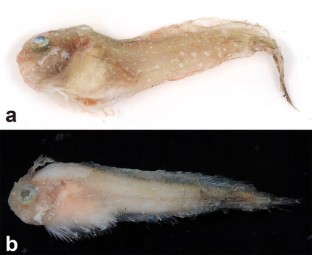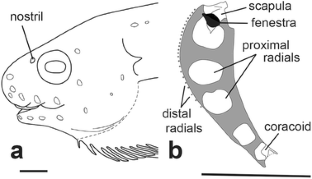 References
Chernova NV, Stein DL, Andriashev AP (2004) Family Liparidae Scopoli 1777—Snailfishes. Calif Acad Sci Annot Checklist Fish 31:1–72

Gardner JR, Orr JW, Stevenson DE, Spies I, Somerton DA (2016) Reproductive parasitism between distant phyla: molecular identification of snailfish (Liparidae) egg masses in the gill cavities of king crabs (Lithodidae). Copeia 104: 645–657

Gerringer ME, Linley TD, Jamieson AJ, Goetze E, Drazen JC (2017) Pseudoliparis swirei sp. nov.: A newly-discovered hadal snailfish (Scorpaeniformes: Liparidae) from the Mariana Trench. Zootaxa 4358:161–177

Gilbert CH, Burke CV (1912a) Fishes from Bering Sea and Kamchatka. Bull Bureau Fish 30: 31–96

Gilbert CH, Burke CV (1912b) New cyclogasterid fishes from Japan. Proc US Natl Mus 42: 351–380

Kai Y, Orr JW, Sakai K, Nakabo T (2011) Genetic and morphological evidence for cryptic diversity in the Careproctus rastrinus species complex (Liparidae) of the North Pacific. Ichthyol Res 58: 143–154

Kawamura K, Hosoya K (1991) A modified double staining technique for making a transparent fish-skeletal specimen. Bull Natl Res Inst Aquac (20): 11–18

Kido K (1985) New and rare species of the genus Careproctus (Liparididae) from the Bering Sea. Jpn J Ichthyol 32:6–17

Kido K (1988) Phylogeny of the family Liparididae, with the taxonomy of the species found around Japan. Mem Fac Fish Hokkaido Univ 35:1–125

Krøyer HN (1862) Nogle Bidrag til Nordisk ichthyologi. Naturhist Tidsskr (Kjøbenhavn) (Ser 3) 1:233–310

Kumar S, Stecher G, Tamura K (2016) MEGA7: Molecular Evolutionary Genetics Analysis version 7.0 for bigger datasets. Mol Biol Evol 33:1870–1874

Mecklenburg CW, Mecklenburg TA, Thorsteinson LK (2002) Fishes of Alaska. American Fisher Soc, Bethesda, Maryland

Murasaki K, Takami M, Fukui A (2017) Careproctus surugaensis sp. nov. (Liparidae), a new snailfish from Suruga Trough, Japan. Ichthyol Res. https://doi.org/10.1007/s10228-017-0611-6

Orr JW (2016) Two new species of snailfishes of the genus Careproctus (Liparidae) from the Aleutian Islands, Alaska. Copeia 104:890–896

Orr JW, Busby MS (2006) Revision of the snailfish genus Allocareproctus Pitruk & Fedorov (Teleostei: Liparidae), with descriptions of four new species from the Aleutian Islands. Zootaxa 1173:1–37

Orr JW, Maslenikov KP (2007) Two new variegated snailfishes of the genus Careproctus (Teleostei: Scorpaeniformes: Liparidae) from the Aleutian Islands, Alaska. Copeia 2007:699–710

Orr JW, Kai Y, Nakabo T (2015) Snailfishes of the Careproctus rastrinus complex (Liparidae): redescriptions of seven species in the North Pacific Ocean region, with the description of a new species from the Beaufort Sea. Zootaxa 4018:301–348

Rabosky DL, Santini F, Eastman J, Smith SA, Sidlauskas B, Chang J, Alfaro ME (2013) Rates of speciation and morphological evolution are correlated across the largest vertebrate radiation. Nat Commun 4:1958. https://doi.org/10.1038/ncomms2958

Sakurai H, Shinohara G (2008) Careproctus rotundifrons, a new snailfish (Scorpaeniformes: Liparidae) from Japan. Bull Natl Mus Nat Sci Ser A Suppl 2:39–45

Stein DL (2012) Snailfishes (family Liparidae) of the Ross Sea, Antarctica, and closely adjacent waters. Zootaxa 3285:1–120

Tohkairin A, Hamatsu T, Yoshikawa A, Kai Y, Nakabo T (2015) An illustrated and annotated checklist of fishes on Kitami-Yamato Bank, southern Sea of Okhotsk. Publ Seto Mar Biol Lab (43):1–29
Acknowledgements
We greatly appreciate the captains and crews of R/V Mizuho-maru, Kaiyo-maru No. 5, and Tansei-maru for the collection of new species. Our appreciation is also extended to G. Shinohara and M. Nakae (NSMT), M. Yabe, H. Imamura, and T. Kawai (HUMZ), J. T. Williams, D.G. Smith, S. Raredon, and K. Murphy (USNM) for access to collections, and K. P. Maslenikov (UW) for the loan of specimens. J. W. Orr (NOAA, Alaska Fisheries Science Center) provided the X-rays of paratypes of C. comus and C. faunus and critically reviewed the manuscript.
Additional information
This article was registered in the Official Register of Zoological Nomenclature (ZooBank) as CCE5895A-8996-4235-B831-B5274745BD54.
This article was published as an Online First article on the online publication date shown on this page. The article should be cited by using the doi number.
About this article
Cite this article
Kai, Y., Tohkairin, A., Fujiwara, K. et al. Careproctus iacchus, a new variegated snailfish (Liparidae) from the Seas of Japan and Okhotsk. Ichthyol Res 65, 417–422 (2018). https://doi.org/10.1007/s10228-018-0626-7
Received:

Revised:

Accepted:

Published:

Issue Date:
Keywords
Careproctus comus
Careproctus faunus

New species

COI

Western North Pacific