Abstract
A new deepwater assfish, Bassozetus nielseni sp. nov., is described from 29 specimens [147–615 mm in standard length (SL)] collected from the North Atlantic and West Indian oceans. It is distinguished from 13 congeners by the following combination of characters: dorsal-fin rays 122–129, long rakers on first gill arch 11–14, oblique scales 20–25, abdominal vertebrae 13–14, head length 18.1–21.3 % SL, body depth at anal-fin origin 8.2–14.6 % SL, predorsal length 16.4–20.1 % SL, tail length 62.7–68.0 % SL, posterior tip of pelvic-fin rays anterior to anus, a single median basibranchial tooth patch, dorsal margin of sagittal otolith smooth, and fins pale yellowish brown (preserved condition).
This is a preview of subscription content, log in to check access.
Access options
Buy single article
Instant access to the full article PDF.
US$ 39.95
Price includes VAT for USA
Subscribe to journal
Immediate online access to all issues from 2019. Subscription will auto renew annually.
US$ 99
This is the net price. Taxes to be calculated in checkout.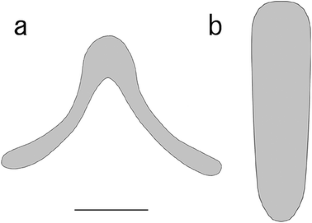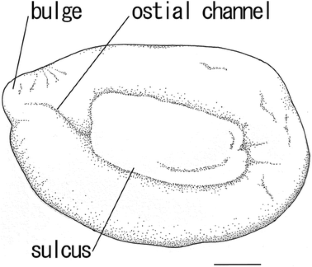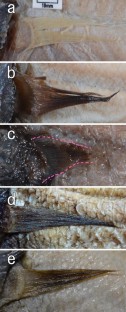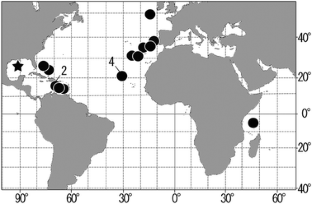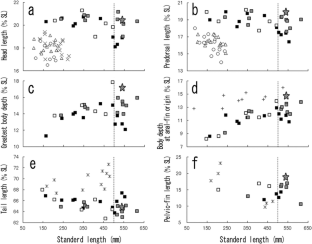 References
Alcock AW (1890) Natural history notes from H. M. Indian Marine survey steamer "Investigator", Commander R. F. Hoskyn, R. N., commanding. –No 16. On the bathybial fishes collected in the Bay of Bengal during the season 1889–1890. Ann Mag Nat Hist Ser 6 6:197–222

Cohen DM, Nielsen JG (1978) Guide to the identification of genera of the fish order Ophidiiformes with a tentative classification of the order. NOAA Tech Rep NMFS Circ 417:1–72

Fricke R, Eschmeyer WN (2017) A guide to fish collections in the catalog of fish, electronic version, updated 31 August 2017. http://researcharchive.calacademy.org/research/ichthyology/catalog/collections.asp. Accessed 5 September 2017

Garman S (1899) Reports on an exploration off the west coast of Mexico, Central and South America, and off the Galapagos Islands, in charge of Alexander Agassiz, by the U.S. Commission steamer "Albatross", during 1891. The fishes. Mem Mus Comp Zool Harv 24:1–431

Gill TN (1883) Diagnosis of new genera and species of deep-sea fish-like vertebrates. Proc US Natl Mus 6:253–260

Günther A (1878) Preliminary notice of deep-sea fishes collected during the voyage of H.M.S. Challenger. Ann Mag Nat Hist Ser 5 2:17–28, 179–187, 248–251

Günther A (1887) Report on the deep-sea fishes collected by H.M.S. Challenger during the years 1873–76. Rep Sci Res Voy H.M.S. Challenger during the years 1873–76. Zool 22:i–lxv + 1–335, 73 pls

Hubbs CL, Lagler KF (1958) Fishes of the Great Lakes region. Bull Cranbrook Inst Sci 26:1–213, 44 pls

Machida Y (1989) A new deep-sea ophidiid fish, Bassozetus levistomatus, from the Izu-Bonin Trench, Japan. Jpn J Ichthyol 36:87–189

Nielsen JG, Merrett NR (2000) Revision of the cosmopolitan deep-sea genus Bassozetus (Pisces: Ophidiidae) with two new species. Galathea Rep 18:7–56, 1 pl

Nielsen JG, Møller PR (2008) New and rare deep-sea ophidiiform fishes from the Solomon Sea caught by the Danish Galathea 3 Expedition. Steenstrupia 30:21–46

Nielsen JG, Cohen DM, Markle DF, Robins CR (1999) Ophidiiform fishes of the world (other Ophidiiformes). FAO species catalogue vol 18. FAO, Rome

Ohashi S, Shinohara G (2015) An additional record of Bassozetus levistomatus Machida 1989 from the western North Pacific (Teleostei, Ophidiiformes, Ophidiidae). Bull Natl Mus Nat Sci Ser A Zool 41:69–75

Radcliffe L (1913) Descriptions of seven new genera and thirty-one new species of fishes of the families Brotulidae and Carapidae from the Philippine Islands and the Dutch East Indies. Proc US Natl Mus 44:135–176

Rass TS (1955) Deepsea fishes of the Kurile-Kamchatka trench. Trud Inst Okeanol 12:328–339

Shcherbachev YN (1980) Preliminary review of deep-sea ophidiids (Ophidiidae, Ophidiiformes) of the Indian Ocean. Trud Inst Okeanol 110:105–176

Takami M, Tomiyama S, Fukui A (2011) First record of a deep-sea ophidiid fish, Bassozetus robustus, from Japan. Jpn J Ichthyol 58:177–180

Tomiyama S, Takami M, Fukui A (2011) First record of a deep-sea ophidiid fish, Bassozetus glutinosus, from Japan. Jpn J Ichthyol 58:93–97

Tomiyama S, Takami M, Fukui A (2015) Redescription of Bassozetus compressus (Günther 1878), a senior synonym of Bassozetus elongatus Smith and Radcliffe 1913 (Ophidiiformes: Ophidiidae). Ichthyol Res https://doi.org/10.1007/s10228-015-0491-6 (also appeared in Ichthyol Res 63:218–226)

Tomiyama S, Takami M, Fukui A (2016) A new deepwater assfish, Bassozetus mozambiquensis sp. nov. (Ophidiiformes: Ophidiidae), from the western Indian Ocean. Ichthyol Res https://doi.org/10.1007/s10228-016-0527-6 (also appeared in Ichthyol Res 64:13–17)

Vaillant LL (1888) Expéditions scientifiques du "Travailleur" et du "Talisman" pendant les années 1880, 1881, 1882, 1883. Poissons. G. Masson, Paris
Acknowledgments
We are most grateful to the following for specimen loans: P.-L. Lin (ASIZP), J. Maclaine and T. Heath (BMNH), H. Endo and N. Nakayama (BSKU), P. Pruvost, R. Casse and Z. Gobsi (MNHN), G. Shinohara (NSMT), D. Catania (CAS), J.T. Williams and S.J. Raredon (USNM), J.G. Nielsen and T. Menne (ZMUC) and E.J. Hilton (VIMS). We also thank J.G. Nielsen, W. Schwarzhans (Hamburg, Germany) and two anonymous reviewers for helpful comments and G. S. Hardy (Ngunguru, New Zealand) for his critical reading of the manuscript. This study was supported in part by a Grant-in-Aid for Promotion of Scientific Research (C) (no. 25450280) from the Ministry of Education, Culture, Sports, Science and Technology, Japan, to the third author (AF).
Additional information
This article was registered in the Official Register of Zoological Nomenclature (ZooBank) as FAD96391-83D7-4F60-BEDB-5061C8F23207.
This article was published as an Online First article on the online publication date shown on this page. The article should be cited by using the doi number.
About this article
Cite this article
Tomiyama, S., Takami, M. & Fukui, A. A new deepwater assfish, Bassozetus nielseni sp. nov. (Ophidiiformes: Ophidiidae), from the North Atlantic and West Indian oceans. Ichthyol Res 65, 353–362 (2018). https://doi.org/10.1007/s10228-018-0620-0
Received:

Revised:

Accepted:

Published:

Issue Date:
Keywords
Bassozetus compressus
Bassozetus elongatus

Neobythitinae

New species

Nielsen's assfish

Sexual dimorphism