Abstract
A new mirror dory, Zenopsis filamentosa, is described from specimens collected off the Pacific coast of southern Japan (Mie and Tosa Bay), the Kyushu-Palau Ridge, Fiji, and Tonga. Within Zenopsis, the new species is most similar to Zenopsis nebulosa, widely distributed in the Pacific Ocean, in having nine dorsal-fin spines and similar buckler numbers along the anal-fin base. However, it can be distinguished from the latter in having 24–27 (modally 26) dorsal-fin soft rays (vs. 25–28, modally 27 in Z. nebulosa), 24–25 (usually 25) anal-fin rays (vs. 25–27, usually 26), filamentous membranes extending from the spinous portion of the dorsal fin, of length more than twice SL (vs. moderately elongated, not exceeding the caudal-fin posterior margin when adpressed); 6–9 (modally 7) bucklers between the pelvic and anus (vs. 7–10, modally 8), no bucklers above the anal-fin spines (vs. a small buckler present), and the pelvic fin with three to five dark stripes of all sizes (vs. lacking distinct markings in specimens >ca. 100 mm SL). Sequence variations on the mitochondrial DNA COI region demonstrated the validity of each species. Zenopsis nebulosa is redescribed, on the basis of western and Central Pacific Ocean specimens.
This is a preview of subscription content, log in to check access.
Access options
Buy single article
Instant access to the full article PDF.
US$ 39.95
Price includes VAT for USA
Subscribe to journal
Immediate online access to all issues from 2019. Subscription will auto renew annually.
US$ 99
This is the net price. Taxes to be calculated in checkout.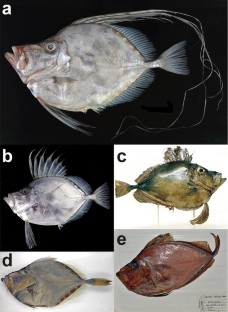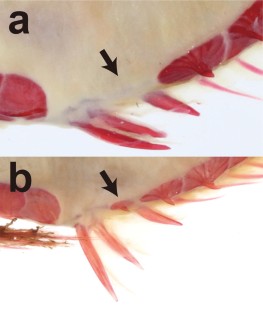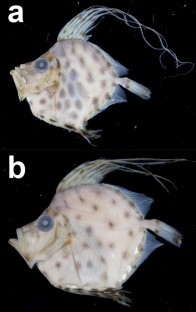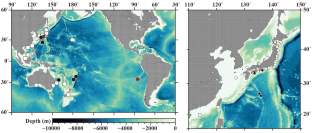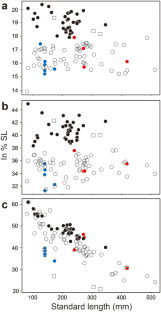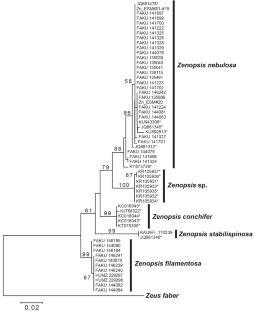 References
Amaoka K, Nakaya K, Yabe M (2011) Fishes of Hokkaido. The Hokkaido Shimbun Press, Sapporo

Boeseman M (1947) Revision of the fishes collected by Burger and von Siebold in Japan. Zool Meded 28:i–vii + 1–242, pl 1–5

Bray DJ (2008) Family Zeidae, Dories. In: Gomon MF, Bray DJ, Kuiter RH (eds) Fishes of Australia's southern coast. Reed New Holland, Sydney, pp 438–440

Bray DJ (2015) Family Zeidae, Dories. In: Roberts CD, Stewart AL, Struthers CD (eds) The fishes of New Zealand. Te Papa Press, Wellington, pp 1026–1028

Felsenstein J (1981) Evolutionary trees from DNA sequences – a maximum-likelihood approach. J Mol Evol 17:368–376

Folmer O, Black M, Hoeh W, Lutz R, Vrijenhoek R (1994) DNA primers for amplification of mitochondrial cytochrome c oxidase subunit I from diverse metazoan invertebrates. Mol Mar Biol Biotechnol 3:294–299

Fowler HW (1928) The fishes of Oceania. Mem Bernice P Bishop Mus (10):i–iii + 1–540, pls 1–49

Fricke R, Eschmeyer WN, van der Laan R (eds) (2018) Catalog of fishes: genera, species, references. Online version, updated 3 December 2018. http://researcharchive.calacademy.org/research/ichthyology/catalog/fishcatmain.asp. Accessed 23 December 2018

Gill TN (1862) On the limits and arrangement of the family of scombroids. Proc Acad Natl Sci Phila 14:124–127

Gloerfelt-Tarp T, Kailola PJ (1984) Trawled fishes of southern Indonesia and northwestern Australia. Australian Development Assistance Bureau, Directorate General of Fisheries of Indonesia, and German Agency for Technical Cooperation, Jakarta

Grande TC, Borden WC, Wilson MVH, Scarpitta L (2018) Phylogenetic relationships among fishes in the order Zeiformes based on molecular and morphological data. Copeia 106:20–48

Gregory P (1969) The addition of the mirror dory, Zenopsis nebulosa (Temminck and Schlegel), to the Californian fauna. Calif Game Fish 55:243–245

Hasegawa M, Kishino H, Yano T (1985) Dating of human-ape splitting by a molecular clock of mitochondrial DNA. J Mol Evol 22:160–174

Heemstra PC (1980) A revision of the zeid fishes (Zeiformes: Zeidae) of South Africa. Ichthyol Bull J L B Smith Inst Ichthyol (41):i–iii + 1–18, pls 1–2

Heemstra PC (2016) Order Zeiformes. In: Carpenter KE, De Angelis N (eds) The living marine resources of the Eastern Central Atlantic, vol 3. FAO, Rome, pp 2202–2229

ICZN (1999) International Code of Zoological Nomenclature, 4th edition. The International Trust for Zoological Nomenclature, London

Ida H (1982) Zeidae. In: Okamura O, Amaoka K, Mitani F (eds) Fishes of the Kyushu-Palau ridge and Tosa Bay. Japan Fisheries Resourece Conservation Association, Tokyo, pp 214–217

Iwai T (1976) Zenopsis nebulosa. In: Far Seas Fisheries Research Laboratory (ed) Colored illustrations of bottomfishes collected by Japanese trawlers, vol II. Japan Deep Sea Trawlers Association, Tokyo, p 146

James GD, Inada T (1990) Zeidae. In: Amaoka K, Matsuura K, Inada T, Takeda M, Hatanaka H, Okada K (eds) Fishes collected by the R/V Shinkai maru around New Zealand. Japan Marine Fishery Resource Research Center, Tokyo, pp 213–218

Jordan JS, Fowler HW (1902) A review of the Chaetodontidae and related families of fishes found in the waters of Japan. Proc US Natl Mus 25:513–563

Kim IS, Choi Y, Lee CL, Lee Y., Kim BJ, Kim JH (2005) Illustrated book of Korean fishes. Kyohak Publishing Co Ltd, Seoul

Kitagawa D, Imamura H, Goto T, Ishido Y, Fujiwara K, Ueda Y (2008) Field guide of the fishes from the Tohoku District, north-eastern waters of Japan. Tokai University Press, Tokyo

Kumar S, Stecher G, Tamura K (2016) MEGA7: molecular evolutionary genetics analysis ver 7.0 for bigger datasets. Mol Biol Evol 33:1870–1874

Kuriiwa K, Arihara H, Chiba SN, Kato S, Senou H, Matsuura K (2014) Checklist of marine fishes of the Zunan Islands, located between the Izu and Ogasawara (Bonin) islands, Japan, with zoogeographical comments. Checklist 10:1479–1501

Linnaeus C (1758) Systema naturae per regna tria naturae, secundum classes, ordines, genera, species, cum characteribus, differentiis, synonymis, locis. Tomus I. Editio decima, reformata. Laurentii Salvii, Holmiae

Lowe RT (1852) An account of fishes discovered and observed in Madeira since the year 1842. Proc Zool Soc Lond 1850:247–253

Machida Y (1984) Family Zeidae. In: Masuda H, Amaoka K, Araga C, Uyeno T, Yoshino T (eds) The fishes of the Japanese Archipelago, English edition. Tokai University Press, Tokyo, pp 446–451

Machida Y (1985) Family Zeidae. In: Okamura O (ed) Fishes of the Okinawa Trough and the adjacent waters II. Japan Fisheries Resource Conservation Association, Tokyo, p 118

Mundy BC (2005) Checklist of the fishes of the Hawaiian Archipelagp. Bishop Mus Bull Zool (6):1–703

Nakabo T (1993) Zeidae. In: Nakabo T (ed) Fishes of Japan with pictorial keys to the species, 1st edition. Tokai University Press, Tokyo, pp 465–466, 1290

Nakabo T (2000) Zeidae. In: Nakabo T (ed) Fishes of Japan with pictorial keys to the species, 2nd edition. Tokai University Press, Tokyo, pp 506–507, 1505

Nakabo T (2002) Zeidae. In: Nakabo T (ed) Fishes of Japan with pictorial keys to the species, English edition. Tokai University Press, Tokyo, pp 506–507, 1502

Nakabo T, Bray DJ, Yamada U (2006) A new species of Zenopsis (Zeiformes: Zeidae) from the South China Sea, East China Sea and off western Australia. Mem Mus Vic 63:91–96

Nakabo T, Kai Y (2013) Zeidae. In: Nakabo T (ed) Fishes of Japan with pictorial keys to the species, 3rd edition. Tokai University Press, Hadano, pp 600, 1901

Parin NV (1989) Zenopsis oblongus sp. n. (Zeidae, Osteichthys) from the Nuska Ridge. Zool Zhurnal 68:150–153

Paxton JR., Bray DJ, Gates JE, Hoese DF (2006) Zeidae. In: Beesley PL, Wells A (eds) Zoological catalogue of Australia, vol 35, Fishes, pt 2. ABRS & CSIRO Publishing, Melbourne, pp 799–800

Sáez S, Lamilla J (2017) Taxonomic update and illustrated key of Zeiformes from Chile (Pisces: Actinopterigii). Lat Am J Aquat Res 45:94–103

Shen SC (1984) Coastal Fishes of Taiwan. Shih-chieh Shen, Taipei

Senou H, Matsuura K, Shinohara G (2006) Checklist of fishes in the Sagami Sea with zoogeographical comments on shallow water fishes occurring along the coastlines under the influence of the Kuroshio Current. Mem Natl Sci Mus Tokyo (41):389–542

Shinohara G, Endo H, Matsuura K, Machida Y, Honda H (2001) Annotated checklist of the deepwater fishes from Tosa Bay, Japan. Natl Mus Nat Sci (20):283–343

Shinohara G, Matsuura K (1997) Annotated checklist of deep-water fishes from Suruga Bay, Japan. Natl Mus Nat Sci (12):269–318, pls 1–2

Shinohara G, Narimatsu Y, Hattori T, Ito M, Takata Y, Matsuura K (2009) Annotated checklist of deep-sea fishes from the Pacific coast off Tohoku District, Japan. Natl Mus Nat Sci (39):683–735

Shinohara G, Sato T, Aonuma Y, Horikawa H, Matsuura K, Nakabo T, Sato K (2005) Annotated checklist of deep-sea fishes from the waters around the Ryukyu Islands, Japan. Natl Sci Mus Monogr (29):385–452

Temminck CJ, Schlegel H (1845) Pisces. Pts 7–9. In: Siebold, PF von (ed) P.F. de Siebold's Fauna Japonica. Müller, Amsterdam, 113–172, pls. 1–143

Thompson JD, Gibson TJ, Plewniak F, Jeanmougin F, Higgins DG (1997) The CLUSTAL_X windows interface: flexible strategies for multiple sequence alignment aided by quality analysis tools. Nucleic Acids Res 25:4876–4882

Tyler JC, O'Toole B, Winterbottom R (2003) Phylogeny of the genera and families of zeiform fishes, with comments on their relationships with tetraodontiforms and caproids. Smithson Contrib Zool (618):i–iv + 1–110

Ueno T, Abe K (1966) On rare or newly found fishes from the water of Hokkaido (I). Jpn J Ichthyol 13:220–228

Yamada U, Tokimura M, Horikawa H, Nakabo T (2007) Fishes and fisheries of the East China and Yellow Seas. Tokai University Press, Hadano

Waite ER (1903) Additions to the fish-fauna of Lord Howe Island, No. 3. Rec Aust Mus 5: 20–45, pls 3–5
Acknowledgements
We greatly appreciate N. Nakayama and M. Takami (Tokai University), T. Naito and H. Endo (BSKU), and S. Yanagimoto (National Research Institute of Fisheries Science, Japan) for the collection of some specimens examined here, and also G. Shinohara and M. Nakae (NSMT), H. Imamura and T. Kawai (HUMZ), H. Motomura (KAUM), and A. Barshukin (ZIN) for access to collections, and R. Misawa (FAKU) for the provision of holotype data of Z. oblonga. We also thank M. McGrouther and S. Reader (AMS) for providing photos and X-rays of the holotype of Z. scopus, T. Yamakawa (Kochi, Japan) for providing photos of the lectotype of Z. nebulosa, and G. S. Hardy (Ngunguru, New Zealand) for his critical reading of the manuscript.
Additional information
This article was registered in the Official Register of Zoological Nomenclature (ZooBank) as 015438F9-E6E7-428B-A8DF-56315991E94D.
This article was published as an Online First article on the online publication date shown on this page. The article should be cited by using the doi number.
About this article
Cite this article
Kai, Y., Tashiro, F. Zenopsis filamentosa (Zeidae), a new mirror dory from the western Pacific Ocean, with redescription of Zenopsis nebulosa. Ichthyol Res 66, 340–352 (2019). https://doi.org/10.1007/s10228-018-00679-1
Received:

Revised:

Accepted:

Published:

Issue Date:
Keywords
New species

COI

Zenopsis conchifer
Zenopsis oblonga

Western North Pacific