Abstract
In this paper, new and uncertain Japanese snake eels of the genus Ophichthus are treated. Ophichthus kusanagi, O. lupus, O. oligosteus and O. yamakawai are herein described as new species. Ophichthus kusanagi, collected from Suruga Bay of Shizuoka Prefecture, off Owase, Mie Prefecture, and Tosa Bay, Kochi Prefecture, is distinguishable from four similar congeners by having one + four supraorbital and two preopercular pores, 13 pectoral-fin rays, fewer total vertebrae (158–163), a longer tail [58–60% of total length (TL)], a small eye [7.5–9.0% of head length (HL)], an acute snout, a low knob on upper lip between nostrils, relatively slender teeth, and a pointed pectoral fin. Ophichthus lupus, collected from the East China Sea, is characterized by its numerous total vertebrae (180–182), shorter pectoral fins (20–25% HL), and the position of the dorsal-fin origin (slightly behind the pectoral-fin tip); it can be distinguished from similar species in its supraorbital and mandibular pores (one + four and six or seven), arrangements of teeth on its mandible and vomer (almost uniserial), its robust body (depth 2.6–3.1% TL), slightly larger head (7.8–8.1% TL), longer and acute snout (24% HL), longer upper jaw (45–48% HL), absence of protrusion along upper lip, and the narrow dark margin of its dorsal fin. Ophichthus oligosteus, collected from Tosa Bay of Kochi Prefecture, is characterized by its fewer preanal and total vertebrae (46 and 121). Ophichthus yamakawai, collected from Kochi Prefecture, is characterized by its large blotches along the lateral line and numerous preanal and total vertebrae (67 and 172). We refer an uncertain species, Ophichthus stenopterus Cope 1871, to the synonymy of Ophichthus pallens (Richardson 1848), a forgotten species described from China. Pisoodonophis zophistius Jordan and Snyder 1901 is recognized as valid in Ophichthus and a senior synonym of Ophichthys intermedius Regan 1905. Ophichthus habereri Franz 1910, originally described from Yokohama, central Japan, is a junior synonym of Ophichthus asakusae Jordan and Snyder 1901. Pisodonophis sangjuensis Ji and Kim 2011 is referred to Ophichthus. We currently recognize 20 species of Ophichthus from Japan. A key to the Japanese species of Ophichthus and its closely associated group Pisodonophis is provided.
This is a preview of subscription content, log in to check access.
Access options
Buy single article
Instant access to the full article PDF.
US$ 39.95
Price includes VAT for USA
Subscribe to journal
Immediate online access to all issues from 2019. Subscription will auto renew annually.
US$ 99
This is the net price. Taxes to be calculated in checkout.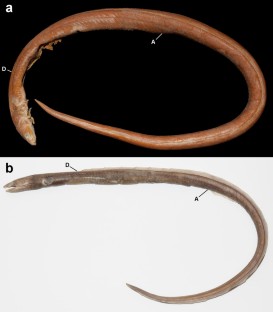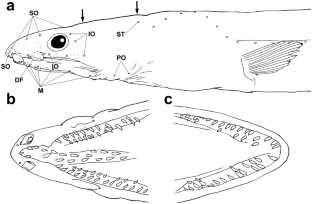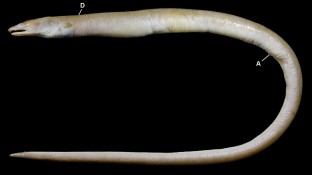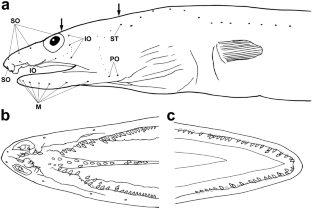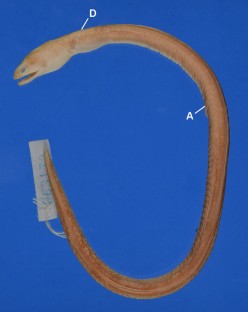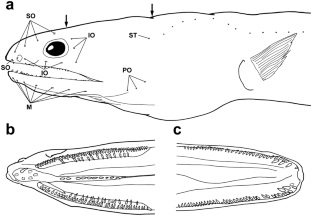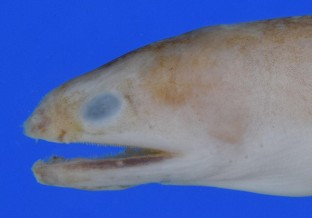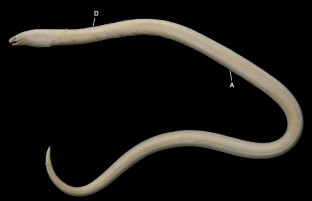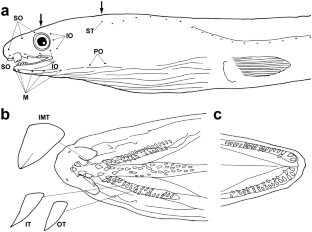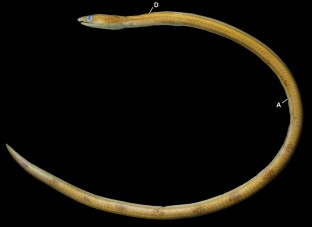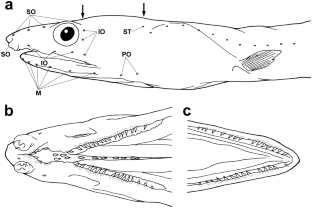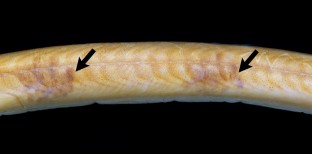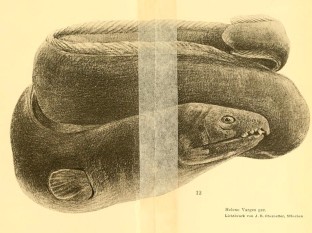 References
Ahl JN (1789) Specimen ichthyologicum de Muraena et Ophichtho, quod venia exp. Fac Med Ups Praeside CP Thunberg J Edman, Upsala

Asano H (1987) A new ophichthid eel, Ophichthus megalops, from the Kumano-nada, Japan. Jpn J Ichthyol 34:135–137

Böhlke EB (1982) Vertebral formulae of type specimens of eels. Proc Acad Nat Sci Phila 134:31–49

Chiu Y-C, Lin J, Chen H-M (2013) One new record genus and three new record species of snake eels (Ophichthidae: Anguilliformes) from Taiwan. J Mar Sci Tech 21, Suppl:201–206

Cope ED (1871) Contribution to the ichthyology of the Lesser Antilles. Trans Am Philos Soc (N Ser) 14:445–483

Fowler HW (1912) Descriptions of nine new eels, with notes on other species. Proc Acad Nat Sci Phila 64:8–33

Franz V (1910) Die japanischen Knochenfische der Sammlungen Haberer und Doflein. (Beiträge zur Naturgeschichte Ostasiens.). Abhandlungen der math.–phys. Klasse der K Bayer Akad Wissen 4 (Suppl):1–135, pls 1–11

Fricke R, Eschmeyer WN (2016) Guide to fish collections. Electronic version, updated 30 August 2016. http://researcharchive.calacademy.org/research/ichthyology/catalog/collections.asp. Accessed 6 September 2016

Günther A (1870) Catalogue of the Physostomi, containing the families Gymnotidae, Symbranchidae, Muraenidae, Pegasidae, and of the Lophobranchii, Plectognathi, Dipnoi, Ganoidei, Chondropterygii, Cyclostomata, Leptocardii. British Museum, London

Hatooka K (2002) Family Ophichthidae. In: Nakabo T (ed) Fishes of Japan with pictorial keys to the species, English edn. Tokai University Press, Tokyo, pp 215–217, 1456–1459

Hatooka K (2013) Family Ophichthidae. In: Nakabo T (ed) Fishes of Japan with pictorial keys to the species, 3rd edn. Tokai University Press, Hadano, pp 266–277, 1794–1802

Hibino Y, Tashiro F, Chiu Y-C, Kimura S (2016) Additional records of a snake eel Ophichthus aphotistos (Anguilliformes: Ophichthidae) from Japan and Taiwan. Jpn J Ichthyol 63:119–125

Hibino Y, Matsunuma M, Motomura H, Kimura S (2017) First Japanese records of the ophichthid eel (Actinopterygii: Anguilliformes), Pisodonophis sangjuensis from the East China Sea. Taxa, Proc Jpn Soc Syst Zool 42:41–47

Ji H-S, J-K Kim (2011) A new species of snake eel, Pisodonophis sangjuensis (Anguilliformes: Ophichthidae) from Korea. Zootaxa 2758:57–68

Jordan DS, Snyder JO (1901) A review of the apodal fishes or eels of Japan, with descriptions of nineteen new species. Proc US Natl Mus 23:837–890

Jordan DS, Tanaka S, Snyder JO (1913) A catalogue of the fishes of Japan. J Coll Sci Imperial Univ Tokyo 33:1–497

Kamohara T (1934) Supplementary notes on fishes in Kochi. Zool Mag Tokyo 46:299–303

Lee C-L, Asano H (1997) A new ophichthid eel, Ophichthus rotundus (Ophichthidae, Anguilliformes) from Korea. Korean J Biol Sci 1:549–552

McCosker JE (1977) The osteology, classification, and relationships of the eel family Ophichthidae. Proc Calif Acad Sci (Ser 4) 41:1–123

McCosker JE (2010) Deepwater Indo-Pacific species of the snake-eel genus Ophichthus (Anguilliformes: Ophichthidae), with the description of nine new species. Zootaxa 2505:1–39

McCosker JE, Castle PHJ (1986) Family No 42: Ophichthidae. In: Smith MM, Heemstra PC (eds) Smiths' Sea Fishes. Macmillan South Africa, Johannesburg, pp 176–186

McCosker JE, Chen, YY (2000) A new species of deepwater snake-eel, Ophichthus aphotistos, with comments on Neenchelys retropinna (Anguilliformes: Ophichthidae) from Taiwan. Ichthyol Res 47:353–357

McCosker JE, Ho H-C (2015) New species of the snake eels Echelus and Ophichthus (Anguilliformes: Ophichthidae) from Taiwan. Zootaxa 4060:71–85

McCosker JE, Baranes A, Golani D (1993) Description of the adult of Leptocephalus echeloides D'Ancona (1928), a deepwater snake eel, genus Ophichthus (Ophichthidae), from the Gulf of Aqaba. Cybium 17:165–170

McCosker JE, Böhlke EB, Böhlke JE (1989) Family Ophichthidae. In: Böhlke EB (ed) Volume one: orders Anguilliformes and Saccopharyngiformes. Fishes of the western North Atlantic. Memoirs of the Sears Foundation of Marine Research (part 9). Allen Press, Kansas, pp 254–412

McCosker JE, Ide S, Endo H (2012) Three new species of ophichthid eels (Anguilliformes: Ophichthidae) from Japan. Bull Natl Mus Nat Sci, Ser A (Zool) (Suppl 6):1–16

McCosker, JE, Randall JE (2002) Ophichthys melanochir Bleeker, 1865, A junior synonym of the highfin snake eel Ophichthus altipennis (Kaup, 1856). Copeia 2002:798–799

Miyamoto K, Nagata F, Takaoka H, Yanagisawa M (2018) First Japanese record of Ophichthus cephalozona Bleeker, 1864 (Anguilliformes: Ophichthidae) from Iriomote Island, Ryukyu Archipelago, Japan. Fauna Ryukyuana 46:35–40

Neumann, D (2006) Type catalogue of the ichthyological collection of the Zoologische Staatssammlung München. Part I: Historic type material from the "Old Collection", destroyed in the night 24/25 April 1944. Spixiana (München) 29:259–285

Peters WCH (1855) Uebersicht der in Mossambique beobachteten Fische. Archiv Naturgesch 21:234–282

Randall, JE (2005) Reef and shore fishes of the South Pacific. New Caledonia to Tahiti and the Pitcairn Islands. University of Hawai'i Press, Honolulu

Richardson J (1848) Ichthyology of the voyage of H.M.S. Erebus & Terror, under the command of Captain Sir James Clark Ross. London

Smith JLB (1962) Sand-dwelling eels of the Western Indian Ocean and the Red Sea. Ichthyol Bull Dep Ichthyol Rhodes Univ 24:447–466, pls 63–68

Sumida S, Machida Y (2000) Revision of the two sympatric snake-eel species of the genus Ophichthus (Ophichthidae, Anguilliformes) from Tosa Bay, southern Japan, with comments on O. tsuchidae. Bull Mar Sci Fish Kochi Univ 20:51–69

Tang W-Q, Zhang C-G (2004) A taxonomic study on snake eel family Ophichthidae in China with the review of Ophichthidae (Pisces, Anguiliformes). J Shanghai Ocean Univ 13:16–22

Tashiro F, Hibino Y, Miyamoto K (2017) First Records of the Rare Snake Eel Ophichthus exourus (Pisces: Anguilliformes: Ophichthidae) from the Northern Hemisphere. Species Divers 22: 213–217

Zhang C-G, Tang W-Q, Liu D, Zhang Z-L, Zhang S-Y (2010) Fauna Sinica. Osteichthyes. Anguilliformes, Notacanthiformes. Science Press, Beijing
Acknowledgments
We are deeply grateful to Noritaka Mochioka and Yuki Kawazu (Kyushu University) and Atsushi Tawa (National Research Institute of Far Seas Fisheries) for collecting and providing the type specimens of O. lupus. We also thank: Hsuan-Ching Ho (NMMBA) for advice on this manuscript and for providing the opportunity to examine important specimens; Kiyotaka Hatooka (OMNH) for providing important information; Al Leviton and Terrance Gosliner (CAS) for assistance with photographs; Mark Sabaj Pérez and the late Eugenia Böhlke (ANSP) for assistance with O. stenopterus; Yasuko Matsuno (formerly BSKU) for providing underwater photographs of O. polyophthalmus; Hiroshi Senou (KPM) for managing FishPix and providing his superb photographs; Karsten Hartel (MCZ) for his assistance with P. boro; James Maclaine (BMNH), Hiromitsu Endo and Ryu Asaoka (BSKU), David Catania (CAS), Mizuki Matsunuma (FAK, formerly BSKU), Yoshiaki Kai (FAKU), Ryo Misawa (FAKU, formerly BSKU), Hiroyuki Motomura, Tomohiro Yoshida, Satokuni Tashiro (KAUM), Keita Koeda (NMMBA, formerly KAUM), Gento Shinohara and Masanori Nakae (NSMT), Kiyotaka Hatooka (OMNH), Koichi Hoshino (SNFR), Naohide Nakayama (Tokai University, formerly BSKU), Kaito Mizumachi, Taiga Naito and Mao Sato (BSKU) for their help during specimen examination; and Seishi Kimura (FRLM) for the use of his facilities, specimen registrations, and his advice on YH's research. This study was supported in part by a Grant-in-Aid from the Japan Society for the Promotion of Science for JSPS Fellows to YH (DC2/PD: 15J02820), the Fujiwara Natural History Foundation to FT (25th, No. 16), the Aquatic Biology Research Fund of the California Academy of Sciences, and the fund of the National Museum of Marine Biology, Taiwan.
Additional information
This article was registered in the Official Register of Zoological Nomenclature (ZooBank) as 8AD62218-A6AB-411C-BBF7-7EE55EEDA7C2.
This article was published as an Online First article on the online publication date shown on this page. The article should be cited by using the doi number.
About this article
Cite this article
Hibino, Y., McCosker, J.E. & Tashiro, F. Four new deepwater Ophichthus (Anguilliformes: Ophichthidae) from Japan with a redescription of Ophichthus pallens (Richardson 1848). Ichthyol Res 66, 289–306 (2019). https://doi.org/10.1007/s10228-018-00677-3
Received:

Revised:

Accepted:

Published:

Issue Date:
Keywords
Ophichthus

Japan

New species

Taxonomy