Abstract
Two western Pacific triplefins, Enneapterygius fuscoventer Fricke 1997 and E. howensis Fricke 1997 (Perciformes: Tripterygiidae), are similar to each other in sharing 15–19 (usually 17) notched lateral-line scales and the mandibular pore formula 3–5 + 1 + 3–5 (usually 4 + 1 + 4), in addition to similar coloration, viz. body with four vertical bands, the first and second forked ventrally, dorsal-fin membrane semi-transparent, anal fin entirely blackish, and caudal fin blackish with a semi-transparent margin. These species have previously been known only from preserved specimens. Examination of additional specimens plus color photographs of males and females of both species when fresh, and comparisons with type specimens resulted in several features, including coloration and counts of second dorsal-fin spines, anal-fin soft rays, pored lateral-line scales and longitudinal scale rows, being regarded as new diagnostic characters. Enneapterygius fuscoventer and E. howensis have been newly recorded from southern Japan and coastal eastern Australia, respectively.
This is a preview of subscription content, log in to check access.
Access options
Buy single article
Instant access to the full article PDF.
US$ 39.95
Price includes VAT for USA
Subscribe to journal
Immediate online access to all issues from 2019. Subscription will auto renew annually.
US$ 99
This is the net price. Taxes to be calculated in checkout.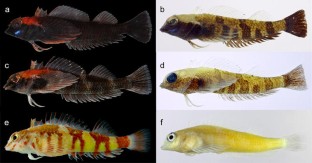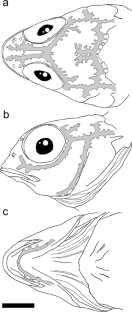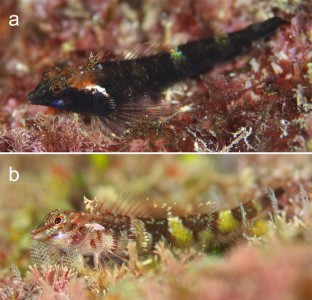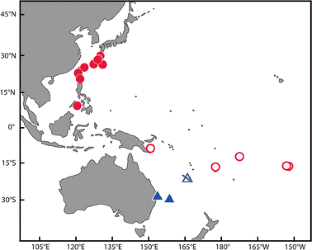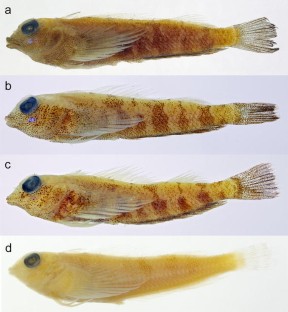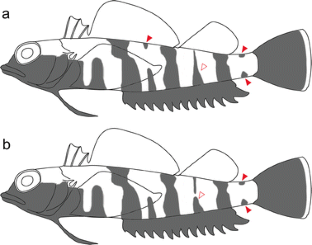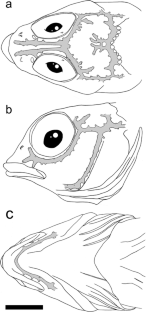 References
Allen GR, Erdmann MV (2012) Reef fishes of the East Indies, vols 1–3. Tropical Reef Research, Perth

Chiang MC, Chen IS (2008). Taxonomic review and molecular phylogeny of the triplefin genus Enneapterygius (Teleostei: Tripterygiidae) from Taiwan, with description of two new species. Raffles Bull Zool 19:183–201

Fricke R (1997) Tripterygiid fishes of the western and central Pacific (Teleostei). Koeltz Scientific Books, Koenigstein

Fricke R (2002) Tripterygiid fishes of New Caledonia, with zoogeographical remarks. Environ Biol Fishes 65:175–198

Fricke R, Erdmann MV (2017) Enneapterygius niue, a new species of triplefin from Niue and Samoa, southwestern Pacific Ocean (Teleostei: Tripterygiidae). J Ocean Sci Found 25:14–32

Hansen PEH (1986) Revision of the tripterygiid fish genus Helcogramma, including descriptions of four new species. Bull Mar Sci 38:313–354

Holleman W (2005) A review of the triplefin fin fish genus Enneapterygius (Blennioidei: Tripterygiidae) in the western Indian Ocean, with descriptions of four new species. Smithiana Bull 5: 1–25, pls 1–2

Holleman W, Bogorodsky SV (2012) A review of the blennioid fish family Tripterygiidae (Perciformes) in the Red Sea, with description of Enneapterygius qirmiz, and reinstatement of Enneapterygius altipinnis Clark, 1980. Zootaxa 3152:36–60

Kato S (2014) Marine fishes illustrated. Seibundo-Shinkosha, Tokyo

Meguro M (2014) Enneapterygius sp. 3. In: Motomura H, Matsuura K (eds) Field guide to fishes of Yoron Island in the middle of the Ryukyu Islands, Japan. Kagoshima University Museum, Kagoshima and National Museum of Nature and Science, Tsukuba, p 458

Motomura H, Harazaki S, Hardy G (2005) A new species of triplefin (Perciformes: Tripterygiidae), Enneapterygius senoui, from Japan with a discussion of its in situ colour pattern. Aqua 10:5–14

Motomura H, Ishikawa S (eds) (2013) Fish collection building and procedures manual. English Edition. Kagoshima University Museum, Kagoshima and Research Institute for Humanity and Nature, Kyoto

Motomura H, Ota R, Meguro M, Tashiro S (2015) Enneapterygius phoenicosoma, a new species of triplefin (Tripterygiidae) from the western Pacific Ocean. Species Divers 20:1–12

Yoshigou H, Ichikawa M, Nakamura S (2005) Catalogue of fish specimens preserved in Hiwa Museum for Natural History (IV). Mater Rep Hiwa Mus Nat Hist 5:1–51, pl. 1
Acknowledgements
We are grateful to T. Katano (Okinawa Diving Center) and J. Johnson (QM) for providing photographs of Enneapterygius fuscoventer and E. howensis, respectively, and we appreciate the assistance of T. Kohama (Minamidaito Island), T. Takeshita (Yoron Island), K. Kuriiwa (NSMT), S. Chiba (formerly NSMT), K. Koeda (NMMB), and T. Yoshida (KAUM) in collecting specimens. We also thank M. McGrouther (AMS), H. Yoshigou (HMNH), K. Hatooka (OMNH), J. Johnson (QM), K. Miyamoto (URM), and J. Williams (USNM) for opportunities to examine specimens. We especially thank G. Hardy (Ngunguru, New Zealand) for English corrections and helpful comments on the manuscript, and volunteers and members of the Laboratory of Fish Systematics (KAUM) for curatorial assistance of specimens. This study was supported in part by a Grant-in-Aid for JSPS Fellows (DC2: 16J09608) to the first author; a Grant-in-Aid for Challenging Exploratory Research (26650149); JSPS KAKENHI Grant Numbers JP26241027, JP24370041, JP23580259, and JP26450265; the JSPS Core-to-Core Program: B Asia-Africa Science Platforms; the "Biological Properties of Biodiversity Hotspots in Japan" project of the National Museum of Nature and Science, Tsukuba, Japan; "Establishment of Research and Education Network on Biodiversity and Its Conservation in the Satsunan Islands" project of Kagoshima University adopted by the Ministry of Education, Culture, Sports, Science and Technology, Japan; and the "Island Research" project by Kagoshima University.
Additional information
This article was registered in the Official Register of Zoological Nomenclature (ZooBank) as 5D10ACAA-52AD-4A94-8459-A88A16B0AF68.
This article was published as an Online First article on the online publication date shown on this page. The article should be cited by using the doi number.
About this article
Cite this article
Tashiro, S., Motomura, H. Redescriptions of two western Pacific triplefins (Perciformes: Tripterygiidae), Enneapterygius fuscoventer and E. howensis. Ichthyol Res 65, 252–264 (2018). https://doi.org/10.1007/s10228-017-0612-5
Received:

Revised:

Accepted:

Published:

Issue Date:
Keywords
Diagnosis

Sexual dimorphism

Distribution

Morphology