Abstract
Abudefduf caudobimaculatus Okada and Ikeda 1939, having long been regarded as a junior synonym of Abudefduf vaigiensis (Quoy and Gaimard 1825), is herein redescribed as a valid species on the basis of the holotype and 77 additional specimens. Abudefduf caudobimaculatus can be distinguished from A. vaigiensis in having 11–13 (modally 12) dorsal-fin soft rays, 4 scale rows above the lateral line, 2½ scale rows between the middle of the spinous portion of the dorsal-fin base and lateral line, 3–4 (4) scale rows on the cheek, scales always present on the anteroventral region of the head, eleventh and last dorsal-fin spines and pectoral-fin length 15.5–18.4%, 17.1–20.6%, and 33.5–39.9% of SL, respectively, two black spots on the caudal-fin base, anteriormost bar descending to behind the pectoral-fin base, 0–1 tubed lateral-line scales on the fourth vertical bar, and third to seventh (usually fifth or sixth) dorsal-fin soft ray base at the anterior margin of the fourth vertical bar. Synonymies of A. vaigiensis are discussed with designations of lectotypes for Glyphisodon vaigiensis and Glyphisodon rahti.
This is a preview of subscription content, log in to check access.
Access options
Buy single article
Instant access to the full article PDF.
US$ 39.95
Price includes VAT for USA
Subscribe to journal
Immediate online access to all issues from 2019. Subscription will auto renew annually.
US$ 99
This is the net price. Taxes to be calculated in checkout.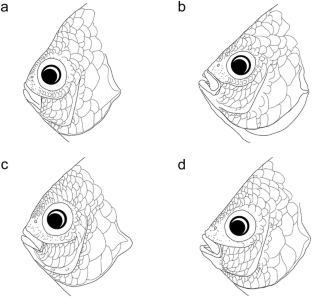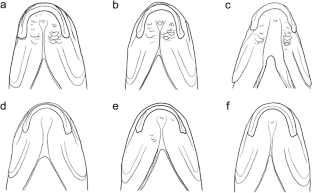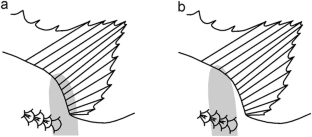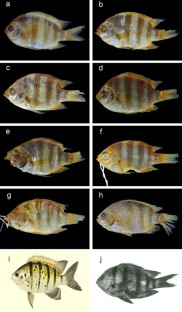 References
Ahlstrom EH, Butler JL, Sumida BY (1976) Pelagic stromateoid fishes (Pisces, Perciformes) of the eastern Pacific: kinds, distributions, and early life histories and observations on five of these from the northwest Atlantic. Bull Mar Sci 26:285–402

Allen GR (1975) Damselfishes of the south seas. TFH Publications, Neptune City

Allen GR (1991) Damselfishes of the world. Mergus Publisher, Melle

Allen GR, Erdmann MV (2012) Reef fishes of the East Indies. Vols 1–3. Tropical Reef Research, Perth

Aoyagi H (1941) The damsel fishes found in the waters of Japan. Trans Biogeogr Soc Japan 4:157–279

Bennett JW (1830) A selection from the most remarkable and interesting fishes found on the coast of Ceylon. Edward Bull, London

Bertrand JA, Borsa P, Chen W-J (2017) Phylogeography of the sergeants Abudefduf sexfasciatus and A. vaigiensis reveals complex introgression patterns between two widespread and sympatric Indo‐West Pacific reef fishes. Mol Ecol 26:2527–2542

Bleeker P (1847) Labroideorum ctenoideorum Bataviensium diagnoses et adumbrationes. Verh Bat Gen 21:1–33

Bauchot ML, Daget J (1996) Un bicentenaire: le transfert à Paris du cabinet du stathouder. Son importance pour l'Ichtyologie. Cybium 20:219–250

Cuvier G, Valenciennes A (1830) Histoire naturelle des poissons. Vol 5. Levrault, Paris

Forsskål P (1775) Descriptiones animalium avium, amphibiorum, piscium, insectorum, vermium; quae in itinere orientali observavit. Post mortem auctoris edidit Carsten Niebuhr, Hauniae

Goren M, Galil BS (1998) First record of the Indo-Pacific coral reef fish Abudefduf vaigiensis (Quoy & Gaimard, 1825) in the Levant. Isr J Zool 44:57–59

Hensley DA, Allen GR (1977) A new species of Abudefduf (Pisces: Pomacentridae) from the Indo-Australian Archipelago. Rec West Aust Mus 6:107–18

Hensley DA, Randall JE (1983) A new species of Abudefduf (Pisces: Pomacentridae) from the east coast of South Africa. Occas Pap Bernice P. Bishop Mus 25:1–10

Iwatsubo H, Motomura H (2013) Redescriptions of Chromis notata (Temminck and Schlegel, 1843) and C. kennensis Whitley, 1964 with the description of a new species of Chromis (Perciformes: Pomacentridae). Spec Divers 18:193–213

Johnson JW (1999) Annotated checklist of the fishes of Moreton Bay, Queensland, Australia. Mem Qld Mus 43:709–762

Kato S (2011) Damselfishes illustrated. Seibundo-Shinkosha, Tokyo

Konishi H (2011) 1400 angling fishes. Identification guide to marine and freshwater fishes. Enterbrain, Tokyo

Kuiter RH, Tonozuka T (2001) Pictorial guide to Indonesian reef fishes. Parts 1–3. Zoonetics, Seaford

Masuda H, Amaoka K, Araga C, Uyeno T, Yoshino T (1984) The fishes of the Japanese Archipelago. Tokai University Press, Tokyo

Motomura H, Kuriiwa K, Katayama E, Senou H, Ogihara G, Meguro M, Matsunuma M, Takata Y, Yoshida T, Yamashita M, Kimura S, Endo H, Murase A, Iwatsuki Y, Sakurai Y, Harazaki S, Hidaki K, Izumi H, Matsuura K (2010) Annotated checklist of marine and estuarine fishes of Yaku-shima Island, Kagoshima, southern Japan. In: Motomura H, Matsuura K (eds). Fishes of Yaku-shima Island – A World Heritage island in the Osumi Group, Kagoshima Prefecture, southern Japan. Natl Mus Nat Sci, Tokyo, pp 65–247

Okada Y, Ikeda H (1939) Notes on the fishes of the Ryu-Kyu Islands. IV. The damsel fish, Pomacentridae, collected in 1938. Trans Biogeogr Soc Japan 3:159–206

Psomadakis PN, Osmany HB, Moazzam M (2015) Field identification guide to the living marine resources of Pakistan. FAO species identification guide for fishery purposes. FAO, Rome

Quoy JRC, Gaimard JP (1825) Zoologie. In: Freycinet LDC (ed) Voyage autour du monde. Pillet Aîné, Paris, pp 192–401

Randall JE, Allen GR, Steene RC (1997) Fishes of the Great Barrier Reef and Coral Sea. University of Hawai'i Press, Honolulu

Randall JE (2005) Reef and shore fishes of the South Pacific: New Caledonia to Tahiti and the Pitcairn Islands. University of Hawai'i Press, Honolulu

Sabaj MH (2016) Standard symbolic codes for institutional resource collections in herpetology and ichthyology: an Online Reference. Version 6.5 (16 August 2016). American Society of Ichthyologists and Herpetologists, Washington, DC. http://www.asih.org/resources/standard-symbolic-codes-institutional-resource-collections-herpetology-ichthyology. Accessed 14 December 2016

von Bonde C (1934) A collection of marine fishes from Zanzibar. Vol 7. Annals of the Natal Museum, London

Winterbottom R, Emery AR, Holm E (1989) An annotated checklist of the fishes of the Chagos Archipelago, central Indian Ocean. Royal Ontario Museum, Toronto

Yoshida T, Motomura H, Musikasinthorn P, Matsuura K (2013) Fishes of northern Gulf of Thailand. National Museum of Nature and Science, Tsukuba, Research Institute for Humanity and Nature, Kyoto, Kagoshima University Museum, Kagoshima
Acknowledgements
We express our gratitude to K. Hagiwara (YCM), H. Senou (KPM), J. Maclaine and R. Britz (BMNH), and P. Pruvost, R. Causse, Z. Gabsi, L. M. Duque Vélez and P. Béarez (MNHN) for opportunities to examine specimens, H. Senou (KPM) for providing a color photograph of a fresh specimen of A. caudobimaculatus, H. Hata (KAUM) for providing literature, S. Dossou for kindly translating literature from French into English, W.-J. Chen (National Taiwan University, Taiwan) for identifications of species used in his molecular paper, G. S. Hardy (Ngunguru, New Zealand) for reading the manuscript and providing help with English, and K. Koeda, T. Yoshida, T. Inaba, B. Jeong, S. Chungthanawong, K. Eguchi, A. Bandai, K. Kawama and other students, and Y. Haraguchi, M. Itou, T. Uejo and other volunteers of KAUM for their curatorial assistance. The first author is especially appreciative of M. Matsunuma (BSKU) and S. Tashiro, H. Iwatsubo and Y. Fukui (KAUM) for sharing their knowledge of taxonomy during this study and also gratefully acknowledge a scholarship under the auspices of the Program for Research and Innovation in Science and Technology (RISET-Pro), provided by the Ministry of Research, Technology and Higher Education of the Republic of Indonesia. This study was supported in part by JSPS KAKENHI Grant Numbers JP26241027, JP24370041, JP23580259 and JP26450265; the JSPS Core-to-Core Program, "Research and Education Network on Southeast Asian Coastal Ecosystems"; the "Coastal Area Capability Enhancement in Southeast Asia Project" of the Research Institute for Humanity and Nature, Kyoto, Japan; the "Biological Properties of Biodiversity Hotspots in Japan" project of the National Museum of Nature and Science, Tsukuba, Japan; and the "Establishment of Research and Education Network on Biodiversity and Its Conservation in the Satsunan Islands" project of Kagoshima University adopted by the Ministry of Education, Culture, Sports, Science and Technology, Japan.
Additional information
This article was registered in the Official Register of Zoological Nomenclature (ZooBank) as 51B3F807-2DA4-4B43-8B40-DF743421B1D6.
This article was published as an Online First article on the online publication date shown on this page. The article should be cited by using the doi number.
About this article
Cite this article
Wibowo, K., Toda, M. & Motomura, H. Validity of Abudefduf caudobimaculatus Okada and Ikeda 1939 and synonymies of Abudefduf vaigiensis (Quoy and Gaimard 1825) (Perciformes: Pomacentridae). Ichthyol Res 65, 78–91 (2018). https://doi.org/10.1007/s10228-017-0594-3
Received:

Revised:

Accepted:

Published:

Issue Date:
Keywords
Abudefduf quadrifasciatus
Abudefduf quinquilineatus
Abudefduf sexfasciatus
Chaetodon tyrwhitti
Glyphisodon rahti
Glyphisodon vaigiensis