Abstract
Three species of Schismatogobius de Beaufort 1912, distinguished by their morphology and mitochondrial DNA sequences, were found in freshwater streams in the Ryukyu Archipelago, Japan. Although two species were previously known from Japan (S. roxasi Herre 1936 and S. ampluvinculus Chen, Shao, and Fang 1995), the taxonomy needs to be revised. To identify these species, the holotype morphology of S. marmoratus (Peters 1868), S. bruynisi de Beaufort 1912, and S. roxasi, originally described from the Philippines and Indonesia, were examined and re-described here, because relatively little information about their diagnostic characters was provided in the original descriptions. The three Japanese species were identified as S. ampluvinculus, S. marmoratus, and a new species. They were distinguished from each other and from their congeners by the banding pattern of the body, markings on the pectoral fins, pigment patterns on the ventral surface of the head and pelvic fin, body depth at the pelvic-fin origin, pre-anal length, and pectoral-fin ray counts. Although the new species had been regarded as S. roxasi in previous publications, we show that it is actually not S. roxasi and that it also differs from all other nominal species of Schismatogobius. This is described as a new species, S. ninja. Additionally, this is the first record of S. marmoratus from Japan.
This is a preview of subscription content, log in to check access.
Access options
Buy single article
Instant access to the full article PDF.
US$ 39.95
Price includes VAT for USA
Subscribe to journal
Immediate online access to all issues from 2019. Subscription will auto renew annually.
US$ 99
This is the net price. Taxes to be calculated in checkout.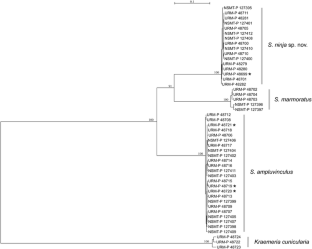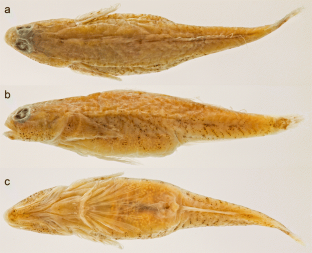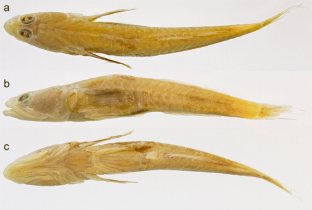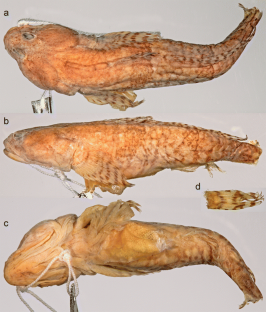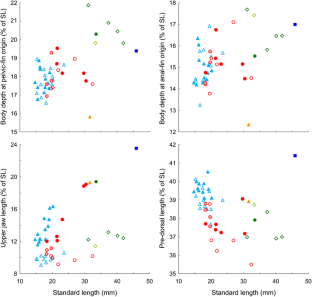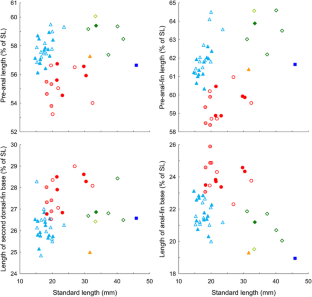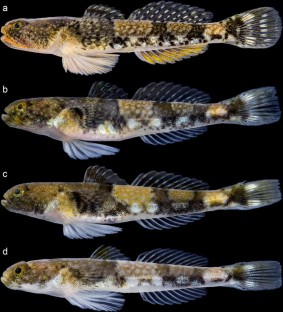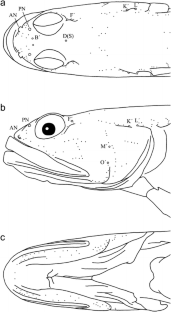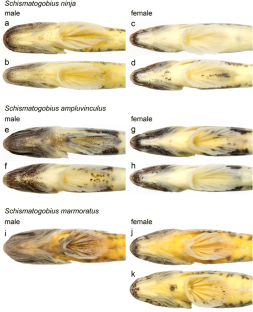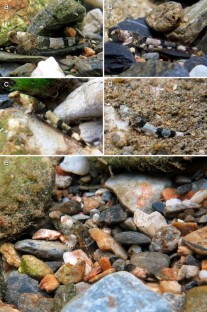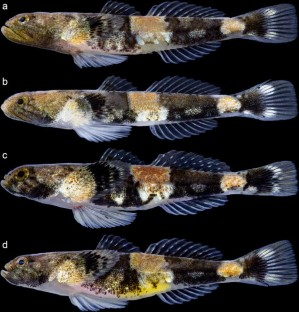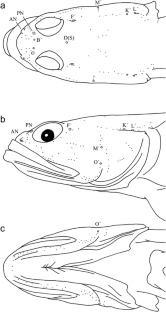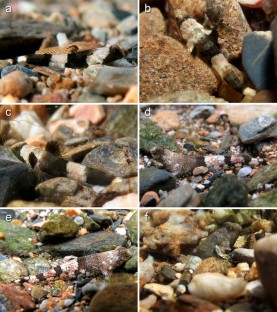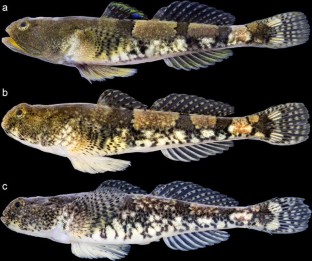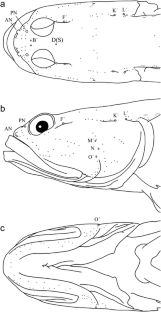 References
Arunachalam M, Muralidharan M, Remadevi K (2014) First record of redneck goby Schismatogobius deraniyagalai (Teleostei: Gobiidae) from Seethanathi river, Karnataka, Southern India. Int J Aquat Biol 2:111–114

Bleeker P (1854) Bijdrage tot de kennis der Troskieuwige visschen van den Indischen Archipel. Verh Bat Gen 25(6):1–30

Capella-Gutiérrez S, Silla-Martínez JM, Gabaldón T (2009) trimAl: a tool for automated alignment trimming in large-scale phylogenetic analyses. Bioinformatics 25:1972–1973

Chen I-S, Shao K-T, Fang L-S (1995a) A new species of freshwater goby Schismatogobius ampluvinculus (Pisces: Gobiidae) from southeastern Taiwan. Zool Stud 34:202–205

Chen I-S, Han C-C, Fang L-S (1995b) A new record of freshwater gobiid fish Schismatogobius roxasi (Pisces: Gobiidae) from southeastern Taiwan. Bull Natl Mus Nat Sci 6:135–137

Chen I-S, Séret B, Pöllabauer C, Shao K-T (2001) Schismatogobius fuligimentus, a new species of freshwater goby (Teleostei: Gobiidae) from New Caledonia. Zool Stud 40:141–146

Chen I-S, Suzuki T, Senou H (2008) A new species of gobiid fish, Luciogobius from Ryukyus, Japan (Teleostei: Gobiidae). J Mar Sci Technol 16:248–252

De Beaufort LF (1912) On some new Gobiidae from Ceram and Waigen. Zool Anz 39:136–143

De Beaufort LF (1913) Fishes of the eastern part of the Indo-Australian Archipelago with remarks on its zoogeography. Contrib Zool 19:93–163, pl 2

Hayashi M, Suzuki T, Ito T, Senou H (1981) Gobiid fishes of the Ryukyu Islands, southern Japan (III)–suborder Gobioidei. Sci Rep Yokosuka City Mus 28:1–25, pls 1–14

Herre AWCT (1927) Gobies of the Philippines and the China Sea. Monogr Philipp Bur Sci Manila 23:1–352, pls 1–30

Herre AWCT (1936) Fishes in the Zoological Museum of Stanford University, III: New genera and species of gobies and blennies and a new Myxus, from the Pelew Islands and Celebes. Philipp J Sci 59:275–287, pls 1–2

Hoese DF, Allen GR (2012) A review of the amphidromous species of the Glossogobius celebius complex, with description of three new species. Cybium 35:269–284

Jenkins A, Boseto D (2005) Schismatogobius vitiensis, a new freshwater goby (Teleostei: Gobiidae) from the Fiji Islands. Ichthyol Explor Freshw 16:75–82

Jordan DS, Seale A (1906) Descriptions of six new species of fishes from Japan. Proc U S Natl Mus 30(1445):143–148

Katoh K, Standley DM (2013) MAFFT multiple sequence alignment software version 7: Improvements in performance and usability. Mol Biol Evol 30:772–780

Kawanabe H, Mizuno N (1989) Freshwater fishes of Japan. Yama-to-keikoku-sha, Tokyo

Keith P, Marquet G, Watson RE (2004) Schismatogobius vanuatuensis, a new species of freshwater goby form Vanuatu, South Pacific. Cybium 28:237–241

Keith P, Lord C, Larson HK (2017) Review of Schismatogobius (Gobiidae) from Papua New Guinea to Samoa, with description of seven new species. Cybium 41:45–66

Kottelat M (2013) The fishes of the inland waters of Southeast Asia: a catalogue and core bibliography of the fishes known to occur in freshwaters, mangroves and estuaries. Raffles Bull Zool Suppl 27:1–663

Kottelat M, Pethiyagoda R (1989) Schismatogobius deraniyagalai, a new goby from Sri Lanka: description and field observations (Osteichthyes, Gobiidae). Spixiana 12:315–320

Kottelat M, Whitten AJ, Kartikasari SN, Wirjoatmodjo S (1993) Freshwater fishes of Western Indonesia and Sulawesi. Periplus Editions, Hong Kong

Koumans FP (1940) Results of a reexamination of types and specimens of gobioid fishes, with notes on the fishfauna of the surroundings of Batavia. Zool Meded 22:121–210

Koumans FP (1953) X Gobioidea. In: Weber M, de Beaufort LF (eds) The fishes of the Indo-Australian Archipelago. E. J. Brill, Leiden, pp 1–423

Maeda K (2014) Schismatogobius ampluvinculus. In: Okiyama M (ed) An atlas of the early stage fishes in Japan, 2nd edn. Tokai University Press, Kanagawa, pp 1296–1297

Maeda K (2016) What is amphidromy? A discussion of various migration patterns. Aquabiology 38: 350–355

Masuda H, Kobayashi Y (1994) Grand atlas of fish life modes: color variation in Japanese fish. Tokai University Press, Tokyo

Masuda H, Amaoka K, Araga C, Uyeno T, Yoshino T (1984) The fishes of the Japanese Archipelago. Tokai University Press, Tokyo

Nakabo T (1993) Fishes of Japan with pictorial keys to the species. Tokai University Press, Tokyo

Nakabo T (2000) Fishes of Japan with pictorial keys to the species, second edition. Tokai University Press, Tokyo

Nakabo T (2002) Fishes of Japan with pictorial keys to the species, English edition. Tokai University Press, Tokyo

Nakabo T (2013) Fishes of Japan with pictorial keys to the species, third edition. Tokai University Press, Kanagawa

Nelson JP, Grande TC, Wilson MVH (2016) Fishes of the world, fifth edition. John Wiley & Sons, Hoboken

Pallas PS (1770) Spicilegia Zoologica quibus novae imprimis et obscurae animalium species iconibus, descriptionibus atque commentariis illustrantur. Fasciculus octavus. Lange, Berlin

Peng Y, Leung HC, Yiu SM, Chin FY (2012) IDBA-UD: a de novo assembler for single-cell and metagenomic sequencing data with highly uneven depth. Bioinformatics 28:1420–1428

Peters W (1868) Über die von Hrn. Dr. F. Jagor in dem ostindischen Archipel gesammelten und dem Königl. zoologischen Museum übergebenen Fische. Monatsberichte der Königlichen Preussischen Akademie der Wissenschaften zu Berlin 1868:254–281

Pietsch TW, Anderson WD (1997) Collection building in ichthyology and herpetology. American Society of Ichthyologists and Herpetologists, Lawrence

Rofen RR (1958) The marine fishes of Rennell Island. Nat Hist Rennell I, Br Solomon Is 1:149–218, pls 1–11

Sabaj MH (2016) Standard symbolic codes for institutional resource collections in herpetology and ichthyology: an online reference. Version 6.5. American Society of Ichthyologists and Herpetologists, Washington, DC, USA. http://www.asih.org/resources/standard-symbolic-codes-institutional-resource-collections-herpetology-ichthyology. Accessed 18 April 2017

Satou F (2005) Fishes and crustaceans around Kumejima-hotaru-kan and freshwater fishes on Kumejima Island. Bull Kumejima Shizen Bunka Center 5:67–77

Stamatakis A (2014) RAxML version 8: a tool for phylogenetic analysis and post-analysis of large phylogenies. Bioinformatics 30:1312–1313

Suzuki T, Senou H (1981) Freshwater fishes of Yaeyama Islands (IV)–Freshwater gobioid fishes of Yaeyama Islands. Tansuigyo 7:154–157, pls 1–2

Suzuki T, Shibukawa K, Yano K (2004) A photographic guide to the gobioid fishes of Japan. Heibonsha, Tokyo

Watson RE, Chen I-S (1998) Freshwater gobies of the genus Stiphodon from Japan and Taiwan (Teleostei: Gobiidae: Sicydiini). Aqua 3:55–68

Yonezawa T, Shinomitya A (2002) Record of two gobioid fishes, Ophieleotris sp. and Schismatogobius ampluvinculus, from Osumi Islands, Japan. IOP Diving News 13(8):2–6

Yoshigou H (2014) Annotated checklist and bibliographic records of inland water fishes of the Ryukyu Archipelago, Japan. Fauna Ryukyuana 9:1–153
Acknowledgments
We are grateful to Peter Bartsch and Johanna Kapp (ZMB), Ronald de Ruiter (RMNH), David Catania and Mysi Hoang (CAS), Gento Shinohara (NSMT), Kiyoshi Hagiwara (YCM), Kei Miyamoto and Nozomi Hanahara (General Research Center of Okinawa Churashima Foundation, Okinawa), and all of the museum staff who supported our investigation and the specimen registration, who loaned us the specimens, or who provided information about the specimens. We wish to thank Steven D. Aird (OIST) for editing the manuscript, Philippe Keith (MNHN) for valuable information, and Kanako Hisata and members of Marine Genomics Unit (OIST) for their kind support of our study. Computations were partially performed on the NIG supercomputer at ROIS National Institute of Genetics. This study was supported by OIST and JSPS KAKENHI Grant Number 16K07492.
Additional information
This article was registered in the Official Register of Zoological Nomenclature (ZooBank) as A7400E27-9853-4E61-AA04-B64CFB29603A.
This article was published as an Online First article on the online publication date shown on this page. The article should be cited by using the doi number.
Electronic supplementary material
Below is the link to the electronic supplementary material.
About this article
Cite this article
Maeda, K., Saeki, T., Shinzato, C. et al. Review of Schismatogobius (Gobiidae) from Japan, with the description of a new species. Ichthyol Res 65, 56–77 (2018). https://doi.org/10.1007/s10228-017-0593-4
Received:

Revised:

Accepted:

Published:

Issue Date:
Keywords
Schismatogobius

Gobiidae

New species

Mitochondrial genome

Ryukyu Archipelago