Abstract
A taxonomic review of the genus Banjos (Perciformes: Banjosidae), previously restricted to a single species, Banjos banjos (Richardson 1846), recorded from the northwestern Pacific Ocean from the South China Sea north to Japan, as well as Lombok (Indonesia), New Caledonia and Australia, resulted in the recognition of three species, including B. banjos (northwestern Pacific Ocean, Indonesia and western Australia), Banjos aculeatus sp. nov. (eastern Australia) and Banjos peregrinus sp. nov. [northern Australia (Timor Sea)]. Records of B. banjos from New Caledonia probably also represent B. aculeatus, which is clearly distinct from other congeners in having a relatively long, strongly serrated spine at the posteroventral angle of the preopercle and an entirely dusky membrane on the spinous dorsal fin in juveniles < ca. 70 mm SL, in addition to slightly longer first and second dorsal-fin spines. Banjos peregrinus is characterized by a relatively greater head length, orbit diameter, postorbital length and pre-pelvic-fin length, as well as poorly developed serration of the exposed margin of the cleithrum. Within B. banjos, a population from the southeastern Indian Ocean, including Indonesia and western Australia, is regarded as a distinct subspecies (Banjos banjos brevispinis ssp. nov.), distinguishable from B. b. banjos from the northwestern Pacific Ocean by a relatively narrow least interorbital width, and shorter second and eighth dorsal-fin spines. Ontogenetic morphological changes within the genus and the status of the holotype of Anoplus banjos Richardson 1846 are discussed in detail.
Access options
Buy single article
Instant access to the full article PDF.
US$ 39.95
Tax calculation will be finalised during checkout.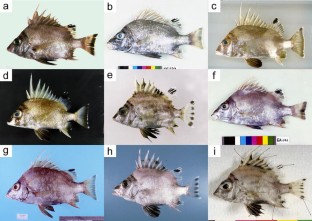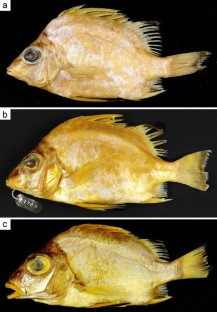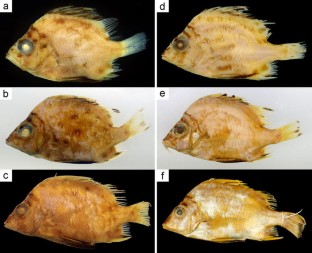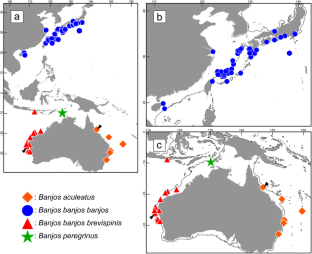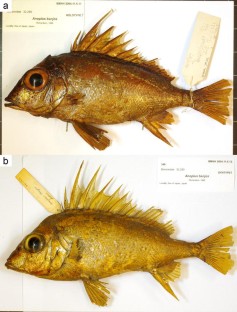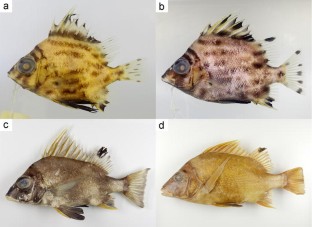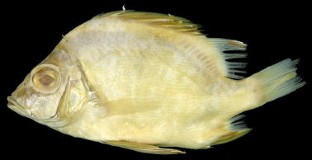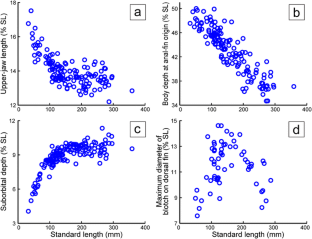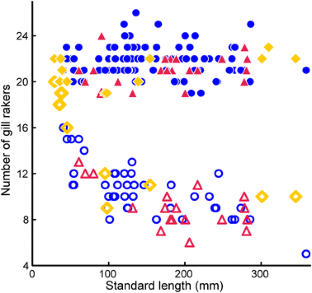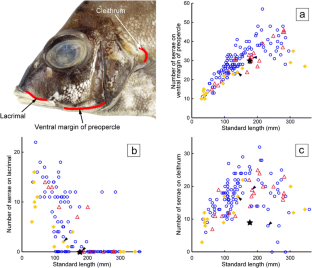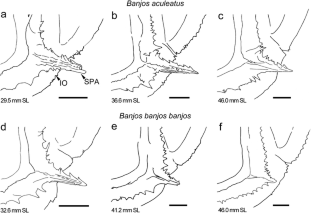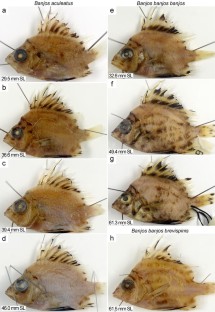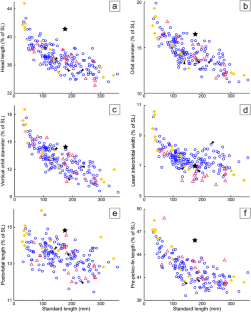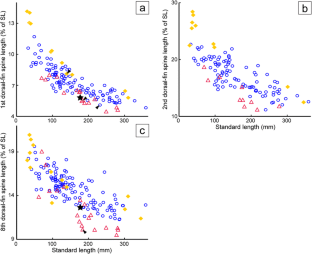 References
Abe T (1963) Encyclopedia ichthyological illustrated in colors with keys to Japanese species. Hokuryukan, Tokyo

Akazaki M (1984) Banjosidae. In: Masuda H, Amaoka K, Araga C, Ueno T, Yoshino T (eds) The fishes of the Japanese Archipelago. Tokai University Press, Tokyo, p 169, pl 163

Akazaki M (1997) Banjosidae. In: Okamura O, Amaoka K (eds) Sea fishes of Japan. Yama-kei, Tokyo, p 285

Allen GR, Cross NJ (2006) Banjosidae. Banjofish, banjosids. In: Hoese DF, Bray DJ, Paxton JR, Allen GR (eds) Zoological catalogue of Australia. Vol. 35, parts 1–3: fishes. CSIRO Publishing, Collingwood, p 1078

Allen GR, Swainston R (1988) The marine fishes of north-western Australia. A field guide for anglers and divers. Western Australian Museum, Perth

Amante C, Eakins BW (2009) ETOPO1 1 arc-minute global relief model: procedures, data sources and analysis. NOAA Technical Memorandum NESDIS NGDC-24, March 2009. http://www.ngdc.noaa.gov/mgg/global/. Accessed 15 August 2014

Bleeker P (1876) Systema percarum revisum. Pars Ia. Percae. Arc Néer Sci Nat 11:247–288

Boeseman M (1947) Revision of the fishes collected by Burger and Von Siebold in Japan. Zool Med Leiden 28:1–242, pls 1–5

Burridge CP (2002) Antitropicality of Pacific fishes: Molecular insights. Env Biol Fishes 65:151–164

Chen C-H (2003) Fishes of Penghu. Fishery Research Institute, Keelung

Dotsu Y, Tomiyama I (1976) The marine fishes from Saikai National Park of Japan. Bull Fac Fish Nagasaki Univ 23:1–42

Eschmeyer WN (ed) (1998) Catalog of fishes. Center for Biodiversity Research and Information, Special Publication 1.Vols 1–3. California Academy of Sciences, San Francisco

Eschmeyer WN, Fricke R, van der Laan R (eds) (2016) Catalog of fishes: genera, species, references. http://researcharchive.calacademy.org/research/ichthyology/catalog/fishcatmain.asp. Accessed 27 July 2016

Fourmanoir P, Nhu-Nhung D-T (1965) Liste complémentaire des poissons marins de Nha-Trang. Cahiers d'ORSTOM, Océanographie, Numéro special, July. ORSTOM, Paris

Fowler HW (1933) Contributions to the biology of the Philippine Archipelago and adjacent regions. The fishes of the families Banjosidae, Lethrinidae, Sparidae, Girellidae, Kyphosidae, Oplegnathidae, Gerridae, Mullidae, Emmelichthyidae, Sciaenidae, Sillaginidae, Arripidae and Enoplosidae, collected by the United States Bureau of Fisheries Streamer "Albatross", chiefly in Philippine seas and adjacent waters. Bull US Natl Mus No. 100 12:1–465

Franz V (1910) Die japanischen Knochenfische der Sammlungen Haberer und Doflein. (Beiträge zur Naturgeschichte Ostasiens.). Abh Math Phys Kl K Bayer Akad Wiss 4:1–135, pls 1–11

Fricke R, Kulbicki M (2006) Checklist of the shore fishes of New Caledonia. Compendium of marine species from New Caledonia. Doc Sci Tec II 7:313–357, pls 15/1–15/2

Fricke R, Kulbicki M, Wantiez L (2011) Checklist of the fishes of New Caledonia, and their distribution in the Southwest Pacific Ocean (Pisces). Stut Beit Natur Ser A 4:341–463

Gamo S, Kato N (1973) Marine fishes from Manazuru and closely adjacent waters, north-western part of Sagami Bay. Sci Rep Yokohama Natl Univ Sec II 20:69–84

Gloerfelt-Tarp T, Kailola PJ (1984) Trawled fishes of southern Indonesia and northwestern Australia. Australian Development Assistance Bureau, Sydney

Greenwood PH, Rosen DE, Weitzman SH, Myers GS (1966) Phyletic studies of teleostean fishes, with a provisional classification of living forms. Bull Am Mus Nat Hist 131:339–456

Günther A (1859) Catalogue of the acanthopterygian fishes in the collection of the British Museum. Vol 1. Gasterosteidae, Berycidae, Percidae, Aphredoderidae, Pristipomatidae, Mullidae, Sparidae. British Museum, London

Hatooka K (2013) Banjosidae. In: Nakabo T (ed) Fishes of Japan with pictorial keys to the species. 3rd edition. Tokai University Press, Hadano, pp 819, 1976–1977

Honma Y, Nakamura Y, Tsuruta N, Inoue N, Honma R (1997) Further additions to "A list of the fishes collected in the Province of Echigo including Sado Island" (XVI). Bull Kashiwazaki City Mus 11:95–112

Hubbs CL, Lagler KF (1949) Fishes of the Great Lakes Region. Cranbrook Press, Bloomfield Hills

Hutchins JB (2001) Checklist of the fishes of Western Australia. Rec West Aust Mus Suppl 63:9–50

ICZN (International Commission on Zoological Nomenclature) (1999) International code of zoological nomenclature. 4th edition. International Trust for Zoological Nomenclature, London

Ide S, Machida Y, Endo H (2003) Coastal bottom fishes collected by commercial trawlers from Tosa Bay off Susaki, southern Japan. Bull Mar Sci Fish Kochi Univ 22:1–35

Ikeda H, Nakabo T (2015) Fishes of the Pacific coasts of southern Japan. Tokai University Press, Hadano

Imamura H, Yoshino T (2009) Authorship and validity of two flatheads, Platycephalus japonicus and Platycephalus crocodilus (Teleostei: Platycephalidae). Ichthyol Res 56:308–313

Iwatsuki Y, Russell BC (2006) Revision of the genus Hapalogenys (Teleostei: Perciformes) with two new species from the Indo-West Pacific. Mem Mus Victoria 63:29–46

Johnson GD (1984) Percoidei: Development and relationships. In: Moser HG, Richards WJ, Cohen DM, Fahay MP, Kendall AW Jr, Richardson SL (eds) Ontogeny and systematics of fishes. American Society of Ichthyologists and Herpetologists. Special Publication No 1. Allen Press, Lawrence, pp 464–498

Jordan DS, Evermann BW (1902) Notes on a collection of fishes from the island of Formosa. Proc US Natl Mus 25:315–368

Jordan DS, Richardson RE (1909) A catalogue of the fishes of the island of Formosa, or Taiwan, based on the collections of Dr. Hans Sauter. Mem Carnegie Mus 4:159–204, pls 63–74

Jordan DS, Snyder JO (1900) A list of fishes collected in Japan by Keinosuke Otaki, and by the United States steamer Albatross, with descriptions of fourteen new species. Proc US Natl Mus 23:335–380, pls 9–20

Jordan DS, Snyder JO (1901) A preliminary checklist of the fishes of Japan. Annot Zool Jpn 3:31–159

Jordan DS, Thompson WF (1912) A review of the Sparidae and related families of perch-like fishes found in the waters of Japan. Proc US Natl Mus 41:521–601

Kamohara T (1950) Description of the fishes from the provinces of Tosa and Kishu, Japan. Kochi-ken Bunkyo Kyokai, Kochi

Kamohara T (1952) Revised descriptions of the offshore bottom-fishes of Prov. Tosa, Shikoku, Japan. Rep Kochi Univ Nat Sci 3:1–122

Kamohara T (1964) Revised catalogue of fishes of Kochi Prefecture, Japan. Rep Usa Mar Biol Stat 11:1–99

Kawano M, Doi H, Hori S (2011) List of the fishes in the Japan Sea (preliminary report). Bull Yamaguchi Pref Fish Res Ctr 9:65–94

Kim IS, Choi Y, Lee CL, Lee YJ, Kim BJ, Kim JH (2005) Illustrated book of Korean fishes. Kyo-Hak Publishing, Seoul

Kim BJ, Kim IS, Nakaya K, Yabe M, Choi Y, Imamura H (2009) Checklist of the fishes from Jeju Island, Korea. Bull Fish Sci Hokkaido Univ 59:7–36

Krusenstern IF (1813) Atlas zur Reise um die Welt, unter dem Commando des Capitains von Krusenstern. St. Petersburg

Krusenstern IF (1814) Atlas zur Reise um die Welt, unternommen auf Befehl Seiner Kaiserlichen Majestät Alexander des Ersten auf den Schiffen Nadeshda und Neva unter dem Commando des Capitains von Krusenstern. St. Petersburg

Kulbicki M, Randall JE, Rivaton J (1994) Checklist of the fishes of the Chesterfield Islands (Coral Sea). Micronesica 27:1–43

Kuriiwa K, Arihara H, Chiba SN, Kato S, Senou H, Matsuura K (2014) Checklist of marine fishes of the Zunan Islands, located between the Izu and Ogasawara (Bonin) islands, Japan, with zoogeographical comments. Check List 10:1479–1501

Larson HK, Williams RS, Hammer MP (2013) An annotated checklist of the fishes of the Northern Territory, Australia. Zootaxa 3696:1–293

Lee S-C (1993) Banjosidae. In: Shen SC (ed) Fishes of Taiwan. Department of Zoology, National Taiwan University, Taipei, p 305

Leis JM, Carson-Ewart BM (eds) (2004) The larvae of Indo-Pacific coastal fishes. An identification guide to marine fish larvae. (Fauna Malesiana Handbooks 2). Soft cover edition. E. J. Brill, Leiden

Liu J, Jin W, Wu C (2015) Complete mitochondrial genome of Banjofish (Banjos banjos): genome characterization and phylogenetic analysis. Mitochondrial DNA 27:4433–4435

Machida Y (1985) Banjos banjos. In: Okamura O (ed) Fishes of the Okinawa Trough and the adjacent waters II. The intensive research of unexploited fishery resources on continental slopes. Japan Fisheries Resource Conservation Association, Tokyo, pp 477, 672

Masuda H, Kobayashi Y (1994) Grand atlas of fish life modes. Color variation in Japanese fish. Tokai University Press, Tokyo

Matsubara K (1955) Fish morphology and hierarchy. Part 1. Ishizaki-Shoten, Tokyo

Matsumoto H (2005) Occurrence of fishes off Uyagawa, Shimane Prefecture (I). Rep Shimane Pref Fish Exp Sta 12:79–86

Miura N (2012) Chinen-ichiba no sakana-tachi. Uebu-kikaku, Yonabaru

Mori T (1928) A catalogue of the fishes of Korea. J Pan-Pac Res Inst 3:3–8

Motomura H (2004) Revision of the scorpionfish genus Neosebastes (Scorpaeniformes: Neosebastidae), with descriptions of five new species. Indo Pac Fish 37:1–76, pls 1–2

Nakajima T (2003) Records of fishes from coastal and offshore waters of Aichi Prefecture, Honshu, Japan. Private publication, Toyohashi

Nelson JS, Grande TC, Wilson MVH (2016) Fishes of the World. 5th edition. John Wiley & Sons, Hoboken

Nyström E (1887) Redogörelse för den Japanska Fisksamlingen i Upsala Universitets Zoologiska Museum. Bihang Till K Svenska Vet Akad Handlingar 13:1–54

Okada Y, Matsubara K (1938) Keys to the fishes and fish-like animals of Japan. Sanseido, Tokyo

Orsi JJ (1974) A checklist of the marine and freshwater fishes of Vietnam. Publ Seto Mar Biol Lab 21:153–177

Paepke H-J (2001) Comments on the old Japanese fish collections in the Museum of Natural History of the Humboldt University of Berlin. Ichthyol Res 48:329–334

Quantum GIS Development Team (2014) Quantum GIS Geographic Information System. Open Source Geospatial Foundation Project. http://www.qgis.org/. Accessed 11 June 2014

Ramm DC (1997) Assessment of groundfish stocks in northern Australian waters between 127–137°E. Final report to the Fisheries Research and Development Corporation on project 90/15, and the Fisheries Management Authority. Fishery Report No 38. Northern Territory Department of Primary Production, Darwin

Randall JE (1982) Examples of antitropical and antiequatorial distribution of Indo-West-Pacific fishes. Pac Sci 35:197–209

Randall JE (1998) Zoogeography of shore fishes of the Indo-Pacific region. Zool Stud 37:227–268

Randall JE, Lim KKP (2000) A checklist of the fishes of the South China Sea. Raffles Bull Zool Suppl 8:569–667

Richardson J (1846) Report on the ichthyology of the seas of China and Japan. Report of the British Association for the Advancement of Science, 15th meeting. pp 187–320

Rivaton J, Fourmanoir P, Bourret P, Kulbicki M (1990) Checklist of fishes from New Caledonia. ORSTOM, Nouméa

Sabaj MH (2016) Standard symbolic codes for institutional resource collections in herpetology and ichthyology: an Online Reference. Version 6.5 (16 August 2016). American Society of Ichthyologists and Herpetologists, Washington, DC. http://www.asih.org/. Accessed 30 August 2016

Sainsbury K, Kailola PJ, Leyland GG (1985) Fishes of northern and north-western Australia. CSIRO, Canberra

Sanciangco MD, Carpenter KE, Betancur-R R (2016) Phylogenetic placement of enigmatic percomorph families (Teleostei: Percomorphaceae). Mol Phylogenet Evol 94:565–576

Schönherr CJ (1826) Curculionidum disposition methodica cum generum characteribus, descriptionibus atque observationibus variis. Seu prodromus ad synonymiae insectorum. Partem 4. Fleischer, Lipsiae

Senou H (1992) Banjos banjos. IOP Diving News 3(9):1

Senou H, Matsuura K, Shinohara G (2006) Checklist of fishes in the Sagami Sea with zoogeographical comments on shallow water fishes occurring along the coastlines under the influence of the Kuroshio Current. Mem Natl Sci Mus Tokyo 41:389–542

Shao K-T, Ho H-C, Lin P-L, Lee P-F, Lee M-Y, Tsai C-Y, Liao Y-C, Lin Y-C (2008) A checklist of the fishes of southern Taiwan, northern South China Sea. Raffles Bull Zool Suppl 19:233–271

Shen S-C (1984) Coastal fishes of Taiwan. National Taiwan Museum, Taipei

Shen S-C, Wu K-Y (2011) Fishes of Taiwan. National Museum of Marine Biology & Aquarium, Pingtung

Shinohara S (1966) Studies on the lutjanid fishes of the Ryukyu Islands, anatomy, taxonomy and distribution. Bull Arts Sci Div Univ Ryukyus Math Nat Sci 9:179–301

Shinohara G, Endo H, Matsuura K, Machida Y, Honda H (2001) Annotated checklist of the deepwater fishes from Tosa Bay, Japan. Natl Sci Mus Monogr 20:283–343

Shinohara G, Matsuura K (1997) Annotated checklist of deep-water fishes from Suruga Bay, Japan. Natl Sci Mus Monogr 12:269–318, pls 1–2

Shinohara G, Nakae M, Ueda Y, Kojima S, Matsuura K (2014) Annotated checklist of deep-sea fishes of the Sea of Japan. Natl Sci Mus Monogr 44:225–291

Shinohara G, Sato T, Aonuma Y, Horikawa H, Matsuura K, Nakabo T, Sato K (2005) Annotated checklist of deep-sea fishes from the waters around the Ryukyu Islands, Japan. Natl Sci Mus Monogr 29:385–452

Steindachner F, Döderlein L (1883) Beiträge zur Kenntniss der Fische Japan's (II). Kaiserl Akad Wiss Wien Math Naturwiss Kl Denkschr 48(1): 1–40, pls 1–7

Sun D, Chen Z (eds) (2013) Systematic synopsis of fishes of the South China Sea. Vol 1. China Ocean Press, Beijing

Takagi M, Hirata T, Hirata S, Nakata C (eds) (2010) Fishes of Ainan, Ehime Prefecture. Soufusha Press, Matsuyama

Takeuchi N, Senou H, Seino S (2015) Fish fauna of Tsushima Island, Nagasaki Prefecture, Japan. Researches from 1948 to 2015. Bull Biogeogr Soc Japan 70:1–10

Temminck CJ, Schlegel H (1843) Pisces. Part 1. In: von Siebold PF (ed) Fauna Japonica. Sive descriptio animalium quae in itinere per Japoniam suscepto annis 1823–30 collegit. Notis observationibus et adumbrationibus illustravit. J Müller & Co, Amsterdam, pp 1–24

The Kagoshima City Aquarium (ed) (2008) Kagoshima no teichi-ami no sakana-tachi. The Kagoshima City Aquarium, Kagoshima

Uchida K, Yabe H (1939) The fish-fauna of Saisyu-to (Quelpart Island) and its adjacent waters. J Chosen Natl Hist Soc 25:3–16

Uryu T (2003) Seitai kansatsu gaido. Izu no kaisuigyo. Kaiyusha, Tokyo

van Grouw H, Steinheimer FD (2008) Charles Darwin's lost Cinereous Harrier found in the collection of the National Museum of Natural History Leiden. Zool Med Leiden 82:595–598

Williams A, Last PR, Gomon MF, Paxton JR (1996) Species composition and checklist of the demersal ichthyofauna of the continental slope off Western Australia (20–35°S). Rec West Aust Mus 18:135–155

Yabe M (2013) Banjosidae. In: Kim B-J, Nakaya K (eds) Fishes of Jeju Island, Korea. National Institute of Biological Resources, Incheon, p 113

Yagishita N, Nakabo T (2000) Revision of the genus Girella (Girellidae) from East Asia. Ichthyol Res 47:119–135

Yamada K (1991) Landing fishes on Misaki Fisheries Market, from Sagami Bay, II. Nat Hist Rep Kanagawa 12:21–28

Yamada U, Tokimura M, Horikawa H, Nakabo T (2007) Fishes and fisheries of the East China and Yellow seas. Tokai University Press, Hadano

Yamaguchi T, Machida Y (2003) Fish specimens collected in Japan by Ph. F. von Siebold and H. Bürger and now held by the Nationaal Natuurhistorisch Museum in Leiden and other two Museums. Bull Aitsu Mar Sta Kumamoto Univ Sp No 4:87–337, pls 1–87
Acknowledgments
We are especially grateful to G. Ogihara (formerly KAUM) for providing data on his preliminary taxonomic study on Banjos; Y. Takigawa (Kagawa University, Japan) for sharing her extensive knowledge of historical Japanese fish specimens brought to Europe; and M. McGrouther (AMS); K.-T. Shao (ASIZP); J. Maclaine (BMNH); H. Endo (BSKU); D. Catania (CAS); A. Graham (CSIRO); Y. Kai (FAKU) and T. Nakabo (formerly FAKU); H. Senou (KPM); H. Kohno (MTUF); Y. Iwatsuki (MUFS); C. Struthers (NMNZ); D. Bray (NMV); K. Matsuura, G. Shinohara and M. Nakae (NSMT); G. Dally and M. Hammer (NTM); H.-L. Wu (SFU); K. Hoshino (SNFR); T. Yoshino (formerly URM); J. Williams (USNM); S. Morrison (formerly WAM); and P. Bartsch (ZMB) for providing opportunities to examine specimens. We are also very appreciative of J. Maclaine for providing information on BMNH specimens of Banjos; G. Mou-Tham (IRDNC), R. Fricke (SMNS) and Z. Gabsi (MNHN) for providing information on New Caledonian specimens of Banjos; and S. Bogorodsky (Station of Naturalists, Russia) for providing help with Russian translations. K. Graham (AMS), L. Conboy, G. Leyland, A. Williams, D. Wright (CSIRO), and staffs of National Research Institute of Far Seas Fisheries (formerly Far Seas Fisheries Research Laboratory) provided photographs of specimens; J. Maclaine (BMNH), Y. Kai, F. Tashiro, N. Nakayama and students (FAKU), and G. Shinohara, M. Nakae and other staff (NSMT) provided hospitality during the author's visits to their institutions; students and volunteers of KAUM assisted in sampling specimens and providing curatorial support; N. Nakayama (formerly BSKU), M. Okamoto (SNFR) and Y. Sakurai (Okinawa, Japan) donated specimens; G. Hardy (Ngunguru, New Zealand) read the manuscript and provided help with English; and M. Gomon (NMV) and anonymous reviewers provided helpful comments on the manuscript. This study was supported in part by JSPS KAKENHI Grant Numbers JP26241027, JP24370041, JP23580259, and JP26450265; JSPS Fellow (PD: 16J00047); the JSPS Core-to-Core Program, "Research and Education Network on Southeast Asian Coastal Ecosystems"; the "Coastal Area Capability Enhancement in Southeast Asia Project" of the Research Institute for Humanity and Nature, Kyoto, Japan; the "Biological Properties of Biodiversity Hotspots in Japan" project of the National Museum of Nature and Science, Tsukuba, Japan; and "Establishment of Research and Education Network on Biodiversity and Its Conservation in the Satsunan Islands" project of Kagoshima University, adopted by the Ministry of Education, Culture, Sports, Science and Technology, Japan.
Additional information
This article was registered in the Official Register of Zoological Nomenclature (ZooBank) as 4596A021-D0D3-4098-8982-B4C53E320962.
This article was published as an Online First article on the online publication date shown on this page. The article should be cited by using the doi number.
About this article
Cite this article
Matsunuma, M., Motomura, H. Review of the genus Banjos (Perciformes: Banjosidae) with descriptions of two new species and a new subspecies. Ichthyol Res 64, 265–294 (2017). https://doi.org/10.1007/s10228-016-0569-9
Received:

Revised:

Accepted:

Published:

Issue Date:
Keywords
Banjofish

Anoplus banjos

Morphology

Taxonomy

Antitropical distribution