Abstract
Symphurus longirostris, a new, cryptic tonguefish, was discovered by combining evidence from both morphological characters and the genetic divergence data of partial sequences of the 16S rRNA and COI genes. This dwarf species, reaching sizes to 65.5 mm standard length (SL), is described from 37 specimens collected from shallow waters around southern and central Japan. Compared with congeners, S. longirostris shares many morphological similarities with those of S. microrhynchus, S. holothuriae, and several undescribed species that are morphologically similar to S. microrhynchus. Symphurus longirostris differs from all congeners by the following combination of characters: a predominant 1–2–2–2–2 ID pattern; 12 caudal-fin rays; 9 abdominal vertebrae; 45–48 total vertebrae; four hypurals; 81–88 dorsal-fin rays; 68–74 anal-fin rays; 56–66 longitudinal scale rows; 21–26 transverse scales; 11–14 scale rows on the head posterior to lower orbit; a well-developed fleshy ridge on the ocular-side lower jaw; a membrane covering both eyes that is continuous with the anterior nostril; distinct spots present in the dermis at the bases of the anterior dorsal- and anal-fin rays; the dorsalmost aspect of the peritoneum bluish black; the upper head lobe larger than lower head lobe; relatively short lengths of the head (HL 20.5–22.6 % of SL) and postorbital region (POL 13.0–14.9 % of SL); relatively long snout (SNL 18.7–24.4 % of HL); and relatively long predorsal length (PDL 23.8–32.7 % of HL) compared with corresponding features in S. microrhynchus and S. holothuriae. Analysis of morphological and molecular features in this description of S. longirostris will also help to clarify the status of the poorly known species, S. microrhynchus and S. holothuriae. This study is the beginning of a taxonomic revision of shallow-water species of Symphurus from the Indo-West Pacific.
Access options
Buy single article
Instant access to the full article PDF.
USD 39.95
Price excludes VAT (USA)
Tax calculation will be finalised during checkout.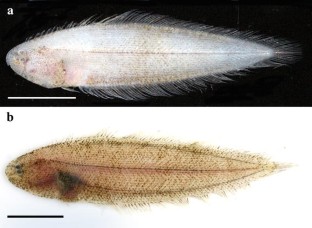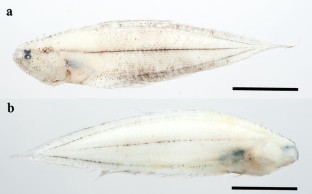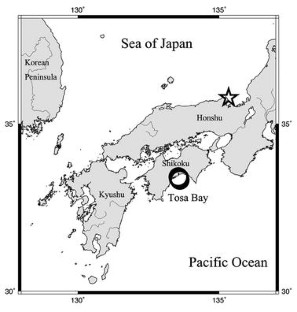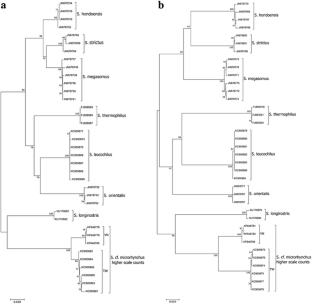 References
Alcock A (1891) Natural history notes from H. M. Indian marine survey steamer 'Investigator,' Commander R. F. Hoskyn, R. N., commanding.—Series II., No. 1. On the results of deep-sea dredging during the season 1890–91. Ann Mag Nat Hist 8:16–34, 119–138, pls 7–8

Bleeker P (1865) Enumération des espèces de poissons actuellement connues de l'île d'Amboine. Nederlandsch Tijdschrift voor de Dierkunde 2: 270–293

Chabanaud P (1948) Description de quatre espèces inèdites du genre Symphurus. Bull Mus Nat Hist Nat Paris (2nd Sèr) 20:508–511

Chabanaud P (1955) Flatfishes of the genus Symphurus from the U.S.S. "Albatross" Expedition to the Philippines, 1907–1910. J Wash Acad Sci 45:30–32

Chabanaud P (1957) Description d'un Symphurus inédit, fruit de la croisière 1899–1900 du Siboga. Beaufortia 5:183–185

Felsenstein J. (1985) Confidence limits on phylogenies: an approach using bootstrap. Evolution 39:783–791

Fricke R, Eschmeyer WN (2016) A Guide to Fish Collections in the Catalog of Fishes. http://researcharchive.calacademy.org/research/ichthyology/catalog/collections.asp. Accessed 31 March 2016

Hamilton F (1822) An account of the fishes found in the river Ganges and its branches. Edinburgh and London, Archibald Constable

Kimura M (1980) A simple method of estimating evolutionary rate of base substitutions through comparative studies of nucleotide sequences. J Mol Evol 16:111–120

Krabbenhoft TJ, Munroe TA (2003) Symphurus bathyspilus: a new cynoglossid flatfish (Pleuronectiformes: Cynoglossidae) from deepwaters of the Indo-West Pacific. Copeia 2003:810–817

Lee M-Y, Chen H-M, Shao K-T (2009a) A new species of deep-water tonguefish genus Symphurus (Pleuronectiformes: Cynoglossidae) from Taiwan. Copeia 2009:342–347

Lee M-Y, Munroe TA, Chen H-M (2009b) A new species of tonguefish (Pleuronectiformes: Cynoglossidae) from Taiwanese waters. Zootaxa 2203:49–58

Lee M-Y, Munroe TA, Shao K-T (2013) Symphurus orientalis (Bleeker) redefined based on morphological and molecular characters (Pleuronectiformes; Cynoglossidae). Zootaxa 3620:379–403

Lee M-Y, Munroe TA, Shao K-T (2014) Description of a new cryptic, shallow-water tonguefish (Pleuronectiformes: Cynoglossidae: Symphurus) from the western North Pacific Ocean. J Fish Biol 85:563–585

Munroe TA (1992) Interdigitation pattern of dorsal-fin pterygiophores and neural spines, an important diagnostic character for symphurine tonguefishes (Symphurus: Cynoglossidae: Pleuronectiformes). Bull Mar Sci 50:357–403

Munroe TA (1998) Systematics and ecology of tonguefishes of the genus Symphurus (Cynoglossidae: Pleuronectiformes) from the western Atlantic Ocean. Fish Bull 96:1–182

Munroe TA (2001) Families Cynoglossidae. In: Carpenter KE, Niem HK (eds) The Living Marine Resources of the Western Central Pacific, vol. 6. FAO, Rome, pp 3890–3901

Munroe TA (2005) Chapter 2. Systematic diversity of the Pleuronectiformes. In: Gibson RN (ed) Flatfishes Biology and exploitation. Blackwell Publishing Company, Oxford, pp 10–41

Munroe TA (2006) New western Indian Ocean tonguefish (Pleuronectiformes: Cynoglossidae, Symphurus). Copeia 2006:230–234

Munroe TA (2015) Chapter 2. Systematic diversity of the Pleuronectiformes. In: Gibson RN, Nash RM, Geffen AJ, Van der Veer HW (eds) Flatfishes Biology and exploitation 2nd edition. Blackwell Publishing Company, UK, pp 13–51

Munroe TA, Marsh BN (1997) Taxonomic status of three nominal species of Indo-Pacific symphurine tonguefishes (Symphurus: Cynoglossidae: Pleuronectiformes). Ichthyol Res 44:189–200

Munroe TA, Amaoka K (1998) Symphurus hondoensis Hubbs 1915 (Cynoglossidae, Pleuronectiformes), a valid species of western Pacific tonguefish. Ichthyol Res 45:385–391

Munroe TA, Hashimoto J (2008) A new Western Pacific Tonguefish (Pleuronectiformes: Cynoglossidae): the first pleuronectiform discovered at active hydrothermal vents. Zootaxa 1839:43–59

Munroe TA, Tyler J, Tunnicliffe V (2011) Description and biological observations on a new species of deepwater symphurine tonguefish (Pleuronectiformes: Cynoglossidae: Symphurus) collected at Volcano–19, Tonga Arc, West Pacific Ocean. Zootaxa 3061:53–66

Palumbi SR (1996) Nucleic acids II: the polymerase chain reaction. In: Hillis DM, Moritz C, Mable BK (eds) Molecular Systematics, 2nd edition. Sinauer Associates, Sunderland, pp 205–247

Rafinesque CS (1810) Indice d'ittiologia siciliana; ossia, catalogo metodico dei nomi latini, italiani, e siciliani dei pesci, che si rinvengono in Sicilia disposti secondo un metodo naturale e seguito da un appendice che contiene la descrizione de alcuni nuovi pesci siciliani. G. del Nobolo, Messina:1–70

Shen S-C, Lee S-C, Shao K-T, Mok H-C, Chen C-H, Chen C-C, Tzeng C-S (1993) Fishes of Taiwan. National Taiwan University, Taipei

Tamura K, Dudley J, Nei M, Kumar S (2007) MEGA4: molecular evolutionary genetics analysis (MEGA) software version 4.0. Mol Biol Evol 24:1596–1599

Thompson JD, Higgins DG, Gibson TJ (1994) ClustalW: improving the sensitivity of progressive multiple sequence alignment through sequence weighting, position-specific gap penalties and weight matrix choice. Nucleic Acids Res 22:4673–4680

Tunnicliffe V, Koop BF, Tyler J, So S (2010) Flatfish at seamount hydrothermal vents show strong genetic divergence between volcanic arcs. Mar Ecol 31:158–167

Ward RD, Costa FO, Holmes BH, Steinke D (2008) DNA barcoding of shared fish species from the North Atlantic and Australasia: minimal divergence for most taxa, but Zeus faber and Lepidopus caudatus each probably constitute two species. Aquatic Biol 3:71–78

Ward RD, Hanner R, Hebert PDN, (2009) The campaign to DNA barcode all fishes, FISH-BOL. J Fish Biol 74:329–356

Weber M (1913) Die Fische der Siboga-Expedition. E.J. Brill, Leiden

Weber M, de Beaufort LF (1929) The fishes of the Indo-Australian Archipelago. V. Anacanthini, Allotriognathi, Heterostomata, Berycomorphi, Percomorphi: families Kuhliidae, Apogonidae, Plesiopidae, Pseudoplesiopidae, Priacanthidae, Centropomidae. E.J. Brill Ltd, Leiden
Acknowledgments
The authors express their appreciation to K.-T. Shao (BRCAS) for funding support for molecular analyses and for funding M.-Y. Lee for museum visits conducted during this study. L.-P. Lin (ASIZP), G. Shinohara (NSMT), J. Clayton (USNM), and L. Willis (NSL) assisted with loan, cataloguing, and shipment of specimens; H. Endo, N. Nakayama, R. Asaoka, and T. Naito (BSKU) provided assistance and support during M.-Y. Lee's visit to their institution. The authors also thank H. Endo, N. Nakayama, R. Asaoka, and T. Naito (BSKU) for providing many preserved specimens from Japanese waters, which provided us with better understanding of the intraspecific morphological variation in these fishes. Special thanks also go to Y. Ogura, the captain of R/V Ryokuyo-maru, for help in collecting specimens. C.-H. Chang (BRCAS) provided useful comments about molecular aspects of this study. M.-Y. Lee extends his appreciation to J. Maclaine (BMNH) and R. de Ruiter (RMNH) who provided great assistance and hospitality during M.-Y. Lee's visit to their institutions to re-examine type specimens. Also, M.-Y. Lee extends his appreciation and gratitude to members of the Laboratory of Fish Ecology and Evolution for their support and assistance during this study.
Additional information
This article was registered in the Official Register of Zoological Nomenclature (ZooBank) as A90B2220-9757-4524-A540-9585EDC03A17.
This article was published as an Online First article on the online publication date shown on this page. The article should be cited by using the doi number.
About this article
Cite this article
Lee, MY., Munroe, T.A. & Kai, Y. Description of a new cryptic species of tonguefish (Pleuronectiformes: Cynoglossidae: Symphurus) from shallow waters off Japan. Ichthyol Res 64, 71–83 (2017). https://doi.org/10.1007/s10228-016-0541-8
Received:

Revised:

Accepted:

Published:

Issue Date:

DOI: https://doi.org/10.1007/s10228-016-0541-8
Keywords