Access options
Buy single article
Instant access to the full article PDF.
US$ 39.95
Tax calculation will be finalised during checkout.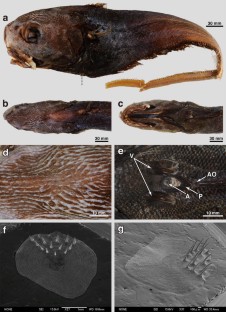 References
Chamberlin RV (1951) On five new American lithobiid centipedes. Great Basin Nat 11:115–118

Hubbs CL, Iwamoto T (1977) A new genus (Mesobius), and three new bathypelagic species of Macrouridae (Pisces, Gadiformes) from the Pacific Ocean. Proc Calif Acad Sci 41:233–251

ICZN (International Commission on Zoological Nomenclature) (1999) International code of zoological nomenclature. 4th edn. International Trust for Zoological Nomenclature, London

Iwamoto T (1970) The R/V Pillsbury deep-sea biological expedition to the Gulf of Guinea, 1964–65. 19. Macrourid fishes of the Gulf of Guinea. Stud Trop Oceanogr 4:316–431

Iwamoto T (1979) Eastern Pacific macrourine grenadiers with seven branchiostegal rays (Pisces: Macrouridae). Proc Calif Acad Sci 42:135–179

Iwamoto T, Anderson (1994) Review of the grenadiers (Teleostei: Gadiformes) of southern Africa, with descriptions of four new species. JLB Smith Inst Ichthyol 61:1–28

Iwamoto T, Graham KJ (2001) Grenadiers (families Bathygadidae and Macrouridae, Gadiformes, Pisces) of New South Wales, Australia. Proc Calif Acad Sci 52:407–509

Iwamoto T, Sazonov YI (1988) A review of the southeastern Pacific Coryphaenoides (sensu lato) (Pisces, Gadiformes, Macrouridae). Proc Calif Acad Sci 45:35–82

Roberts CD (1993) Comparative morphology of spined scales and their phylogenetic significance in the Teleostei. Bull Mar Sci 52:60–113
Acknowledgments
We are deeply indebted to T. Iwamoto (California Academy of Sciences, San Francisco) for giving us the opportunity to publish the present paper. We also thank G. Shinohara, M. Nakae and K. Matsuura (NSMT) for a specimen loan; T. Naito (BSKU) and Y. Yamamoto and T. Matsuzaki (Center for Advanced Marine Core Research, Kochi University) for technical assistance; and G. Yearsley (Hobart) for editing English text.
Additional information
This article was registered in the Official Register of Zoological Nomenclature (ZooBank) as E3F0A876-2C3E-46C3-BC10-B828CF355D91.
This article was published as an Online First article on the online publication date shown on this page. The article should be cited by using the doi number.
About this article
Cite this article
Nakayama, N., Endo, H. Mesovagus, a replacement name for the grenadier genus Mesobius Hubbs and Iwamoto 1977 (Actinopterygii: Gadiformes: Macrouridae), a junior homonym of Mesobius Chamberlin 1951 (Chilopoda: Lithobiomorpha: Lithobiidae). Ichthyol Res 64, 120–122 (2017). https://doi.org/10.1007/s10228-016-0531-x
Received:

Revised:

Accepted:

Published:

Issue Date:
Keywords
Homonymy

Replacement name

Mesovagus
Mesobius

Macrouridae

Lithobiidae