Abstract
Rhinogobius similis Gill 1859, type species of the genus, is redescribed (with neotype designation) based on seven specimens collected from the putative type locality (Shimoda, Kanagawa Prefecture, Japan). The species, previously known as R. giurinus (Rutter 1897) (a junior synonym), can be distinguished from its congeners by having the following combination of characters: I, 8 second dorsal-fin rays; 18–19 pectoral-fin rays; 8–12 predorsal scales; 29–31 longitudinal scales; 11 + 15 = 26 vertebrae; predorsal squamation comprising large ctenoid scales, reaching anteriorly to near posterior margin of eye; 5–6 short transverse rows of sensory papillae ventral to eye; several short transverse rows of sensory papillae between two longitudinal rows of sensory papillae on cheek; a dark brownish gray reticulation or reddish oblique lines on head but not on its ventral surface; a black spot, as large as pupil, dorsoposteriorly on pectoral-fin base; a longitudinal series of alternating large and small black blotches on midlateral body; two to four irregular longitudinal rows of small sky-blue spots on midlateral body when alive.
This is a preview of subscription content, log in to check access.
Access options
Buy single article
Instant access to the full article PDF.
US$ 39.95
Tax calculation will be finalised during checkout.
Subscribe to journal
Immediate online access to all issues from 2019. Subscription will auto renew annually.
US$ 99
Tax calculation will be finalised during checkout.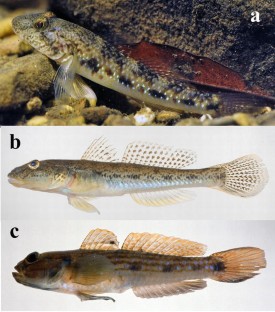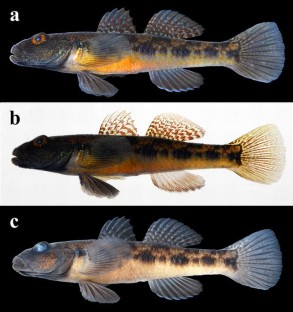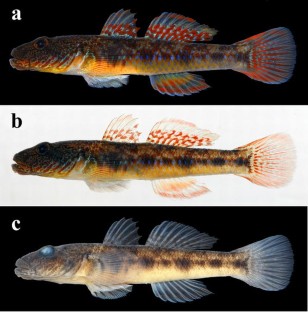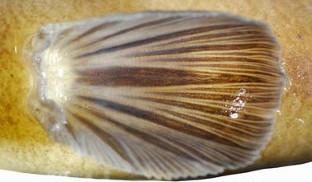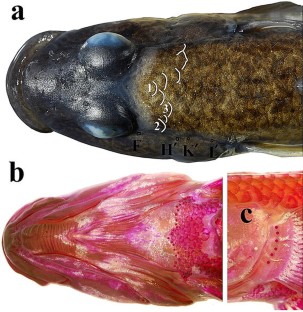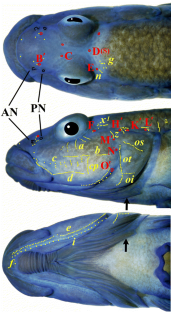 References
Akihito, Sakamoto K, Ikeda Y, Sugiyama K (2002) Gobioidei. In: Nakabo T (ed) Fishes of Japan with pictorial keys to the species, English edition. Tokai University Press, Tokyo, pp. 1139–1310, 1596–1919

Akihito, Sakamoto K, Ikeda Y, Aizawa M (2013) Gobioidei. In: Nakabo, T (ed) Fishes of Japan with pictorial keys to the species, 3nd edition. Tokai University Press, Hadano, pp. 1347–1608, 2109–2211

Akihito Prince, Hayashi M, Yoshino T (1984) Suborder Gobioidei. In: Masuda H, Amaoka K, Araga C, Uyeno T, Yoshino T (eds) The Fishes of the Japanese Archipelago, English edition. Tokai University Press, Tokyo, pp. 236–238

Chen I-S, Shao K-T (1996) A taxonomic review of the gobiid fish genus Rhinogobius Gill, 1859, from Taiwan, with description of three new species. Zool Stud 35:200–214

Cole AB (1947) A scientist with Perry in Japan. The Journal of Dr. James Morrow. The University of North Carolina Press, Chapel Hill

Collette BB, Su J-X (1986) The halfbeaks (Pisces, Beloniformes, Hemiramphidae) of the Far East. Proc Acad Nat Sci Philadelphia 138:250–302

Eschmeyer WN (2015) Catalog of fishes. Online Version, Updated 5 May 2015. http://researcharchive.calacademy.org/research/ichthyology/catalog/fishcatmain.asp. Accessed 15 May 2015

Gill TN (1859) Notes on a collection of Japanese fishes, made by Dr. J. Morrow. Proc. Acad Nat Sci Philadelphia 11:144–150

Hayashi M (1973) The freshwater fishes of Miura Peninsula (a report on the research of the freshwater fishes in Miura Peninsula). Sci Rep Yokosuka City Mus 20:18–40, pls. 9–20

Hayashi M (1983) Freshwater fishes of Miura Peninsula Yokosuka City Museum, Yokosuka

Hayashi M, Nagamine Y (1981) Additional reports on the research of freshwater fishes in Miura Peninsula, and a comment. Nat Hist Rep Kanagawa 2:23–28

Hubbs CL, Lagler KF (1958) Fishes of the Great Lakes region. Cranbrook Institute of Science, Bloomfield Hills, Michigan

ICZN (1999) International Code of Zoological Nomenclature. Fourth edition. The International Trust for Zoological Nomenclature, London

Japan Color Research Institute (ed) (1995) Concise manual of color names. Japan Color Research Institute, Tokyo

Jordan DS, Snyder JO (1900) A list of fishes collected in Japan by Keinosuke Otaki, and by the United States steamer Albatross, with descriptions of fourteen new species. Proc US Nat Mus 23:335–380, pls. 9–20

Jordan DS, Snyder JO (1901a) List of fishes collected in 1883 and 1885 by Pierre Louis Jouy and preserved in the United States National Museum, with descriptions of six new species. Proc US Nat Mus 23:739–769, pls. 31–38

Jordan DS, Snyder JO (1901b) A review of the gobioid fishes of Japan, with descriptions of twenty-one new species. Proc U S Natl Mus 24:33–132

Jordan, D S, Tanaka S, Snyder JO (1913) A catalogue of the fishes of Japan. J Coll Sci Imp Univ Tokyo, 33:1-497

Kawanabe H, Mizuno N (eds) (1989) Freshwater fishes of Japan. Yama-Kei Publishing Company Ltd, Tokyo

Kim IS, Lee YJ, Kim YU (1986) Synopsis of the family Gobiidae (Pisces, Perciformes) from Korea. Bull Korean Fish Soc 19:387–408

Kottelat M (2001) Freshwater fishes of northern Vietnam. A preliminary check-list of the fishes known or expected to occur in Northern Vietnam with comments on systematics and nomenclature. Environment and Social Development Unit, East Asia and Pacific Region. The World Bank, Washington DC

Kottelat M (2013) The fishes of the inland waters of southeast Asia: a catalogue and core bibliography of the fishes known to occur in freshwaters, mangroves and estuaries. Raffles Bull Zool Suppl 27:1–663

Larson HK, Lim KKP (2005) A guide to gobies of Singapore. Singapore Science Centre, Singapore

Larson HK, Jaafar Z, Lim KKP (2008) An annotated checklist of the gobioid fishes of Singapore. Raffles Bull Zool 56:135–155

Nguyen VH (2005) Freshwater fishes of Vietnam III. Agriculture Press, Hanoi

Oijen MJP van, Suzuki T, Chen I-S (2011) On the earliest published species of Rhinogobius, with a redescription of Gobius brunneus Temminck and Schlegel, 1845. J Nat Taiwan Mus 64:1–17

Pezold F, Larson HK (2015) A revision of the fish genus Oxyurichthys (Gobioidei: Gobiidae) with descriptions of four new species. Zootaxa 3988:1–95

Suzuki T, Chen I-S (2011) Redescriptions of three species of genus Rhinogobius (Perciformes,Gobiidae) described by Dr. Shigeho Tanaka. Bull Osaka Mus Nat Hist 65:9–24

Suzuki T, Chen I-S, Senou H (2012) A new species of Rhinogobius Gill, 1859 (Teleostei: Gobiidae) from the Bonin Islands, Japan. J Mar Sci Tec 19:693–701

Takagi K (1962) Nomenclatural status of Gobius brunneus Temminck et Schlegel, 1845, a gobioid species from Japan. Zool Mag 71:295–300

Tomiyama I (1936) Gobiidae of Japan. Japan J Zool 7(1):37–112

Williams FW (1910) A journal of the Perry Expedition to Japan (1853-1854). Trans Asiatic Soc Japan 37:i–ix, 1–259

Wu H-L, Zhong J-S (2008) Fauna Sinica Osteichthyes Perciformes (V) Gobioidei. Science Press, Beijing
Acknowledgments
We are very grateful to the following persons for their kind cooperation in this study: Masahiro Aizawa and Takako Sakou (BLIP); Kiyotaka Hatooka (OMNH); Masatomi Hosokawa (Kawanishi, Hyogo, Japan); Kenichi Kato (Faculty of Marine Science and Technology, Tokai University); Yoshiro Kitahara (Environmental Assessment Center, Shizuoka, Japan); Kris Murphy and Ai Nonaka (USNM); Naoko Takeuchi (Izu no sakana o kangaerukai); and Tetsuo Yoshino (Okinawa Churashima Foundation, Okinawa, Japan). Our appreciation is also extended to Douglass F. Hoese (Australian Museum, Sydney, Australia), Helen K. Larson (Museum and Art Gallery of the Northern Territory, Darwin, Australia), and Edward O. Murdy (George Washington University, Washington D.C., USA) for their critical reading of this manuscript and providing valuable comments.
Additional information
This article was registered in the Official Register of Zoological Nomenclature (ZooBank) as FFB50519-DEBB-4AAB-96D5-C89EF375AA9F.
This article was published as an Online First article on the online publication date shown on this page. The article should be cited by using the doi number.
About this article
Cite this article
Suzuki, T., Shibukawa, K., Senou, H. et al. Redescription of Rhinogobius similis Gill 1859 (Gobiidae: Gobionellinae), the type species of the genus Rhinogobius Gill 1859, with designation of the neotype. Ichthyol Res 63, 227–238 (2016). https://doi.org/10.1007/s10228-015-0494-3
Received:

Revised:

Accepted:

Published:

Issue Date:
Keywords
Rhinogobius giurinus

Type locality

Shimoda

Perry Expedition