Abstract
Anguilliform leptocephali of the genus Thalassenchelys Castle and Raju 1975 are remarkably large and peculiarly shaped eel larvae, whose adult form has been unknown since the discovery of the larvae in the 1950s. We found bigmouth conger Congriscus megastomus (Günther 1877) collected off the Pacific coasts of Japan to have mitochondrial DNA sequences (16S rDNA and COI) nearly identical to those of Thalassenchelys coheni Castle and Raju 1975 published to date and collected recently in the north Pacific. Vertebrae counts of C. megastomus were consistent with the myomere counts of T. coheni. We conclude that T. coheni, so-called larval species described by Castle and Raju (1975), is a junior synonym of C. megastomus. Therefore, the family to which the leptocephali belong must be Congridae.
Access options
Buy single article
Instant access to the full article PDF.
US$ 39.95
Tax calculation will be finalised during checkout.
Subscribe to journal
Immediate online access to all issues from 2019. Subscription will auto renew annually.
US$ 79
Tax calculation will be finalised during checkout.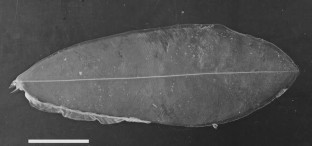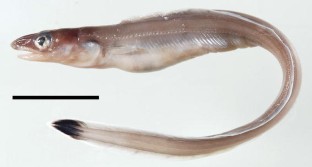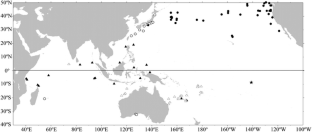 References
Anonymous (1974) The R/V Kaiyo Maru 1972 cruise report: North Pacific sea mounts survey. Fisheries Agency, Tokyo

Anonymous (1981) Feasibility study of distant-water bottom trawl fishery in the central-eastern North Pacific Ocean in fiscal year 1979. Japan Marine Fishery Resources Research Center, Tokyo

Aron W (1958) Preliminary report of midwater trawling studies in the North Pacific with an appendix of the descriptions of a new species of a stomiatid fish and an unidentified leptocephalus. Tech Rep Dep Oceanogr Univ Wash 58:56–60

Asano H (1962) Studies on the congrid eels of Japan. Bull Misaki Mar Biol Inst Kyoto Univ 1:1–143

Castle PHJ, Raju NS (1975) Some rare leptocephali from the Atlantic and Indo-Pacific Oceans. Dana Rep (85):1–25

Chen J-N, López JA, Lavoué S, Miya M, Chen W-J (2014) Phylogeny of the Elopomorpha (Teleostei): Evidence from six nuclear and mitochondrial markers. Mol Phyl Evol 70:152–161

Cohen DM (1959) A remarkable leptocephalus from off the coast of Washington. Deep-sea Res 5:238–240

Folmer O, Black M, Hoeh W, Luts R, Vrijenhoek R (1994) DNA primers for amplification of mitochondrial cytochrome c oxidase subunit I from diverse metazoan invertebrates. Mol Mar Biol Biotech 3:294–299

Garilao CV, Reyes RB (2015) Congriscus megastomus (Günter, 1877). http://www.fishbase.org/summary/Congriscus-megastomus.html. Accessed 2 September 2015

Garman S (1899) Reports on an exploration off the west coasts of Mexico, Central and South America, and off the Galapagos Islands. No. XXVI. Harvard University, Cambridge

Goode GB, Bean TH (1896) Oceanic ichthyology, a treatise on the deep-sea and pelagic fishes of the world, based chiefly upon the collections made by the steamers Blake, Albatross, and Fish Hawk in the northwestern Atlantic, with an atlas containing 417 figures. United States National Museum, Washington

Günther A (1877) Preliminary notes on new fishes collected in Japan during the expedition of H. M. S. 'Challenger'. Ann Mag Nat Hist (Ser. 4) 20:433–446

Hanke GF, Peden AE, Bedard JM (2014) New records of spiny eels (Albuliformes), true eels (Anguilliformes), and bobtail eels (Saccopharyngiformes) in British Columbia, Canada. Northwest Nat 95:63–76

Inoue JG, Miya M, Miller MJ, Sado T, Hanel R, Hatooka K, Aoyama J, Minegishi Y, Nishida M, Tsukamoto K (2010) Deep-ocean origin of the freshwater eels. Biol Lett 6:363–366

Jespersen P (1942) Indo-Pacific leptocephalids of the genus Anguilla. Systematic and biological studies. Dana Rep (22):1–128

Jordan DS, Hubbs CL (1925) Record of fishes obtained by David Starr Jordan in Japan, 1922. Mem Carnegie Mus 10:93–346

Jordan DS, Snyder JO (1901) A review of the apodal fishes or eels of Japan, with descriptions of nineteen new species. Proc US Natl Mus 23:837–890

Kanazawa RH (1961) A new eel, Coloconger cadenati and a redescription of the heterocongrid eel, Taenioconger longissimus (Günther) both from the coast of Senegal. Bull Inst Francais d'Afrique Sér A Sci Nat 23:108–115

Karmovskaya ES (2004) Benthopelagic bathyal conger eels of families Congridae and Nettastomatidae from the Western Tropical Pacific, with descriptions of ten new species. J Ichthyol 44:S1–S32

Kochzius M, Seidel C, Antoniou A, Botla, SK, Campo D, Cariani A, Vazquez EG, Hauschild J, Hervet C, Hjörleifsdottir S, Hreggvidsson G, Kappel K, Landi M, Magoulas A, Marteinsson V, Nölte M, Planes S, Tinti F, Turan C, Venugopal MN, Weber H, Blohm D (2010) Identifying fishes through DNA barcodes and microarrays. PLOS ONE 5:e12620

Lavenberg RJ (1988) Chlopsid eels of the Eastern Pacific with a new species and description of larval forms. Bull Mar Sci 42:253–264

López JA, Westneat MW, Hanel R (2007) The phylogenetic affinities of the mysterious Anguilliform genera Coloconger and Thalassenchelys as supported by mtDNA sequences. Copeia 2007:959–966

Machida Y (1984) Congriscus megastomus. In: Okamura O, Kitajima T (eds) Fishes of the Okinawa Trough and the adjacent waters. Japan Fisheries Resource Conservation Association, Tokyo, p 318

Masuda H, Amaoka K, Araga C, Uyeno T, Yoshino T (1984) The fishes of the Japanese Archipelago. Tokai University Press, Tokyo

Meckelenburg CW, Meckelenburg TA, Thorsteinson LK (2002) Fishes of Alaska. American Fisheries Society, Bethesda

Norman JR (1939) Fishes. The John Murray Expedition 1933–34. Sci Rep John Murray Exped 7:1–116

Obermiller LE, Pfeiler E (2003) Phylogenetic relationships of elopomorph fishes inferred from mitochondrial ribosomal DNA sequences. Mol Phyl Evol 26:202–214

Palumbi S, Martin A, Romano S, McMillan WO, Stice L, Grabowski G (1991) The Simple Fool's Guide to PCR, Version 2. Department of Zoology and Kewalo Marine Laboratory, University of Hawaii, Honolulu

Santini F, Kong X, Sorenson L, Carnevale G, Mehta RS, Alfaro ME (2013) A multi-locus molecular timescale for the origin and diversification of eels (Order: Anguilliformes). Mol Phyl Evol 69:884–894

Senou H, Matsuura K (eds) (1998) FishPix. National Museum of Nature and Science, Japan. http://fishpix.kahaku.go.jp/fishimage-e/search.html. Accessed 3 September 2015

Shimokawa T, Amaoka K, Kajiwara Y, Suyama S (1995) Occurrence of Thalassenchelys coheni (Anguilliformes; Chlopsidae) in the West Pacific Ocean. Jpn J Ichthyol 42:89–92

Shinohara G, Matsuura K (1997) Annotated checklist of deep-water fishes from Suruga Bay, Japan. Nat Sci Mus Monogr 12:269–318

Shinohara G, Endo H, Matsuura K, Machida Y, Honda H (2001) Annotated checklist of deepwater fishes from Tosa Bay, Japan. Nat Sci Mus Monogr 12:283–343

Shubin AO, Koinov AA (2014) New findings of leptocephali Thalassenchelys coheni (Chlopsidae/Colocongridae) in the Northwestern Part of the Pacific Ocean. J Ichthyol 54:214–215

Smith DG (1979) Guide to the leptocephali (Elopiformes, Anguilliformes, and Notacanthiformes). NOAA Tech Rep NMFS Circ 424:1–39

Steindachner F (1867) Über einige Fische aus dem Fitzroy-Flusse bei Rockhampton in Ost-Australien. Sitzungsberichte der Mathematisch-Naturwissenschaftlichen Classe der Kaiserlichen Akademie der Wissenschaften 55:9–16

Takahashi M, Mochioka N, Shinagawa S, Yatsu A, Nakazono A (2008) Distribution patterns of leptocephali in the Kuroshio-Oyashio transitional region of the western North Pacific. Fish Oceanogr 17:165–177

Tamura K, Stecher G, Peterson D, Filipski A, Kumar S (2013) MEGA6: molecular evolutionary genetics analysis version 6.0. Mol Biol Evol 30:2725–2729

Tang KL, Fielitz C (2013) Phylogeny of moray eels (Anguilliformes: Muraenidae), with a revised classification of true eels (Teleostei: Elopomorpha: Anguilliformes). Mitochondrial DNA 24:55–66

Ward RD, Zemlak TS, Innes BH, Last PR, Hebert PDN (2005) DNA barcoding Australia's fish species. Phil Trans Roy Soc B 360:1847–1857

Yamada U, Tokimura M, Horikawa H, Nakabo T (2007) Fishes and fisheries of the East China and Yellow Seas. Tokai University Press, Hadano
Acknowledgments
We are grateful to the captains and crew members of the RV Kaiyo-maru, the Fisheries Agency of Japan, and RV Soyo-maru, the Fisheries Research Agency, for their invaluable support during the research cruise. We are also grateful to K. Yamada, M. Oomura, and the crew of the bottom trawl fishing boat Hinode-maru for their help and cooperation during sampling in Suruga Bay, and A. Komatsu, Kochi Central Fisheries Guidance Office, for kindly providing bigmouth congers. We wish to express our sincere thanks to K. Hoshino, Seikai National Fisheries Research Institute, for photographing and aiding voucher specimens, and to S. Clarke and two anonymous referees for improving the manuscript. This work was funded by projects for research of marine fisheries stock assessment and evaluation for Japanese waters from the Fisheries Agency, Japan, the Fisheries Research Agency (FRA), and the Interdisciplinary Collaborative Research Program of the Atmosphere and Ocean Research Institute, the University of Tokyo.
Additional information
H. Kurogi and S. Chow contributed equally to this work.
This article was registered in the Official Register of Zoological Nomenclature (ZooBank) as 5CF59B1E-C215-4DFE-93BC-D130EE67F0CE.
This article was published as an Online First article on the online publication date shown on this page. The article should be cited by using the doi number.
About this article
Cite this article
Kurogi, H., Chow, S., Yanagimoto, T. et al. Adult form of a giant anguilliform leptocephalus Thalassenchelys coheni Castle and Raju 1975 is Congriscus megastomus (Günther 1877). Ichthyol Res 63, 239–246 (2016). https://doi.org/10.1007/s10228-015-0492-5
Received:

Revised:

Accepted:

Published:

Issue Date:
Keywords
Anguilliformes

Giant leptocephalus

DNA barcoding

Thalassenchelys coheni
Congriscus megastomus