Abstract
A new species of eagle ray, Aetomylaeus caeruleofasciatus sp. nov., is described based on specimens collected in northern Australia and southern Papua New Guinea. The new species is very closely related to Aetomylaeus nichofii and was previously considered to be conspecific with this species. The new species and A. nichofii differ from their congeners in having a dorsal pattern of seven or eight transverse pale blue bands. As with other eagle ray species, morphological characteristics which distinguish the closely related species were largely obscured by intraspecific variation. The clearest morphological differences were apparent when comparing adult males to adult males and adult females to adult females, e.g. disc longer in adult female A. caeruleofasciatus compared to adult female A. nichofii. The two species also differ in the number of pelvic radials in both females and males and show subtle colour differences. A neotype is also allocated for A. nichofii.
Access options
Buy single article
Instant access to the full article PDF.
US$ 39.95
Tax calculation will be finalised during checkout.
Subscribe to journal
Immediate online access to all issues from 2019. Subscription will auto renew annually.
US$ 79
Tax calculation will be finalised during checkout.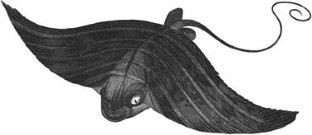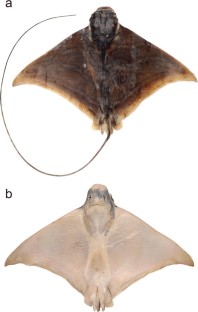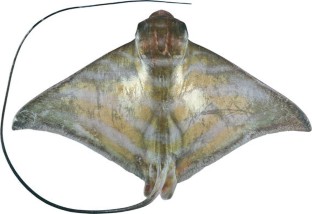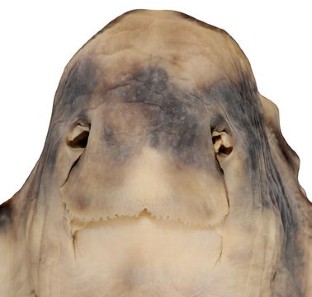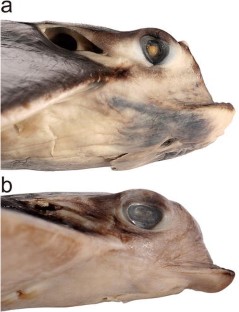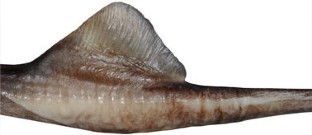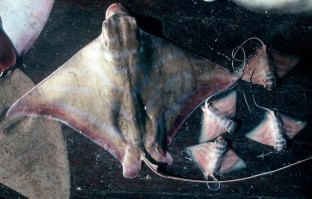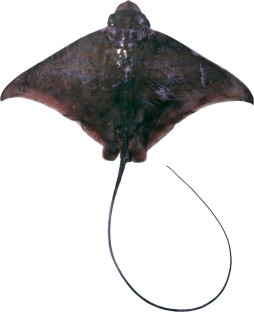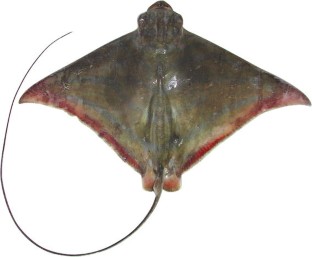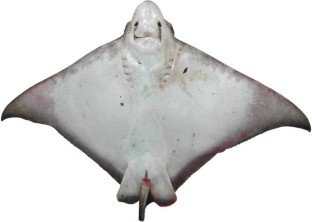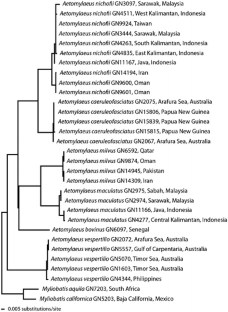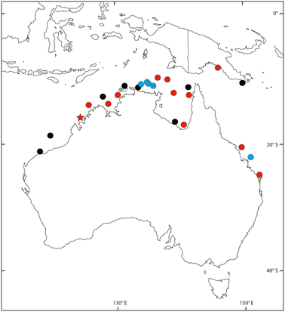 References
Allen GR (1997) Marine fishes of tropical Australia and south-east Asia. Western Australian Museum, Perth, 292 pp

Allen GR, Swainston R (1988) The marine fishes of north-western Australia. A field guide for anglers and divers. Western Australian Museum, Perth

Annandale N (1909) Report on the fishes taken by the Bengal fisheries steamer "Golden Crown." Part I, Batoidei. Mem Indian Mus 2(1):1–58

Blaber SJM, Brewer DT, Harris AN (1994) Distribution, biomass and community structure of demersal fishes of the Gulf of Carpentaria. Aust J Mar Freshwat Res 45: 375–396

Blaber SJM, Young JW, Dunning MC (1985) Community structure and zoogeographic affinities of the coastal fishes of the Dampier region of north-western Australia. Aust J Mar Freshwat Res 36:247–266

Blainville H de (1816) Prodrome d'une nouvelle distribution systématique du règne animal. Bulletin de la Société Philomathique de Paris 8:105–112 [sic for 113–120] + 121–124

Bleeker P (1861) Mededeeling omtrent vischsoorten, nieuw voor de kennis der fauna van Singapoera. Versl en Mededeel 12:28–63

Bloch ME, Schneider JG (1801) M. E. Blochii, Systema Ichthyologiae Iconibus cx Ilustratum. Post obitum auctoris opus inchoatum absolvit, correxit, interpolavit Jo. Gottlob Schneider, Saxo. Sumtibus Auctoris Impressum et Bibliopolio Sanderiano Commissum, Berolini

Chevey P (1932) Inventaire de la faune ichtyologique de l'Indochine. Deuxième liste. Note Serv Pêch Indochine 19:1–31

Compagno LJV, Last PR (1999) Myliobatidae: eagle rays. In: Carpenter KE, Niem VH (eds). The living marine resources of the Western Central Pacific. FAO species identification guide for fishery purposes. Volume 3; Batoid fishes, chimaeras and bony fishes part 1 (Elopidae to Linophrynidae). Food and Agricultural Organization (FAO), Rome. pp 1511–1519

Cuvier G (1816) Le Règne Animal distribué d'après son organisation pour servir de base à l'histoire naturelle des animaux et d'introduction à l'anatomie comparée. Les reptiles, les poissons, les mollusques et les annélides. Edition 1, vol. 2. Chez Déterville, Paris

Eschmeyer WN (ed) (2014) Catalog of Fishes: Genera, Species, References. (http://research.calacademy.org/research/ichthyology/catalog/fishcatmain.asp). Electronic version. Accessed 22 Sept. 2014

Fowler HW (1938) A list of the fishes known from Malaya. Fish Bull Singapore 1:1–268

Fowler HW (1941) Contributions to the biology of the Philippine archipelago and adjacent regions. The fishes of the groups Elasmobranchii, Holocephali, Isospondyli, and Ostariophysi obtained by the United States…"Albatross" in 1907 to 1910, chiefly in the Philippine Islands and adjacent seas. Bull US Natl Mus 100(13):1–879

Garman S (1908) New Plagiostomia and Chismopnea. Bull Mus Comparat Zool 51:249–256

Garman S (1913) The Plagiostomia (Shark, Skates and Rays). Benthic Press, Los Angeles, California

Geoffroy St. Hilaire E (1817) Poissons du Nil, de la mer Rouge et de la Méditerranée. In: Description de l'Egypte ou recueil des observations et des recherches qui ont été faites en Égypte pendant l'expedition de l'Armée français, publié par les ordres de sa Majesté-L'Empereur Napoléon le Grand. (Imprimerie Impériale), vol. 1, part 1. Paris. Histoire Naturelle

Gloerfelt-Tarp T, Kailola PJ (1984) Trawled fishes of southern Indonesia and northwestern Australia. Australian Development Assistance Bureau, Canberra

Hutchins JB (2001) Checklist of the fishes of Western Australia. Rec West Aust Mus Suppl 63:9–10

Kailola PJ (1987) The fishes of Papua New Guinea. A revised and annotated checklist. Volume 1: Myxinidae to Synbranchidae. Department of Fisheries and Marine Resources, Port Moresby, Research Bulletin (41):1–194

Kyne PM, Johnson J, Courtney AJ, Bennett MB (2005) New biogeographic information on Queensland chondrichthyans. Mem Queensl Mus 50:321–327

Larson HK, Williams RS, Hammer MP (2013) An annotated checklist of the fishes of the Northern Territory, Australia. Zootaxa 3696(1):1–293

Last PR, Stevens JD (1994) Sharks and Rays of Australia. CSIRO Publishing, Hobart

Last PR, Stevens JD (2009) Sharks and Rays of Australia. Second Edition. CSIRO Publishing, Hobart

Last PR, White WT (2008) Dasyatis parvonigra sp. nov., a new species of stingray (Myliobatoidei: Dasyatidae) from the tropical eastern Indian Ocean. In: Last PR, White WT, Pogonoski JJ (eds). Descriptions of New Australian Chondrichthyans. CSIRO Marine and Atmospheric Research Paper 022:275–282

Müller J, Henle FGJ (1841) Systematische Beschreibung der Plagiostomen. Plagiostomen, Berlin

Naylor GJP, Caira JN, Jensen K, Rosana KAM, White WT, Last PR (2012) A DNA sequence-based approach to the identification of shark and ray species and its implications for global elasmobranch diversity and parasitology. Bull Am Nat Hist Mus 367:1–263

Richardson J (1846) Report on the ichthyology of the seas of China and Japan. Report of the British Association for the Advancement of Science 15th meeting (1845):187–320

Russell P (1803) Descriptions and figures of two hundred fishes; collected at Vizagapatam on the coast of Coromandel. G. and W. Nicol, London

Russell BC, Houston W (1989) Offshore fishes of the Arafura Sea. The Beagle, Rec North Territory Mus Arts Sci 6:69–84

Sainsbury KJ, Kailola PJ, Leyland GG (1985) Continental Shelf Fishes of Northern and North-Western Australia. CSIRO Division of Fisheries Research, Clouston & Hall/Peter Pownall Fisheries Information Service, Canberra

Shaw G (1804) General zoology or systematic natural history. Pisces. G. Kearsley, London

Stobutzki IC, Miller MJ, Heales DS, Brewer DT (2002) Sustainability of elasmobranchs caught as bycatch in a tropical prawn (shrimp) trawl fishery. Fish Bull 100:800–821

Waite ER (1909) Pisces. Part I. In: Scientific results of the New Zealand government trawling expedition, 1907. Rec Canterbury Mus 1(2):131–155

White WT (2014) A revised generic arrangement for the eagle ray family Myliobatidae, with definitions for the valid genera. Zootaxa 3860(2):149–166

White WT, Furumitsu K, Yamaguchi A (2013) A new species of eagle ray Aetobatus narutobiei from the Northwest Pacific: an example of the critical role taxonomy plays in fisheries and ecological sciences. PLOS One 8(12):1–11

White WT, Last PR, Naylor GJP, Jensen K, Caira JN (2010) Clarification of Aetobatus ocellatus (Kuhl, 1823) as a valid species, and a comparison with Aetobatus narinari (Euphrasen, 1790) (Rajiformes: Myliobatidae). In: Last PR, White WT, Pogonoski JJ (eds). Descriptions of new sharks and rays from Borneo. CSIRO Marine and Atmospheric Research Paper 032:141–164

White WT, Vaz DFB, Ho HC, Ebert DA, Carvalho MR De, Corrigan S, Rochel E, Carvalho M De, Tanaka S, Naylor GJP (2015) Redescription of Scymnodon ichiharai Yano & Tanaka 1984 (Squaliformes: Somniosidae) from the western North Pacific, with comments on the definition of somniosid genera. Ichthyol Res 62:213–229

Willughby F (1686) De historia piscium libri quatuor, jussu & sumptibus Societatis Regiæ Londinensis editi. Totum opus recognovit, coaptavit, supplevit, librum etiam primum & secundum integros adjecit Johannes Raius e Societate Regia. Theatro Sheldoniano, Oxonii (Oxford)
Acknowledgements
Two of us (WW, PL) are supported by a National Science Foundation (NSF; http://www.nsf.gov) grant (Jaws and Backbone: Chondrichthyan Phylogeny and a Spine for the Vertebrate Tree of Life; DEB-01132229). Two of us (WW, LB) are supported by an Australian Centre for International Agricultural Research (ACIAR; http://www.aciar.gov.au) grant (FIS/2012/102) and would like to thank Chris Barlow and Jes Sammut for their support. We would like to thank the following people for their contribution to this study: Gavin Naylor, Shannon Corrigan, Elisabeth Rochel and Lei Yang (College of Charleston) for providing NADH2 sequence data; Sharon Appleyard and Bob Ward (CSIRO) and Dirk Steinke (University of Guelph) for providing CO1 sequence data; Alastair Graham (CSIRO) for providing registration numbers and collection data for Australian specimens; John Pogonoski (CSIRO) for obtaining digital radiographs of specimens and editing of the final draft of the manuscript; Carlie Devine (CSIRO) for preparing images; Baera Nawia (NFA fisheries observer) for collection of the 3 paratypes of the new species in the Gulf of Papua. We would also like to thank the following museum staff for their hospitality during museum visits by WW and/or for providing collection data for material: Mamoru Yabe, Hisashi Imamura, Toshio Kawai, Kazuhiro Nakaya, Keisuke Ogimoto and other students (HUMZ); Hsuan-Ching Ho (NMMBP); James Maclaine and Oliver Crimmen (BMNH); Jeff Johnson (QM); Mark McGrouther and Sally Reader (AMS); Michael Hammer and Gavin Dally (NTM); and Renny Hadiaty (Museum Zoologicum Bogoriense, Jakarta, MZB).
Additional information
This article was registered in the Official Register of Zoological Nomenclature (ZooBank) as F38493BE-4B20-4645-8CDB-71F2E4F4BFE5.
This article was published as an Online First article on the online publication date shown on this page. The article should be cited by using the doi number.
About this article
Cite this article
White, W.T., Last, P.R. & Baje, L. Aetomylaeus caeruleofasciatus, a new species of eagle ray (Myliobatiformes: Myliobatidae) from northern Australia and New Guinea. Ichthyol Res 63, 94–109 (2016). https://doi.org/10.1007/s10228-015-0480-9
Received:

Revised:

Accepted:

Published:

Issue Date:
Keywords
Aetomylaeus

New species

Australia

Papua New Guinea

Morphology