Abstract
A new worm eel, Neenchelys nudiceps, is described on the basis of a single large specimen (782 mm in total length) collected from the deep-sea bottom (844–856 m) off Sumatra, Indonesia, in the eastern Indian Ocean. The new species is distinguishable from its congeners by the following combination of characters: total vertebrae 221, mandibular pores 7, lateral-line pores anterior to pectoral-fin base 18, and upper and lateral surfaces of snout smooth without papillae. Additionally, it is indicated by a statistical analysis that the new species differs from the two similar species, Neenchelys daedalus and Neenchelys sp. "similis", in morphometric characters. Availability of the three recently described congeners, N. diaphora, N. pelagica and N. similis is discussed, and it is judged that the three species names are unavailable.
This is a preview of subscription content, log in to check access.
Access options
Buy single article
Instant access to the full article PDF.
US$ 39.95
Price includes VAT for USA
Subscribe to journal
Immediate online access to all issues from 2019. Subscription will auto renew annually.
US$ 99
This is the net price. Taxes to be calculated in checkout.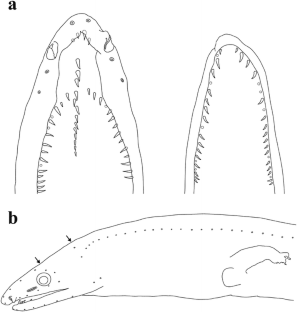 References
Bamber RC (1915) Reports on the marine biology of the Sudanese Red Sea, from collections made by Cyril Crossland, M.A., D.Sc., F.L.S. XXII. The fishes. J Linn Soc London 31:477–485, pl 46

Castle PHJ, McCosker JE (1999) A new genus and two new species of Myrophine worm-eels, with comments on Muraenichthys and Scolecenchelys (Anguilliformes: Ophichthidae). Rec Aust Mus 51:113–122

Chen JTF, Weng HTC (1967) A review of the apodal fishes of Taiwan. Biol Bull Tunghai Univ Ichthyol Ser 32:1–86

Chu Y-T, Wu H-L, Jin X-B (1981) Four new species of the families Ophichthyidae and Neenchelidae. J Fish Chn 5:21–27

Dubois A, Crochet PA, Dickinson EC, Nemésio A, Aescht E, Bauer AaM, Blagoderov V, Bour R, De Carvalho MR, Desutter-Grandcolas L, Frétey T, Jäger P, Koyamba V, Lavilla EO, Löbl I, Louchart A, Malécot V, Schatz H, Ohler A. (2013) Nomenclatural and taxonomic problems related to the electronic publication of new nomina and nomenclatural acts in zoology, with brief comments on optical discs and on the situation in botany. Zootaxa 3735:1–94

Hibino Y, Ho H-C, Kimura S (2012) A new worm eel Neenchelys mccoskeri (Anguilliformes: Ophichthidae) from Taiwan and Japan. Ichthyol Res 59:342–346

Ho H-C, McCosker JE, Smith DG (2013) Revision of the worm eel genus Neenchelys (Ophichthidae: Myrophinae), with descriptions of three new species from the western Pacific Ocean. Zool Stud doi:10.1186/1810-522X-52-58

Ho H-C, Smith DG, Wang S-I, Shao K-T, Ju Y-M, Chang C-W (2010) Specimen catalog of pieces collection of National Museum of Marine Biology and Aquarium transferred from Tunghai University. (II) Order Anguilliformes. Platax 6:13–34

Ho H-C, Teoh H-W, Chong V-C (2012) Notes on the snake eel Neenchelys buitendijki (Ophichthidae: Myrophinae), a new record for Malaysia. Sains Malay 41:949–952

ICZN (2012) Amendment of Articles 8, 9, 10, 21 and 78 of the International Code of Zoological Nomenclature to expand and refine methods of publication. ZooKeys 219:1–10

Machida Y, Ohta S (1993) New record for Neenchelys daedalus (Ophichthidae) from Japan. Jpn J Ichthyol 39:391–394

McCosker JE (1982) A new genus and two new species of remarkable Pacific worm eels (Ophichthidae, subfamily Myrophinae). Proc Cal Acad Sci 43:59–66

McCosker JE, Loh K-H, Lin J, Chen H-M (2012) Pylorobranchus hoi, a new genus and species of Myrophine worm-eel from Taiwan (Anguilliformes: Ophichthidae). Zool Stud 51:1188–1194

R Development Core Team (2014) R: A language and environment for statistical computing. R Foundation for Statistical Computing, Vienna, Austria

Sabaj Pérez MH (ed) (2013) Standard symbolic codes for institutional resource collections in herpetology and ichthyology: an online reference. Version 4.0 (28 June 2013). American Society of Ichthyologists and Herpetologists, Washington DC http://www.asih.org/resources/standard-symbolic-codes-institutional-resource-collections-herpetology-ichthyology. Accessed 09 February 2014

Weber M, de Beaufort JF (1916) The fishes of the Indo-Australian Archipelago. III. Ostariophysi: II Cyprinoidea, Apodes, Synbranchi. EJ Brill, Leiden
Acknowledgments
The authors deeply appreciate the help of the following persons: Toshio Kawai (Hokkaido University Museum) and the members of JDSTA (Japan Deep Sea Trawlers Association), OFCF (Overseas Fishery Cooperation) and RIMF (Research Institute for Marine Fisheries, Indonesia); the crew of the R/V Baruna Jaya IV for the procurement of the holotype of Neenchelys nudiceps; Renny Kurnia Hadiaty (MZB) and Teguh Peristiwady (LIPI) for the registration of the holotype in MZB; Atsushi Fukui and Munehiro Takami (Tokai University), Seishi Kimura (FRLM), Makoto Okada (Mie Prefecture Fisheries Research Institute), Takashi P. Satoh and Satoru Chiba (NSMT), and Keita Koeda (KAUM, formerly University of the Ryukyus) for the procurement of the comparative materials; Mark McGrouther (AMS), Hiroyuki Motomura (KAUM) and Shinichi Tomiyama (MSM) for the loan of the specimens; Gento Shinohara and Masanori Nakae (NSMT), and Mamoru Yabe (HUMZ) for the opportunity to examine their specimens; Martin F. Gomon (NMV) for critically reading an early draft of the manuscript with English correction; and the two anonymous referees for providing valuable comments. Finally, we are sincerely thankful to Hsuan-Ching Ho (NMMB) for valuable discussion and providing information on his study.
Additional information
This article was registered in the Official Register of Zoological Nomenclature (ZooBank) as F504E2EA-EA66-4878-912D-B4EC619FED9B.
This article was published as an Online First article on the online publication date shown on this page. The article should be cited by using the doi number.
About this article
Cite this article
Tashiro, F., Hibino, Y. & Imamura, H. Description of a new species of the genus Neenchelys (Anguilliformes: Ophichthidae, Myrophinae) from the eastern Indian Ocean, with comments on the availability of three congeners. Ichthyol Res 63, 53–58 (2016). https://doi.org/10.1007/s10228-015-0473-8
Received:

Revised:

Accepted:

Published:

Issue Date:
Keywords
New species

Ophichthidae

Neenchelys

Deep sea

Indonesia