Abstract
A new clingfish, Kopua vermiculata, is described on the basis of a single specimen collected from ca. 100 m depth off the Pacific coast of Honshu Island, Japan. The new species is distinguished from its congeners by having the following characters: dorsal fin rays 7; anal fin rays 6; segmented caudal fin rays 15; upper procurrent caudal rays associated with both neural spine of second preural centrum and epural; vertebrae 35; nasal pores 1; lacrymal pores 3; mandibular pores 3; predorsal length about 60 % of standard length; body whitish with distinct reddish-orange blotches on body; no reddish-orange stripes on cheek; belly whitish. A key to the species of Kopua is provided.
Access options
Buy single article
Instant access to the full article PDF.
US$ 39.95
Tax calculation will be finalised during checkout.
Subscribe to journal
Immediate online access to all issues from 2019. Subscription will auto renew annually.
US$ 79
Tax calculation will be finalised during checkout.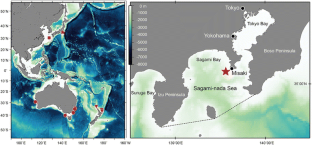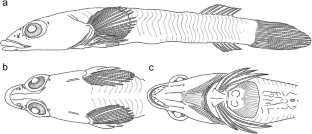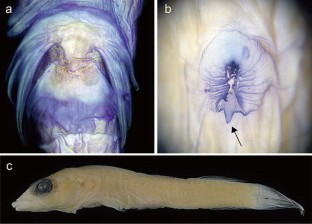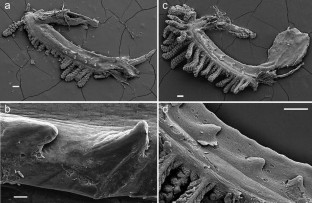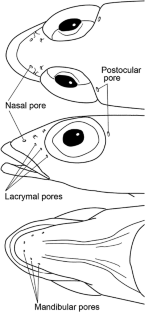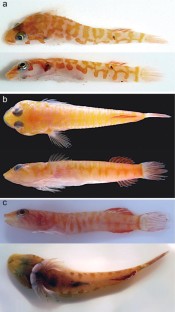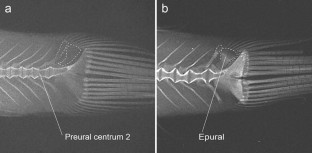 References
Amante C, Eakins BW (2009) ETOPO1 1 arc-minute global relief model: procedures, data sources and analysis. NOAA Technical Memorandum NESDIS NGDC-24, March 2009. http://www.ngdc.noaa.gov/mgg/global/. Accessed 16 December 2013

Australian Museum (2014) Deepwater Clingfish, Kopua kuiteri Hutchins, 1991. http://australianmuseum.net.au/Deepwater-Clingfish-Kopua-kuiteri#sthash.yHYsoZwK.dpuf. Accessed 18 September 2014

Briggs JC (1955) A monograph of the clingfishes (order Xenopterygii). Stanford Ichthyol Bull 6:1–244

Conway KW, Prestridge HL (2011) Multiple new records of Gymnoscyphus ascites Böhlke and Robins, 1970 (Perciformes: Gobiesocidae) from the western Central Atlantic. Check List 7:581–582

Fricke R, Wirts P, Brito A (2010) A new species of the clingfish genus Apletodon (Teleostei: Gobiesocidae) from the Cape Verde Islands, Eastern Central Atlantic. Ichthyol Res 57:91–97

Hardy GS (1984) A new genus and species of deepwater clingfish (family Gobiesocidae) from New Zealand. Bull Mar Sci 34:244–247

Hardy GS (1990) Fish types in the National Museum of New Zealand. Natl Mus New Zealand Miscellaneous Series 21:1–17

Hayashi M, Hagiwara K (2013) Gobiesocidae clingfishes. In: Nakabo T (ed) Fishes of Japan with pictorial keys to the species, third edition. Tokai University Press, Hadano, pp 1326–1329, 2105–2106

Hoese DF, Bray DJ (2006) Gobiesocidae clingfishes, shore eels (CAAB: 37206000). In: Beesley PL, Wells A (eds) Zoological Catalogue of Australia Volume 35–Fishes–Parts 1–3, CSIRO Publishing, Collingwood, pp 1568–1576

Hutchins JB (1983) Redescription of the clingfish Cochleoceps spatula (Gobiesocidae) from Western Australia and South Australia, with the description of a new species from Victoria and Tasmania. Rec West Aust Mus 11:33–47

Hutchins JB (1991) Description of a new deepwater clingfish (Gobiesocidae) from New South Wales. Rec West Aust Mus 15:463–468

Hutchins JB (2008) Family Gobiesocidae. In: Gomon MF, Bray DJ, Kuiter R (eds) Fishes of Australia's southern coast. New Holland Publishers, Melbourne, pp 722–742

Moore GI, Hutchins JB, Okamoto M (2012) A new species of the deepwater clingfish genus Kopua (Gobiesociformes: Gobiesocidae) from the East China Sea—an example of antitropicality? Zootaxa 3380:34–38

Nelson JS (2006) Fishes of the world, 4th edition. John Wiley & Sons, New Jersey

Saruwatari T, Lopez JA, Pietsch TW (1997) Cyanine Blue: a versatile and harmless stain for specimen observation. Copeia 1997:840–841
Acknowledgments
We are grateful to Hisanori Kohtsuka (Misaki Marine Biological Station, the University of Tokyo) for supplying the holotype specimen, Carl Struthers (Museum of New Zealand Te Papa Tongarewa) for color information on Kopua nuimata, and Rudie Kuiter and Mark McGrouther (Australian Museum, Sydney), and Makoto Okamoto (Seikai National Fisheries Research Institute, Nagasaki) for permission to use unpublished color images of Kopua kuiteri and Kopua japonica, respectively. Satoru Chiba (NSMT) assisted in the preparation of Fig. 1. Graham Hardy (Ngunguru, New Zealand) helped with English language corrections and provided valuable suggestions. This study was partly supported by MEXT KAKENHI Grant number 24120001.
Additional information
This article was registered in the Official Register of Zoological Nomenclature (ZooBank) as 3891ACCC-F313-4C55-B814-3314B7C4550C.
This article was published as an Online First article on the online publication date shown on this page. The article should be cited by using the doi number.
About this article
Cite this article
Shinohara, G., Katayama, E. A new species of the clingfish genus Kopua (Gobiesociformes: Gobiesocidae) from Japan. Ichthyol Res 62, 431–438 (2015). https://doi.org/10.1007/s10228-015-0456-9
Received:

Revised:

Accepted:

Published:

Issue Date:
Keywords
Japan

Gobiesocidae

Gobiesociformes

New species

Sagami-nada Sea